If you were looking for the easiest way/instruction on creating a Wishlist in WooCommerce without wasting your time, then the "How to create a Wishlist for WooCommerce – in 5 simple steps" article is for you. We will tell you how to create a professional-looking and, at the same time, quite an intuitive wishlist feature for your WooCommerce store with the best plugins.

If you are ready, let's start!
---

What is WooCommerce?
I suggest starting from the very beginning with an understanding of WooCommerce (for beginners). Basically, WooCommerce is an open-source e-commerce plugin for WordPress. This means that you can create a WordPress website, then install it with WooCommerce and turn it into a full-featured professional eCommerce website. The main features and benefits are – customization options (perfectly adaptable and flexible plugin, with which you can clearly communicate your brand's message), responsive (works with any device. Therefore, you can manage your store from anywhere).

---

What is a Wishlist?
Now, as far as we are clear on what is WooCommerce, let's comprehend what a wishlist is, why you would need to create it, and how it will benefit your store. Wishlist is an essential feature your online store must offer because, first of all, it encourages your users to become returning visitors, which increases the chances of them finding new products and purchasing even more than they originally planned. Secondly, with the wishlist feature, your customers can track the product they want, see when the color they want to order is available, share their wishlist with their friends, thus increasing your brand awareness. Subsequently, a wishlist is a really useful feature; therefore, let's review how to create one.

---

Best WishList Plugins for WooCommerce
So, finally, when we are clear with the concepts let's start reviewing the best WooCommerce wishlist plugins. In this article, we collected plugins based on certain criteria such as ease of use, accessibility, positive ratings and reviews, and of course a good support team.

---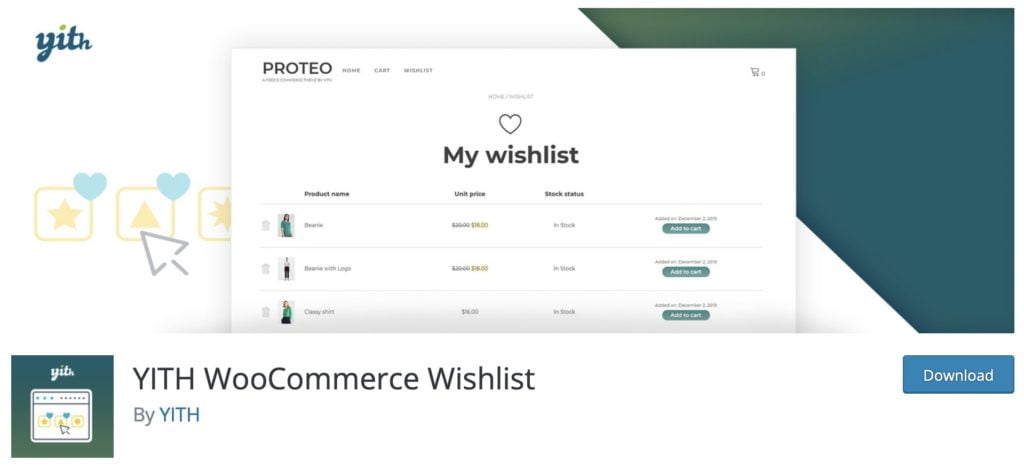 ---

Yith Wishlist is one of the most popular Wishlist plugins for your WooCommerce e-store available on WordPress Plugin Directory. It has over 900.000+ active installations, gets regular updates, and has 4 out of 5-star ratings. With this plugin, users can save their favorite products, return to your website and buy them whenever they want.
So Main Features are:
Selection of the page where your wishlist will be located
Selection of where buttons "Add to Wishlist" and "Remove from Wishlist" will be displayed
Customizable columns
View wishlists created by loved customers
View most popular products
Send promotional emails to customers who had added a specific item to their wishlist
Allows users to create as many wishlists as they want to
---
---

The main benefit of TI WooCommerce Wishlist plugin is that it allows your customers to create wishlists and allows them to share those with their friends and everyone else they want. It gets regular updates, has over 100.000+ active installations, and 4.5 stars out of 5-star rating.
So Main Features are:
Selection of wishlist page and name
Choosing the position where "Add a wishlist" or "Remove the wishlist" buttons will be placed
Upload your custom "Add a Wishlist Button"
Sharing wishlist in social channels
Custom CSS styles
WPML support
Additional shortcakes and widgets
Customizable wishlist table
---
---

WPC Smart is a powerful plugin that will help your potential customers to manage items they want to purchase. This plugin gets regular updates and has more than 30.000+ active installations and 5 out of 5-star ratings.
So Main Features are:
Smart display of product display
Enable/disable auto removal of products
Edit the text and action triggered after adding an item to the wishlist
Choose a menu to add the wishlist menu
RTL support
Add a note for each product
Customization to match with your theme/site design
---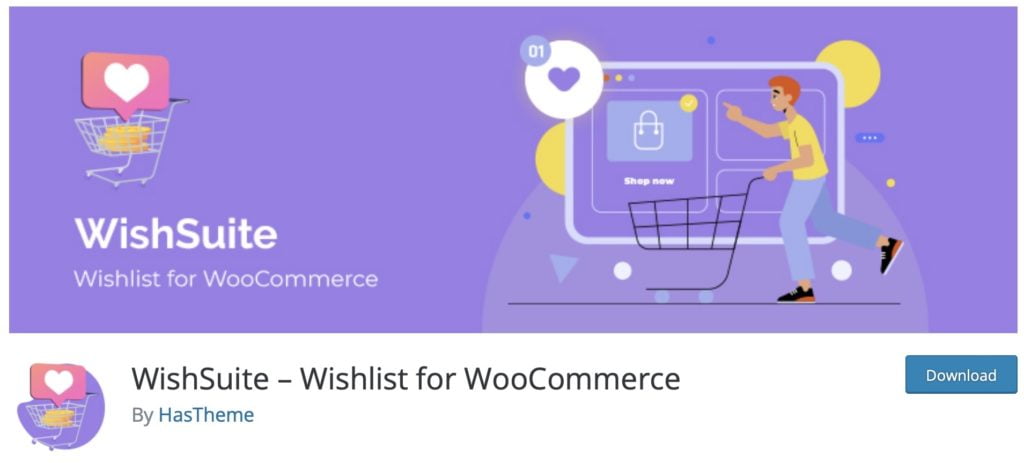 ---

WishSuite is a plugin with which you can add stunning wishlists to your WooCommerce e-store. The plugin's main purpose is to make the process easy and straightforward. It gets regular updates and has over 1000+ active installations, along with 5 out of 5-star reviews. Now I assume it is time to take a look at the main features it offers.
So Main Features are:
Selection of the page where the wishlist will be
Selection of the position of the wishlist button
Availability to add a wishlist anywhere on the page using shortcode
Wishlist can be shared on Social Media
Show/hide columns in the wishlist table
---
---

Wishlist for WoCommerce is one of the most popular plugins to create a wishlist using, which will help you analyze the most selling products, thus improving your store's performance and increasing sales. This plugin in the WordPress Plugin Directory has over 400+ active installations, gets regular updates, and has 5 out of 5-star ratings.
So Main features are:
Add a wishlist to any page of your website
Supports Text/Icon/Default theme style buttons for wishlist
Let the customers manage the wishlist from the 'My Account Page
Choose the button position for the wishlist on the shop page
---

How to create a Wishlist?
At almost the end of the "How to create a Wishlist in WooCommerce" article, the only thing left is to make your final choice; afterward, install the plugin. Installation of each of those is very easy; go to admin's dashboard from the back-end of your website, then click on plugins, afterward add new. Then, on the search line, type the name of the plugin you wish to install, click on install after activate.

After you activate the plugin you need, you can make necessary customizations such as; choosing a page where your wishlist will be located, button appearance type, etc. and adding the final version to your website.

---

Step-by-Step Creation of Wishlist with Yith WooCommerce wishlist
To make the process more precise, we will take a look at the step-by-step instruction on creating a Wishlist with the plugin "Yith WooCommerce Wishlist."

---

Step 1 – Installation
First of all access the admin's dashboard from the back-end of your website, and install this plugin.
Go to "Plugins"
Click on "Add New"
Type "With WooCommerce Wishlist"
Click on "Install"
Click on "Activate"

---

Step 2 – Set up
Your next step will be the setup of this plugin. We have already reviewed the main features of it, so let's start the customization of the buttons, placement of the Wishlist, etc. Under the general settings tab, In the "add to wishlist tooltip style," you can choose the background and text color.

---

Step 3 – Add a Wishlist
You need to pick a page as the main wishlist page, for that go to pages, but before that, make sure to copy this shortcode, then go to pages select the page you want the Wishlist to appear on and paste the shortcode there, or you can create a new page for the wishlist name it and paste the shortcode.

---

Step 4 – Check out settings
In order for the "Add to Wishlist" button to appear on your website, go to "Yith" from the back-end of your website, then click on the tab "Wishlist", afterward on the tab "Add to Wishlist Options", and finally enable "show the wishlist in the loop" setting. Then you will be able to choose the position of the "Add to Wishlist" button, e.g. right under the product.

---

Step 5 – Multiple Wishlists
If we scroll down, we can see "MultiWishlist settings". If we enable this option, the customer will be able to create more than one list, which can be beneficial both for you and your potential clients, as they will diversify the product range they want to purchase. Also, with this option, we can customize for which users it will be available.

---

Summary
To summarize the "How to create a Wishlist in WooCommerce – in 5 simple steps" article, I can say that Wishlist is an amazing add-on to your store; it will defiantly help to boost some traffic and sales, especially if the option "share with friends" is available. Besides, it will generally remind your customers about items they wanted but could not get right away for various reasons.
If you liked our top list of best WooCommerce Wishlist plugins then hurry up to learn about the Best Shipping and Delivery Plugins For WordPress.
If you liked the article do not forget to check out our YouTube channel with tons of WordPress tutorials! And you can find us on Facebook & Twitter, where we post interesting updates about upcoming events.




---

Must-Read Articles
I also suggest that you read our must-read articles because those will help you better understand WordPress.
"Do De-Activated Plugins Slow Down Your WordPress Website?" article will help you to comprehend how plugins generally affect your website and provide you with some necessary tools and features on how to improve your website's loading speed.
"Top Security Plugins in The WP Repository: 2022 Comparison" this article will uncover the reasons why the security of your website should concern you, how to keep it safe and provide you with the best tools to do that.
"Maps Marker Pro – Best Mapping Plugin, or No Big Deal?" article is a full and honest review of the Maps Marker Pro plugin.