SEO tools are potent and vital to drive high traffic to your website, and due to the digitalization era we live in, there are many worthy SEO tools. However, in this article, we will review WordPress's market giants.
People always argue over which one of those SEO giants is better; that is why in this article, we will review each of these in detail and have a complete picture of functionality, prices, and benefits they offer. So The most powerful SEO tools: Which one is better? Yoast Vs Rank Math, let's start.

---

What is SEO?
Right now, I suggest we start from scratch in order for beginners to understand what is going on. So what is SEO in short? SEO is search engine optimization, including keywords, meta tags, and meta descriptions. Moreover, it aims to improve the written material's quality and potentially positively influence search engines into driving high traffic and making your website/blog post/article visible.

In simple words, SEO is basically the process of optimizing a website to rank higher in the browsers, e.g., on Google's first page, because it improves clickability and increases profit.

---

What Elements Does SEO Include?
There are On-page and Off-page SEO, which include some elements, such as:
On-page SEO
Design
Text
Keywords
Metadata
Alt text
Internal links
Off-page SEO
External links
Social Media linkings
Promotion

---

How Does SEO Works?
Search engines use AI-based robots to analyze written content and rank web pages accordingly to the request made. The request made is basically your keyword. For example, if someone types "WordPress best plugins" and if you used a sufficient amount of the focus key phrase in your article, it is more likely that your article will appear in that person's search results. Search engines show the best result matching the request based on analysis of the text; that is the reason why keywords are crucial and the most significant part of SEO.
---

Best Tools For SEO
In this competitive industry where many tools are available for SEO, some are considered the best among them. Some tools specifically relate to WordPress and can be installed as plugins/add-ons; the other ones are general tools that can be used for a website. Let's review a few tools and then dive into the main topic of our article, Comparison of Yoast SEO and Rank Math.

---

Best SEO Tools Listing
SemRush
One of the most popular and potent tools for online marketing, including SEO – SemRush is a complete all-in-one marketing tool that offers focus areas:
SEO: keyword listings, backlink's analysis, Local SEO audit, SERP positions tracking
Content Marketing: topics that are interesting to your audience research/suggestions, tips to create SEO-friendly content, audit on real-time metrics, tracking content reach 
Market research: any website's traffic analysis, competitors promotion strategies analysis, ideas, keywords, backlink gaps 
Advertising: best keywords for PPC campaigns, competitors ad copies monitoring, analysis of google 
Social Media: scheduling and auto-posting of content, tracking, and social media analysis of competitor's accounts, creation and optimization of social ads 
Giants – best for WordPress
As I mentioned at the start of this article, WordPress giants are Yoast SEO and Rank Math. And to be fair, we are going to review them in detail. That is why in this paragraph, I am just mentioning their names. So with that being said, down below, you can start the brief revision/description of Yoast SEO.
By the way, the best way to SEO-optimize content is with the use of keywords, to save your time you have to know about the best keyword research tools out there.
---

Comparing Yoast SEO and Rank Math Plugins
Yoast SEO Vs Rank Math. Are you trying to understand which one of those two works better for you, and do not have time to spend on countless websites and do research yourself? Congratulations! You are at the right place; we did everything for you, all info in one place. The only thing you have to do is read the main characteristics, look at the comparison part and decide which one you should go with. Let's start.
---

YOAST SEO Complete Guide of Functionality
Yoast SEO is available for free installation on WordPress Plugin Directory. It is quite popular among WordPress users and content writers for a good reason; even its free version offers everything you need for good optimization of your blog post/article. This comprehensive WordPress SEO tool offers the functionality needed to rank higher in search engines.

---

Main Features
The top features it offers are:
Readability analysis: assist you in using sentence length, vocabulary, and other features of the text to make it more comprehensive for the general audience.
Focus keyword analysis: how many times you should use it, where in meta description should you put it, also subheading suggestions.
Language support
A Google preview: shows you how your final article will appear in Google.
Meta descriptions: You do not have to do coding to add meta descriptions, the box where you can quickly type the meta description of your article is available in the SEO analysis settings.
Internal/external links
Innovative Schema blocks

---

Pros & Cons
Pros of Yoast SEO plugin are:
Suggestions for improvements of SEO: It points out all the issues your text/article has and helps you to improve it
Readability score improvements suggestions: it shows you where your text may be hard to read or monotonous, along with other criteria to assist you in improvement.
Accessible/user friendly
Cons:
Pedantic: Sometimes Yoast can be pedantic because it has certain rules to follow, which it does not break even when appropriate and necessary.
More features and Installation.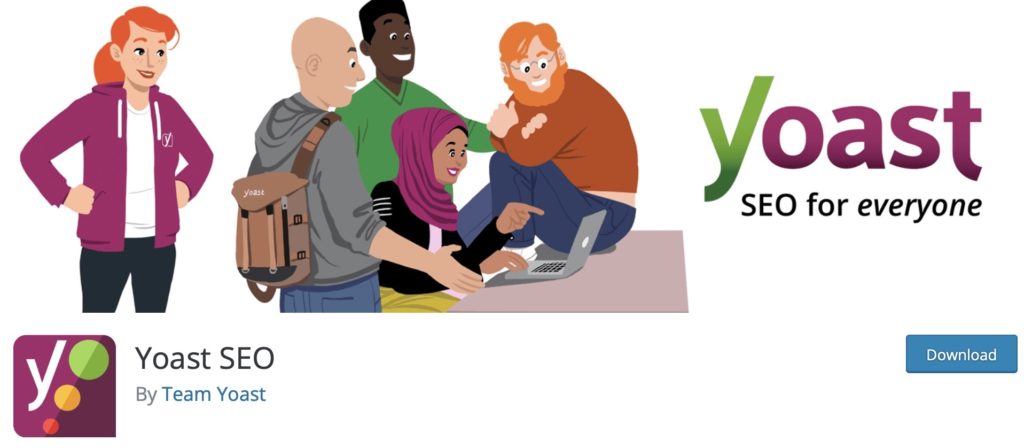 ---

Rank Math Complete Guide of Functionality
Rank Math is also useful and complete, a full-featured tool available on WordPress Plugin Directory. Therefore it is definitely worth to be compared with Yoast, however, Yoast still remains in the first position when you ask WordPress users what plugin to use for better SEO. Why is that? Probably the reason is that many users are not that familiar with this tool.

---

Main Features
The primary features of this plugin are:
Intelligent recommendations: analyze the text in order to give you suggestions for improvements that make sense and are not just automated
Related keywords
SEO titles
Meta descriptions: box to easily add meta descriptions
Structured data
Use of AI: uses AI to assist you in writing great content which works both for the visitors and for the search-engines
LSI Keyword Tool Integrated
Full control
Internal Linking Suggestions: suggests relevant links you can add to your article from your website.


---

Pros & Cons
As with any other plugin, Rank Math has its upsides and downsides; that is why we will review its list of pros and cons to understand those sides better.
Pros
Extremely easy to use
Efficient UI
Import data with one click
XML sitemaps
Multisite Ready: supports WPMU (WordPress Multiuser project)
Cons
Conflicts with other plugins
Not enough features for the free version
More features and installation.
For a more detailed analysis of the Rank Math plugin read the Rank Math SEO Review.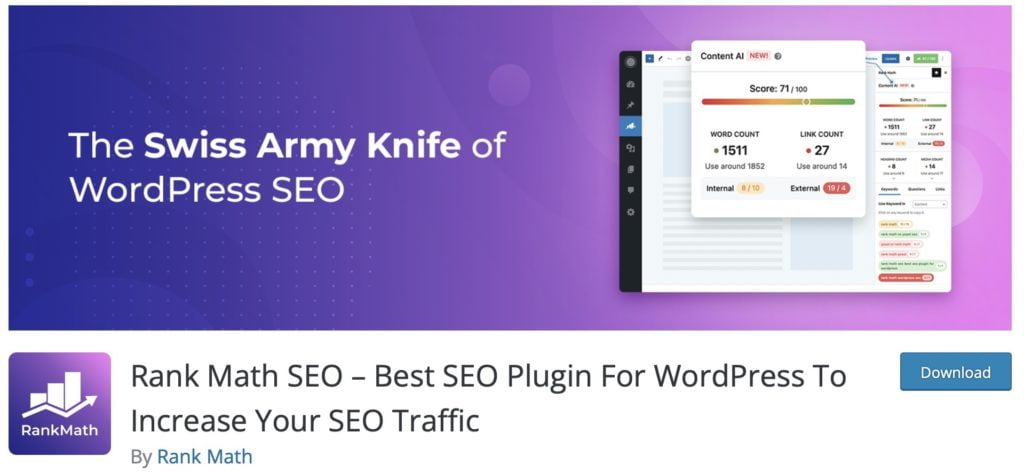 ---

Comparison and Main Differences
Finally, we are at the most "juicy," that is how teenagers say it, right? Um, anyway, we are at the most exciting part – the COMPARISON. The fact that many WP users recommend Yoast SEO does not mean that Rank is not worth trying, the reason behind their recommendations is actually quite simple. That is because Yoast has been with WP users since 2010, it has earned its reputation among them, and many do not bother to search or try something new. Why should they, though? Especially if the premium version of Yoast offers everything, they need.

Meanwhile, Rank Math is a relatively new product on the market, released in 2018, yet this does not make it any less effective.
They are, in fact, fairly similar. What proves both of those being practically identical? The proof is numbers. In less than two years, Rank SEO got from zero to 500.000+ active installations. Reviewing the features above and comprehending the similar functionality, the final choice should be greatly affected by their keyword analysis. The analysis they provide is the same, but the difference and advantage of Rank over Yoast is that it can give you analysis of multiple keywords in the free version. Meanwhile, Yoast in the free version gives you only one focus key-phrase analysis.
Key Differences
Yoast SEO Vs Rank Math
Yoast offers 1 keyword analysis (free version)
Rank offers multiple keywords analysis (free version)
Rank provides Keyword rank tracker, Instant indexing plugin, Local SEO, Google trends integration, Google news sitemap, Google video sitemap all these features in the free version, while Yoast offers those in the paid one.


---

What Should You Choose?
When it comes to the final between choice Yoast Vs Rank Math, you should consider a few main factors:
Both of those products are fairly similar and offer practically the same functionality and equally well performance.
Therefore your final choice depends on:
Your personal preference
Are you a beginner or a Professional?
Rank Math is an excellent tool, especially for beginners, considering its free features. Still, I would recommend sticking with Yoast for the long run because it offers advanced functionality in the premium version. Everything also depends on your budget, do not worry about the performance. If you are going to choose the free version, go with Rank Math; if you are ready to pay and get the best out of the best, try Yoast.


---

Summary
To summarize this article, I can say that there are many great tools available out there for SEO analysis; some of them are just good for WordPress because they reduce the need for coding and offer every optimization feature you need in one place. The final choice is yours; I can suggest carefully looking again at the features of both plugins and choosing something that will specifically benefit you and your website.
If you liked our "Yoast SEO Vs Rank Math" article, do not hesitate to leave a comment down below. Also, you can share it with your friends or colleagues who may be interested in the topic. Thank you for your time!

---
If you liked the article do not forget to check out our YouTube channel with tons of WordPress tutorials! And you can find us on Facebook & Twitter, where we post interesting updates about upcoming events.
---
Must-Read Articles