Along with the changing algorithms of Google, one thing remains consistent. And it is keyword research. Keywords are phrases that cover your main content. If you want to be found by online visitors you need to have strong SEO. This includes not only link structure and other SE optimization elements, but also keyword research. These words are one of the most essential parts of your content. As they may create a bond between a user that searches for his/her needed topic and you who is writing an article and publishing it on a website. As it is highly important for marketers to optimize websites, then in this article, we are going to speak about the best keyword research tools for WordPress.
---
Why Do You Need To Research Keywords?
As you may guess, the process of researching keywords refers to finding out phrases that people enter into Search Engines to find this or that information. So, revealing the right keywords will help to reach a high SEO rank. Moreover, keyword research will enable you to get significant insights into the issue terms that your targeted audience will most likely search for on Google. So, you can somehow predict the success level of the article and even choose a topic for upcoming articles. This can lead to the improvement of your marketing strategies.
But first, it is more important to make a list of appropriate topics for your business aims. And only after that, you may search for the keywords to use for getting a high SEO rank on Search Engines.
So here is a list of the best keyword research tools for WordPress.
---
If you are an advertiser who intends to run different ads then this tool is made for you. Yet, it is beneficial not only for the advertisers but also for the SEO specialists. This gives you thorough insights into each of the keywords that you search.
So, this tool enables you to get new keywords, search volume, and forecasts. In the first case, you search for new keywords. And in a second way, you enter the already chosen keyword combination into the searching section to get a report about the average monthly searches, competition, top-of-page bids in a low or high range, etc.
So if you want to get new keywords about the needed topic, you can highly benefit from the first method which is the "Discover new keywords" option. Here you can choose the search language, area and filter your research with a domain. Here you will get the report about the average monthly searches, three-month keyword changes, competition (low, medium, high), ad impression share, top of page bid (low and high range), and account status.
Truly, these facts and details are measured according to the ad results and advertisers' preferences, but you may use this tool to find qualifying keywords for your further topics.
---
Ubersuggest is a unique tool that is easy to use. You just need to enter a word that is mostly related to your topic. The tool will bring you hundreds of suggestions. In addition to this, you will get SEO metrics and search volume measurements. It is useful especially for bloggers and big sites to reveal a large number of content topics.
This extension works with YouTube, Amazon, and Google. And it is super easy for quick results. All you have to do is perform searching in Google, YouTube, and Amazon and the results will appear immediately.
And summing up, you can see all the available features on Ubersuggest:
YouTube, Amazon, Google keywords
Keyword and content ideas
Cost Per Click
Keyword analysis
Search volume
Top ranking pages
Backlink profiles
Domain score
Pinterest, Facebook shares
Targeted keyword suggestions, etc.
You can find the extension's Pro version with this pricing:
Individual– $12 per month
Business– $20 per month
Enterprise– $40 per month
---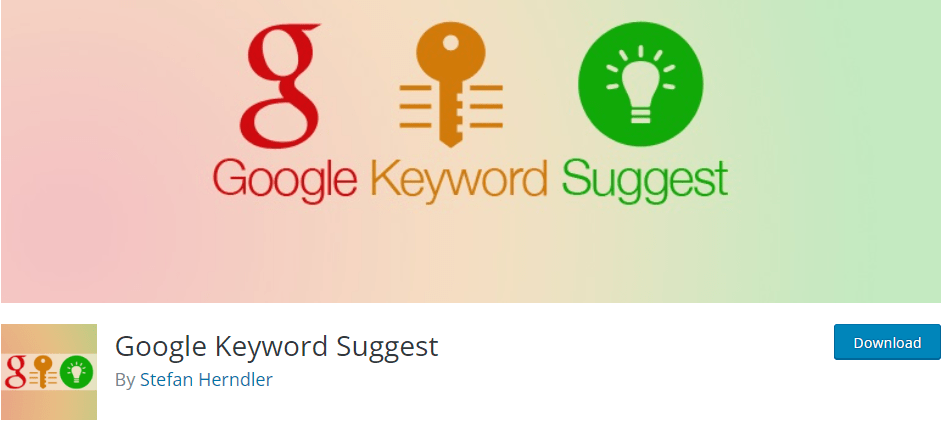 As you may know, WordPress has the most powerful content management system. Every day thousands of content are posted on this platform. So it is too important to have keyword research and SEO plugins. They will help you to reduce the time for finding the needed keywords for your topic.
So, this plugin has almost 900+ active installations and a 5-star rating.
Here are the languages and countries that the plugin supports:
Spanish- Spain, Mexico
English- United States, United Kingdom, Australia
German- Germany, Switzerland, Austria
Italian- Italy
French- France
Swedish- Sweden
---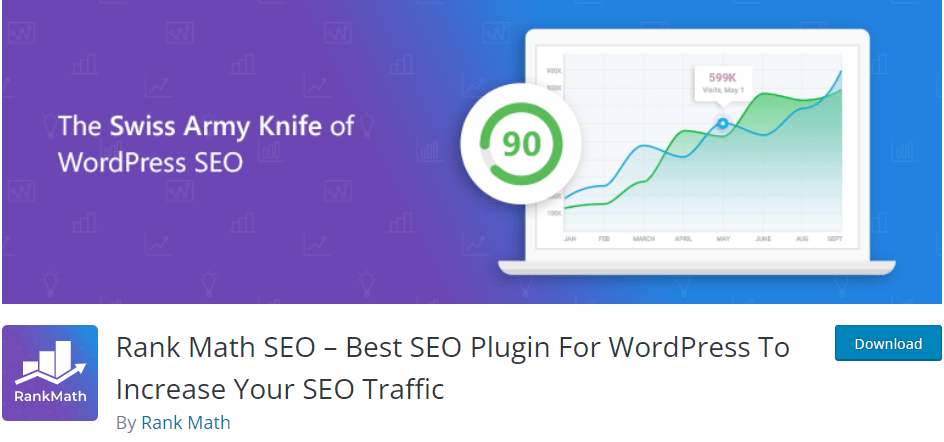 Rank Math SEO team suggests you this SEO plugin to improve your website traffic. This plugin has almost 1.000.000+ active installations and a 4.9 out of 5-star rating.
It offers you automation features:
Setup Wizard- it is easy to install and activate.
Optimize unlimited keywords- you can get an unlimited amount of keywords per post.
Google Keyword Ranking- with this function you are able to follow your keyword ranking in Google.
Google Analytics integration- you make one click and Google Analytics is installed.
Advanced SEO analysis tool- you can have your post's SEO analysis in just a few seconds.
Multisite ready- this plugin supports WordPress multisite.
There are plenty of other features. And the WordPress Rank Math plugin offers two packages: Free and Pro: Here you may meet the pricing list of the Pro version:
Pro– $59 per year
Business– $199 per year
Agency– $499 per year
---
Here is another keyword research plugin developed by the SEO Review Tools. There are 1000 active installations for this plugin. And it rates 5-star on the official WP website.
To utilize this plugin you have to enter the focus phrase. After this, the plugin will automatically generate a list of relevant keywords. All you need to do is select the appropriate ones for your use.
After the plugin's activation "KW Research Tool" will be added as a menu. So you can research keywords without leaving the WordPress interface.
Here are the countries that the plugin supports:
USA
UK
Netherlands
Canada
Belgium
Denmark
Germany
Ireland
Italy
France
Australia
Spain
Portugal
New Zealand
---
This awesome plugin has over 900 active installations. The plugin utilizes Google API. So you can get what people search for in a couple of minutes. No configuration is needed and still, you can copy the suggested keywords into the spreadsheet. The RB keyword research plugin is beneficial even when you want to use the researched keywords in the campaigns. Also, it is significant that you can get quick and valuable support.
You are able to find Bing and Yahoo keywords via the Pro version. You can purchase the package for $9.99.
---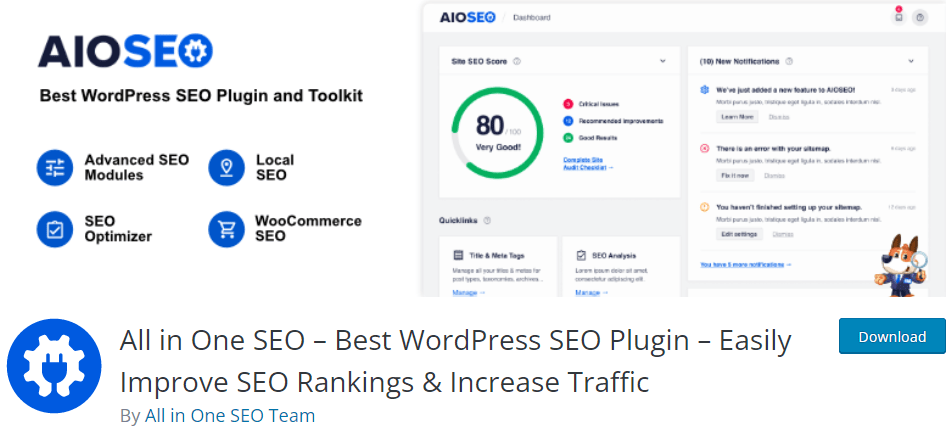 Here is our next plugin "All in One SEO" which scores over 3.000.000 active installations and a 4.6 out of 5-star rating. It is the original WP plugin. In a few minutes, you can set up many features like:
XML sitemaps
SEO meta description
Keywords
SEO Knowledge panel information, etc.
The TrueSEO score will give you a more deep SEO optimization for any keyword.
Using this plugin you can get unlimited SEO keywords. The SEO content analyzer will be highly helpful. Besides, it uses Semrush SEO integration
To get more advanced features you can activate the Pro version:
Elite– $239.60 per year
Pro– $159.60 per year
Plus– $79.60 per year
Basic– $39.60 per year
---
Meet our last plugin from our list. That is WP AutoKeyword developed by EXEIdeas International. It reaches more than 700 active installations and has a 5-star rating.
It also suggests keywords for all the published posts. This is matched with the provided lists that contain the frequently utilized and trendy keywords.
Here you can see the plugin's features:
You can enter a text manually and get valuable keyword suggestions.
The plugin will add keywords to WordPress published posts.
It automatically inserts a meta keyword tag.
You can add, update, delete, and search for keywords in the database to make this plugin work better for your appropriate business aim.
You can find plenty of more functions in this plugin.
---
Watch the Video Tutorial
---
Summary
In conclusion, we would like to spot that keywords are the way you are found in Searching Engines. In fact, the more you utilize the appropriate keywords the more it will be possible for your content to appear in the top results. Google has changed its functionalities and options over time. But this does not mean that using keywords is an old or not effective SEO part. Yet, it is not the only but very essential part of SEO. But, you do not need to exceed the number of repeating the same keyword in the text. As it may lead to keyword stuffing. This will mostly harm your site activity than help it to rank.
But fortunately, in this big deal, you can get good support. If you use WordPress for building a website, then you are able to find various plugins for keyword research. Yet, there are also Google extensions and other tools to score a good result.
If you like the article, do not hesitate to find us on Facebook and Twitter. For interesting WP tutorials, please subscribe to our YouTube channel.
Latest posts by Anahit V.
(see all)