Having a WooCommerce store is a big step to promote your online sales. Yet, if you want to provide the best customer experience on your website then it is high time you thought of implementing shipping and delivery option on it. As WordPress is one of the simplest yet well-functioned platforms, then in this case, also, you have an opportunity to use a plugin. So, as you may guess, in this article, you will acknowledge the best shipping and delivery plugins for WordPress.
---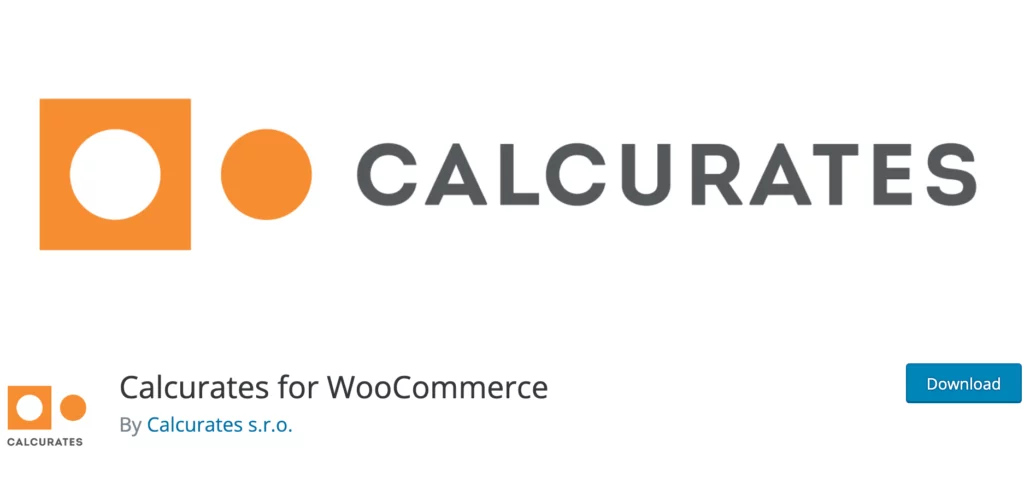 If you want to control your WooCommerce store shipping processes entirely then the WordPress Calcurates plugin is exactly for you. Scoring a 5-star rating in the WP Plugins Repository it includes all the needed features to organize cost-effective shipping and delivery without having programming skills.
Offering a simple setup process the plugin will help you easily calculate and provide your customers with the right methods and rates for shipping. You will find the majority of e-commerce platforms and carriers seamlessly integrated with this plugin:
Shopify
Magento
PrestaShop
WooCommerce
Bigcommerce
FedEx
United States Postal Service
DHL
Royal Mail
UPS
Dpd, etc.
The plugin offers a multi-carrier solution for your WooCommerce shop which means that you have great flexibility to work with your desired carrier based on your customers' needs and store budget. Moreover, it provides a personalized approach for any of your store clients with its "Shipping Zones" feature. This assigns specific rates based on the client's location and zone taking into account the accepted area-based restrictions. In addition, your international customers can highly benefit from the "International shipping" option that can be available at checkout. You are able to set the rates related to the shipping costs, as well.
Also, if you need your own calculation algorithms or such rate calculation methods as Flat rates, Table rates, or in-store pickup rates then the plugin comes up with "Custom Shipping" options.
Other Features
Other important features include:
Carrier shipping options
Volumetric weight
Smart packaging
Multi-origin shipping, etc.
The Calcurates plugin can also assist you to get a higher conversion rate on your WooCommerce store pages. This is by displaying the most convenient shipping ways on the product pages.
The Calcurates users are very pleased with the professional customer support team ready to help with all the plugin-related issues in a matter of a few minutes.
Calcurates has very affordable monthly pricing plans compared with its advanced features:
Starter store – $29
Small store – $69
Medium store – $139
Large store – $229
Moreover, except for the "Starter" plan, all other packages include 2-hour setup assistance from the Calcurates team.
---
The second plugin from our best shipping and delivery plugins list is Flexible Shipping Table Rate for WooCommerce by Octolize (previously Flexible Shipping team). It has more than 100,000 active installations and 472 5 stars in the WordPress Repository.

Flexible shipping is the best Table Rate shipping plugin for WooCommerce. The great advantage of this solution is defining the shipping rules based on numerous conditions. With Flexible Shipping PRO, you can complete even the most advanced shipping. Moreover, the whole process is very simple as well as intuitive.
The free version allows you to calculate the shipping cost based on weight and/or the cart total, but the combination with PRO gives you absolutely everything that you ever needed in the shipping plugin.

So, here are some features of Flexible Shipping:
Shipping cost based on the product weight and/or the cart total
Min and max values for weight and/or the cart total
Unlimited methods for shipping and rules for costs calculation
Free shipping threshold
Summing up the shipping cost coming from the different rules
Whole cart – or only shippable products' cost calculation
Built-in & ready to use shipping scenarios
Shipping Zones configuration conflicts validation

These features give you an opportunity to create shipping scenarios like:
Shipping costs based on package weight or cart
Shipping prices based on cart total
Adding handling or insurance fees after reaching a certain order value
Creating a Cash On Delivery shipping way with additional prices
Flexible Shipping PRO Features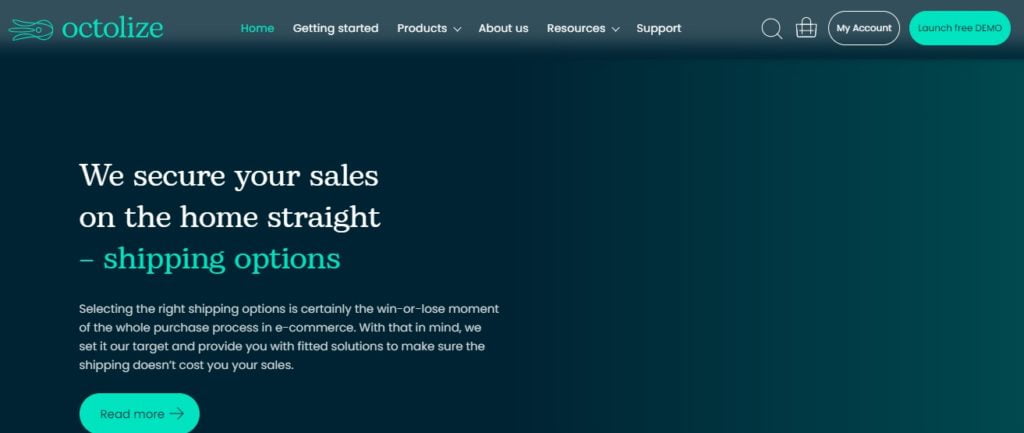 Features of the plugin mentioned above are available in the free version but you can upgrade it to PRO. So, this move provides you with:
Shipping classes support
Shipping costs according to products' quantity and/or cart line item count, the product's dimensions (single product's max dimension or total overall dimensions)
Costs according to the volume of the products in the cart, dimensional weight (with custom DIM Factor), products, product categories, product tags)
Costs according to date & time (time of the day and day of the week)
Additional costs for the weight, item, price, cart line item
Advanced conditional logic for shipping cost calculation rules
and a lot more.
What is the cost?
The price for the Flexible Shipping PRO WooCommerce is €89 annually (1 site subscription).
All these bundles include one year of updates and premium support, as well as a 30-day refund and money-back guarantee.

What's more, the vast array of Flexible Shipping PRO functionalities can be extended even further by several dedicated add-ons and shipping integrations like Flexible Shipping Locations, Flexible Shipping Multi-Vendor, or Flexible Shipping Import Export.

With Flexible Shipping, you will improve your sales and provide your clients with shipping solutions that they expect and deserve.
---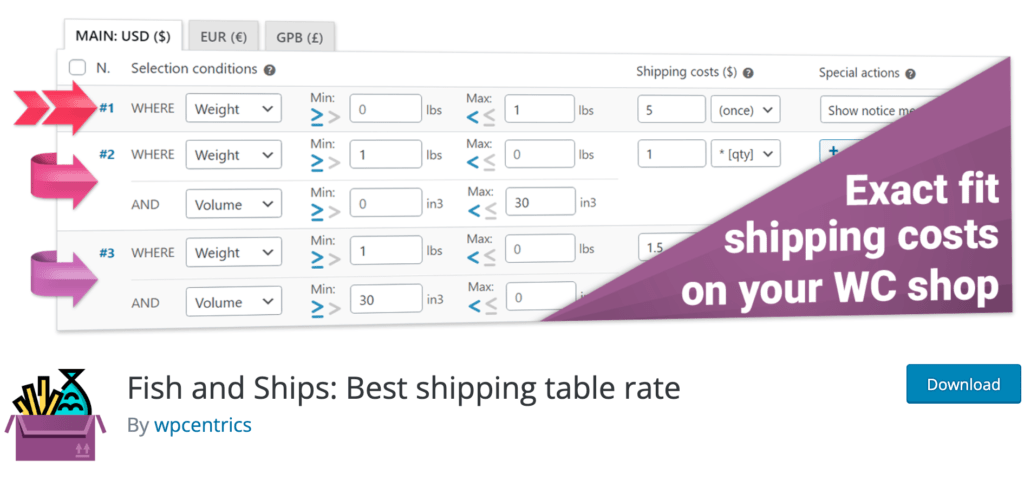 The third one from our shipping and delivery plugins list is the Fish and Ships plugin developed by Wp-Centrics. It has more than one thousand active installations and gained 17 5-stars ratings in the WordPress Repository.
The plugin presents a great shipping method for your WooCommerce shop. Furthermore, it is not complicated to use and provides a huge variety of features. So, you can set up shipping rates based on:
Weight
Dimensions
Cart product
Free of charge
Volume
Price
Cart totals
Advanced flat rates, etc.
Due to this plugin, you are simply able to increase your sales. Moreover, it prevents you from losing costs.
Besides the mentioned feature, you can select multiple criteria for every rule.
Some of the key functions are noted below:
Logical Operator for each of the rules (AND / OR options)
Grouping the items by certain characteristics (such as SKU, product type, etc.)
Special functions (such as removing shipping method)
The ability to set different prices for each currency
Various plugins support
Multilingual support available
Intuitive wizard
Import/export features
Shipping price calculation, etc.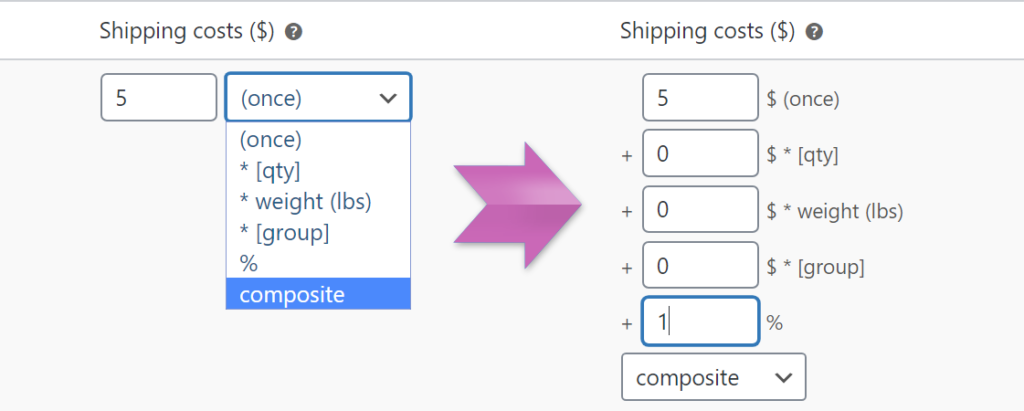 It is worth mentioning that the plugin, as well as guiding files, are translated into 7 languages including English, Spanish, Italian, etc.
Pro Version Pricing
Along with the mentioned characteristics, the plugin developers created its paid version full of more advanced features that might be useful on your WooCommerce store. And here you may meet the pricing:
Starter– €50 (€58 with taxes)
Business– €85 (€99 with taxes)
Agency– €170 (€199 with taxes)
Also, you should note that the Wp-Centrics gives you a refund capacity providing a 15-days money-back guarantee.
One of the key features appearing only in the Pro version is "Shipping Boxes Flat Rate". This is a good opportunity to set flat rate shipping costs for certain-sized boxes. Moreover, this can be done for multiple product carts: Fish and Ships algorithm will fit the cart products in the best possible box/es, based on the best strategy for your store's needs:
Cheapest shipping
and/or The smallest number of boxes
and/or the Lowest total volume of boxes
Free VS Pro Comparison
Now, let us compare these two plans based on the main characteristics:
| | | |
| --- | --- | --- |
| Functions | Free Plan | Pro Plan |
| Multilingual (with WPML plugin) | | |
| Multiple currencies | | |
| Global Group-by function | | |
| Shipping price calculator | | |
| Basic selectors | | |
| Min, Mid, Max Dimension | | |
| Included/ Not included in shipping class | | |
| Abort shipping method | | |
| Cancel below rules | | |
| Distinct Group-by option on every rule | | |
| Premium support | | |
| Logical operator (AND / OR options) on selectors | | |
| Automatically apply coupons | | |
| Volumetric selector | | |
| Selector by length, width and/or height | | |
| Included or not included in category selector | | |
| Tagged as or not tagged as selector | | |
| Skip N rules | | |
| Reset previous prices | | |
| Cart total selector | | |
| Set minimum and maximum prices | | |
| Display a notice message | | |
| Matching products skip next rules | | |
| Renaming title method | | |
| Adding subtitle | | |
| Shipping boxes flat rate | | |
| Math expressions parser | | |
---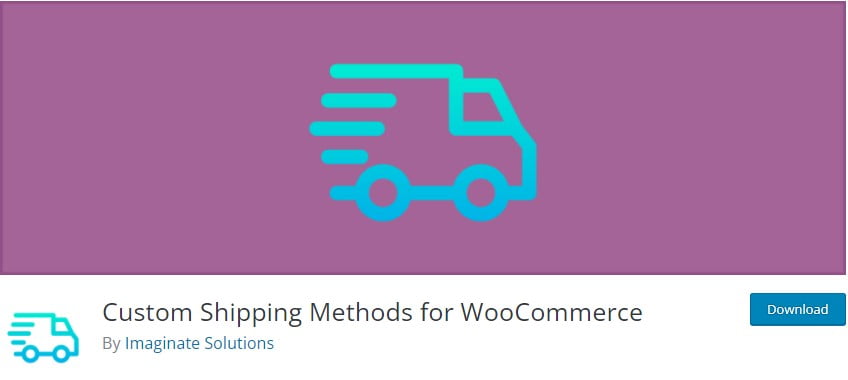 Here is the fourth Custom Shipping Methods for WooCommerce plugin. It has more than 3.000 active installations and 12 5-stars in the WordPress Repository.
Due to it, you can implement different shipping methods in your WooCommerce shop. Also, what is more significant about this plugin, is that it works with shortcodes. So, you can use them in the cost calculation formula of each of the custom shipping methods.
Here are the shortcodes:
[qty]
[cost]
[weight]
[volume]
[fee]
[round]
As well as, you can add the below-mentioned options to each of the shipping methods:
Minimum and Maximum cart cost, weight, volume, quantity
Required and Excluded cart products, categories, tags
Besides the free version, the plugin provides its paid Premium version, as well. So, here are the pricing plans for 1 year:
Single Site– $29.99
Unlimited Sites– $79.99
In addition, you can activate one of the below-spotted lifetime packages:
Single Site– $49.99
Unlimited Sites– $149.99
Also, you should note, that all the packages enable you to obtain a 30-day money-back guarantee. And the paid versions add some new functionalities to the available list, such as:
Table rate shipping with provided shortcode
Distance-based cost calculation
Free shipping products and minimum amount for orders, etc.
---
Moving forward let us reveal another one from the well-functioned shipping and delivery plugins called WP Pickup store. This easy setup plugin has over 3.000 active installations and 16 5-star ratings on wordpress.org.
The plugin is an alternative shipping method enabling you to manage Woocommerce stores by setting up a "store" post type and later activating them for the "Local Pickup" shipping method on the checkout page. Here are some other features that you might also appreciate:
Setting shipping prices globally or per shop
Compatibility with WPBakery
Stores dropdown
Widgets
Font Awesome and Bootstrap CSS libraries
Email notification about shipping on the admin's page
Multiple countries' stores available
Shipping prices presented both by flat rate and percentage for the methods or stores separately, etc.
These are just a part of the plugin's super features.
Along with the mentioned ones, you are free to request paid Premium add-ons on the plugin's official website.
---
The next one from our best shipping and delivery plugins list is the WordPress Delivery Date for Woocommerce developed by PixLogix. It is a free plugin having over 300 active installations and 6 5-star in the WP Repository.
With it, the clients can select their preferred delivery date and time. The data will be accessible to the customers both via Email and in the Admin dashboard. So, they can reveal the date and time and start the process immediately.
Here are some of the plugin's main features:
Managing the delivery date field labels (admin)
Selecting delivery dates according to the admin's convenience
Disabling some dates or days for delivery
To make the users understand the plugin's functionalities PixLogix prepared demo versions of this plugin both for the users and for the admin (with credentials provided on wordpress.org).
---
Being developed by the wpWax the Woocommerce Table Rate Shipping plugin has over 700 active installations. It is an easy tool to calculate shipping prices according to the total price, weight, amount of items, etc. The plugin offers many features but it is still not complicated. You can enjoy the greatest user experience while using it.
Here are some of the free version's features:
Multiple shipping rates based on countries, states, taxes, zip, and postal codes
Conditional shipping rate
Delivery price according to the total price, weight, etc.
To access more advanced functions, such as adding shipping rates according to the item weight in kgs and Ibs, multiple shipping rates for various zones, shipping rates for different classes, etc., the wpWax developers prepared for you the plugin's paid version. Here are the pricing plans:
1 site– $39 per year
5 sites– $99 per year (the most popular package)
Unlimited sites– $179 per year
After obtaining these plans you have a 30-day refund opportunity.
---
So, last but not least shipping and delivery plugin is developed by PowerfulWP and is called Local Delivery Drivers for Woocommerce. It has more than 1.000 active installations and 8 5-stars in the WordPress plugin directory.
This plugin is good to manage the delivery process, drivers, notification sending process, etc.
Due to it, you can easily sign a driver to deliver this or that order. As well as it provides a mobile-friendly tool for the drivers. Hence, here is a short list of the plugin's great features:
Adding a new delivery driver user role
Assigning the delivery driver to the new orders
3 delivery statuses
Orders notes available
Page screen for orders
The plugin can be beneficial for almost all kinds of online shops and is translated into many languages such as Arabic, Hebrew, Russian, German, etc.
Besides the free version, you can obtain many other advanced and more professional features by upgrading to the plugin's premium version with these available packages:
Annual License– $129
Lifetime License– $389
---
So, the first plugin from our list has been developed by Shipday. It has over 600 active installs and a 5-star rating in the WP Repository. Due to this plugin, your delivery process will become very rapid and affordable. Moreover, it provides you with intuitive mobile applications which help you easily identify demanded and scheduled orders, determine the best and fast routes for delivery, and track the drivers' work.
With this plugin, you are able to implement your preferred delivery drivers and services, such as DoorDash or Uber. As well as it integrates Woocommerce. So, you can manage your store delivery processes very quickly and without hustles. Also, the delivery can be automatically organized when the client places the order on your WooCommerce store.
So, some important features are available only in the plugin's paid version. Here is the pricing for the paid packages:
Professional– $29 monthly; (includes all the features available in the free version and additionally SMS notifications with live ETA, delivery tracking with a map, delivery planning, etc.)
Branded Premium– $59 monthly; (includes all the features available in the Professional plan and additionally branded driver app, delivery tracking, customer-facing emails, age verification before delivery, etc.)
---
Summary
To wrap up, we would like you to note how it is important to implement a delivery service in your store. So, good delivery and shipping options will provide the best customer experience and increase conversions to your site. So, now it is time to choose one of the above-described plugins and move forward to the new stage on your website.
If you like the article, do not hesitate to find us on Facebook and Twitter. For interesting WP tutorials, please subscribe to our YouTube channel.
Latest posts by Anahit V.
(see all)