We know that almost every online store owner is working on his/ her WordPress website's sales and convenience, and at the same time every online customer is looking forward to a flexible and suitable store: you are in the right place for those. If you wonder time by time what are the most useful methods to keep your clients engaged and updated about your sales or the presence of products that were out of your stock for some period, to process marketing strategy based on your customer's preferences and make your store more customer friendly, then a WooCommerce wishlist plugin may be an exact solution you are looking for.
We've researched and picked the 6 plugins to answer the question of how to add a wishlist in WooCommerce. Keep up reading the article to find the best wishlist plugin for WooCommerce.
---
What are WooCommerce Wishlist Plugins?
Firstly, let's start with the understanding of what Woocommerce wishlist plugins are.
Simply put, such plugins will help your customers to make lists of their desired products, in cases when they are not able to buy them at that moment, the exact product is out-of-stock or they just want to make a list of their favorite presents for friends or family members.
---
When to Use?
Sometimes it happens when clients are not able to buy some product but they might come back after some period of time. In such cases, store owners are on the edge of losing their potential clients, and this is when the wishlist plugin helps a lot. Due to a WooCommerce wishlists plugin, your customer will have saved the desired items, and find them easily in the future.
One more situation similar to the previous is when some parts of your products are not available at the moment. Many wishlist plugins enable you to send notifications when the product is again available or when there is a sale on a product that is on someone's wishlist. The lists where products are kept because of being not available at the moment are also called waitlists.
A slightly different situation is when a customer wants to make a list of his/her favorite product with the aim of sharing it with friends, relatives, etc. This is a common case on birthdays, holidays, or other occasions. In this case, the important feature for your customers is the ability to make their list public to let them share it with anyone they want to see it, private for cases when only he/she wants to see it, and also for cases when they want to choose who may see it. Your customers and visitors also may share their lists not only with their friends but also on social media, which in its turn will affect your store traffic and sales.
Besides all the above-mentioned advantages, there is at least one more which may affect and boost your sales. The WooCommerce product wishlist plugin may also show your customers their wishlist-related items to purchase, analyze their lists, and send promotional emails to your clients.
Taking all mentioned into account, it turns out that store owners may loyalize their customers by using Wishlist plugins on their website.
What are the Most Principal Features of a Wishlist Plugin?
Of course, the answer to this question should be formed by taking into account your store's strategies, advantages, and many more, but there are some both useful and basic features to which you should pay attention when looking for such a plugin. So here is our piece of advice: when you want to purchase a wishlist plugin, pay attention to its next features.
Compatibility with other plugins
Customizable buttons
Easy to use and customize
The flexibility of the wishlist's visibility (public/private etc)
Limited/unlimited amount of creating lists by one customer
Length of lists validity
Notifications when WooCommerce favorite products are on sale or again available
So, we have presented what are wishlist plugins and enumerated the set of benefits that both owners and customers may find due to them. But how to add wishlist in WooCommerce stores? Let us smoothly pass to the top list prepared for this topic.
---
What are the Best Wishlist Plugins for Your WordPress Website?
Now it is time to see which plugins are the best to create a wish list for WooCommerce.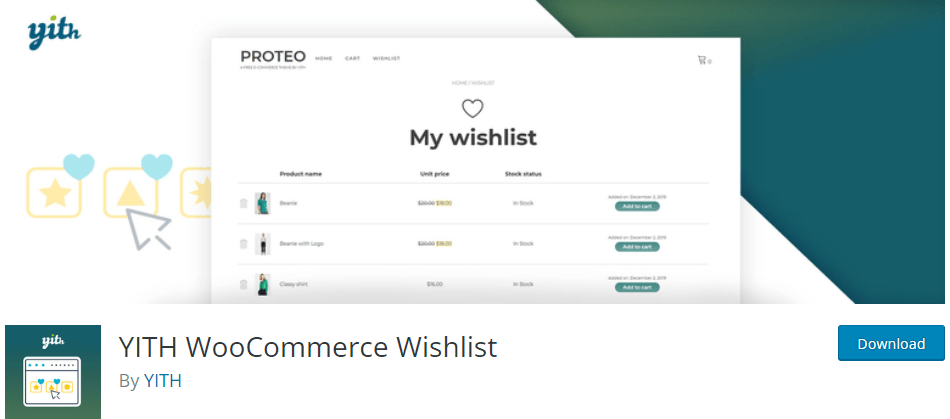 The first place takes the YITH WooCommerce Wishlist plugin produced by YITH. The plugin has more than 900.000 active installations and 147 5-stars on WordPress, moreover this plugin is available in 26 languages. All this is proof that this plugin is one of the most used ones with glad customers.
The plugin is convenient for making multiple wishlists at the same time, Also it enables store owners to send emails for instance to all users who have added a certain product to their WooCommerce Yith wishlist.
The plugin comes with the free and pro version, so let's start with the free version's main features.
Main Features
Allows to select the exact page of the "Add to WooCommerce wishlist" button on your shop page
"Remove from wishlist" button in the wishlist
Customizable columns in wishlist tables
Text, style, and color customization
3 options are available to show after clicking the "Add to wishlist" button
The preservation of details (chosen size color etc) when adding to the WooCommerce wishlist
Besides the free version plugin also has a Pro version with a set of useful and beneficial advantages.
Pro Version
To create as many wish lists as your users want
Send promotional emails
Manage the item quantity in the WooCommerce wish list
Ability to move elements from one list into another
View the wishlists created by other customers
Arrange the order of WoCommerce favourite products by drag and drop
Beautiful layouts for wishlist page and tables
Pricing
And now about pricing. As already mentioned, the plugin comes with free and Pro versions. The Pro version's price starts at $94 per year.
---
The second is Wishlist and Waitlist for WooCommerce plugin by BeRocket which comes with its 100+ active installations.
The plugin provides both wishlists and waitlists for your store. The plugin also builds the list of people searching for a wishlist product that is unavailable at that moment and automatically notifies them when it's back.
Now let us find out the main features that this plugin provides.
Main Features
Wish/wait lists for users
Customizable buttons
Wish/Waitlist button on product page
Wishlist widget with products that are on sale, out of stock, or related to customer wish lists or other products
Customizable wish/wait lists
Compatibility with a set of WooCommerce plugins
Compatibility with a set of WordPress themes
So these were the main but not all features that this plugin provides. Now about price.
Pricing
If you're looking for an easy-to-use and at the same time free plugin this may be your choice. The plugin is free to install and use.
---
So, the third plugin from our list is Wish List for WooCommerce plugin. It has more than 3,000 active installations and 39 5-stars based on satisfied clients' reviews.
The plugin enables users to add WooCommerce products to the wish list. It is very simple and flexible to use on your WooCommerce store. Moreover, it will be easily adapted to your website theme and your preferred design as well as you will get a WooCommerce wishlist shortcode for your fast and smooth operation.
Here are some essential benefits you will obtain by using this wishlist plugin:
Main Features
Simple, yet flexible minimalistic design
Choosing the wishlist button location
Adding items to the wishlist even if the user is not logged in
Option to enable/disable notifications after the items are added to the list
Ajax usage to add or remove items from the wishlist
Social and email share options
FontAwesome icons
These are the main features and benefits of the plugin's Free Version. But you need to note that this plugin provides also its Pro Version with more advanced functionalities.
Pro Version
Premium support
Cache ignore
Gutenberg Editor compatibility
Button customization
More wishlist columns such as product SKU, quantity, description, categories
Notification styles, etc.
Pricing
Surely, the list is not limited to these great features and functionalities. So, you may purchase this all-in-one WordPress wishlist plugin with the below-mentioned pricing:
Single Site – $29.99 (annually)
Unlimited Sites – $69.99 (annually)
Both licenses have a 30-day money-back guarantee.
---
Next on our list is WishSuite plugin with 1,000+ active installations produced by HasThemes. With this plugin, the process of creating Wishlist is super simple and straightforward.
WishSuite is supplemented with basic customization options enabling you to display your wishlist table anywhere on your website. Furthermore, you can style and customize the appearance of buttons and tables according to your preferences. What's great is that customers can easily and quickly share their lists on various social media platforms.
Main Features
This user-friendly wishlist plugin comes packed with numerous useful features which will help to increase sales, conversions, and traffic:
Allows you to choose the page of your website where you want to incorporate the Wishlist table, such as the Homepage, My Account Page, etc.
Using Shortcode you are able to display the Wishlist button anywhere on your WooCommerce wishlist page.
You can add the functionality that enables you to remove any of the products from the list as soon as it is added to your cart.
Customizable buttons, tables, and styles.
Options for sharing on social media platforms (Facebook, Twitter, Pinterest, Linkedin, etc.).
Pricing
This feature-rich WordPress plugin is completely free of charge with its lifetime updates and downloads.
---
The next wishlist plugin is an MC Woocommerce Wishlist plugin provided by MoreConvert. The plugin will help you to add a wishlist to your store, send promotional automatic emails, boost your sales, and loyalize your customers. It also provides the ability to share wishlists. The plugin is available in English and in Persian.
It's time to review the main features that the plugin grants to its users.
Main Features
Quick and easy setup
Customizable Wishlist and "Add to wishlist" button
Automatically remove the item after purchasing
Show your preferred details on the table page
Enable/disable the share button
Share on social media
As the plugin comes with the pro version, let us also enumerate the main Pro features as well. This version will be more useful for you if you want to analyze your marketing strategy.
Pro Version
Detailed analysis of every customer's wishes
Automatically emailing targeted users
Promotional email campaigns
Customized and personalized follow-ups
Collection of sales details
Pricing
While having a Free version plugin also provides a Pro version. The annual cost of the Pro version is $94.99.
---
And our last chosen plugin is the Premmerce Wishlist for WooCommerce which comes with more than 600 active installations in WordPress. This wishlist plugin allows your customers to create a wishlist for their upcoming purchases, and share that list with people they want. Also, this plugin makes favorable offers to your customers based on their wishes. The plugin is available both in English and Russian.
Now, let's review the main features that this plugin gives to its users.
Main Features
Create wishlists
The Premmerce Wishlist widget
Review your customers' wish lists
Share wishlists with URL
Compatibility with WooCommerce and other plugins
Pricing
Premmerce Wishlists for WooCommerce plugin is Free to install and use.
---
To Sum up
So these were the unlimited benefits of having such a plugin on your store and the best 6 wishlist plugins. Which one to choose? Your choice should definitely be made by taking into account the goals, unique advantages, and strategy of your online store.
If you want to know more about WordPress I encourage you to read WPGlob's marvelous articles.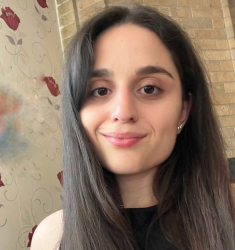 Latest posts by Qnarik Harutyunyan
(see all)