Security concerns every WP website owner. If you tend to use your website for blogging or you find it as a main component for your business aims then you should think of your site security very thoroughly and seriously. And as you know WordPress is a great platform enabling you to find many free and pro tools for almost all your needs and requirements. So, then you can find plenty of useful plugins to secure your site. As you might guess, in this article, we are going to compare the top security plugins in the WP Repository.
---
Why Is It Too Important To Secure Your Website?
Although WordPress is highly secured there is always a need to take some steps towards its increased protection for some significant reasons. One of those reasons is that a hacked website can cause enormous damages to your business. Such as stealing confidential information, data, passwords. Besides, they may download malicious plugins or software on your website. Or else, they can easily demand some money to help you return your website access. So, the one and only solution to this issue is to pay much more attention to your website security. And that can be simpler than you might think. So, in the next paragraphs, we are going to reveal top security plugins in the WP Repository.
---
So, the first plugin from our top list is Security and Malware scan by CleanTalk. It prevents your site from being hurt by online threats and controls your site's security. Also, the plugin provides statistics and allows all security logs to be stored in the cloud for forty-five days. It has more than 10.000 active installations and a 4.7 out of 5-star rating.
Especially, if you do not check your website to find malware then this plugin is a good way to prevent it from it. And this step is significantly important. As it can harm your site reputation and you will not even notice that.
Here are the key functionalities of this plugin:
Filtering access to your website by checking IP, Entry countries, network, etc.
Scanning the available malware by antivirus
Scanning malware automatically
Stopping brute force attacks to find both WP accounts and user passwords
Effective protection for WP backend and login form
Checking all the external links
2-factor authentication, and much more
This plugin is absolutely free and available on WordPress to be installed.
---
The next plugin is Hide My WP Ghost. It has more than 100.000 active installs and a 4.4/5-star rating in the WP Repository.
One of the valuable characteristics of this plugin is that it does not change anything including directories or files. But it brings your website protection to another level.
Due to the added filters and security layers, you can prevent:
SQL and Scripts Injections
XML-RPC attacks
XSS
Brute Force attacks, etc.
Besides, the plugin helps you avoid attacks organized by hacker bots.
Having developed an outstanding plugin, its developers offer you two versions of their product: Free and Pro. Here you may see the payable plan's prices:
Ghost All– $640. This plan is highly preferable for agencies
10 (Ghost)– $299 made for middle-sized businesses
5 (Ghost)– $52.50 preferable for small businesses
1 (Ghost)– $23.99. This is the cheapest plan foreseen for bloggers
The plans are annual and include free premium support, updates, event log, and alerts within 12 months.
---
WordFence Security plugin is among one of the most famous plugins on WordPress. It has up to 4.000.000 active installs and a 4.7 out of 5-star rating. This plugin enables you to access so many options, including:
WordPress Firewall
Security Scanner
Log in Scanner
Multiple Site Security Management (WordFence Central)
Some security tools, such as Live traffic, Block attackers by IP, blocking country entries
Some of these and other features are included in the Free version. Yet, by obtaining its payable Premium version, you may access more advanced functions of this plugin. So, here you can encounter its pricing:
Premium– $99 per year
Care– $490 (this is the most recommended plan) per year
Response– $950 per year
These plans enable you not only to use some unique features but also to receive premium support, protection, new malware detection, etc.
---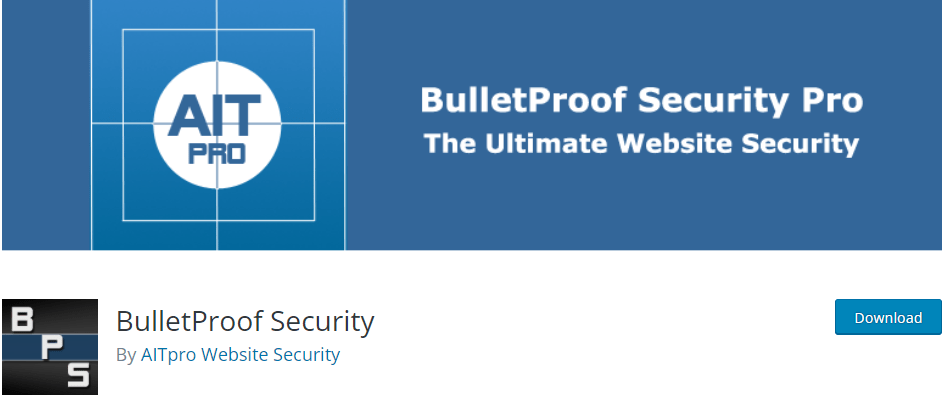 Continuing to present our top list, we would like to speak about BulletProof Security which has 50.000+ active installs and a 4.8 out of 5-star rating.
The plugin enables you to obtain high-level security for your WordPress website. Also, it scans the malware and carries firewall, login security, anti-spam options. It is GDPR compliant thanks to its Setup Wizard options settings. So, you can turn on the IP address during the login process. To do so, you are just required to select the "GDPR Compliance On" option.
Besides the mentioned advantages, this plugin is highly website performance-optimized. It does not load the WP Database with too unnecessary MYSQL Queries. So, choosing this plugin will not affect your website performance in a bad way. Moreover, it will give strong security to it which is crucial, as well.
There are two modes accessible for this plugin: Free and Premium. The Premium version enables you to access many advanced features such as "Real-time file monitor", "DB backup", "Front and Backend maintenance", "Security logging" and many more other essential functions. So, the one-time purchase cost is $69.95 including a thirty-day money-back guarantee, unlimited installs, free lifetime updates, and support.
---
Here is another well-functioned plugin for your website security-SiteAlert. It has almost nine thousand active installations and up to a 4.9/5-star rating in the WP Repository.
One of the most catchy functions of this plugin is that it checks your WP installation to make sure that you use the latest updated and highly-secured version. Besides checking the WordPress version, it does the same process for the versions of the below-mentioned functions:
MySQL or MariaDB
PHP
Active and Inactive Plugins
Admin Username
Theme Updates
File Editor
SSL
Spammy Comments
Yet, if these functions seem not enough for your site needs then you can activate the plugin's pro version with the following monthly prices:
1 Site– $9.99
10 Sites– $19.99
25 Sites– $39.99
---
So, the last but not least plugin from our best-ones list is Limit Attempts by BestWebSoft. The plugin scores over 9 thousand active installations and a 4.6 out of 5-star rating.
The plugin offers an advanced solution for your website protection. It prevents brute force attacks.
With this plugin, you can limit the number of users' login attempts. Also, you may block this or that user based on some factors, such as IP.
The plugin developers offer not only free but also a Premium version. So, here are the available features on the Free version:
Blocking IP after exceeding the set limit of login attempts
Adding the blocked IP addresses to our selections list
Hiding login, registration, and password lost forms for those whose IPs are blocked
Advanced statistics based on IP address, number of failed login attempts and blocking, etc.
Compatibility with the latest WP version
Sending customizable errors and blocking notification messages, etc,
Moreover, the plugin is compatible with the "Contact Form" plugin developed by BestWebSoft. These are just a little part of many advanced features of the Limit Attempts by the BestWebSoft plugin.
And as we mentioned above, the plugin developers offer you to activate its Pro version which has many significant options such as compatibility with Captcha Pro and Plus, reCaptcha, managing log tab, refusal and permit lists, etc.
So, if you decide to enlarge the plugin characteristics by upgrading its Pro features then you can meet the pricing below:
Annual– $27
Lifetime– $240
Membership– $250
Also, we would like to mention that each of these plans refers to a single domain.
---
Comparison Table
After presenting all the selected security plugins let us see the visual comparison through the table below:
| Plugin Name | Active Installations | Rating | Pricing |
| --- | --- | --- | --- |
| Security And Malware Scan By CleanTalk | 10.000 | 4.7/5 | Free |
| Hide My WP Ghost | 100.000 | 4.4/5 | $23.49-$640 |
| WordFence Security- Firewall and Malware Scan | 4.000.000 | 4.7/5 | $99-$950 |
| BulletProof Security | 50.000 | 4.8/5 | $69.95 |
| SiteAlert | 9000 | 4.9/5 | $9.99-$39.99 |
| Limit Attempts by BestWebSoft | 9000 | 4.6/5 | $27-$250 |
---
Summary
Coming to the end of this comparison article, we would like to mention the importance of securing your WordPress website. Though WP offers you constantly developed and followed high-quality protection you need to be very attentive and use additional methods to prevent hacker attacks on your site. In this article, we have spoken about some of the most trusted plugins for your personal use. They are easy to install. All of the noted plugins have a free version. And only 5 of them present their payable Pro version at an affordable price. Moreover, what you do not find in the free version you can definitely reveal in the provided Pro version.
If you like the article, do not hesitate to find us on Facebook and Twitter. For interesting WP tutorials, please subscribe to our YouTube channel.
---
Must-Read Articles For Plugin Marketing
If you are a plugin developer aiming to sell your product or increase the number of its active installations and reviews then it is high time you learned some tips and tricks. Read the below-mentioned two articles to boost your plugin sales by writing an effective plugin description for the WP Repository:
Are you upset because of the small number of your plugin active installations? The problem has a solution. You may know it by reading this article:
Latest posts by Anahit V.
(see all)