Are you a WordPress user and want to run a successful blog, but are struggling with your website's SEO? Or, maybe you do not have the time or resources to hire an entire SEO team. Well then, Rank Math, with its "One Plugin to Rule them All" motto, will do the job for you. Rank Math is an SEO pioneer WordPress plugin with AI automation developed by MyThemeShop. With access to plentiful SEO tools and features, Rank Math is a time and cost-efficient plugin that became popular in a relatively short period of time. It is highly recommended ranked 5 (high) by more than 5000 users on WordPress.
Rank Math has four versions of use; free, pro, business, and agency, which cost $59, $199, and $499, respectively. Note that these are discounted prices. Logically, the more upgraded version you use, the more features you can access. In this article, we will go through the differences between both versions and provide a FAQ section at the end.
Rank Math Free
Let's first dive into the Free version features and understand what you can do within its framework:
SEO Analysis score: To understand how well you are doing regarding your website's SEO, you need constructive feedback. Rank Math evaluates your website's SEO from different aspects and provides a summary of its overall functioning, so you can improve your SEO based on its feedback.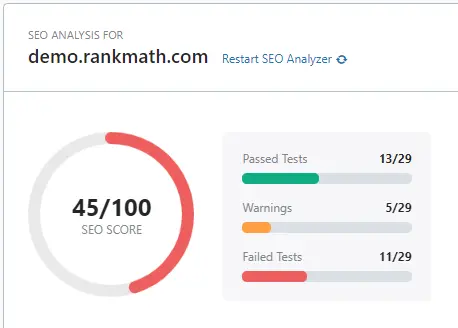 Content Analysis: To optimize the content on your website, Rank Math analyzes your content based on keyword relevancy and gives tips on how to improve them (if needed) with its free Google Keyword Suggestion feature.
Automated Image SEO: You need to optimize your images so that in case of the failure of opening, people can read the alt text and understand what the image was about. Rank Math developed a free feature of image SEO that will automatically add alt, title, and description texts to them if those attributes are absent.
Meta descriptions: Before clicking on your website link, users pay attention to your meta description under your page title. Meta description is the summary of your content. Rank Math helps to produce and customize the meta descriptions of posts and pages for ranking high in SERP. You can do that either manually or by customizing their templates.
Side note: To my best knowledge, meta descriptions do not directly help websites rank higher, but they have an indirect impact: searchers are more likely to click on your website link when they believe they can find the answer to their question there.
Internal Linking Suggestions: Getting and giving backlinks are important to rank higher in SERP. So is internal linking which is the process of connecting your web pages within your website. First, it helps Google to understand your content and relevance better and rank you more efficiently. Second, it increases the traffic within your website when users go from one post to another. In case of doing internal linking manually you should:
Do prior research and understand how you can link some of your articles together.
Try not to limit your reader: the internal links should be diverse creating a web and not an endless cycle. Simply put, you should enable your reader to go from x page to y, and then from y to z, and not from x to y, and then from y to x.
On the other hand, Rank Math suggests how you can connect your web pages based on your current and previous content which is time-efficient.
SEO Warnings and Failed Tests: Rank Math warns about the significant flaws in your SEO optimizations, points out the serious SEO issues, and suggests some changes.
Schema markup: Rank Math supports 17 schemas overall, including article, book, review, event, product, recipe schemas, and much more. Schemas are optimization techniques to give more information to the users, which can indirectly contribute to your better ranking. These are particularly useful for e-commerce shops to show the users' review starts, vote numbers, prices, etc.
Rank Math Pro
Moving on, let's discuss the tools and features that the PRO version of Rank Math enables:

Advanced Google Analytics 4 Integration: This is a recent feature that Rank Math added to its paid versions. This enables users to see their Google Analytics inside their WordPress website. This feature gives a full understanding of how well or poorly the website is doing in terms of SEO with its advanced filters.
Keyword Rank Tracker: To improve your SEO performance, you need to understand how well your target keywords work and find ways to increase your visibility. This process is called keyword tracking. Rank Math allows users to track their website's keywords for 12 consecutive months.
Google Trends Integration: With Google Trends, you can acquire data on specific search terms and keywords. Rank Math allows you to integrate it into your WordPress dashboard, thus making your work easier and more systematic.
Image SEO Pro: This pro feature enables all the tools to improve your image SEO that the free version does, but it additionally allows its users to create a watermark and so much more.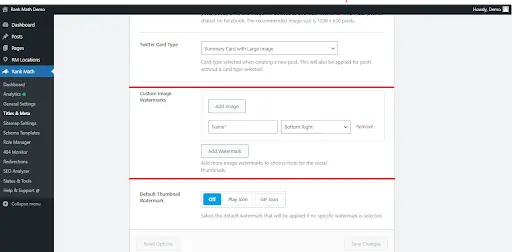 Google Video/News SEO Sitemap: A sitemap is an optimizing technique of providing additional detailed information on your videos or news to help Google crawl your website more efficiently. Rank Math enables its premium users to automatically write sitemaps for better optimization.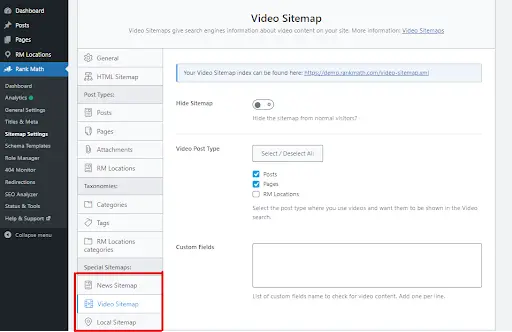 Local SEO Pro: Local SEO helps to boost your website in local searches. Rank Math with the support of multiple locations will help you in this.
Orphan Page Detection: Orphan pages are not linked to any other webpage within your website, i. e. do not have internal links. The premium versions detect those pages and give some suggestions on how you can link them with their "Internal Linking Suggestions" feature.
Those were the main free and premium features that we thought would better show the distinction between the two versions. You can go to Rank Math and see the rest to make a better decision.
Rank Math FAQs
Below you can see 5 FAQs that might help you in your experience with Rank Math:
Q1: Is Rank Math good for SEO?
A1: Rank Math is considered one of the best plugins in 2023 with its advanced and easy-to-use features.
Q2: Does Rank Math slow down your website?
A2: Rank Math will not harm the speed of the website since it is developed for maximum performance. In fact, there is a good chance that your website will work even better with Rank Math.
Q3: Is Rank Math better than Yoast?
A3: Both Rank Math and Yoast are leading SEO plugins; however, Rank Math exceeds both in the overall number of features available and in the number of free features.
Q4: What is a good Rank Math score?
Q3: In Rank Math, the minimum target score is 80; however, the closer you are to 100, the better optimized is your website.
Q5: What is content AI in Rank Math?
A5: Content AI takes the hassle out of writing and improves it so that it is both reader-friendly and is worth being a top-ranking page in SERP.
Final Thoughts
Rank Math is an all-in-one SEO plugin with full integrations worth trying. With its four (one free and three paid) versions, it is a good fit for everyone wanting to improve their SEO: from bloggers to agencies. The free version enables diverse (but limited) tools to rate and improve your overall SEO performance. On the other hand, the pro version gives its users advanced tools to handle their website's SEO even better and easier with the help of automation and with a minimum price of $59. So, whether you are a blogger or a business, Rank Math is what you need to get to your target. It will save you time and resources and help you reach your SEO goals. Don't forget to read the FAQ to make your experience with Rank Math easier!
Must-reads
Make sure to read these super useful articles, to boost your website's performance: