FAQ is an abbreviation of Frequently Asked Questions. It is a page or a section on your website that is mainly devoted to giving the needed immediate answers to users' asked questions. FAQs usually include all the needed information about a certain product or a service in a quite user-friendly way. Having an FAQ page has many useful benefits for gaining new customers and easing the process of customer support. Especially, when you use WordPress, there is an easy way to implement an FAQ page on your site. This is completed with the help of FAQ plugins. And in this article, we have collected the 2023's list of the greatest FAQ plugins for WordPress.
Keep reading the article to discover the features of the selected plugins.
---
Why Do You Need FAQ Plugins on WordPress?
Before we answer this question we would like you to know what are the main functions and benefits of FAQ pages. So, first of all, a WordPress FAQ page is one of the primary sections on your website for customers to discover more information about your products and services. According to some statistics, FAQ pages are the second visited parts after the home or service page. Besides, they assist to convert random visitors into paying customers including highly important and relevant content. Moreover, FAQs help to be immediately answered without contacting the customer support service which can sometimes take too long. Not only it is a convenient option for customers but it also reduces the stress and pressure on the customer support department. This is because some customers find the answers from your FAQ pages and free the support agents to answer technical and more complicated tickets.
So, summing up the main benefits of these pages we should mention some of the most important points about FAQs below:
Reducing customer support service costs
Improving the website user experience
Building transparent and trustful relationships with clients
Since we revealed the best practices of using an FAQ page it is crucial to understand how you can implement it on your website. In this case, using WordPress opens a wide variety of options to make this or that action on your site. So, the easiest and fastest way to add FAQ pages to your WP site is by using plugins. You may do this even without having any coding skills.
---
Best FAQ Plugins for WordPress
Using one of the below-listed plugins' great features you can build great and converting FAQ pages on your WordPress website.
So, the first feature-rich WordPress FAQ plugin is FAQ Builder developed by Ays Pro. Having a 5 out of 5-star rating on WordPress this plugin presents a great combination of features to attract website owners.
Through this plugin, you can showcase the Frequently Asked Questions in a way of an attractive accordion. It is a matter of a few clicks to build a highly mobile-friendly WordPress FAQ accordion with advanced features of different styles.
The free version which is available on WordPress offers all the needed functions to build a quick yet very useful FAQ accordion on your site:
Mobile-friendly design
20+ styles
3 themes and 3 ways for displaying the answers
Custom class and CSS
Numbering option for questions
Custom CSS and class
Unlimited amount of questions
Individual and user-proposed questions
As you see, using the plugin's free version will fully match your FAQ-building process. Yet, if you are looking to find a more advanced option such as FAQ categories, export/import features, etc. then you may highly benefit from the FAQ Builder plugin's Pro version. here is the pricing presented below:
Business – $19
Developer – $49
---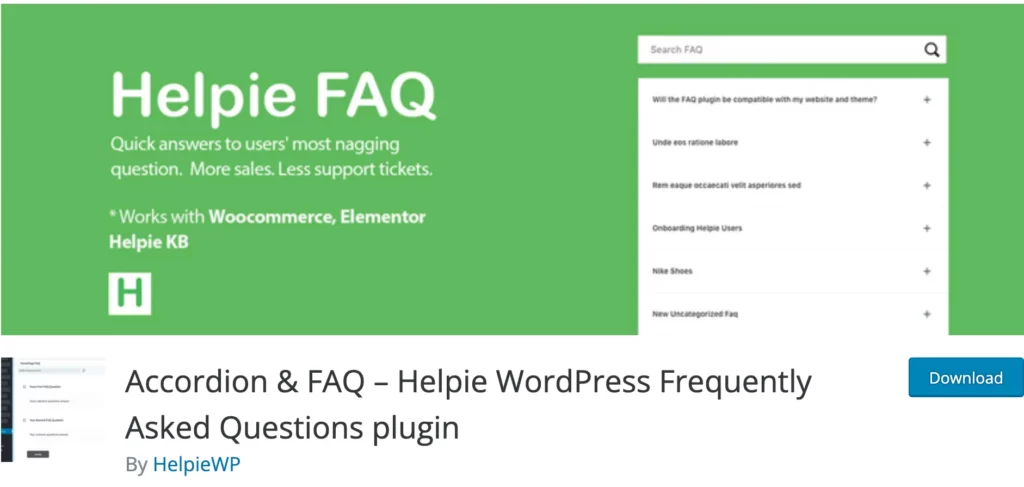 The second plugin from our list of selected FAQ plugins for WordPress is Helpie FAQ. It has over 9,000 active installations and a 4.7/5-star rating. These numbers speak for themselves.
So, with the Helpie FAQ plugin, you will be able to easily create, embed, and even edit the implemented WordPress FAQ. Here are the actions you will complete by activating the Helpie FAQ plugin;
Creating FAQ posts
Assigning FAQ posts categories and tags
Using mobile-friendly Accordion and Toggle style
Embedding FAQs anywhere on your WordPress site through the available shortcodes
Integrating FAQs with WooCommerce
Sorting FAQs in groups by using the plugin's drag-and-drop features
Integrating with Elementor and Gutenberg Block Editor, etc.
One of the beneficial features of this plugin is that it can be also integrated with the Helpie Knowledgebase plugin. This means that the whole information and knowledge base available in the mentioned plugin can be used to build your FAQ page. As well as you will be able to add a WordPress Q&A section to your website knowledge base.
You can highly benefit by using the free features of the Helpie FAQ plugin available on WordPress. However you can find more options when purchasing the Pro version of the plugin with the pricing mentioned below:
1 site – $38.99
5 sites – $79
100 sites – $149.99
---
Next comes the Quick and Easy FAQs plugin scoring more than 20,000 active installations on WordPress. It provides an easy and fast way to create a WordPress FAQ with the help of custom post types, as well as showcase them through Gutenberg block or provided shortcodes.
The Quick and Easy FAQs plugin enables website users to implement 3 style types for the FAQ section. Those include simple lists, toggles, and accordion styles. Besides, different types of questions and answers can be easily sorted and then filtered into a certain category. Moreover, the plugin is highly customizable including not only the default customization options but also custom CSS which can make any changes you prefer. Also, if you want to create an FAQ section for your users speaking such right-to-left languages as Arabic then the plugin offers RTL support.
These and many other options are available absolutely for free which makes its usage affordable and beneficial for all users of WordPress.
---
As you may guess from the name of this FAQ plugin it helps to make very user-friendly FAQ accordions on WordPress effortlessly. Easy Accordion has more than 40,000 activations offering a wide variety of customization opportunities.
What is more important about this plugin – you do not need to be a programmer or have great coding skills to use it. The plugin's features are made to ease the website owners' usage and FAQ embedding process. Even though it offers simple customizable functions the plugin is a very powerful tool containing the following key options:
User-friendly intuitive admin dashboard
Unlimited WordPress accordion FAQ on the same page
WP Classic Editor support
Drag and drop features
Accordion customization tools including border, color, description, styling, margins, etc.
Fully translation ready
Right-to-left language and multisite support
Speed optimized
SEO-friendliness
HTML5 and CSS3 support, etc.
These and other features are available in the free version of the Easy Accordion plugin. Yet, to get access to its unlimited advanced settings such as premium themes, grouping, and sorting functions, WooCommerce product FAQs, style icons, animations, etc. you need to activate the plugin's Pro version with this annual pricing available:
Personal – $29
Business – $99
Agency – $199
All of these plans are totally refundable within 14 days of making the purchase.
---
Last but not least plugin from our collected list of FAQ plugins for WordPress is Ultimate FAQ. Scoring more than 40,000 active installations the plugin offers users an easy and quick way to create highly responsive and mobile-friendly FAQs. The process of embedding FAQs on your website is even easier through the available Gutenberg Blocks support and shortcodes. This means that you are not limited to adding FAQs on a certain page. Instead, you can insert them anywhere you want on your website.
Besides, you are free to create as many WordPress FAQs as you want, sort them into certain categories and tags, automatically translate questions and answers, as well as make additional changes through custom CSS.
All of these actions can be completed through the plugin's free version. However, its developers tend to introduce the Ultimate FAQs Pro version that enables the users more advanced capabilities. Those include FAQ searches, advanced ordering options, and many other settings. Here is the pricing for purchasing the Ultimate FAQ Pro plugin:
Single site license – $67
5 sites license – $127
10 sites license – $197
---
To Wrap Things Up
So, in this article, we have learned about the main benefits of having a Questions and Answers section on your website. The plugins mentioned below are very helpful to build simple yet very effective FAQ pages.
The implemented FAQs will not only assist you to get rid of the repeated tickets sent to your site's customer support agents but it also will approve the best user experience on WordPress.
So, decide which of the mentioned ones is the best FAQ plugin for WordPress and start using it on your site.
Latest posts by Anahit V.
(see all)