A website without proper SEO is the same as a house without a door. SEO is the door of your website which enables people to discover and access online content. A well-designed and organized SEO strategy is key to improving the quality and quantity of traffic coming to your website. If your site isn't ranking as high as you'd like to, then it's time for you to review your SEO strategy. Fortunately, the internet now is full of SEO services, so in this article let's review 5 Best SEO Tools that we have singled out for you to use in the coming 2023 year.
---
What are SEO Tools?
SEO dates back to the times when the first website appeared. SEO, as such, was developed to enhance web accessibility. At its core, it aimed to make the website's content more easily identifiable.
How? SEO made the pages have unique titles, headlines, and other on-page signals to properly reflect the site's content for search engines. In a short time, it won the love of the people, as they began to realize that SEO helped them to rank higher and receive more free and organic traffic.
Thus, over time SEO optimization tools were developed to provide data and alerts about the overall health and success of your website. They also help to identify weaknesses or issues that may prevent you from ranking and earning visibility.
---
What are the Best SEO Tools?
If you're looking to get started with SEO or want to achieve better results with your SEO strategies, then make use of our list of the best search optimization tools you should be using.
---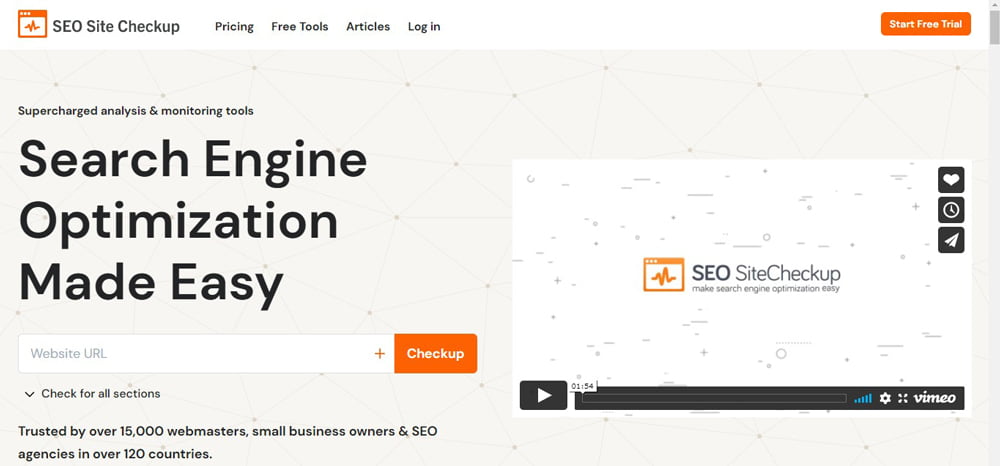 The SEO tool that deserved first place on our list is SEO Site Checkup. SEO checkups are an essential aspect of any SEO strategy. They enable you to monitor your SEO progress and ensure that your website is performing properly.
SEO Site Checkup tool provides you with easy-to-understand and straightforward reports about the technical issues found in your website that need to be addressed and fixed, in short, it tells you about what is holding back your website from ranking high on search engines.
The tool will also keep you up to date about changes in penalties, SEO factors, and algorithms so that you don't have to research for updates constantly.
Your website will always be up and running with SEO Site Checklist and if for any reason you aren't, you'll be informed right away so the issue can be fixed.
Main Features
The SEO Site Checkup comes with a bunch of useful features, such as:
unlimited instant analysis of your website's SEO issues,
automated notifications of SEO score changes,
analyze up to 5 competitors' SEO metrics,
build customizable SEO reports for clients and partner websites,
SEO broke down into manageable chunks with simple explanations and "how-to-fix" guides for each issue.
Pricing
The plugin offers a 7-day trial with any time cancelation. Pricing plans start at $29.95 per month. The basic plan is perfect for new businesses looking to find the key SEO issues. There are also other more comprehensive pricing plans with more extended features costing $49.95 and $89.95 per month.
---
SEOptimer is the second most powerful tool for comprehensively reviewing a website's SEO metrics in under 30 seconds at any time. Similar to SEO Site Checkup SEOptimer also gives cores of SEO factors. Furthermore, Optimer additionally provides a report containing the number of backlinks and Moz domain authority.
SEOptimer examines and reports on the key elements that search engines consider when ranking a page, as well as user-relevant criteria like page load time and mobile usability.
You may increase your online presence and ultimately rank higher in search engine results by following the recommendations that SEOptimer makes after performing a thorough SEO Analysis across 100 website data points.
Main Features
This SEO Audit and Reporting tool come with numerous useful features:
identifying problems that could be holding your site back from ranking high in less than 30 seconds,
generate clear-cut and branded SEO Audits in PDF in less than 20 seconds,
fully customizable SEO reports (color, font, etc),
multilingual SEO reports (including Spanish, German, French and more being added),
email notifications of new leads,
SEO recommendations with straightforward tasks and guides.
Pricing
The pricing plans of SEOptimer start from $19 monthly, this offers DIY with SEO tasks and recommendations. there are also $29 and $59 pricing plans with unlimited white-label audits and constant reports to the mailbox.
---
The amount of SEO- improving actions and steps is overwhelming, so it may be hard to handle. Following SEO strategies can be frustrating, confusing, and daunting. But actually, SEO becomes simple to handle, when you know what you need to do and how you are going to do it. Once you know it, SEO becomes as simple as following a checklist.
The SEO checklist by SEOBuddy outlines the precise actions you must follow to improve your website to get a high Google ranking. It covers every significant SEO step you should take. Furthermore, it provides a set of detailed instructions for each key SEO step and action. So it is a basic and comprehensible guide to follow on your way to SEO optimization.
Main Features
The tool comes with SEO Checklist together with the SEO SOP Collection. It means that you know the step you need to take, plus instructions on how to put those steps into action.
The SEO Checklist and SOP Collection provide you with everything necessary to get your website to page #1 of Google. With the SEO checklist, you can
assess your website and identify your upcoming steps,
get over 100 key SEO action steps embedded in Google sheet
receive SEO-recommended tools,
find a step-by-step guide with screenshots and tips,
save weeks of training time for new workers with pre-made procedures.
Pricing
The SEO Checklist is a super affordable SEO tool to get some of the magical Google traffic. With the SEO Checklist bundle, you get all the materials you need to improve your ranking.
The SEO Checklist in Google Sheet
The SEOBuddy SOP Collection
The SEO Checklist eBook
Plus the bundle comes with four additional bonuses.
The SEO Checklist with Trello Board
A 52-week Content Planning Calendar
One-Month Startup Plan
The Content Distribution Checklist
And all this in a bundle costs only $97.
Sometimes you just need a simple solution that does the job well. That is the case with The SEO Checklist, which is perfect for setting up your short-term and long-term SEO strategic plan.
---
Link Chest by SEOBuddy is a must-have tool for new websites. When you have a new website you have zero referring domains to link your website, no one wants to link you as you are new. But, backlinks are important for bringing organic traffic to your website. And, far more, if you want to be competitive in the field you need a lot of them.
So how to get that army of backlinks? One traditional way is contacting webmasters to build a relationship with them. But there are two drawbacks of this method: first, no one wants to give a backlink to a site, which has no referring domains, and second, it takes too much time to contact that many people.
The easiest way to start with your backlinking mission is by using the Link Chest tool. With Link Chest you don't need to hunt for backlinks. It offers you a huge library of backlink opportunities. You simply open Link Chest, review collected backlink opportunities, and click the URL that will take you relevant site to get the link.
Main Features
The SEO Link Chest offers:
2,194 hassle-free backlink opportunities,
backlink opportunities with high domain authority websites,
dedicated web app to manage your backlink-hunting mission.
Pricing
The SEO Link Ches tool is an affordable SEO solution for beginners to boost website SEO. You can get instant access to thousands of backlink opportunities for a lifetime paying only $129.
No doubt, the Link Chest is the simplest, cheapest, and most productive way to start getting backlinks, as easy as the ABC.
---
SEO enthusiasts will love the tools that Sheer SEO has to offer! It is undoubtedly a tool worth investigating, with features like rank tracking and special blog outreach capabilities.
Sheer Seo automates your SEO efforts, including rank tracking and link building. It enables rank tracking for diverse software: Google, YouTube, Bing, and more. The traffic data and ranking reports are based on Google Analytics and Google Webmaster Tools.
Main Features
competitor research to keep track of competitor's website SEO,
on-page SEO and keyword optimization recommendations,
Keyword research 1 billion keyword database,
SEO audits on website issues
analysis of backlinks, including no-follow links, meta tags, PageRank, and link text.
Pricing
There is a free version of the tool with limited features and only 10 keyword optimization, the pricing plans start from $10 monthly for 200 and more keywords and other features, such as site audits, explorer reports, competitors analysis, and many more.
---
Conclusions
Coming to the end we have 5 feature-rich, well-optimized, and easy-to-use SEO tools that can be assets for any website. Each and every of the tools mentioned above will help you to take your website to a new level in the eyes of search engines. Plus these tools you can also use internal linking plugins to further boost your SEO, I guess you know how linking, both internal and external are important for search engines.
Now is the time to consider your needs and priorities and pick the most suitable tool to improve your website's SEO.
If you are interested in more SEO tools and actions and want to know How to Improve WordPress SEO read the article to get 29 exclusive tips on SEO.
Was the article helpful? Then hurry up to read another article of WPGlob that compares two SEO giants: Yoast SEO VS Rank Math.