The 'success formula' of a secure and safe WordPress website is not anything but a powerful backup plugin. Making regular backups is the best thing you can do to keep your website secure. Your website is a valuable asset that needs to be regularly protected from security threats, server problems, hacking, etc. Even if you take all the measurements to protect the website, still backups are a crucial component of the website security strategy. With Backuply, you can be sure that your data is secure and always accessible for restoration in the event of an emergency.
With a click of a button, Backuply plugin creates complete backups of your website that you can later restore to the same or another WordPress website. But before going deeper into the study of the Backuply plugin, let's start from scratch.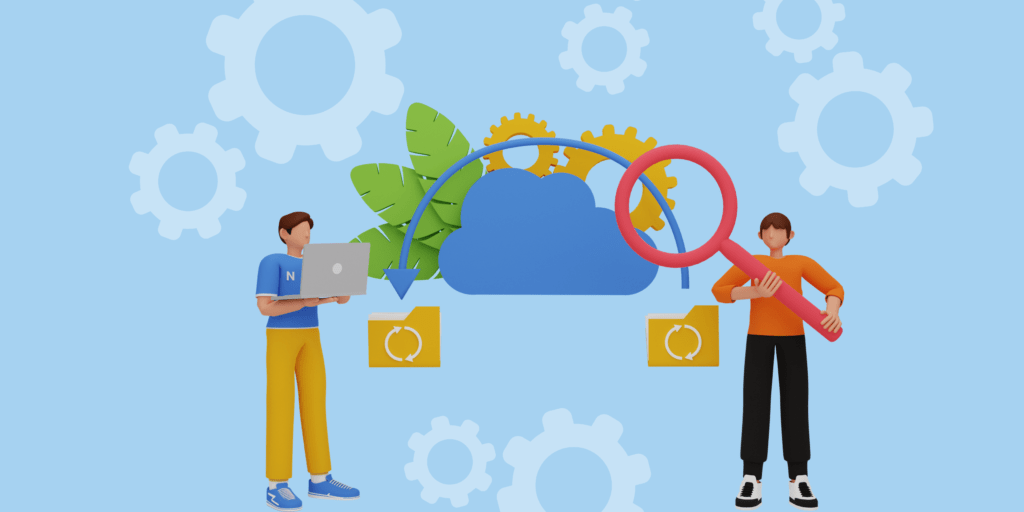 ---
Why Back Up Your WordPress Website?
As it is said, "You never know what tomorrow will bring". You never know when your website can encounter a bug that damages it or, worse completely destroys it. Ignoring regular website backups will bring about irreversible results. It is crucial for each and every WordPress user to create backups ahead of time until the ship has sailed, and it's too late.
Having a backup of your WordPress site can keep you away from headaches in disastrous circumstances.
In case your website runs into an error, that affects your site or its functionalities, with a backup you can revert to a previous version of your WordPress website at any time.
A stored backup of your website helps protect your data in case you face a cyber attack.
Backup is a website insurance policy that gives you peace of mind by keeping your website data and content in safety.
While all these cases are relatively rare. But…here comes the biggest BUT, they are not impossible.
As far as you put your heart and soul into your website and don't want to lose your hard work, you need and you must protect it by all means. That is where Backuply comes into play.
---
Backuply: Quick Overview
Backuply is one of the high-ranking and most effective backup plugins ever available on the market. Even the free version of the plugin does a pretty good job. It offers features such as local backups, one-click restore, website migration, database backup, and backups to Google Drive. This is a great solution for beginners, but as your website grows, you'll want to upgrade to its premium edition to enhance core functionalities and increase website security.
The premium version, in its turn, opens up further features such as automatic backup, selective backup, website cloning, and many more.
Best of all, it supports multiple cloud storage options including Google Drive, FTP, FTPS, SFTP, WebDAV, Microsoft OneDrive, Dropbox, and Amazon S3.
With Backuply you can back up and restore a website with minimal or even no coding knowledge. All you need is an installed, activated plugin and a few minutes.
Main Features
First, let's find out the key functionalities of the plugin's free version
Local Backups: Back up your whole website locally, with faster backup and restore times and greater control over access to the stored data.
One-Click Restore: This feature makes it easy and quick to undo changes to your website and data, and restores the website back to a known good state. Just click Restore Button and a pop-up will appear to complete. One-click, several minutes and you have a ready restored WordPress website.
Selective Backup: This lets you choose to have a full backup and make only a copy of your website's database, files, content, webpages, images, and so on.
Set up FTP Backups: Enables to make easy and secure backups by using FTP.
Backup to Google Drive: Supports backup Google Drive cloud storage.
Site-To-Site Migration: Offers straightforward and fast WordPress website migration feature. Backuply makes a database-enabled file of your entire WordPress installation so you may migrate your website to any host or domain.
Website Clone Migration: Allows making multiple clones of a website. Backuply will restore the whole data of the website, by changing URLs per cloned and migrated website. Thus, you can create multiple clones of the websites with the whole database, but with different domains and URLs.
Premium Features
Now, let's dive into the functionalities the premium version offers
Automatic Backups: Allows setting automatic, regular backups with intervals (daily, weekly, monthly) that can be scheduled according to your convenience.
Wide Storage Options: Offers extensive cloud storage options, you can backup directly to your, Proprietory Cloud Service, Dropbox, OneDrive, S3, WebDAV, or S3 Compatible Storage.
SFTP and FTPS Backups: This enables to backup and transfer of stored files and data to SFTP and FTPS.
Backup Rotation: This lets you organize backups on any suitable rotation scheme.
Premium Support: Offers 24/7 professional plugin support.
---
Backup, Restore and Migrate with Backuply
As far as we are already aware of the plugin's main functionalities now it's high time to learn how to put the plugin into function.
We have already stated the plugin is relatively easy to use and manage compared to those other backup plugins. If you have any doubts, now you will be more than sure about it!
Backing Up WordPress Site
For backing up your WordPress website with Backuply you only need a few clicks of the mouse and several minutes.
You can back app your site both manually and schedule it to be automated.
For manual backup simply go to Backuply from your WordPress dashboard. In the Backuply Dashboard Tab, you will see Create Backup button. But, before proceeding to back up your site, do not forget to choose what exactly you want to back up from the checkboxes and dropdowns that come before Create button.
It will take you only several minutes, and there you will have your site backed up, at the end simply click the Finish button.
In the Backup History section, you can already see your backup.
Setting up an automatic scheduled backup is simpler and faster than ever before. Go to Backuply Settings Tab. In Auto Backup Settings there is a dropdown with Auto Backup intervals and rotations.
Choose the time intervals you want to have between automatic backups. Moreover set the maximum number of backups you want to keep and not discard. That's it! Simply save changes to put them into practice.
Restore WordPress Site
Now, let's see the magical one-click restore feature in practice.
What is needed from you is to go Backup History Tab of Backuply plugin. There find and choose the backup you want to restore and simply click the Restore button. Leave the plugin to do its work for a few minutes and your website is restored to the version you want. Could you imagine an easier way than this?
Migrating WordPress Website
If compared to the migration feature of other WordPress plugins. No doubt, Backuply offers the best, easiest, fastest, and stress-free way to migrate a website.
For migrating your website to another WordPress website location, first, you need to have installed and activated the plugin on the location site.
In the second step, in the location website go to the Backup Locations Tab of Backuply. Add the location of the backup of the main website that you want to migrate.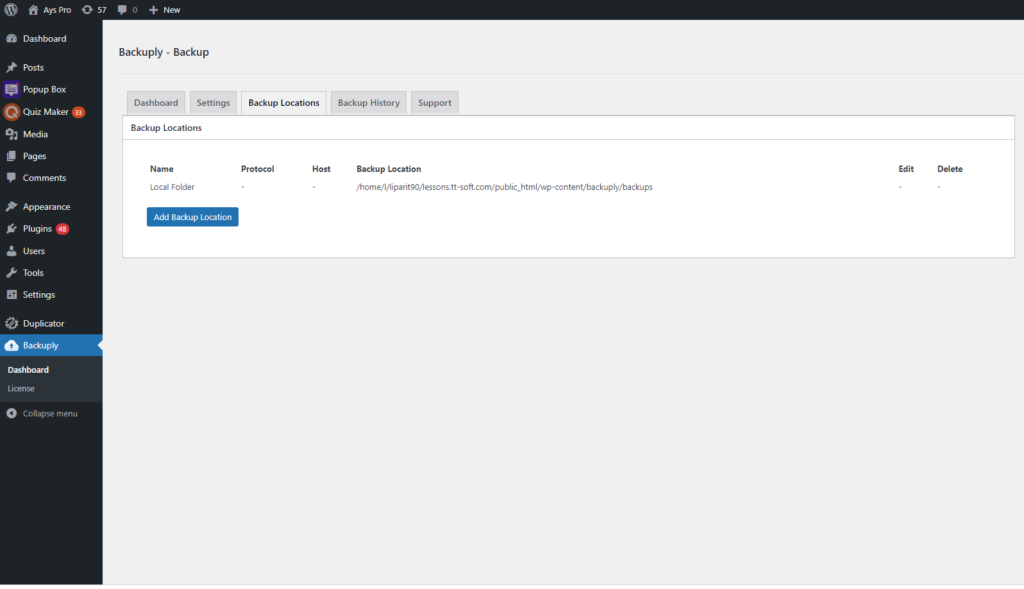 Once you add it and fill in all the necessary info in the opened pop-up, click the sync info checkbox, and add the backup location button.
With the last step go to Backup History Tab find the exact backup and simply click the Restore button, there you have it, and you have migrated WordPress sites.
Backuply is undoubtedly the best and fastest backup solution plugin on the market with a 100% success rate for website restorations.
Why Choose the Backuply WordPress Plugin?
In addition to the above-mentioned advanced-level and comprehensive functionalities, numerous other benefits of Backuply will be excellent assets for maintaining your WordPress website secure.
The Backuply plugin benefits include:
An all-inclusive WordPress website backup and restore solution.
Straightforward and quick setup and configuration. Creating data storage with Backuply requires only a few minutes.
Ability to backup or migrate websites of any size, without downtime or impact on the website performance.
Allows to backup and restore separately chosen files and database files, or a website as a whole.
Supports backup scheduling (monthly, weekly, daily, or even hourly basis).
Constant access to stored data and the option to restore the data thanks to the one-click auto-recovery feature.
Facilitates WordPress website backup into a wide range of cloud storage options, including Google Drive, FTP, WebDAV, Microsoft OneDrive, Dropbox, and many more.
Responsive and knowledgeable customer service to address any issues or queries.
Supported by online tutorials and product documentation.
---
Pricing
Alongside being a top-rated and highly-recommended plugin Backuply is also extremely affordable for all the features it provides as a backup plugin. As we have already mentioned it is a premium plugin, so there are both free and paid versions of it for you to choose from.
The free version of the plugin offers a wide range of functionalities that can be used to safely backup, store, migrate or clone your website, but offers fewer cloud storage options. The free version of the Backuply plugin is available right in the WordPress.ord plugin directory.
If you are eager to further strengthen the security and safety of your WordPress website, automate the backup of your website, and always have a life buoy in case of an emergency then the premium version will be a great add-on for your WordPress website security strategy.
The plugin comes with three premium plans, and three of them support all the premium features mentioned above. The main difference between the plans lies in the number of sites you can manage with the premium license.
Personal – $39 annually (1 Site License)
Professional – $69 annually (5 Site License)
Business – $249 annually (All Site License)
One more great news, all the above-stated plans are lifetime, you won't simply get updates and support after your license expires.
Indeed, the cost of the premium version is approximately half that of its top competitors, making the plugin the most economical WordPress backup and restore plugin.
---
To Wrap Things Up…
In this post, we covered the significance of having a thorough backup solution that can quickly restore your damaged WordPress website in order to reduce website losses.
The key takeaway here is that backing up a WordPress website is a must. Although you'll need some background knowledge in this area, there are several WordPress backup plugins that make it much simpler to make sure your site is safe.
Today, we reviewed one of the top-rated, well-supported, and super-affordable back-ups and restore plugins – Backuply. This feature-rich plugin is a one-stop security solution. Along with website backups, this WordPress backup plugin offers extensive features such as automatic WordPress data backups, one-click website restore, website migration, cloning, and a lot more.
How often do you back up your Website? Let us know in the comments.
Visit WPGlob plugin reviews to find more useful plugins and guides.