Do you want to enhance visitor engagement and develop your business by adding popup windows to your website? Popup builder app is a perfect solution for any website to generate leads, and sales and improve conversions.
Selecting the best popup builder is critical for creating well-designed popups that can turn your users into subscribers, customers, and passionate fans.
In this article, we'll look at PopUpBuilder.App one of the greatest WordPress popup apps for creating popup boxes, windows, and forms.
---
PopUpBuilder.App: Quick Overview
PopUpBuilder.App is a non-code popup builder and conversion booster for your website. With over 25+ popup and notification widgets, a visual designer, and extensive statistics PopUpBuilder.App's tools are super user-friendly.
PopUpBuilder.App is an excellent choice for any website. With several popup types, conditions, and triggers to choose from this app enables you to design high-converting, promotional, and instructive popups, raise conversion rates and increase sales while meeting your marketing objectives.
Unique tools provided by the app can significantly improve customer satisfaction and conversion rates for your website. Most importantly there is no need to be tech-geek or to have programming knowledge to get started building your popup windows, all you need is a single line of code for setup and integration. The app is also WordPress compatible, to get started you can simply install and activate PopUpBuilder.App plugin.
How Does PopUpBuilder.App Work?
Simple Steps to follow with PopUpBuilder.App:
Registration for Free: Register for free and get all the tools offered by the plugin for testing.
Simple Design: Design and completely customize popups to match your aims, needs, and website.
Easy Integration: Embed the designed popup into the website via code or a dedicated plugin.
Measure the Success: Keep track of the statistics and success of your pop-up with comprehensive analysis tools.
So popup building with PopUpBuilder.App will take you the least effort and time. Without further ado, let's get down to review the key features of the plugin and see how it operates in the action.
---
PopUpBuilder.App Key Features and Highlights
The PopUpBuilder.App makes it simple to design eye-catching and fully customized popups, embed them into the website with little effort and time, and keep track of your conversion rates with detailed analysis and statistics.
Let's go over each feature one by one and see what you can achieve with this feature-rich program.
Variety of Popup/Notification Widgets
25+ notification and popup builders make it possible to build extensive popup boxes for various audiences, situations, and purposes.
Informational: Fully-customizable informative messages for your store's customers, such as a notification about changing store hours, or a call-to-action, such as offering a discount on one item in exchange for the purchase of another.
Coupon: What's the best way for driving sales if not coupons? PopUpBuilder.App allows to create and design popup boxes featuring coupon codes. This is a notification that will definitely affect your store's conversions effectively.
Live Counter: Build trust with your customers and raise your brand credibility by sharing a popup box with the live counter of your website visitors.
Conversion Counter: What can better increase the trust of your company than including social proof on your website? The best way to do so is to include a popup window with your latest conversion numbers.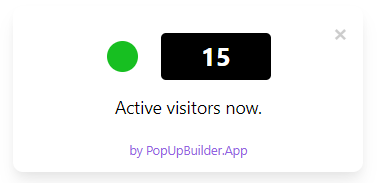 Email Collector: Create a lightbox to quickly collect leads and email addresses from website visitors.
Video Popup: Videos are viral on the Internet so they can serve as a great tool to catch visitor attention. PopUpBuilder.App enables the creation of a popup box featuring YouTube videos.
Emoji Feedback: PopUpBuilder.App offers an interactive way to engage with your audience and ask them for feedback with emojis.
Countdown Timer: One of the best ways to increase leads and conversions is by creating a sense of urgency among website visitors. With this popup builder app, you can create FOMO with a countdown timer and lead form.
Above was just a small tiny of the popup boxes you can build with the PopUpBuilder.app.
Social Share
Reviews
Cookie Notification
Informational Bar
Image
Collector Bar
Coupon Bar
Button Bar
Modal Collector
Call to Action
Text Feedback
Engagement Links
WhatsUp Chat
Contact Us
Custom HTML Popup: PopUpBuilder.App puts no limits on popup building, you can create fully customized notification/popup widgets with custom HTML.
Detailed Statistics
Setting up a popup campaign is not enough for raising conversions and leads. In order to get the most out of your popup-building experience you need to always keep an eye on the statistics of your campaigns to see what works for your audience and what doesn't work.
PopUpBuilder.App offers you all the tools to control your popup building from a single dashboard. Alongside building a wide range of popup boxes you can constantly keep track of the success of your popups thanks to detailed analysis which lets you evaluate impressions, hovers, clicks, and leads.
---
Creating a Popup Box for WordPress
So long as we are already aware of the app's main functionalities now it's high time to learn how to put the app into function.
Create and Design a Popup
To get started with building your popups register in PopUpBuilder.App and get all the tools offered by the plugin free of charge.
Once you are already logged in to your PopUpBuilder.App dashboard you can set up your campaign.
As soon as your campaign is ready, you can already go on and choose the notification widget you want to build among over 25+ plus options.
A case in point we will build a popup featuring a lead form with a countdown timer. For that choose the option of "Countdown collector". 
In the opened window you can start editing and designing the countdown collector popup.
You follow and fill in the following fields to build your personalized and customized popup:
Basic Information (name, description, button text, etc.).
Triggers (display trigger, display frequency, and screens, etc.).
Display (position, direction, and duration of popup display).
Customize (choose colors, background patterns, border color and radius, and many more).
Data (webhook URl and data).
Above you can already see the results we got after customization.
Embed Popup to WP Website
Once your popup is ready you can already display it on your WordPress website.
For it, you simply need to install and activate PopUpBuilder.App.
Insert API key Select the campaign you want to connect.
From the popup app builder app's platform, make sure that you have filled in the link of the domain where you want the pop-up to be displayed.
Change the status of the ready-made popup you want to display.
As your PopUpBuilder.App account and plugin are connected with a single API key the pop-up will already appear on the selected web page. That's it!
Get Detailed Statistics
As soon as the popup appears on your website and visitors interact with it, you can already have access to the detailed analysis of the integrated popup right inside PopUpBuilder.App dashboard.
---
Why Choose PopUpBuilder.App?
PopUpBuilder.App has a super user-friendly interface which makes popup building an easy experience both for developers and not tech-geeks. With just a few clicks you can easily create and embed popups into your website.
The popup-building app is lightweight and optimized, so it won't affect the speed and functionality of your website in any way.
PopUpBuilder.App is a highly flexible app, as meets the needs of all most all website owners, thanks to a wide range of optimization and personalization options.
Troubles are not compatible with PopUpBuilder.App, however, in case you face troubles while building your popups there is friendly support out there who is always ready to help you.
---
Pricing
Alongside being a user-friendly and flexible popup building solution, PopUpBuilder.App is also a very affordable solution.
The PopUpBuilder.App free comes with a wide range of functionalities and notification widget options, only with a limited number of 1 campaign and 20 notifications. However, there are numerous pricing plans offering more campaigns, notifications, and premium features, such as no ads, removable branding, etc.
---
Wrapping Up
In this post, we have covered one of the top-rated pop-up building apps. PopUpBuilder.App is an app that offers you everything you need to create and display notification widgets on your website, alongside keeping track of each of them.
No matter if you are a developer or you don't have coding knowledge at all this popup builder app makes it possible to create popups for everyone, with almost no effort and much wasted time.
Did you like the article? Head to read another article, this time on quizzes to engage visitors and learn one more effective way of improving conversions, and sales.