Feed Them Social is a popular WordPress media plugin that has over 70.000+ active installations and gets regular updates. Above all, the plugin has 4.7 out of 5-star ratings in WP Plugin Repository. 
It is tested and works seamlessly with WordPress's latest version – 6.1.1.
---
Main Features
First & foremost, let's take a look at the main features that come in handy with the Feed Them Social plugin.
View feature available for FB pages, Album feeds & Covers
Unlimited social feeds can be added, which will allow you to display as much as you need without being worried about certain limitations on numbers
Shortcode generator that allows fast generation of necessary shortcodes for the feeds
Customization options, including font color customization, as well as highly responsive social media, feeds, in order to ensure pixel-perfect looks on devices of various sizes
Share buttons that will improve engagement levels as well as traffic
---
Besides the free version, the plugin comes with a Premium Extension, which costs:
Allows you to choose how many pictures, videos, or other media content to display on each of your feeds
Facebook reviews & recommendations, as well as Carousel & Slider extensions
Combined Streams extension that allows combining social feeds into one mixed feed
The Shortcode generator is on the next level; it will give you the opportunity to generate shortcodes for as many custom feeds as you want. These include shortcodes for FB Carousel and Slider, YouTube feeds, and Combined Streams.
Follow-up buttons for all feeds
Autoscroll on the load more button, so when front-end users reach the bottom of the feed, it will automatically load more.
Page title & Description Display
Load more buttons for FB, Instagram, and Twitter feeds, which will allow users not to be overloaded with feeds but rather choose if they want to see more.
---
Dashboard
Let's take a look at the dashboard from the back end in order to see all the features offered in the plugin.
After you download the plugin (Back end > Plugins > Add New > Type "Feed Them Social" on the search line > Install > Activate), you can access the dashboard on the left side of the menu bar.
Here are the main tabs below on the Facebook example.
Facebook API tab
Language Options

Like Button or Box Options

Global Style Options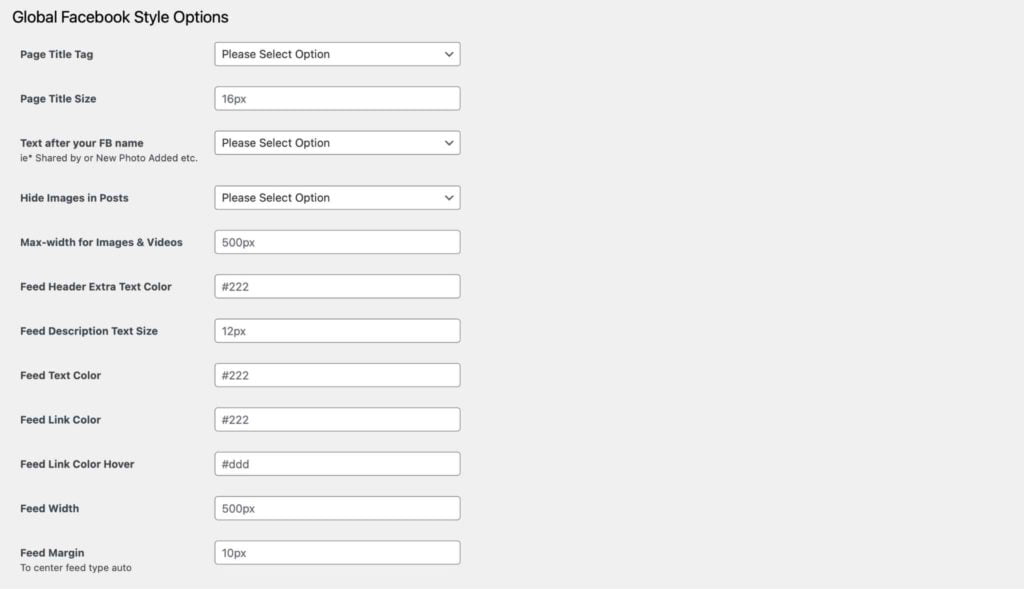 These are the main tabs available for Facebook; the same can be accessed and customized for Instagram, Twitter, YouTube, and Combined.
---
Benefits
It is time to review the benefits that our specialists have discovered while testing the plugin.
Easy installation & setup.
An amazing support team that will resolve and politely answers all user queries.
A feature-rich plugin that provides you with all the necessary functionality for the efficient and responsive display of social feeds.
Availability of creating a feed and saving it for later edits.
Settings Options are available per feed which makes all the necessary customizations a lot easier.
---
Wrap Up
To wrap up, Feed Them Social by the SlickRemix team is an incredible & useful WordPress social media plugin. It will allow the efficient and easy creation of responsive social media feeds.