Suppose you want to have beautiful tabs, animations, and modern menus in your WordPress website without any knowledge in coding, then you will probably need a menu plugin. However, there are plenty of those available in this competitive and dynamic industry out there. Some of those are good and worth using, meanwhile, others can waste your time and resources. That is why, in the "Best Menu Plugins 2022" article, we prepared the best out there to make your further choice a lot easier.
If you are ready, let's start.
---

What are Menu Plugins?
To start from the very beginning, we are going to review the main functionality that the best WordPress menu plugins must offer. So, a menu plugin is a plugin that allows you to add mega menu on your WordPress website and customize those styles to communicate the message of your brand better. Therefore, the best mega menu WordPress plugin must offer customization options, ready-to-use templates, and of course, a good support team.

---

Why Would You Need a Menu Plugin?
In case you were wondering why would you need a menu plugin when WordPress offers a default menu, here is why:
WordPress default menus are limited, so you will definitely need a plugin if you want a larger menu with extra functionality.
Responsiveness is another factor that might affect your decision to get a separate menu plugin instead of using WordPress's default one.
Indeed you must be aware of the difference in technical support for default functions and plugins.
Sometimes building menus in WordPress can be a tedious task to complete. Therefore installation of an extra plugin might be a real-time-saver. Moreover, plugins offer almost unlimited customization options.

---

Top Best Menu Plugins in WordPress
Finally, the main purpose of this article! Let me introduce the best menu plugins on WordPress. Every plugin in this article is chosen based on certain criteria and tested up with our team. The main criteria by which we came up with this list are: Easy of Use (good user interface), customization options available, responsiveness, and good support. By the way, a similar article about the best SEO plugins is already available on our blog.

---
---

Let's start our article with one of the best Menu Plugins available on WordPress called Max Mega Menu. First of all, it has impressive statistics, such as more than 400.000+ active installations and 4.5 out of 5-star ratings. This plugin will help you to create mega menus with all the existing menus on your website. It works with WordPress 4.9 version and above, is tested up to WordPress's latest version, and works with PHP version 5.6 or higher.
So Main Features are
Dropdown mobile menu
Multiple menu locations support
Customization options
Accessibility – keyboard navigation, shortcuts
Tabbed Mega Menus
Sticky menu
FontAwesome 5, Genericon & Custom Icons
Custom Menu Item Styling options
Different Google fonts
Roles and restrictions features
Automatic updates
Extra mobile toggle blocks
Priority support
Therefore main benefits are
Easy user interface
Clean code with a low memory footprint 
In-depth documentation
Basic support
It is compatible with Elementor
---
---

Responsive Menu – Create Mobile-Friendly Menu is a WordPress menu plugin that shows impressive results. First of all, it has a 4.5-star rating out of 5 and more than 100.000+ active installations. Moreover, this plugin is tested up to WordPress's latest version gets regular updates alongside is available in 10 languages. Alongside all the impressive numbers and benefits it comes with lots of first-hand (useful) features, which we are going to review down below.
So Main Features are
Change colors options available
Different fonts options are available
Changes preview option
Animation available for different menu items
Colour opacity for all colors
Custom overlay color and opacity
Integrated header bar
Choice of Sub-menu depth to display down to
Choice of Animation Type for the Menu
Integrated search bar
Ability to disable and re-order the different components
CSS elements
Ability to fix the button to the top or to let it scroll with the page
Integrated header bar
Therefore main benefits are
The good user interface, very beginner-friendly
Highly customizable
Regular updates
Dedicated support team
---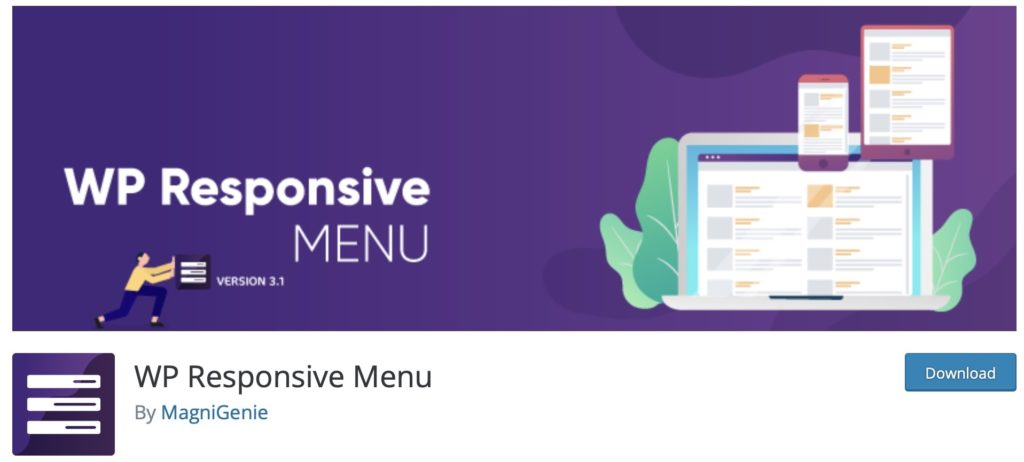 ---

The next WP mega menu is WP Responsive Menu beloved by thousands. This plugin is a simple add-on for WordPress, which will allow you to add a customizable responsive menu to any WordPress site you may need. Let's look at some statistics that prove their use of it. It has more than 60.000+ active installations, subsequently is tested up to WordPress's latest version, and has a 4.5 star out of 5-star rating.
So Main Features are
Smooth integration with WooCommerce
Good support for RTL sites
Customizable fonts, icons, and colors
Therefore main benefits of WordPress Responsive Menu are
Visually aesthetic slide menus
Easy customization
Good user interface
Multiple fonts available
Various icons available
---
---


Smart Menu – Responsive jQuery Mega Menu is a WordPress menu plugin that offers lots of necessary features for an affordable price. It is pretty user-friendly and allows you to use multiple menus and submenus. This plugin has only the pro version, however, it is still pretty affordable, and is available for download on CodeCanyon.
So Main Features are
Supports multiple instances
Offers both horizontal and vertical layouts for menu management
Mega submenus – those will help you to structure your content very well
Hover, click, and toggle dropdown ways
Fade and Slide CSS3 animations
12 columns fluid grid
Customization for mega dropdowns, forms, search box, social icons, HTML
Therefore main benefits are
Easy installation
Responsive design
User-friendly interface -saves your time because it does not have a long turning curve
---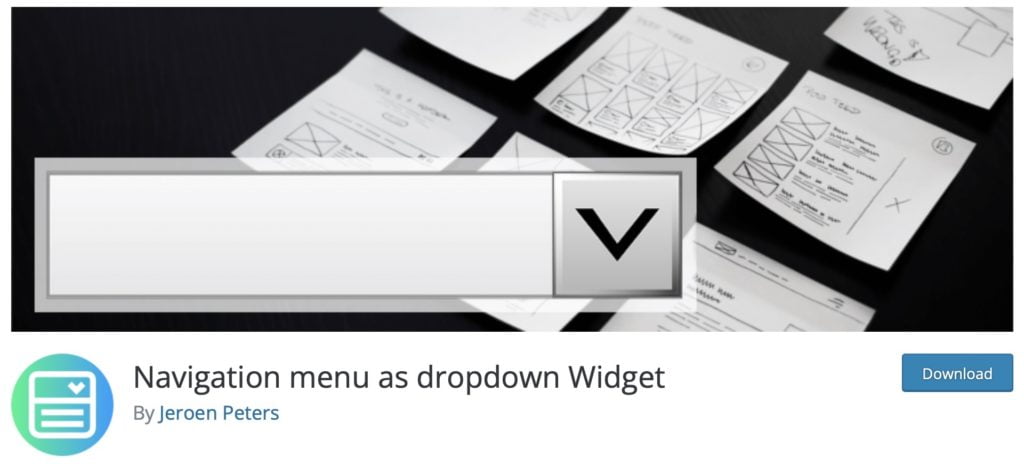 Navigation menu as a dropdown Widget is a WordPress mega menu plugin, which basically allows you to convert navigation menus to a dropdown so that users will be able to navigate through your webpage easily. It gets regular updates, has more than 2000+ active installations, and has five out of 5-star ratings. 
So Main Features are
Now let's take a look at the main features of this plugin, which are:
Widgets – It has integration with bbPress and offers a WordPress widget menu including Forum Search Form, Login Widget, Recent Topics, Topics View List, Recent Replies, etc. 
Custom HTML options
Menus 
Headers
Background 
Therefore main benefits of this mega menu plugin are:
Responsiveness to all screen sizes – if you quickly need to add or remove something, you can access it even from your phone and do what you need
Good support team, fast replies
Customization options
This is included in the best free mega menu plugin WordPress list.
---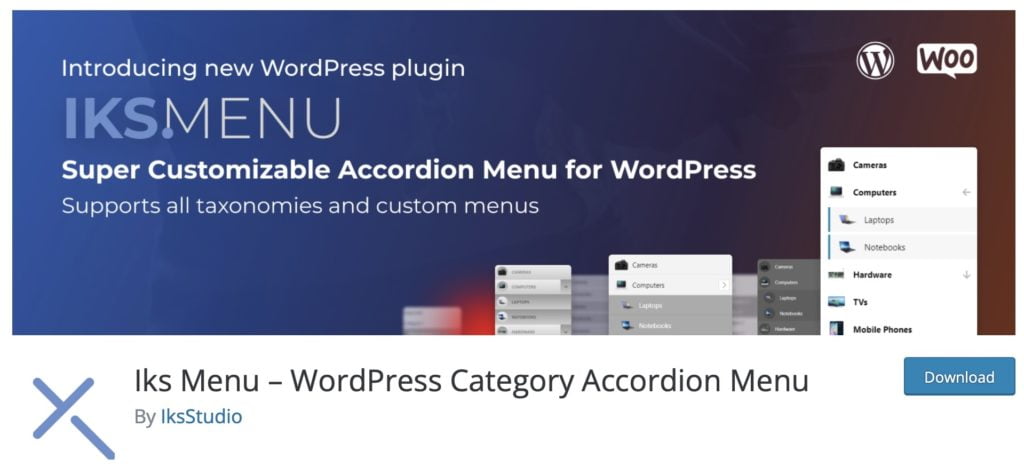 ---

Iks Menu – WordPress Category Accordion Menu is also included in the best WordPress menu plugin listing with lots of useful features. Moreover, it gets regular updates, is tested up to WordPress's latest version, has 5000+ active installations, and has 5 out of 5-star ratings. 
So Main Features are
Taxonomies support
Custom WordPress Menus support
Supports images for all taxonomies
Appearance customization
Keyboard accessibility
Pro version is available
Posts count display
Animations for submenus (expansion options)
50+ icons and 5+ animations for expanding
Therefore main benefits are
Best choice for Sidebar menu
Responsive
User-friendly interface
---
---

HT Menu is a WordPress menu plugin, which is also considered the best mega menu for Elementor in the market, due to the advanced functionality it offers. This mega menu WordPress plugin has over 1000+ active installations, and is tested up to WordPress's latest version.
So Main Features are
Add WordPress Elementor Mega Menu under a menu
Width control menu
Sub menu position
Menu icon picker, and icon color
Menu badge color
Therefore main benefits of this Elementor mega menu plugin are:
Customization options
Screen size responsiveness
Work with Elementor page builder
Summary
So, to summarize the "Best Menu Plugins 2022" article, I can say that all of the plugins listed here are quite similar, with minor differences. However, to make sure that you downloaded the best WordPress menu plugin, I will recommend taking a look at each of those again and making the right decision.

If this article was useful for you, do not forget to share it with your friends or colleagues who may be interested in this topic.

---

If you liked the article do not forget to check out our YouTube channel with tons of WordPress tutorials! And you can find us on Facebook & Twitter, where we post interesting updates about upcoming events.

---

Must-Read articles
Do not forget to check out our must-read articles, which will give you an overall idea about WordPress, SEO, Content Writing, and most importantly, about the hyped plugins' honest reviews. Discover everything about WordPress with us.