Do you know someone who loves standing in long lines just to purchase the desired item? I do not think so. Noone likes it even a little bit. The same goes with online checkouts; customers hate checking outs that require lots of time and attention. Therefore, in the Best Checkout Plugins for WooComemrce 2022 article, we will present the best checkout plugins available out there that will enhance customer experience and save you a good reputation.

So, if you are ready, let's start!
What are Checkout Plugins?
First of all, let's understand what checkout plugins are. Checkout plugins are aimed to simplify the overall checkout process for your online business in order to enhance the user experience. There are multiple reasons why you would need one, including:
Creates a positive user experience which leads to a good public image
Simplifies the complicated processes and saves time
---
What Should You Look for in a Good Checkout Plugin?
However, even though you want and need one, there are certain criteria that differentiate the best plugin from an average one. So, let's take a look at those criteria:
The plugin of your choice must not negatively affect your website's speed, as loading time is extremely important. For example, did you know that a one-second delay in loading time costs amazon around $1.6 billion of sales each year?
It must have a good back-end user interface so that you can easily create and add a checkout page to your WooComemrce store.
Also, the plugin of your choice must have customization options so that even the checkout page communicates with the overall appearance of your website and speaks for your brand.
Also, it must be in an affordable price range.
---
Best Checkout Plugins for WooCommerce
So, let's finally review the best checkout plugins for WooCommerce.
---
Digital Goods for WooCommerce Checkout is a plugin created by the Dotstore to declutter the checkout page on WooCommerce websites. So, it is an elegant decision for providing an astute customer experience.
Main Features
The main features of Digital Goods Lite include:
The plugin provides you with quick checkout buttons
You can remove unnecessary checkout fields
Set the checkout on certain products
Enable or disable order note on checkout
Insert the checkout directly to the product page
Compatible with WooCommerce digital products
Digital Goods Pro includes a few more features:
Applying to quick checkout to either all or just selected digital products
Add additional fields for customers after the payment
Restrict the user role for the quick checkout
The Pro version comes for $29 for one website, $129 for 5 websites, and $249 for 30 websites annually. You can buy the plugin for a lifetime for $99, $249, and $399 respectively. Digital Goods Pro has a 14-day free trial.
Benefits
Clean checkout page
Reduces cart abandonment
Efficient
All in all, this plugin provides you with all the tools your website user would need for a quick checkout without the need to fill in many-many fields. It transforms your cluttered checkout page into a concise page.
---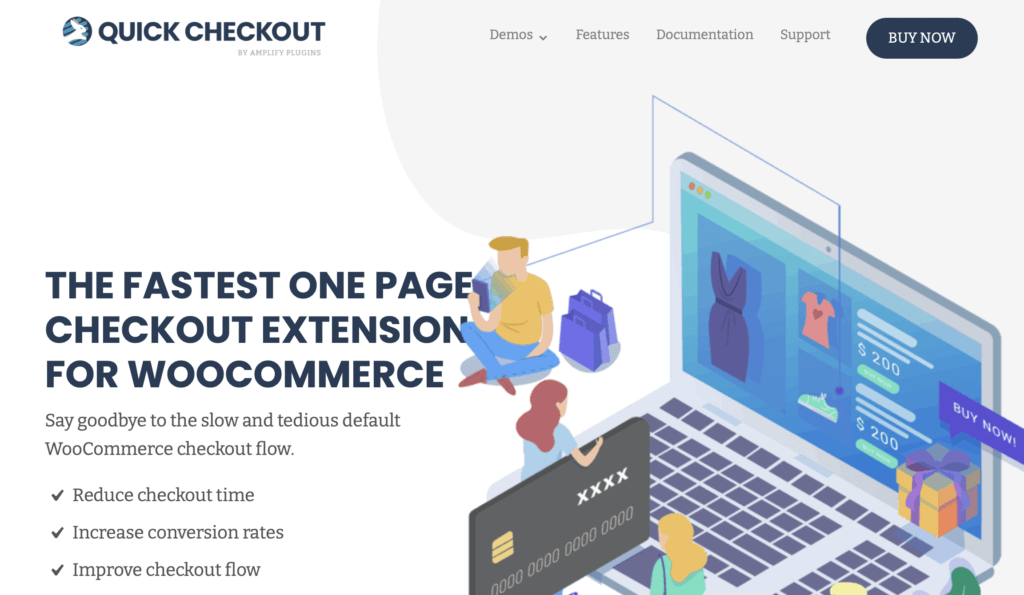 Quick Checkout plugin by Amplify Plugins is a perfect thing to make your WooCommerce checkout page faster and more palatable.
Main Features
So, the main features are presented down below:
The plugin allows your website visitor to proceed to the checkout on the product page itself.
You can add quick buttons to the product page for a quick checkout.
Integrate with any WordPress theme easily.
Compatible with all WooCommerce extensions.
The way this plugin works is that you can use all its features for free for 10 orders. After that (if you like the plugin) you can purchase a license. It will cost you $76 / year for 1 website, $149 / year for 5 websites, and $229 / year for 15 websites.
Benefits
Very lightweight and fast, the plugin doesn't slow down your website's work.
Increases the checkout flow
Reduces the checkout time
The plugin allows your users to checkout directly from the product page, decreasing the frustration and time that they spend on the checkout. This plugin improves user experience and at the same time doesn't slow down your website speed.
---
WooCommerce One Page Shopping is a plugin that allows your customers to proceed to the checkout directly from the product page. This plugin integrates the checkout page with the product page, which increases the speed of checkout and reduces user frustration. Let's have a look at the main features.
Main Features
So, the main features are:
Layout your products on a table
Checkout directly from the product page
Create collections and groups of products
Complete the checkout on the same page
Show combinations of cart and checkout on the shop pages
Base category and products on user preferences
Pricing
The plugin costs $20 and comes with future updates and 6-month support. You can extend the support to 12 months with an additional $13.13 ($5.63 with a current discount)
Benefits
Provides additional product layout options
Combine your products into bundles and categories
Fast checkout without additional loadings
The plugin allows you to view the cart and proceed to the checkout from the product page directly, without the need of going to the cart page itself.
---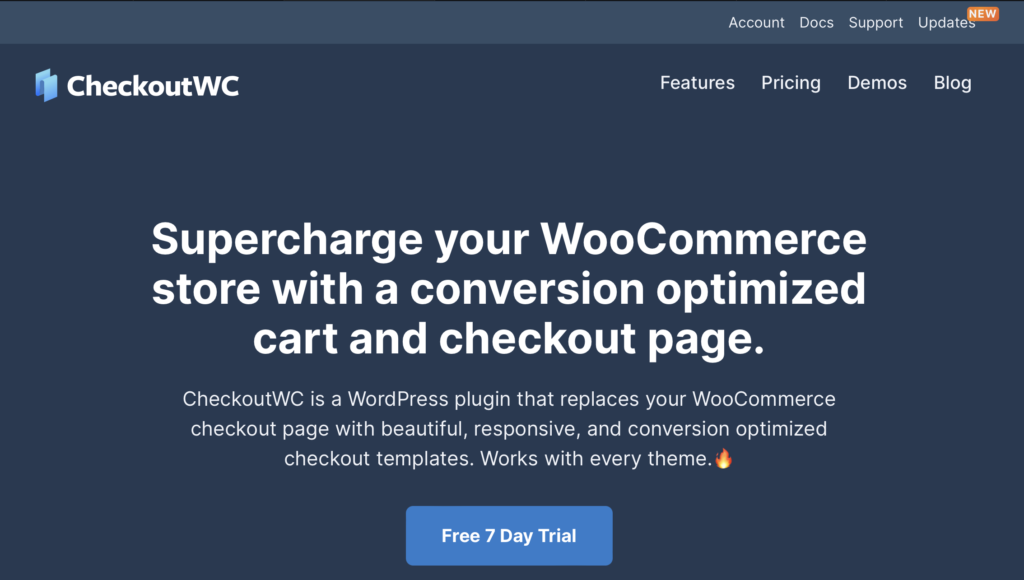 CheckoutWC plugin is a tool that will help you to transform your WooCommerce checkout page into an endurable and optimized checkout page.
Main Features
So, the Core features include:
Uses a simplified three-step checkout process
Allows automated logging for users with accounts
Has four template designs for the checkout page with customizable colors
Pro Version
There are a few subscription plans for this plugin: Basic for $15/mo or $149/year, Plus for $25/mo or $249/year, Pro for $35/mo or $349/year, and Agency for $199/mo or $1999/year. All plans come with a 7-day free trial and a 30-day money return guarantee. Before looking at the features, we should note that the core features are applicable to every subscription plan.
A basic subscription includes:
One page checkout
Code snippets
Order review step
Plus plan includes:
Cart editing
Data autofill
Trust badge addition
Pro includes:
Side cart
International phone field
Special order offers in the cart
Fetchify address autofill
Agency includes everything Pro does but for 100 websites.
Benefits
Responsive design
Compatible with every WooCommerce theme
Provides an efficient checkout process
So, the CheckoutWC is a trustworthy plugin with many features that will increase the efficiency of your WooCommerce checkout page. Therefore, not only will the page look better aesthetically, but it will be much more convenient for your user.
---
Custom Checkout Fields plugin is created by Algoritmika Ltd as a tool to increase the customizability of your WooCommerce checkout page. Moreover, it allows you to add custom fields to the checkout page according to your preferences.
Main Features
So, there are a few field types you can add, including:
Text
Number
Checkbox
Colour
Timepicker
Select and Multiselect
Password
Address
Contacts
Etc.
You can customize each field by changing the size, minimum and maximum value, prioritize each field, label them, make some required to fill in and some not, add tags, and much more.
Pricing
You can purchase the plugin for $19.99 for a single website and $49.99 for an unlimited number of websites with a 30-day money return guarantee.
Benefits
Generally, the plugin allows you to add only those fields that you seem to require. And the fields that you add variety in the categories can be customized vastly. Moreover, it is worth mentioning that the plugin is rated 4.5 on WordPress, so users are generally very fond of it.
Summary
So, let's wrap things up with the Best Checkout Plugins for WooComemrce 2022 article. I can say that no matter which one of the plugins you will choose,e you can definitely be confident in your choice. All the plugins presented here are highly reliable, customizable, and, most importantly, easy to use. All of them will save your time and enhance the overall user experience of the client.
---
Must-read Articles
Let me present to you an amazing section of the article called Must-read. In our WPGlob blog, you will find various categories of articles related to WordPress, WooComemrce, and even Shopify. Moreover, articles in each category are easy-to-read. Also, they will help you throughout your journey from newbie to the Pro, so do not forget to check them out!
One of the highly useful articles that we recommend you to read, is "How to add meta descriptions Without Plugin". Moreover, meta descriptions are a crucial part of SEO, therefore you should know how to add one. Also, even though plugins help you to do it easier, lots of plugins on your website may slow down, and negatively affect the speed of your website. In this article, we gave you a thorough step-by-step guide, that will help you to add meta descriptions without a plugin.
The organization of an effective workflow can be a time-consuming process. So, if you want to ease the process, and manage documents properly, then take a look at the "Best File and Document Management Plugins for WordPress" listing, where you will definitely find the plugin your website needs.
You may guarantee the best user experience on your WooCommerce store by using the best WooCommerce wishlist plugins.
Also, we should remember that the blogging industry revolves and grows. Therefore, if you want to stay on top you should be aware of the best "Auto Blogging plugins". In this comparison article, we compared two giants, read to find out more.