If you want to ease your file and document management process and organize the whole workflow smoothly without hustles on your WP site then it is high time you used u well-functioned WordPress plugin. So, we will speak about the best file and document management plugins for WordPress.
---
Why Should You Use WordPress File Management Plugin?
Answering this question we would like to inform you, that these plugins help businesses and website owners easily manage a huge number of files and if needed share them with the project participants, team members, or users. The process is completed at the high-security level which increases the importance of document and file management plugins.
So, with these plugins, you can make the files downloadable and manage them in the backend, restrict access to them.
There are many other benefits. So, we mention the best file and document management plugins for WordPress in the following paragraphs.
---
Here is the first plugin from our best ones list. Being developed by the Ninja Team, FileBird has more than 100,000 active installations and 632 5-stars in the WP Repository. It helps the users to categorize WordPress Media Library in folders.
FileBird – WordPress Media Library Folders plugin is introduced with complete documentation, demo, free, and pro versions. This means that you are able to get a response to all your questions regarding the plugin's working system.
This plugin provides a great user interface, drag and drop feature, brilliant gallery sortation options, smooth organization, and native icons for your WordPress media library.
Even with the Free Version of the FileBird document library WordPress plugin, you are able to create an unlimited quantity of folders and their subfolders. It is compatible with many WordPress plugins and themes.
Here are some features the free version supports:
Unlimited folders
Unlimited files
Import folders from other plugins
Folder based on user role
Gutenberg editor
Gutenberg gallery block
REST API available
Starting with the FileBird Plugin's Free Version
You can install the plugin either from WordPress.org or from your Admin Dashboard Plugin's Directory. So, after installing and activating the FileBird plugin you can start managing your Media Library.
After entering the Media Library section you will see the toolbar where you can create your folders.
So, to add a new folder you need to click on the "New Folder" button at the top. And afterward, upload new media files in it.
Filebird Pro
If the free options are not enough to fulfill your website needs then you can simply upgrade to FileBird Pro. Here is the pricing:
Regular License – $39
Extended License – $199
With the Pro version, you can sort folder names, and sort files based on Name, Date, Modified, Author, and Size.
You also can see FileBird folder tree when you insert a file into a page or post using other editors such as Elementor, Divi, etc.
Besides, to distinguish your folders, you can choose a unique color for each folder.
You can see other wonderful features you get with FileBird Pro version here.
So, this plugin can be your right choice while working with a huge amount of files.
By purchasing the Pro version you will have an opportunity to refund it within 30 days having a money-back guarantee. If having any questions or issues, you may contact the plugin fast support service.
---
The second plugin from our list is Download Monitor developed by WPChill. It has 100,000+ activations and 307 5-stars in the WP Plugin Directory.
The plugin enables the users to get an interface for downloadable file uploading and management. As well as, the user may insert download links into posts, log and sell downloads.
Here are the key functions of the Download Monitor plugin:
Adding, editing, or removing downloads from the WP interface. They will look like posts.
Seeling downloads directly on the WP site
Compatibility with the Gutenberg Block Editor
Adding multiple file versions to downloads (mentioning their data, download count, and links)
Defining alternative links
Adding categories, tags, meta descriptions to your downloads, etc.
These are only a part of this plugin's main functionalities. Besides, you can upgrade to its Pro version to open vast opportunities while managing your downloadable files. Here is the pricing:
Complete – $159
Popular – $99
Basic – $39
To know more about the purchasing details and available options you can visit the WordPress Download Monitor plugin's official website.
---
Here is another document manager WordPress plugin – Shared Files developed by Tammersoft. It is a simple WordPress file sharing plugin and download manager tool with frontend file upload.
The plugin scores over 2,000 active installations and 16 5-stars. Due to the plugin, you can easily list and manage your file downloads. The technique works as follows. The user utilizes a file manager in the WordPress Admin area and inserts the shortcode to the page he/she wants to list the files. Besides, the users are allowed to easily upload their files in the front.
Shared Files is a very user-friendly tool and has simple features to utilize. Moreover, you may visit its demo version to get comprehensive imagination about the WordPress document management system with this plugin.
Besides the free version, the Share plugin's developers present its paid advanced version. The pricing is mentioned below:
Personal – $4.99 per month ($59.88 yearly)
Professional – $6.49 per month ($77.88 yearly)
Business – $7.99 per month ($95.88 yearly)
---
Next comes the CM Download Manager plugin having more than 500 active installations and 27 5-stars in the WP Repository.
The plugin enables you to upload, track, manage and support your files and docs presenting them in a listing structure. This enables others to utilize or place comments in that lists.
Besides, you can choose the users allowing them to upload, manage, support, and track documents and any type of files. Moreover, you can categorize the downloads due to the index pages. And each of the uploaded docs generates a landing page that can be previewed.
Along with its various free features, the plugin enables you to access a more professional version that is paid. Here are the available Pro plans:
Essential (Pro) Download Manager – $39 for 1 site
Advanced (Client Zone) Download Manager – $69 for 3 sites (includes an additional add-on)
Ultimate Download Manager – $119 for 10 sites (includes additional 7 add-ons)
---
The WP Document Revisions plugin is presented on WordPress. org and has almost 3,000+ active installations and scores 10 5-stars based on the customers' reviews.
It is a WordPress document management plugin to save your time while editing any file format including textual docs, spreadsheets, media files, etc.
It is not only a WP document management system but also a collaboration tool as well as a huge solution for file hosting.
The good thing is that the plugin is absolutely free and supports WordPress multisite and Windows (XAMPP). As well as it is highly secured. But the main features are not limited to the mentioned ones. To get acquainted with other features you may visit the plugin's page on WordPress.
---
The sixth plugin from our list is WP Docs with its free and paid packages. It scores more than 1,000 active installs and 10 5-stars on WP.
It is also a document management plugin with a big variety of useful features such as:
User role management to restrict the file access
Directory view
Uploadable file types
Front, refresh, and Ajax-based browsing
Multiple directory views and instances with shortcodes, icons, lists, and other details
Smooth navigation based on jQuery and Ajax without refreshing the page
Different shortcodes for each of the folders, etc.
These and other valuable features are introduced in the plugin's free version. But in case you prefer exactly this plugin with more features then you can purchase its Pro version for just $145 on the WP Docs official website.
---
The SP Project and Document Manager plugin is an Ajax multi-uploader available both in free and paid versions. It has over 3,000 activations and 41 5-stars in the WordPress Repository.
It is not only one of the powerful file management tools enabling the users to share remote files, maintain and take control over thousands of docs, records, media, and audio files, but also it is a perfect WordPress project management plugin. Besides, you can place the files in an unlimited number of folders, and subfolders. Then you can share, and organize the documents of students, clients, suppliers, etc.
Moreover, this plugin supports WordPress Multisite.
And currently, the plugin's developers suggest you activate its paid version with more valuable functions and the following licenses with fixed prices:
1 Site License – $75
1-3 Sites – $125
5 Sites – $195
To know more about the Pro version features you may visit the SP Project and Document Manager plugin's official website.
---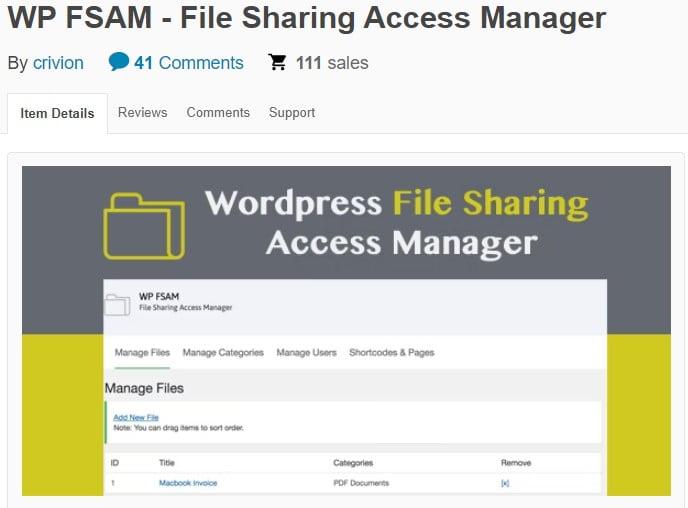 So, the last but not least document management WordPress plugin from our list is WP FSAM developed by Crivion. Currently, it has 111 sales and a 5-star on CodeCanyon.
This plugin enables the admins to upload not only the private but also the protected files. As well as they can share the uploaded files with the specially assigned users.
Moreover, admins can create file categories and create users to permit them file download within the exact categories.
So, it is an easy, secure, and very helpful tool to share your WP files.
The plugin offers only a paid version with the following pricing:
Regular License – $29
Extended License – $105
---
Comparison Table
Now, let's compare the presented plugin in the comparison table:
| Plugin Name | Active Installs/Sales | Rating | Pricing |
| --- | --- | --- | --- |
| FileBird | 100,000 | 632 5-stars | $39-$199 |
| Download Monitor | 100,000 | 307 5-stars | $39-$159 |
| Shared Files | 2,000 | 16 5-stars | $59.88-$95.88 |
| CM Download Manager | 500 | 27 5-stars | $39-$119 |
| WP Document Revisions | 3,000 | 10 5-stars | Free |
| WP Docs | 1,000 | 10 5-stars | $145 |
| SP Project and Document Manager | 3,000 | 41 5-stars | $75-$195 |
| WP FSAM | 111 | 1 5-stars | $29-$105 |
---
Summary
So, we have gotten familiar with the best file and document management plugins for WordPress. So, by downloading one of them you will have a better user experience by tracking, managing, and organizing your documents and files and making the WordPress file sharing process smoother with your teammates.
If you like the article, do not hesitate to find us on Facebook and Twitter. For interesting WP tutorials, please subscribe to our YouTube channel.
Latest posts by Anahit V.
(see all)