If you were searching for the best Wedding Themes for your website/business, then you are at the right place. In the "Top 5 Wedding Themes for WordPress" article, we are going to review the best themes dedicated to the wedding that will communicate the message of your business just perfectly, meaning that you will be able to attract more customers.
So, if you are ready, let's start.
---
What are the Themes?
Also, let's remember about the beginners. Basically, themes are groups of files that dictate the final appearance of your website. Those files include graphics, text, colors, etc.
---
What are Wedding Themes?
Wedding Themes, accordingly, are themes dedicated to businesses operating in the wedding industry/niche. It is extremely important to pick the right theme because:
SEO optimization will be easier, and you will rank higher
You will be able to communicate the message of your brand easier than ever.
The visual communication element of your website will be improved. And this will automatically drive more customers to your business.
Now, let's take a look at how to pick the right theme? Well, it is actually not hard if you know what you should look for.
Responsiveness – when choosing a theme, make sure it is responsive to different screen sizes because your customers are going to access it from different devices, not only laptops.
SEO-friendly – if you want to rank higher, make sure your theme is SEO friendly.
Widgets – also, it will be quite nice to look for multiple widget areas in your theme because those can sometimes be extremely helpful.
---
Top 5 Wedding Themes for WordPress
---
Now we will take a look at the Top 5 Best Wedding Themes for WP, in order to save your time on countless hours of research. We found the best Wedding Themes, and are ready to present those to you.
---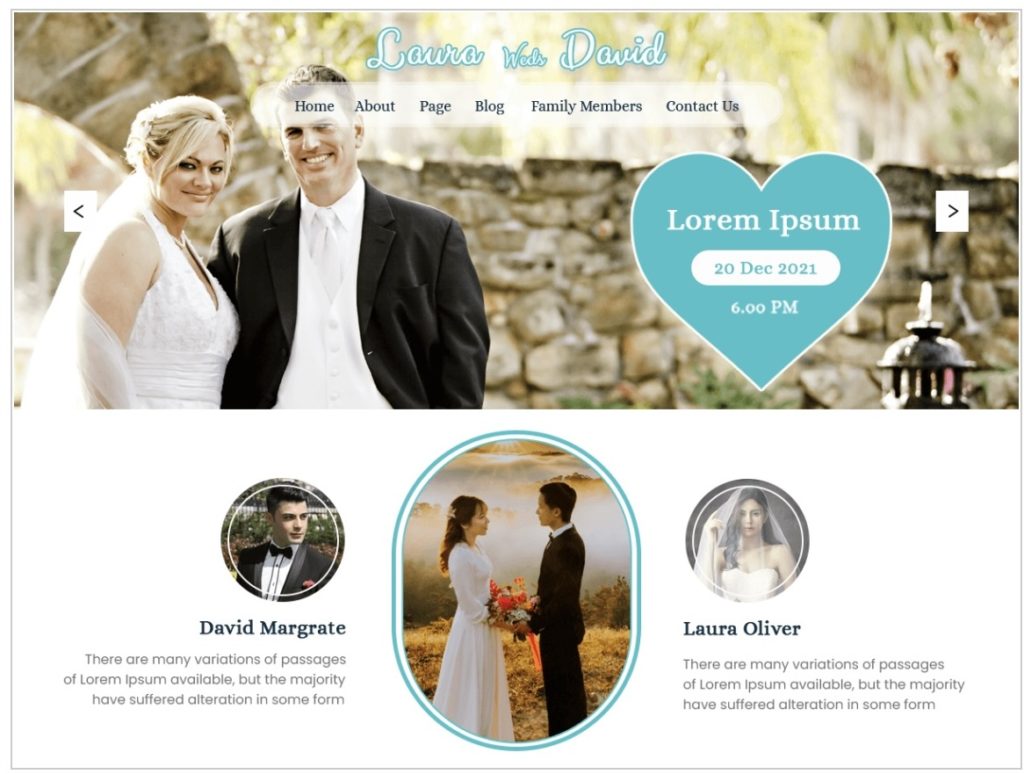 ---
My Wedding is an astonishing WordPress Wedding theme created by Luzuk Themes. This theme is available in both free and paid versions. Luzuk Themes is a full-featured and product-rich online theme store for WP. Each and every theme offered by Luzuk is unique in design, highly responsive, and, most importantly, customizable. However, today we are going to focus on the specific theme called – My Wedding.
My Wedding has a modern and minimalist design, but at the same time, it remains incredibly eye-catching. This theme will be perfect for those who plan to build a website for their Wedding or for businesses operating in the wedding niche. With this theme, you can create an ideal appearance for a wedding website/store and provide multiple services related to engagement, weddings, cooking, etc. This theme is also worth noticing because it has lots of promotional options, including social media share buttons and lots of call-to-action placements.
So, the Main Features are:
Banner Slider
Theme options
Responsive user interfaces are adaptable for different screen sizes, and they maintain a pixel-perfect design.
Custom inter page banner & multi-page template
WooCommerce support
Hide/show sections
Custom colors and images
Multilanguage
Good user interface: you can easily install, then make all the necessary adjustments without additionally spending time on learning to navigate through the theme. At the same time, the ready theme will make your website easy to navigate through for your customers, which directly positively impacts the conversion rates.
---
---
Charity Wedding is a purposeful child theme created by Theme Palace. Theme Palace offers multiple themes for businesses and website owners operating in different industries. All the themes offered by this platform are reliable, responsive, and, most importantly, WooCommerce compatible. Today we will take a more detailed look at the Charity Wedding theme.
This theme is perfect for not only weddings but for any kind of event, including concerts, meetups, parties, sports events, etc. The design of the home page aims to promote the website to the right audiences. With this theme, you can customize almost everything you want and make your website the best version of itself.
So, the Main Features are:
Responsive for all screen sizes
Easy Demo Import
Theme options and sortable homepage
Loader, Breadcrumb, site layout
Blog and Archive
dark/light versions are available
Main slider
Events, testimonials, popular posts, and CTA sections
---
---
VW Wedding is a theme worth being on this list due to its modern design and full functionality that comes with it. This theme is created by the VW Themes platform. VW Wedding is an elegant, modern yet detailed, and minimalistic at the same time theme. This theme is perfect for websites or businesses operating in the wedding industry. Besides businesses, it can be used for personal purposes, for example, to showcase your beautiful wedding journey, album, destination wedding, etc.
Because this theme is also WooCommerce compatible, you will be able to use it as a business that provides different wedding-related services, such as floral, organizational, and maybe even dancing. However, now let's take a look at its main features of it.
So, the Main Features are:
A responsive theme with a professional design that works perfectly on any device
Exceptional page layouts, sidebars, and width customizations
Customization options available – text, color, fonts, specific sections, etc.
The SEO-optimized theme that will contribute to the ranking factor of your website positively
Omnilingual theme
Logo upload
Social media links
Slider settings
Full Documentation
Latest WP compatibility
Gallery (check out also "Best Gallery Plugins on WordPress" article)
Secure and optimized code
Custom backgrounds, colors, Headers, Logo & menu
Premium membership
---
---
Classic Wedding is an incredibly modern and beautiful theme created by The Classic Templates. This theme is an ideal choice for wedding websites and businesses providing services related to the industry. This theme will create a visually appealing website with minimalistic and, at the same time luxurious elements.
The most important note about this theme is its speed optimization; with this theme, your website loading speed will increase. Also, the Classic Wedding theme will allow you to use custom backgrounds. I suggest that we take a look at the list of major features that you will get to use after the installation of this theme. All the features are presented down below.
So, the Main Features are:
One-click start: All you need to do is to install and activate this theme, and done, you can get started and make all the necessary adjustments
Customization options: the best part about this theme is probably lots of customization options. Nowadays, customization is very important because to differentiate from your customers, you have to offer something unique, let's say your unique selling point, and that concerns the visual aspect too.
2500+ fonts icon
Unlimited portfolios: You can add as many portfolios as you want to showcase your past work and also improve your credibility
Build-in mega Menu: no need for the additional plugin in order to add a mega menu because it is now built-in.
Video sections & advanced Blogs
---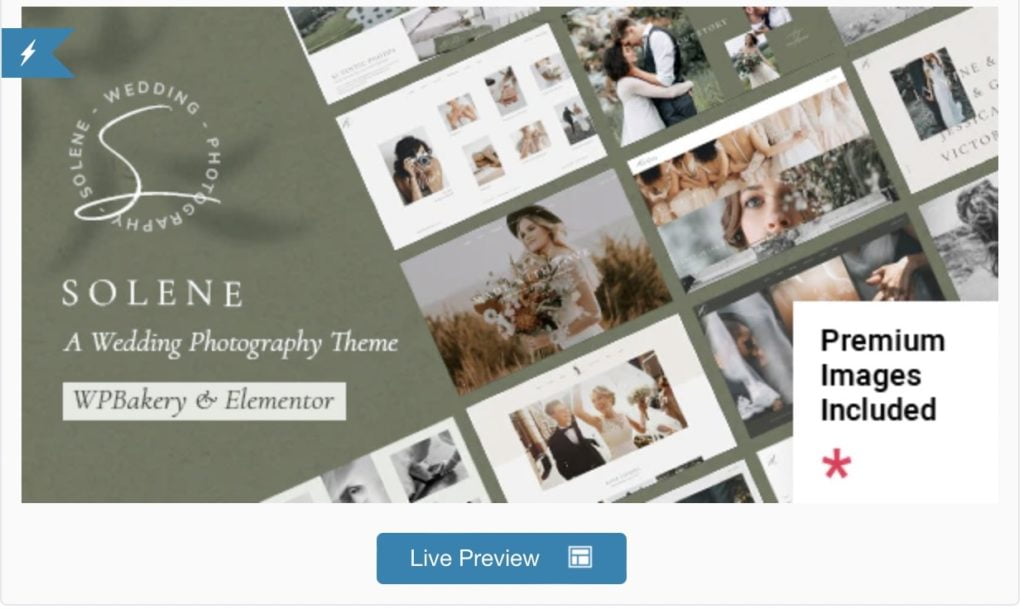 ---
Solene Wedding is an incredible wedding theme created by Elated-themes. And it gets to be in the Top 5 Best Wedding Themes. This theme is available only as a pro version; however, when you purchase the theme all the images presented here can be used on your website free of charge. This theme is quite minimalistic and, at the same time, catches the attention of clients. Therefore it will definitely help you to generate some sales due to successful visual communication elements. Now, I suggest that we take a look at the main features of this theme.
So, the Main Features are:
Photography: perfect toolset to showcase your best work
One-click demo import
Pro Support: amazing support team, very quick responses
Responsive: it is responsive to all the screen sizes
WooCommerce: compatible with WooCommerce
Typography: comes with over 800+ Google Fonts to choose from
Ease of use: goof user interface and no coding knowledge required
Customization options: you can customize texts, colors, and many other areas of the theme in order to communicate the specific message of your business better
Portfolio-related features include Masonry, Gallery, Exhibition layouts, Vertical Loop shortcode, Single Gallery, and Single SLider layouts, Single and full-width image layouts.
Social media feed widgets including Instagram, Twitter
Multiple shortcodes to make the navigation easier
Custom widget areas
---
Summary
So, to summarize the "Top 5 Best Wedding Themes for WordPress" article, I can say that all the themes presented here are worth your attention. Each theme has its unique design and features, although they all have some features that speak about the quality in common. Before going live with the chosen theme don't forget to preview WordPress site and see how the theme integrates with your website.
At the end of the day, it is your choice to make; choose the one that best suits your website and make all the necessary further adjustments.

We can assure you that any theme from the Top 5 Best Wedding Themes list can be confidently used.
---
Must-read Articles
Also, do not forget to check out our must-read articles that will help you throughout your journey in WordPress. With these articles, you will be able to better understand how WP works, and navigate through it with ease.