If you are a photographer, designer, or website owner who wants to improve visuals on the website, then you are at the right place. In the "Best Gallery Plugins on WordPress (2022)" article we will review the best ones available out there on the market. With those you will be able to create amazing and modern-looking galleries, thus having better visual communication elements on your website.
So, if you are ready, let's find the best WordPress gallery plugins for your website.
---
What are WP Gallery Plugins?
Let's start from the very beginning. So what are Gallery plugins? Those are add-ons for your WordPress website that will allow you to display images and other visual materials on your website in the best possible manner so that you will be able to add thumbnails, animations, etc., without additional coding skills/knowledge. So, Gallery plugins will make the visuals of your website better.
---
What Features Should Good Gallery Plugins Have?
Now let's take a look at the main features that the Good Gallery Plugin must-have.
Speed – good gallery plugin must not affect the loading speed of your website.
Ease of use – any plugin on WP must showcase the quality of creating a good user experience; it must not require a long learning curve.
Have lots of options for image, video, and animation displays.
And, as far as we are clear on the qualities a good Gallery Plugin must have, we will start reviewing the best ones that we found during our research.
---
Best Gallery Plugins on WordPress
The final choice, of course, is yours. However, you can be sure that no matter which plugin you choose, every single one of them in this list is full-featured and reliable to build the best gallery for WordPress. So, you can be confident in your choice.
---
---
Photo Gallery by Ays is created by Ays Pro — a company that specifically develops plugins for WordPress. Creative and experienced experts gathered under one company name to promote accessible programming. This means that all Ays Pro plugins are beginner and user-friendly, and if the customer does have questions there is fast and effective customer support.
Moving on to the plugin itself, Photo Gallery is created to display pictures beautifully on your website. it is among the best WordPress plugins for photo galleries and is quite nice. So, it's not just easy to work with it, but it's also very pleasant to do it. A benefit that we should mention right away is that this plugin will not slow down your website (which is a usual thing with WordPress plugins). But without further ado, let's have a look at the main features.
Main Features
First of all, Ays Pro does provide you with a free version which they lovingly call "Freemium". The plan comes with the most basic features that you could need for creating a pretty image collection on your website:
A number of galleries and images. Even the Free version allows you to have an unlimited number of both images and galleries that contain them.
Image settings. Edit image qualities and fill in the image attributes (title, alternative description, URL, etc.) automatically based on the name given to the file.
Adding images. You can upload multiple images at once.
Gallery preview. Have a look at your gallery before displaying it on your WordPress website.
Thumbnail. Edit your gallery thumbnail by changing its size. Unlike other plugins, the size will not influence the loading speed of the image.
Other Features
Order. You can order your images in a few different ways. First, you can filter them by title and date; second, you can automatically put images in completely random order. Third, you change the order by dragging images wherever you want them to be.
Loading. First, we have a classic: lazy loading. When clicked on, the gallery opens at once, and images load one by one. Then, we have the global loading. The gallery opens when all pictures are ready. Both versions have their perks, so it's good that you can choose.
Columns. In the grid view, you can choose and change the number of columns.
The view. There are three main types of gallery views in general (that you can choose from): the default grid view — an everlasting classic, the beautiful Mosaic, and the aesthetical Masonry view that is so popular lately.
Hover. You can add a hover effect and edit it to your taste by changing the animation, opacity, color, hover zoom, icon, size, and others.
Design. The design of the galleries is responsive, so even if you use Ays Pro's best WordPress photo gallery plugin free, your website visitors will still have a wonderful experience no matter what gadget they're using.
Pro Version Main Features
Still, consider getting the Pro version. It does come with some advantages. Besides having all the Free version features, it has:
30+ awesome views — templates for the grid, mosaic, and masonry layouts for your website.
20+ Transition effects — scroll your gallery with some fun.
Transition speed is very little, it is literally measured in milliseconds.
Lightbox. You can change the settings of your lightbox and preview how it looks before changing your website.
Share. There is a share button so you can share your images and galleries on social media.
Fullscreen. Another feature is the fullscreen button, which will provide you and your users with a full-scale experience.
Images actual size button.
Download button.
Mouse wheel.
Thumbnails settings.
Key control
20+ Animation easing effects.
More Pro features are getting created!
Main Features
SEO. Having a gallery on a website is usually more SEO-friendly. Having already a search engine optimized gallery is even better for your rankings.
Loading. The plugin does not slow down your website, it's very light on it.
Navigation. Photo Gallery provides you with better control and navigation on your website.
Pricing
There are three versions of this platform. First, we have the Personal plan — a free version with the most basic features that we discussed above. It allows using the plugin for one website for a lifetime, but updates and support are only for the first month.
The business plan costs 14500 drams and the Developer plan costs 44500 drams. There are only a few differences between the two, but they are significant. If you have the Business version you can use it for five websites — the number of websites for the Developer is unlimited. A business plan provides you with updates and support for one year, whereas the Developer for a lifetime. But, both plans include all Pro features. The best thing that became so rare nowadays is that you pay once and you can use it for a lifetime.
How to Use?
Installing the plugin couldn't be easier, although you have to make the tough choice between the first and the second way of doing it. First, you can go to your WordPress dashboard and install the plugin from there. Or, you can go to WordPress.org, find the plugin there and click install. Both ways are quite easy, but if you're having trouble, the developers created detailed documentation.
Now, that you have the plugin, let's set up a gallery. Click on Gallery and go to the Photo Gallery page. Tap on Add New title. Now you can edit the gallery: fill in the title and upload your images. To upload multiple at once, click on Add Multiple. Don't forget to copy the shortcode of the code and insert it into your website. That's all you have to do.
---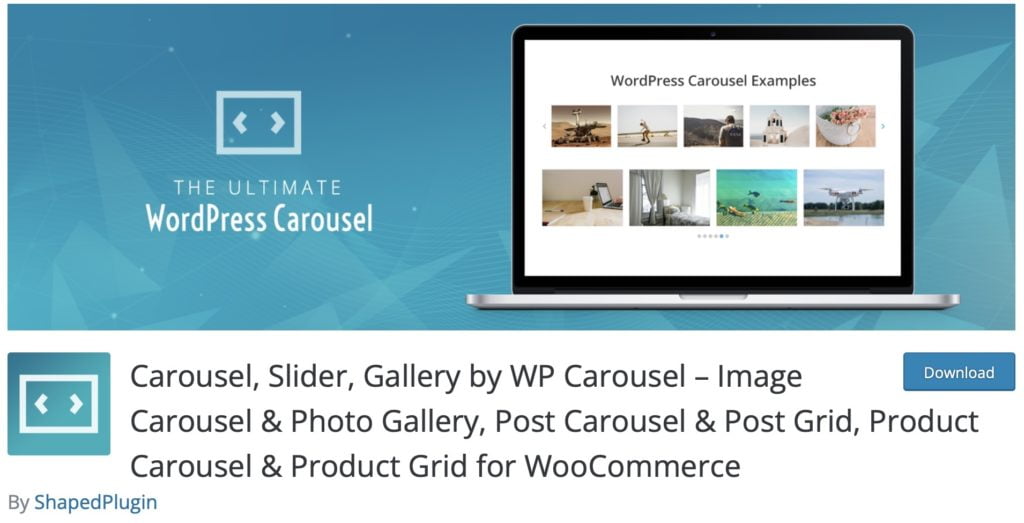 ---
WP Carousel is a WordPress plugin that is developed by Shaped Plugin. The company concentrates on WordPress plugins with beautiful designs and powerful functionality.
Moreover, the WP Carousel plugin itself is intuitive in use and beginner-friendly. It allows the creation of highly responsive carousels, sliders, and galleries for websites on WordPress. It is based on drag and drop methodology and increases the SEO of your website. Let's have a look at the main features.
Main Features
WP and WooCommerce. The plugin supports WordPress posts and WooCommerce products.
Responsiveness. The plugin allows you to design sliders, galleries, and carousels that look good on everything: PCs, laptops, tablets, and mobile phones.
Customization. So, you can customize your creations however you want by changing titles, image arrangement, and grids.
Integration. The plugin is brilliantly integrated with mobile gadgets like iPhones, iPads, Android-based gadgets, and browsers like Chrome, Firefox, Safari, Opera, and Edge.
Carousels. You can create carousels with images using the drag and drop method, with WordPress posts (including titles, images, and tags) and WooCommerce products — you can choose to show or hide certain characteristics of products. You can also add multiple carousels to your website.
Control functions. Adjust carousels to your taste: turn on and off autoplay, change the speed of the carousels, and put infinite looping. Besides, you can display pictures in random order, add touch-swipe options, and many more.
Design. WP Carousel provides you with a wide variety of design options — you can change absolutely everything so it responds to your preferences.
RTL supported. Some languages are read right to left, therefore native speakers of those languages would rather prefer the interface of websites designed in that manner. And well, this plugin allows the user to change the appearance of the website from left-to-right orientation to right-to-left.
SEO. As we already have mentioned, this plugin only increases the search engine optimization of your website — which is definitely to your benefit.
Manuals. The WP Carousel comes with documentation and video tutorials that provide a useful inside to how to use all things the plugin has to offer.
---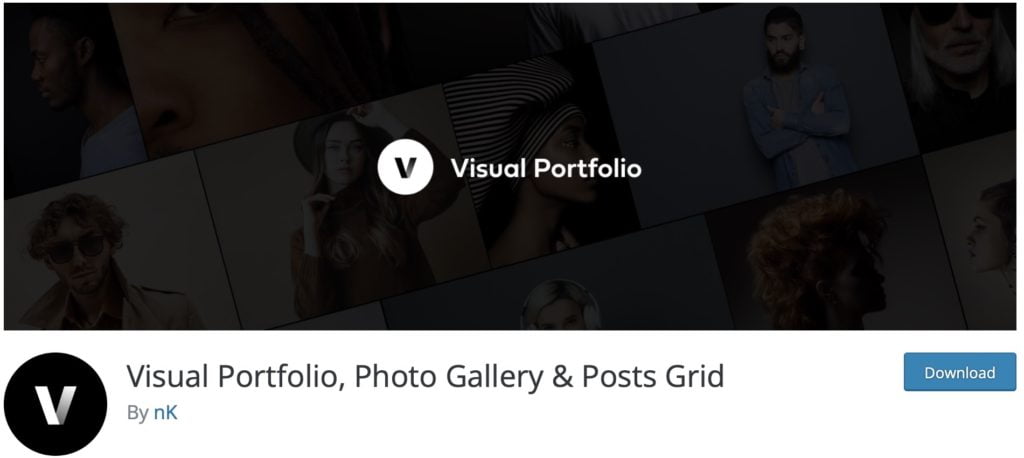 ---
Among the best WordPress gallery plugins, you will find also Visual Portfolio developed by a company that creates premium themes and plugins for WordPress. This exact plugin helps you with designing portfolio websites via beautiful galleries. Although it is beginner-friendly and simple to use, the plugin has many powerful and effective features. It mostly applies to artists, photographers, and designers, but other kinds of people can use it, too, if they think it is useful.
Main features
Simplicity. This thing is easy to set up and further customize.
Design. The designs that nK's plugin provides are absolutely superb.
Updates. The platform gets updated frequently and becomes even more applicable for users.
Code. The creators made sure to provide the cleanest and neatest code.
Support. If something goes wrong — which is highly unlikely — nK will provide you with fast and useful support.
Customization. The plugin not only allows you to customize your portfolios, galleries, and posts in all sorts of ways, but it provides different effects and animations. Add photo galleries to the powerful lightbox.
Responsiveness. The plugging creates portfolios, galleries, and posts that can be optimized for your mobile gadgets.
Reach. The platform is available in many languages. Besides, you can share your creations on social media further spreading your brand.
SEO. This plugin also increases the search engine optimization of your website.
There is a free version, but there is also Visual Portfolio Pro which includes more features. It adds more social integrations, stylish interaction effects, theft protection, and many more.
---
---
WP Gallery plugin is created by BestWebSoft — another platform that specializes specifically in WordPress plugins and themes.
Also, the gallery is a gallery plugin with an unlimited number of image guides and videos. Moreover, it is available in 15 languages. So, the main features are presented down below.
Main Features
Highly responsive
Unlimited numbers of images, albums, and gallery categories
Widgets are available
Slider galleries
Column or Row gallery layouts
Album covers
Filters and sortings by name, date, and random
WordPress gallery with categories
Any image file formats are available
Comments to galleries and descriptions of albums
Detailed documentation and video-instructions
User-friendly easy interface
Multilingual
Masonry and grid galleries
Image text display options
Horizontal and Vertical image crop positions
Add display and Like buttons for Meta, Twitter, and Pinterest
The plugin has a Free and a Pro version. The Pro version comes in different types of subscriptions. If the fee is paid annually, it will cost the user $23 per year per website. The plugin costs $200 per domain if bought for a lifetime. There is also BestWebSoft membership that costs $250/year per domain. It allows you to have all premium plugins that BestWebSoft company has to offer with access to all updates.
---
---
WpDevArt is a platform that creates free and premium plugins for WordPress users. Besides, it allows you to hire specialists and WP developers from WpDevArt for other WordPress-related purposes.
Moreover, the WordPress Gallery plugin allows you to create photo and video galleries for your website. So, let's take a look at the main features.
Main Features
Responsive gallery
27 canvas animation effects
Customizable design
Different views of galleries
Column view
Square
Masonry
Mosaic
Thumbnail.
Video Gallery
Unlimited number of galleries, albums, and images
Image names and descriptions
Count the number of elements on the page
Set the number of columns in galleries and albums
Set image thumbnails
User manual articles and videos are available
So, there are a few packs that this plugin comes in. First, there is a free version that contains standard features. The personal pack comes for $24 for a single website and includes all the premium features. For $49 you can get all premium features for 5 websites in the Business plan, and for $77 for an unlimited number of sites in the Developer plan.
---
Here is another Slider, Gallery, and Carousel plugin by MetaSlider. It has more than 700,000 active installations and 562 5-stars in the WordPress Repository.
The plugin enables you to make various carousels, galleries, and slideshows that are highly SEO-optimized and responsive.
This is a great tool not only for the website owners but also for the plugin/theme developers and simply for those who want to build absolutely great galleries, sliders, etc.
Many features are presented in the plugin's free version, but in case you want to access its advanced functions such as YouTube/ Vimeo, HTML, Layer slides, etc. you should upgrade to the MetaSlider Pro. Here is the pricing:
1 Site – $79 per year
5 Sites – $99 per year
Unlimited Sites – $199 per year
---
So, the next plugin is the WordPress Filter Gallery. It has more than 1,000 active installs and 2 5-stars in the WP Repository.
The plugin is presented with the free and pro versions. It is a multipurpose plugin enabling you to create a filter gallery with just a few clicks. With its help, you may create new filters, apply them to the newly uploaded images, configure settings, generate a shortcode and paste it into the required post or page for publishing it with ease.
The free version's features are as follows:
Responsiveness
Up to 5 parent filters creation
Drag and Drop features
Creating, updating, or deleting unlimited number of galleries
Shortcode availability
Feature clone
SEO-friendliness
Widget support, and many more others
To get vaster opportunities while working with this plugin you may purchase the paid package presented on the WordPress Filter Gallery plugin's official website. The one-time payment price is $25.
---
---
Last but not least plugin from our list of the best gallery plugins for WordPress is developed by WP Life. The company specializes in creating WP themes and plugins that are responsive and powerful.
The WordPress Image Gallery plugin is used mainly for lightbox galleries. You can attach images to any page or post, add images, and write a title for each.
Main Features
Responsive — looks good on any gadgets.
An unlimited number of pictures.
An unlimited number of photo albums.
Add gallery descriptions and tags.
Video support.
Different gallery views
Gallery carousel
Instagram Gallery
Thumbnail gallery
Facebook Gallery
Grid Gallery
Masonry gallery
Link gallery
Hover effect
Multiple column layouts
SEO friendly
Transition effects
Photo Gallery widget
Along with providing WordPress free image gallery features, the plugin has a pro version, too. It is quite cheap — it comes for 10$.
---
Summary
To wrap things up in the "Best Gallery Plugins on WordPress (2022)" article, I can say that each of the plugins mentioned in this list is worth your attention. Therefore, every plugin here has lots of features that will assist you in the process of creating amazing visuals for your website. Besides, all the plugins from this list are highly reliable and speed optimized. So, find the WordPress best gallery plugin for your choice and start building various WordPress gallery styles with ease.
---
If you liked the article do not forget to check out our YouTube channel with tons of WordPress tutorials! And you can find us on Facebook & Twitter, where we post interesting updates about upcoming events.
Must-read Articles
If you want to quickly become a Pro on WordPress, then do not forget to check out our must-read articles.