If you were long enough searching for a WordPress media library plugin for the organization of your website's media files, then you are finally at the right place. In today's article, we are going to review the CatFolders – WP Media Folders plugin that allows you to do so. We will review everything from main features, free and pro versions, to benefits, and even how to get started with this best WordPress media library plugin.
So, if you are ready, let's start!
---
CatFolders – WP Media Folders is a new WordPress media folders plugin created by a reliable team at CatFolders. This plugin aims to take the organization of your website's media field to a whole another level.
WP Media Folders ensures reliability, ease of use, and high quality alongside with beginner-friendly interface.
With the minimum amount of loading elements and the latest WP technology it utilizes, WP Media Folders provides fast and meaningful organization.
In order to get better acquainted with this WordPress media folders plugin, let's take a look at its main features.
Main Features
So, the main features that WP Media Folders comes in handy with are:
Lightweight & fast, that again proves the reliability of this plugin
Fastest migration of today's market and availability to import folders from 6 different media folder plugins. It also allows the import of categories from other plugins in order to utilize the structure already created and not waste time on the creation of something that was already done.
Compatibility with page builders that are current market leaders, including Elementor, WPBakery, Brick, etc.
Allows creation of Unlimited Folders so that you do not have to worry about placing your data accurately
Grid & List views available
Drag & drop functionality for files that eases up the organization's process even more.
As an add-on, the amazing CatFolders Document Gallery is built on top of the WordPress category folders. It utilizes the incredible capabilities of the CatFolders plugin to effortlessly showcase organized PDF documents within a user-friendly WordPress document gallery.

With its clean modern design, CatFolders boosts media file management for all WordPress users, allowing them to publish collections of documents to WordPress with ease.
Here's how CatFolders Document Gallery looks on the front-end:
All of these are meant to provide you with a full-featured, and actually enjoyable experience of the organization.
Note: Import of folders & structure is supported by plugins such as FileBird, Enhanced Media Library, WordPress Media Library Folders, WordPress Real Media Library, WP Media Folder, Happy Files, and Folders.
---
However, let's not forget about the Pro Version of the amazing plugin that allows you to complete even more than the Free one. So here are the main features that come in handy with WP Media Folders Pro.
Advanced Sort Functionality allows you to sort uploaded files based on various options, including names, dates, authors, newest and oldest, etc.
Subfolders creation option – you can create an unlimited number of subfolders within the main folder.
Extra compatibility with various themes and page builders to ensure your smooth experience with this plugin.
So, if you need more advanced functionality, then the Pro version is the perfect way to go with.
Pricing
You get three main pricing options.
One website (yearly) – $79
Three websites (yearly) – $99
Unlimited websites (yearly) – $199
If you decide to go with a lifetime option, then the pricing looks like the following:
One website (yearly) – $159
Three websites (yearly) – $295
Unlimited websites (yearly) – $699
So, as you can see, CatFolders comes in handy with affordable pricing plans.
Thanks to the special "WPGLOB20" coupon code all our WPGLobers can get 20% OFF at CatFolders.
Benefits
A Lightweight plugin that does not affect the loading speed of your website. This is an extremely vital benefit as delay of loadings peed even for a few seconds can potentially decrease conversion rates.
Works fast, good speed saves lots of time.
Easy to install and get started with.
Affordable price for the Paid Version.
---
How to Get Started with CatFolders?
Now it is time to start with this plugin's practical aspect. Let's take a look at the dashboard from the back end.
Step 1 – Installation
CatFoplders is a simple in-usage WordPress media library plugin. Before you are able to utilize it, you first need to install the plugin.
For that, follow the instructions down below. (For the Pro Version)
After you have purchased the Pro version of the WP Media Floders plugin and have the Zip file ready for upload, visit your WP website from the back end to access the admin dashboard
Click on "Plugins," then "Add New."
Click on the "Upload Plugin" button, choose the ZIP file from your computer, and click on "Install Now."
Finally, you have to click on "Activate," and you are ready to start.
If you decided to go with the Free Version, then, follow these steps:
Visit the WP dashboard from the back end
Click on "Plugins" > "Add New."
On the search line, type "CatFolders"
Click on "Install" > "Activate."
Also, if you at some point would like to upgrade the plugin to the Pro version, then deactivate and delete the free version first. Afterward, purchase and download the Zip file of the Pro version and follow the steps mentioned in the first part of this paragraph.
Step 2 – Take a look at the Dashboard.
After installation, the plugin will appear on the left side of your website's menu bar.
Essentially you have three main tabs that are settings, License, and import.

Step 3 – How to move Files
Now, the most important part. How can you move files to the folders?
When you visit the Media tab on the left side of your menu bar, you will see simple to use interface.
Create new folders and subfolders by clicking on the "New Folder" button. Afterward, drag and drop uncategorized items to appropriate folders.
Also, you can:
Bulk Select
Sort
Utilize the power of the StartUp Folder
The purpose of the StartUp Folder is to allow you to add items there that are most important for you.
Step 4 – Ordering
The main purpose of this plugin is to help you with the organization. With CatFoders, you can organize your folders based on ascending and descending names.
As well as you can organize files based on name, date, modified date, and author ascending or descending. You can see the options available in the screenshot down below.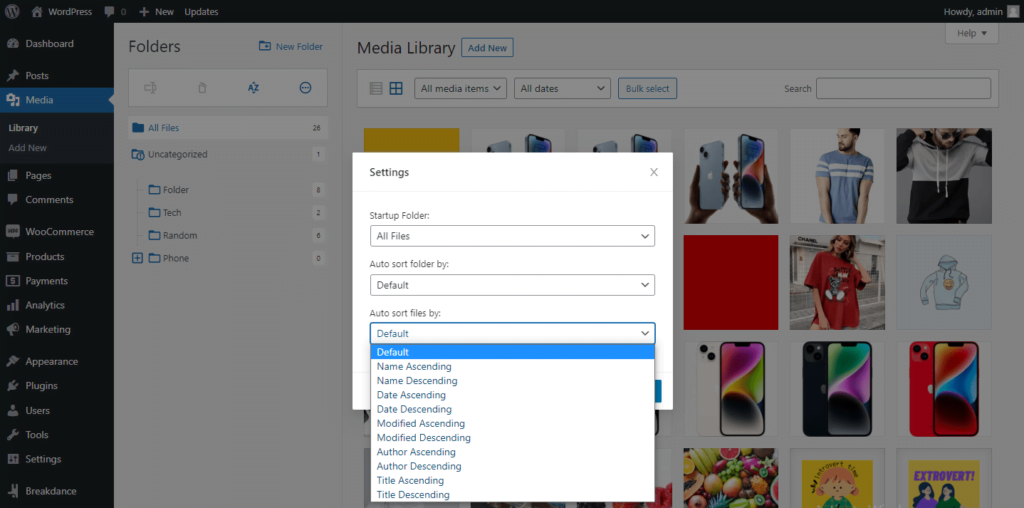 Step 5 – Just Do It
Whether you are a developer, a photographer, or a person who owns an eCommerce store, this media folder plugin will help you with the organization.
For instance, you can add products to the folders based on their categories. It will make the process of accessing the right category easier and showcase everything you have.
For a designer, photographer, or other media content people, this will help organize photographs based on portfolio, inspirations, collections, etc.
---
Why Should You Choose CatFolders?
There are multiple reasons why you would need a media folder management plugin. One of the most obvious reasons, of course, is to stay organized.
But in this variety of plugins available, why should you specifically choose CatFolders? Well, let's take a look at it.
CatFolders is an extremely lightweight WordPress media library plugin that will help you to stay organized. However, it won't affect the loading speed of your website, unlike some of its competitors.
It's good for various use cases including for graphic designers, photographers, or blogs that use lots of media files. Plus, easier to use compared to the competition.
It remains one of the most affordable choices compared to its competitors, yet offers advanced functionality managing to provide an easy user interface.
It comes in handy both with the Free & Pro Version, so you have a testing option and then can decide whether or not to upgrade.
These are the primary reasons why you should choose CatFolders over other media organization & management plugins on WordPress.
---
Summary
So, to summarize the CatFolders review article, we can see say that this is definitely one of the best wordpress media library plugins that truly meets its promise. It offers lots of advanced functionality for better organization taking it to a whole new level.
With CatFoders Pro, you can manage your media files and easily migrate folders from other plugins as well. This will help you to stay on track while saving a great deal of time.
So, if you are looking for the best organization plugin, WP Media Folders is just the perfect one for you.
---
Must-Read Articles

Also, do not forget to check out our must-read articles. All of them are meant to ease up your WordPress journey and share the latest news related to WP plugins & Themes. Every article is based on facts, research, and quality testing. We make sure to provide value for our audience.
5 Best Data Analytics Tools in 2022 – first of all, take a look at this article. If you look through it, you will save lots of time on research while finding out the best plugins for data analysis. These plugins will greatly help you out throughout your WP journey.
5 Best SEO Tools You Can't Afford To Miss In 2023 – if you were wondering what SEO tools you should use to rank higher in SERPs and drive traffic & sales, then you are at the right place. This article will provide you with up-to-date market insights on the best SEO tools that you must have in your kit for success.
Top Marketing Tips To Boost Your WordPress Website -also to find out the best marketing strategies for promoting your WordPress website take a look at the above-mentioned article.
So, if you plan on becoming a WP expert while saving lots of time on the way, then WPGlob Blog is a perfect opportunity for you.