Almost all the users have probably encountered the SaaS concept at least once. So, if you still do not know what is SaaS and how it works, then it is high time to keep up reading this article. In this 2022 guide, you will reveal all the advantages and characteristics of SaaS products.
---
What Is SaaS?
If simply described, SaaS stands for Software as a Service and is one of the cloud computing categories. It is a way of providing applications and software through the Internet presenting it as a service. This eases the user experience. As instead of passing through the installations or software maintenance processes you are able to access them through the Internet. Due to this feature, SaaS products are sometimes called web-based, on-demand, as well as hosted software. You obtain all the valuable and crucial components such as security, performance, and availability from the provider.
So, this means that you need only a simple Internet connection to access the SaaS product and make anything with it.
---
How Does SaaS Model Work?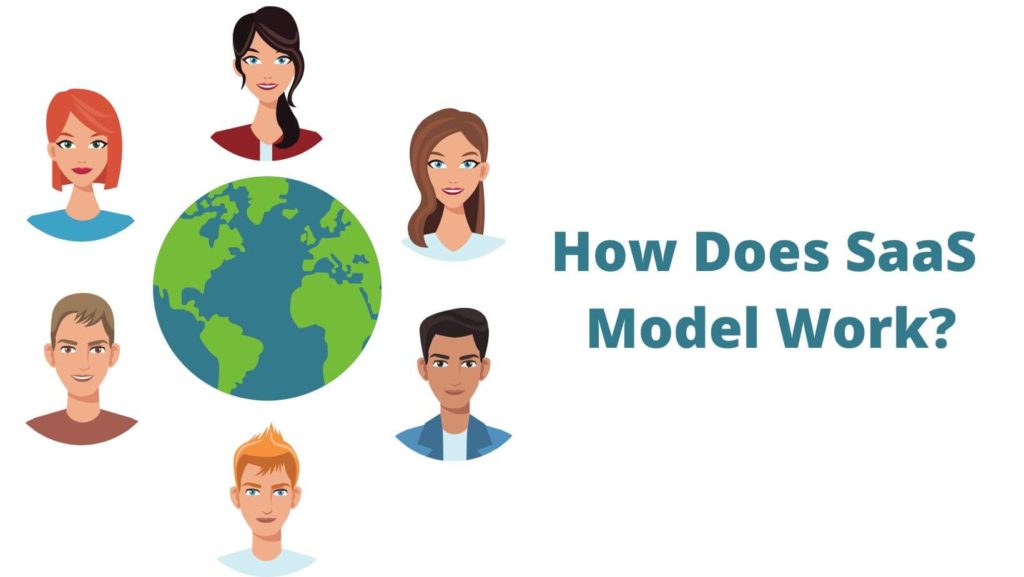 SaaS products have an interesting working model. We may divide them into characteristics mentioned below:
Multi-Tenant Architecture: All the product users share the same SaaS infrastructure and codebase. This helps them a lot. Because they get rid of spending hours maintaining obsolete code versions. Furthermore, using low-code tools can make SaaS development more efficient. These tools help by allowing faster changes and making the process of writing code by hand less complicated.
Simple Customization: This enables the users to customize the SaaS applications without harming the main infrastructure. This means that the customizations are specific for each of the companies or users. This is preserved by upgrades. Correspondingly, SaaS product owners can make upgrades more frequently. Meanwhile, this will cause fewer client risks and lower costs for adoption.
Improved Access: Any of the networked devices will have improved access to data.
---
What Are The Other Cloud Computing Categories?
As you may guess SaaS is not the only cloud computing category. There you will encounter also Infrastructure as a Service (IaaS) and Platform as a Service (PaaS). The main feature connecting these three main cloud service models is that all of them include cloud providers delivering their hosted data center resources to clients through the Internet. Below you will meet the differences between these three concepts:
Those who use SaaS products are not obliged to download this or that software or application, as well as they do not need to manage already existing IT infrastructures. All of those processes are managed and maintained by the vendors.
Unlike SaaS products, IaaS users are those who want to just outsource their data center or other computer resources to the provider. Surely, IaaS cloud providers host servers, storage, virtual resources, and network hardware. Yet, the customers have to manage the data use, operating systems, etc. on their own.
And finally, PaaS enables the in-house developers to obtain resource frameworks. In other words, they get a hosted platform to make customized applications.
---
Advantages of SaaS
So, coming to the SaaS advantages it is worth mentioning that these products decrease the expenses related to the acquisition of hardware, and maintenance. Besides, you are not required to spend your resources on software installation, licensing, as well as its support. So, summing up, below you will meet the advantages of SaaS products:
Payment Flexibility – in the case of SaaS products you do not have to purchase any software, install it, or seek premium support. Instead, you pay for the subscription. This mode of payment makes the business budgeting process even easier. In addition, when the users do not want to continue the subscription they can stop it anytime they wish by simply not renewing the license.
Vertical scalability – this is provided by the cloud services such as SaaS. This enables the customers to use as many services as they wish according to their purposes or demands.
Constant updates – on this condition, SaaS providers and owners do automatic updates to give their customers the best user experience. So, they are not obliged to buy new software every time.
Easy accessibility – By using SaaS products the users get fast and smooth accessibility to the product on almost all devices that are switched to the Internet.
Customization ready – The majority of SaaS apps are customizable. So, they can be integrated into other applications.
---
Disadvantages of SaaS
Along with all the perfect features in the Software as a service application, they have some disadvantages, too. So, at this point, we will meet the disadvantages and risks related to SaaS products.
Issues that are not under the user's control – You as a user may encounter these issues when the provider makes unwanted changes. This can somehow disturb the customer's usage of the product. So, the user must understand the Service Level Agreement.
Users do not have control over versioning – this is also a serious reason. Because the adopted version of the provider will be passed through all the app users. And they do not have the power to change it even if they do not want to use exactly that version.
Customers may encounter some difficulties while switching vendors. As every time they must migrate huge data.
Security is the last disadvantage of SaaS products. Sometimes it concerns the users because of security monitoring, data residency requirements fulfillment, data privacy, and lack of contact between technical and security experts during the purchasing processes.
---
When It is Beneficial To Use SaaS Products?
Under some circumstances, it is effective to use SaaS products. You will find those cases listed below:
Small, low-budget, and startup companies and businesses that aim to open e-commerce platforms quickly. These usually do not have time or budget for solving server or software issues.
Projects that are not so long-lasting and only need a short-time and affordable cooperation.
Apps that require web and mobile access. Besides, there are some others that are not utilized so frequently.
---
SaaS Company Examples
As long as we speak about the SaaS products and companies it is worth mentioning some of the major ones that are very popular.
So, Dropbox is very famous. It is unique cloud storage enabling you to save your files and documents online. Besides through this SaaS product you can synchronize all the data to your devices.
Next comes a powerful project management tool called Trello. It enables the users to build boards, cards, and lists to make their projects flexible and organized.
Renderforest is a SaaS company providing many advanced tools to make outstanding videos and animations, as well as logos, professional sites, etc.
This is customer support and relationship provider software. Due to this SaaS tool, you can keep communicating with your customers and send them personalized messages.
BambooHR is great Human Resources software and management system. This gives you an opportunity to access personnel data modules to track and report the employee's activities. The SaaS product is especially effective for remotely working teams.
It is a very famous communication tool for both remote and in-house team employees. Through the private and channel groups, they communicate with each other. Moreover, the channels (groups) can be created for any purpose like separating a unique project or a group of employees, etc.
This list is extremely large since there are many SaaS companies both big and small to help businesses, companies, or individuals reach their aims.
---
What If I Own A SaaS Product?
It is great that you have decided to start your SaaS company or develop SaaS products to ease the online users' experience. Yet, to increase its brand awareness and subscriptions you need to take some steps. At this point, you will get familiar with the most important instructions on your way to success:
Step 1: Provide Short Free Trials
A free trial is an engaging way to attract your future users. But it would be better to keep them short like 14 days. Some people give up using a tool after a short time, some others take short-term trials more seriously. Besides, short free trials cause fewer expenses.
Step 2: Build Correct Email Campaigns
Keep sending informative emails to your potential customers not only to communicate with them but also to update your product information and gain more subscriptions.
Step 3: Provide the Users With Demo Versions
This will be very impressive and educating. The customers will get more information about the tool's features and functions.
Step 4: Complete SaaS Product Marketing Campaigns
While making a really good SaaS tool is very important there are certain guidelines to complete when selling its subscriptions or packages. One of the must-do steps is conducting thorough Marketing campaigns. As for almost all the types of companies SaaS companies need advertising and promotion to increase their brand awareness.
In this case, it is most beneficial to plan detailed strategies, utilize active campaigns, write educational and descriptive articles, make video tutorials and promotional animated videos, etc. There are plenty of other methods including Social sharing, SEO, Email Marketing, etc.
---
---
---
Summary
Today Software as Service companies, web application development services, and products are widely spread. They help startup companies, individuals, and businesses fulfill their different aims by simply utilizing software without installing it. You as a user may work with the SaaS tools on various devices only having an Internet connection.
So, in this article, we have already discussed all the cons and pros, and working modes of SaaS companies. As well as inform you about how to boost SaaS products through some Marketing tricks. Using the cloud to integrate SaaS into your organization is a sensible way to do it. This may be difficult because each corporation has different types of services and resource utilization, so seek help from any of the popular cloud consulting services once you begin implementing this strategy for your company.
If you like the article, do not hesitate to find us on Facebook and Twitter. For interesting WP tutorials, please subscribe to our YouTube channel.
Latest posts by Anahit V.
(see all)