Construction themes are the best way to enhance the user experience and communicate your brand's message. Each theme listed in the "Top 6 Best Construction Themes for WordPress – 2022 Review" article is highly customizable and will help you to create the best-looking website.
So, if you are ready, let's start.
---
What are the Themes?
Let's start from the very beginning. Themes are the foundation of the design/appearance of the website. Those are files containing graphics, text, etc., that dictate the overall appearance of the website. Therefore, they are essential, because visual communication is everything nowadays.
---
Why would You need Construction Themes?
The main reasons behind why would you need any specific theme, and in this case, construction one are apparent:
To be able to better communicate the message of the brand
Create a more user-friendly interface for the website
Enhance users experiences, and improve ease of navigation through the website
---
What should You Look for in a Good Construction Theme?
Good construction theme must:
Have lots of customization options because you most likely would love to communicate the message of your brand to the customer
Widget areas
Not require any coding skills for usage and customization
Be easy to use
---
Top 6 Best Construction plugins on WordPress
Now, I suggest that we start reviewing the Top 6 Best Construction Themes, which will make your life easier.
---
---
The major benefit of WordPress is that it is a platform that has everything you may need in one place, including themes. WP provides you with themes for your website, too. In this case, the theme is created by Themespride, a WordPress member that provides commercial themes for website creators and businesses.
So, Construction Hub is a theme dedicated to an audience that is usually overlooked but nonetheless important. Those who construct the buildings, install the plumbing and forge vehicles, and who need to promote their brand via a website — might use the Construction Hub as a theme for their own personal place on the Internet.
So, the Main Features are:
Responsive design. The design refers to the ability of this theme to change its;f according to the device of the user, whether it's a widescreen PC monitor, laptop, tablet, or phone.
User Friendly. Since this is a WordPress development, it is really easy to use for those who had no idea what HTML means before making their own website.
Beautiful. Let's be honest; we make a theme choice depending on the aesthetics. And Construction Hub is simply and objectively beautiful. It looks modern, but it's not too cluttered. The colors are nice, and it presents a bright but minimalistic thing — everything is in its place.
---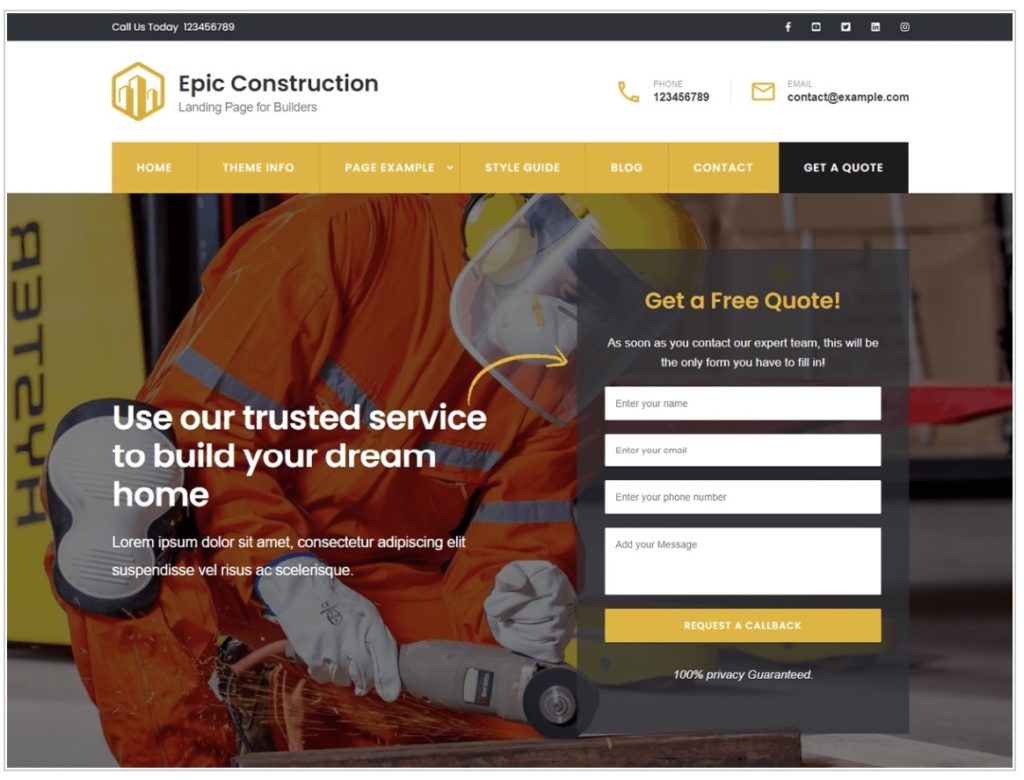 ---
Before we break down the Epic Construction theme for you, let's have a look at the provider. The theme is designed by Rara Themes. The company's main and only job is to create themes for WordPress websites at an affordable price; for example, all thirty-four premium themes that are worth more than $2000 can be purchased at $99 right now. Besides that, Rara Themes provides a bunch of free themes of good quality. Epic Construction theme is an example of a high-quality free theme.
The way Rara Themes design its products is by looking at the work from the customer's point of view. Hence, their designs and Epic Constructions theme specifically are incredibly useful for customers. It was installed more than 200 times by WordPress users, and here is why.
So, the Main Features are:
Custom Background, Header, Logo & Menu. Everything in this theme can be changed and customized according to the user's needs.
Mobile-Friendly Design. The design constructed on a computer seamlessly translates to a design of a mobile phone or a tablet.
Search Engine Optimization. The theme is optimized for search engines, putting you higher in a browser's search results and attracting more traffic to your website.
Aesthetics. The Epic Construction theme is beautiful and coherent. It is created to attract the customer to the most important part of your website.
Ready Translation. You can translate your website's content to any language with the embedded translator.
Basically, this theme has so many features and benefits that it is truly worth being in the "Top 5 Best Construction Themes" article.
---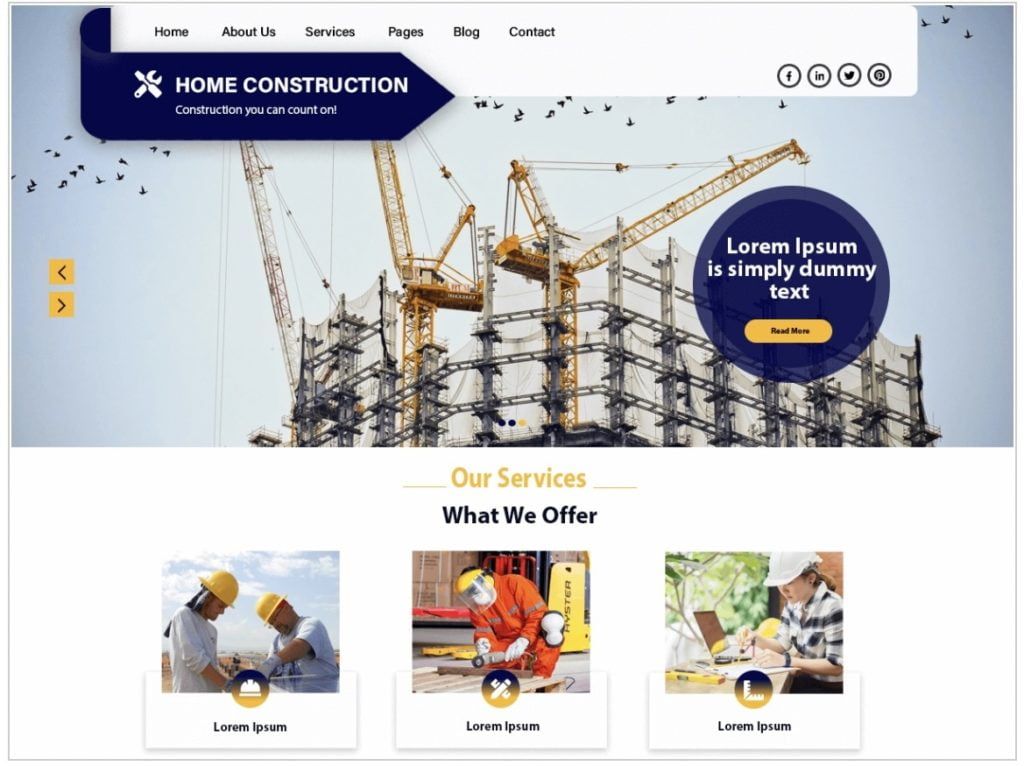 ---
The 3rd place in the Top 6 Best Construction Themes list is getting – Home Construction. Luzuk is a company that creates free and premium WordPress themes with customizable layouts and cross-browser compatibility. To install a theme for one website, you don't need to pay at all, and it is really not hard to install a theme. Luzuk puts out new themes every month. Hence they always look fresh and modern, and unique. Besides, the company provides quick feedback and customer support.
So, let's review the Home Construction theme from Luzuk. It is a theme developed for companies that are interested in construction, real estate, broking, and all jobs related to building creation. It is a beautiful and interactive design that has more than 200 active installations and daily downloads. Let's have a look at the main features.
So, the Main Features are:
Mobile Responsive. Home Construction theme looks cracking good on any device, whether it's a PC, laptop, tablet, or smartphone.
Multiple Page Templates. You may need more than one page, and Luzuka got your back! Home Construction theme provides you with different design layouts for different pages.
Google Fonts Integration. You can implement over forty fonts of Google Family that you can use to customize your pages.
Ready Translation. You can translate your theme and site content to any language you want.
Customizable Colors. Change any color in the theme in a few clicks.
So, what do you think so far about the "Top 6 Best Construction Themes" article? Share your thoughts in the comments section.
---
---
The next thing we are reviewing is created by WordPress member Rayoflightt and fully concentrates on website theme design. Although the themes are mostly paid for, the company has more than six thousand sales, and the rating is 4,5 stars. Based on client testimonials company offers dedicated support and high-quality themes.
Since we are looking at construction themes here, let's not deviate from our course and discuss the Dustro theme that Rayoflightt provides. The theme concentrates more on architects, engineers, building services, constructors, estate members, and other experts that are related to building construction.
So, the Main Features are:
Handmade Theme Layouts –  All layouts of the Dustro theme are created by designers rather than random AI Image generators and are customizable for your needs.
Carousels & Galleries –  Dustro themes provide you with easy-working carousels and galleries to present different features of your business.
Responsive design – Again, this theme works perfectly for different devices depending on the needs of your target audience.
Cross-Browser Support
Custom Widgets
Four Homepages
Customizable logos, backgrounds, etc
Documentations
Price. The regular license that costs $44 provides you with six months of support from Rayoflightt and Envato quality check, but you can extend it to 12 months for $12.
---
---
Construction Choice is created by Sparkle Themes. It is a responsive and multipurpose WordPress Theme.
Sparkle Themes is an amazing theme store. they offer various themes each created for different purposes. All the themes are highly customizable and do not affect the speed of your website.
So, the Main Features are:
Highly customizable
10+ different widgets
Cross-browser compatible
WooCommerce support
SEO-friendly
Works flawlessly with external plugins
1 click demo import
Free lifetime updates
---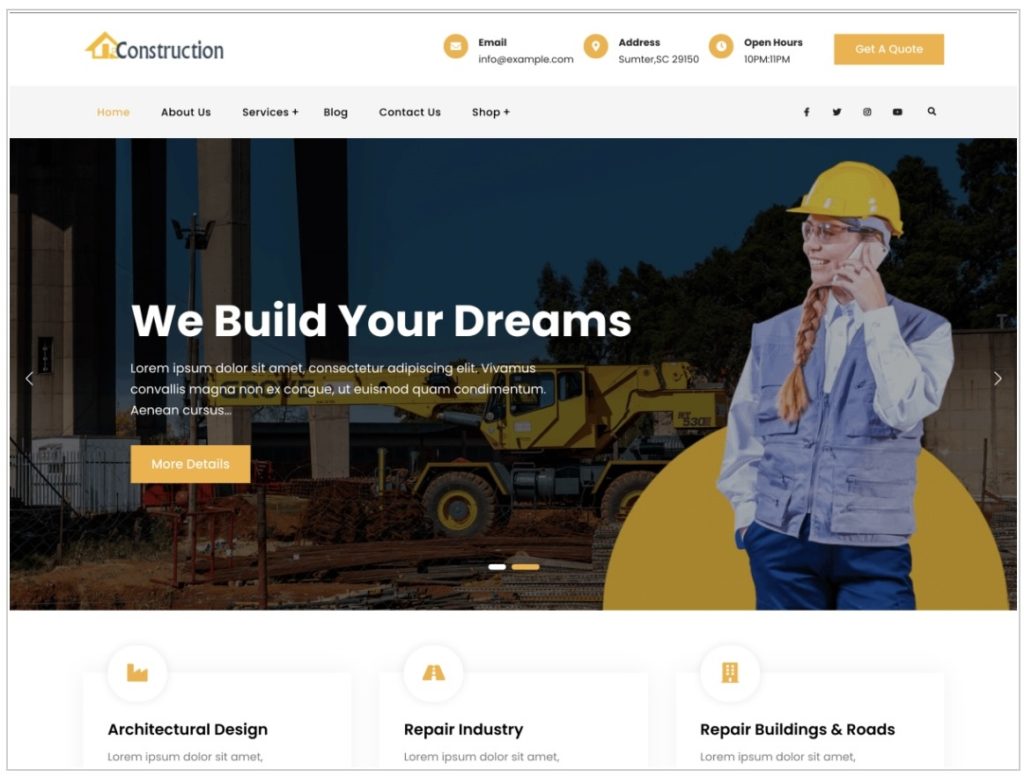 ---

The fair 6th place in the "Top 6 Best Construction Themes" article is getting JetBlack Construction. FireFly Themes is a WordPress member business that specializes in creating different themes (including both free and premium) for users' websites. It also creates plugins for WordPress, but we will focus on themes that are, by the way, quite affordable.
JetBlack Construction theme is a popular theme that has more than three hundred active installations and 5-star ratings. It is specifically designed for anyone that is engaged in construction works like architects, repairers, and engineers. It is very easy to install the theme, and one does not need to know a word in a programming language to do that.
So, the Main Features are:
Customer Support. FireFly Themes provide good quality customer support when you download and install the theme for your website.
Browser Compatibility. JetBlack Construction theme can be used on any modern browser without the loss of quality.
Ready Translation. You have the ability to translate your website's content to any given language.
User-centered design. The theme is created keeping the customer in mind.
SEO-friendly. The theme does not constrain search engines from finding your website.
Responsive Design. The design is provided in the highest quality for any chosen device.
---
Summary
To summarize the "Top 6 Best Construction Themes – Build a Mind-Blowing Website!" article, each plugin mentioned here is worth your attention. Every single one of them has all the necessary features and functionality that will allow you to save countless hours and create construction websites in less than an hour. Also, it is worth mentioning that the user interface of each plugin is extremely beginner-friendly and will not require a long learning curve. So, you will be able to easily acquire the techniques of usage, choose and customize templates that you want, and generally easily navigate through the functionality of the plugins.
---
If you liked the article do not forget to check out our YouTube channel with tons of WordPress tutorials! And you can find us on Facebook & Twitter, where we post interesting updates about upcoming events.