Almost everything today requires a reservation in order to avoid awkward situations. Situations such as – someone coming to a hairdresser and there is no free slot anywhere soon. So, the client goes disappointed, and the business loses a customer. Booking ahead is an amazing functionality to offer. There are some plugins that allow you to add a booking service to your website easily. In "Top 10 Best Booking Plugins on WordPress," we will review the most popular and easiest in use ones.

So, if you are ready, let's just start.
---
What are Booking Plugins
Reservation Plugin for WordPress is foreseen to add a booking function to your website. This means that your clients can register for certain services you offer through a specific form. Most of the plugins can be installed on your WP website through:
Visit the "Admin's dashboard"
Click on the "Plugins"
Click on "Add new"
On the search line type "name of the plugin" > install the WP booking plugin free> activate
---
What Should You Look For in a Good Booking Plugin
There are multiple features, truly good booking plugin for WordPress must-have, and here are some:
Customizable Calendar
Mobile-Friendly interface – many clients will register for an appointment through their smartphones, not bothering to turn on laptops or other bigger screen devices. Therefore, your website and the booking form you have on it must be mobile-friendly.
Payment options for the appointments
Email confirmations – which will make clients happier, because they will for sure know that their registration is accepted
---
Best Booking Plugins on WordPress
So, we are going to start reviewing the best booking plugins on WordPress.
---
---
Appointment Hour Booking is an incredible WordPress appointment booking plugin that allows you to easily create booking forms for appointments. The plugin is extremely easy to use. It has over 30.000+ active installations, 5 out of 5-star ratings, and gets regular updates.
So, the Main Features are:
Easy virtual configuration of calendar data
Supports default restrictions
Open hours
Multiple services defined for each calendar
Customizable email notifications
Multi-page calendars
---
---
BookingPress is an exceptional WordPress appointment booking plugin. It is highly recommended for its powerful functionality and ease of use. With a user-friendly interface, the plugin can be efficiently managed by individuals who may not possess extensive knowledge of coding. As such, service-based businesses of all kinds can take advantage of this plugin. They can streamline their appointment booking process on their website easily through the BookingPress plugin.
One of the many outstanding features of BookingPress is its ability to automate booking processes. This makes it an ideal plugin for a big variety e of businesses, including:
Doctors
Tutors
Salons
Consultants
Spas
Gym and yoga studios
Dealers
Wedding planners
Restaurants
With its online booking process capabilities which are very flexible, businesses can easily accept online bookings without any hassle.
So, businesses seeking to improve their appointment booking process can easily and quickly implement the BookingPress plugin on their website.
Key Features:
BookingPress offers 33+ Premium add-ons free to use, which is a unique feature among booking plugins.
It provides free integration with 15+ new online payment gateways.
It is totally customizable to meet the needs of individual businesses.
The front end and back end of the plugin have an award-winning responsive design.
The plugin offers advanced reports and analysis for better business management.
It also provides Whatsapp & SMS notifications for easy communication with customers.
The plugin has an invoicing feature with PDF support for streamlined financial management.
The Google, Apple, and Outlook calendar integrations help businesses stay organized.
The Advanced staff dashboard is available for staff members. This is to manage their schedules and appointments.
Custom booking fields with conditional hide/show options are available for greater flexibility.
Fully customizable customer panel and booking forms are available. This is to make the booking process easy for both businesses and customers.
The plugin also has a cart facility for multi-booking.
Customizable email notifications keep customers informed about their bookings.
24/7 customer support service is available. This is to help businesses with any issues they may have.
Additionally, a free version of the BookingPress Plugin is available. It boasts a highly dynamic and flexible user interface. The free version can be easily downloaded from the official WordPress plugin repository. It enables businesses to quickly commence their booking operations.
---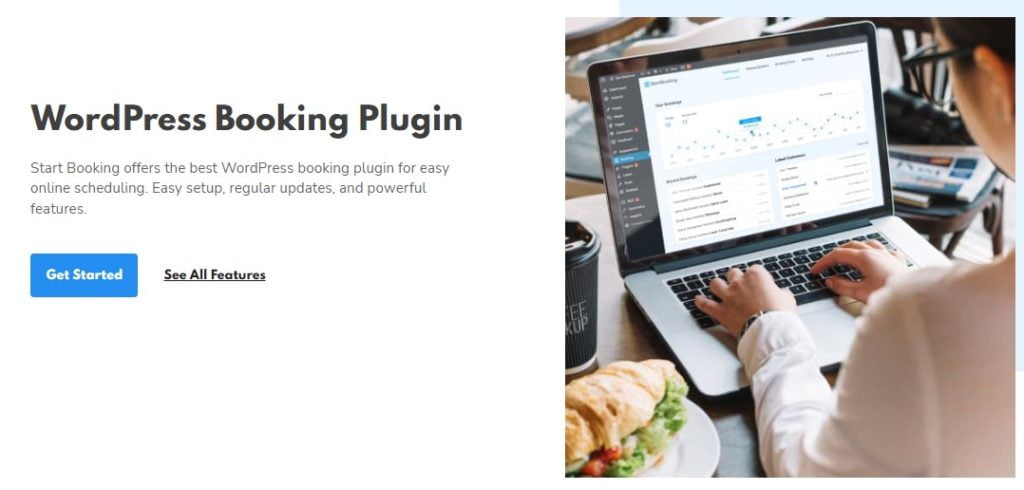 The next WordPress booking plugin is StartBooking. It is an easy-to-use tool to make online scheduling.
The setup process is very simple. It offers you many powerful features, as well as constant updates.
Through the StartBooking WordPress appointment plugin, you can complete the following activities:
Online Booking
Classes and group booking
Scheduling and making appointments
Accept online payments, etc.
By activating this plugin, you will also benefit from its good CRM options. As well as access to many powerful integrations.
---
---
Salon Booking System is the next booking appointment WordPress tool. This plugin has over 8000+ installations and is tested up to the latest version of WordPress. It also has 4.5 out of 5-star ratings and gets regular updates. It is an easy-to-use appointment system. The main benefit is that it allows your business to get more reservations on the website, saving lots of time that you should have spent on scheduling the appointments. Automation just makes everything easier.
It is a perfect plugin for hairdressers, barbershops, beauty salons, spas, mechanical workshops, therapists, tutors, health care centers, and covid test centers.
So, the Main Features are:
Online Demo available
Monthly view, weekly view, and daily view
Assistant view
Bookings export
Adding/editing reservations from a daily view
Block out time slots from the daily view
Email notifications on new reservations
Reminder emails for customers
SMS notifications
Payment options – enable payment right away, pay later on, percentage of fixed amount deposit, automatic cancellation, hide prices, PayPal, custom payment methods are also supported.
Checkout options – enable/disable guest checkout, advanced discount system, custom fields, control form fields, limit number of services bookable at the same time.
Synchronization with Google Calendar
Front-end booking form styling
---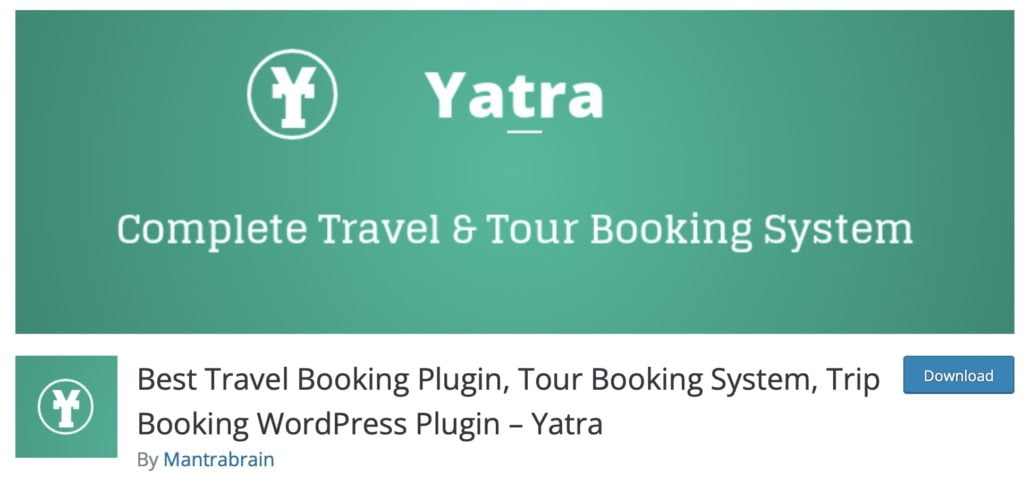 ---
Yatra is one of the best travel booking plugins on WordPress. Most importantly, it is free. It has over 300+ active installations. Also, it has 5 out of 5-star ratings. It gets regular updates. Moreover, Yatra is simple to use. But at the same time, it offers quite advanced functionality for WordPress booking options.
So, the Main Features are:
Unlimited travel & tour packages
Easy and Smart booking processed
Dynamic tabs on the front-end
WordPress free booking calendar
Inquiry form
Email notifications
Smart tags for an email message
PayPal Payment gateway
account section
Discount coupons
Import/export
Smart tags
---
---
Simply Schedule Appointments is a free and full-featured WordPress reservation plugin. It adds extra functionality to your website. It also allows users to book appointments and register for specific tasks. This plugin is extremely easy to use.
So, the Main Features are:
Unlimited usage of booking calendar and customizable notifications
Block editor
Style and customization options
Translations to other languages
Events Calendar integration
Google Calendar Sync
Mailchimp
Gravity forms integration
Zoom and Google Meet for virtual meetings
Google Analytics or Facebook pixel
WP Fusion Integration
---

---
WordPress is the most popular CMS system in the world. People use it for various purposes to create websites for businesses operating in different industries. So, the speed of your website depends on many factors. However, what is a row server power? Also, the WordPress Hosting Benchmark Tool aims t answer that question. It has over 1000+ active installations and 5 out of 5-star ratings. It gets regular updates.
So, the Main Features are:
Runs unified tests
Tests identify and measure execution times.
It scores your server performance. That gives you an incredible opportunity to decide whether it is enough for your project or what further improvements you need to make
---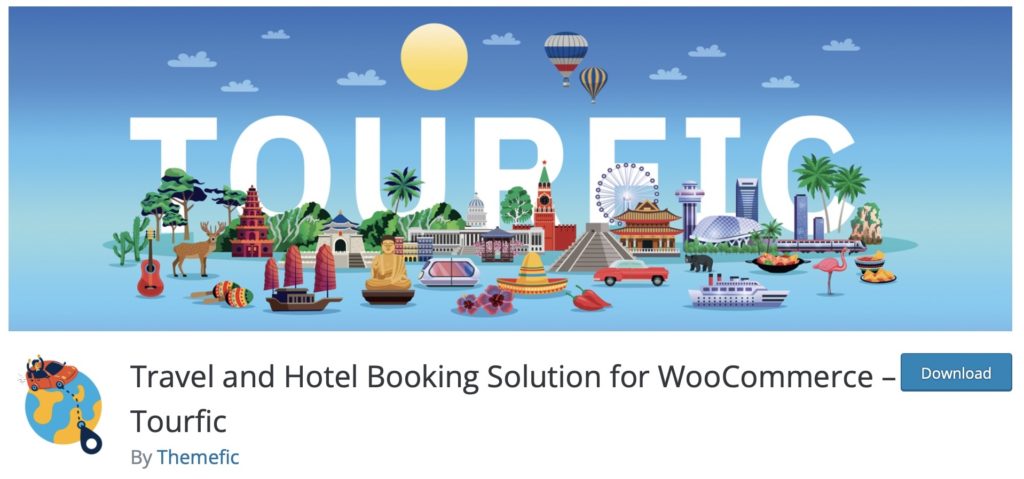 ---
Tourfic is created by Themefic, an amazing platform that offers multiple themes and plugins aimed to enhance the user experience. Tourfic plugin is the best WordPress online booking solution for your travel website. Also, it is a plugin with lots of useful features designed for you to help you build a professional tour operator website.
So, the Main Features are:
Hotel & Booking Management System. You can add a list of hotels that will be available for booking on WooCommerce.
Tour listing & Booking System. You can list any tour plans offered. Afterward, those will be available to your clients for booking/purchase on WooCommerce
Compatibility with every payment plugin that is based on WordPress
Custom Booking Module
Multilingual support
Compatible with Affiliate plugins (AffilateWP, Solid Affiliate)
Multi-Vendor Integration. This feature will enable vendor registration so that they can upload their hotels, tours, etc.
Besides all the features listed above, this plugin is extremely SEO-friendly. It supports image alt and title. Moreover, users will be provided with dedicated premium support.
---
---
Event Manager and Tickets Selling Plugin for WooCommerce is a booking plugin available in the WordPress plugin directory. Also, it has more than 9000+ active installations and 5 out of 5-star ratings, and it gets regular updates.
So, the Main Features are:
Supports all payment methods
SEO friendly
Responsive interface
Shortcodes
Customization options
Multiple event templates
---
---
So, the last but not least appointment booking plugin for WordPress is Booking Activities. Complete booking tool designed to organize multiple activities. With it, you can manage clients and appointments for your business in WordPress. Also, it allows you to drag and drop activities, copy-paste shortcodes and pick specific events from the calendar to book them. It has over 4000+ active installations, gets regular updates, and has 5 out of 5-star ratings.
So, the Main Features are:
Visually build plannings
Unlimited calendars, activities, bookings
Repeated events creation
Full customization
---
---
Booking Package is a full-featured best WordPress appointment booking plugin. It allows your users to easily complete WordPress appointment booking for your website/business's services. Furthermore, it has 4.5 out of 5-star ratings, and over 9000+ active installations. And what is more important, it gets regular updates.
So, the Main Features are:
Responsive booking interface
Seamless integration
Booking hours/minutes
Online Payments
The user account function
Creation of booking schedules
Receive and manage bookings
Shortcode generations
---
---
Summary
Let's wrap things up for the "Best Booking Plugins on WordPress" article. I can say that each of those is worth your attention. Each plugin listed in this article is pretty functional and offers lots of useful customization options. Also, at the same time, it remains simple in usage and does not require extra time to comprehend and navigate through the settings.
---
If you liked the article do not forget to check out our YouTube channel with tons of WordPress tutorials! Moreover, you can find us on Facebook & Twitter, where we post interesting updates about upcoming events.
---
Must-Read Articles
Do not forget to check out our Must-Read articles! Because in this rubric you will find articles that will help you in your WordPress journey. So, no matter is new or professional, there are materials for everyone.
Beginners Guide – this category is designed for beginners. Also, here you will be able to find many useful guides and "How to" tutorials. Those guides will help you better navigate through this powerful website builder and CMS.
Plugin Reviews – You will find 100% honest plugin reviews under this tab. Each review is very detailed. Therefore you can find anything needed about a plugin and understand whether or not you need it.
Top Lists – under this tab, you will save your time on research. Also, here you can take a look at the top plugins from different industries. So, each article in this category will provide you with a detailed list of top-performing plugins. List from which you can confidently choose anything that you liked best.

Plugin Promotion – the perfect category for those who own or want to create plugins and therefore need to promote them.