Are you going to boost your website traffic and accordingly increase conversions and sales on it? Then it is high time you knew about affiliate marketing. Especially, when you use WordPress, you have a bunch of various methods and tools. In this case, free and paid plugins can serve you perfectly. So, as you probably guess, in this article, we are about to present the best affiliate plugins for WordPress.
---
So, the first affiliate plugin is Solid Affiliate. It is a great tool offering so many features at an affordable one-time payment of $149. By activating its comprehensive paid plan you will not need any special add-ons. As well as you will not be obliged to encounter other hidden fees. The plugin's lifetime license enables you to get new updates, support, unlimited installations, and all the possible features that you suppose to obtain while managing your unique affiliate program. Moreover, the plugin's developers provide you with a 60-day money-back guarantee which is also a great opportunity to discover the best features of this plugin.
Currently, the WordPress Solid Affiliate plugin integrates with WooCommerce and WooCommerce Subscriptions. Additionally, one more interesting fact about this plugin is that you are free to use it on your client's website. And this is thanks to your activated license that enables you to use the plugin on unlimited sites.
Solid Affiliate- Main Options
At this point, you will meet the plugin's valuable options:
Installation Wizard- for the easy setup process.
---
---
Simple and Intuitive Interface- some tips and thorough documentation about the plugin
WooCommerce Integration
Referral Rates Customization- the option to choose flat or percentage commission rates
Subscription Renewal Commission
Product Specific Commission Rates
Affiliate Cookie Life
Shortcodes
Refund Protection
Easy Affiliate Registration and Approval
PayPal Integration
Admin Notifications
WooCommerce Coupon Tracking
Intuitive Charts
Historial Records
Pro Affiliate Portal
Export Payouts Data, and many more other features
Besides the available characteristics, the plugin provides also some add-ons included in the license:
Data Export
Automatic Affiliate Coupons
Exclude Payment Gateway Referrals
Auto-Register New Users As Affiliates
So now, let us see what we encounter in the "Settings" section after activating the plugin. Here are its various parts:
General– here you can set "Referral Rate Settings", as well as "Referral Variable, "Credit Last Affiliate", "Exclude Shipping and Tax", etc. Besides, you will access "Affiliate Groups Settings"
---
---
Affiliate Portal and Registration– here you can meet "Affiliate Registration Settings", "Affiliate Portal Settings", "Custom Registration Form Settings", "Add Anchor Text to Affiliate Tabs", and "Other Settings" including "Unapproved Affiliate Content". Furthermore, these can be easily changed according to your needs:
Customize Registration Form
Integrations– the section includes "Integration, PayPal, and Mailchimp Settings"
Emails
Misc Settings– including "Reject Unpaid Referrals on Refund", "Disable IP Logging", and "Remove Data on Uninstall". As well as "Setup Wizard" options
Recurring Referral Settings- like enabling them, setting the rate, and its type
So, as you may see, this plugin offers a comprehensive solution while managing and boosting your affiliate program.
---
The ThirstyAffiliates plugin is a great tool for bloggers who want to monetize their WP sites through affiliate marketing. The plugin has more than 40,000 activations in the WordPress Repository and 159 5-stars.
So, here are the main features of the plugin that you might highly appreciate:
It is simple for usage
Provide better link management
Has safe redirects and smart uncloaking
You will not meet link clashes or database bloat
Insert images to affiliate links
Get statistics and reports, etc.
To obtain more advanced features you are able to activate the ThirstyAffiliate plugin's Pro version available with this pricing:
Advanced – $199
Plus – $149
Basic – $99
As well as you receive a 14-day money-back guarantee by upgrading to the paid version.
---
Here is the third-best affiliate plugin from our list- Coupon Affiliates. It has over 1,000 active installations and 38 5-stars in the WordPress Repository.
Based on your affiliate program, you can easily create a coupon for WooCommerce with the help of this plugin. As well as you are able to show the statistics of coupon usage.
The plugin offers you a very simple interface and affiliate dashboard for the coupons through the unique link. So that you can reveal the exact statistics of coupon usage, placed orders, gained revenues, etc. Besides, the plugin perfectly works with your existing coupons and previous orders even made before its installation.
Here are the main reasons why you should select exactly this plugin for managing your affiliate program:
Simple usage
User-friendly interface
Various customizations
Transparency
Fast support
Focused on WooCommerce
Simple migration process
Constant updates
By using this plugin, you will highly benefit from its great functionalities, such as:
Affiliate Dashboard and coupon usage statistics
Commission tracking and calculation
List of the recent orders
User assignment to coupons
Admin analytics and reports
Notifications via Email
Prevention of different misdemeanors
Multiple currencies available
Affiliate Referral URLs
WooCommerce Subscriptions, etc.
All of the above-spotted characteristics are available in the plugin's Free version. Yet, if you seek to find more advanced and additional functionalities then you should activate one of the paid plans of the Coupon Affiliates plugin. So, below, you may encounter the paid packages for 1 site:
Monthly– $12.99 (billed monthly)
Yearly– $9.99 per month (billed annually)
Lifetime– $399.99 (billed once)
The price differs when you want to activate the Pro version for more than 1 site. So, here is the pricing list for 10 sites:
Monthly– $24.99 (1 month support, updates, and Pro license)
Yearly– $19.99 per month (1-year priority support, updates, and Pro license)
Lifetime– $719.99 (lifetime priority support, updates, and Pro license)
Furthermore, you should note that after purchasing the paid version of this plugin you have a 14-day money-back guarantee. And that is quite a convenient time frame to decide whether it corresponds to your purposes or not.
So, at this point, you will reveal what are the Pro version features:
Coupon Affiliate Dashboard with "Monthly Orders Stats Table", "Commission Line Graphs", "Export Order Tables to Excel File", "Creatives Section", "Custom Dashboard Tabs or Sections", "Commission Payout Tracking", "Commission Payout Requests" options
Commission Payouts with one-click "Stripe", "PayPal", "Store Credit Wallet" payouts, "Scheduled Payout Requests", "PDF Statements for Payouts" options, etc.
Referral URLs and Click Tracking with "Social Sharing", "Campaigns", "Landing Pages", "Short URL Generator" functions, etc.
Affiliate Registrations
Reports and Analytics with "Advanced Admin Reports and Analytics", "Affiliate Email Reports", etc.
The list is quite wider. So, you can reveal more advanced features on the Coupon Affiliates plugin's official website.
---
The next Newsomatic plugin was developed by CodeRevolution and has almost 3,000 sales on the Envato Market.
With the Newsomatic plugin, you may easily create self-updating and effectively monetizable news websites. Moreover, you will benefit from the plugin's autoblogging system that utilizes Newsomatic API as its content source. As well as the provided content is 100% unique as the Newsomatic plugin uses unique cutting edge features.
In its newest v2.0.0 updated version, the plugin developers suggest you use the "Keyword Replacer Tool". The tool helps you to find the keywords that are automatically replaced with affiliate links in any part of your website content.
This well-functioned plugin gives you a free trial period before you decide to buy it. And if decided so, you may choose one of the available pricing plans to purchase the Newsomatic plugin:
Regular License – $49
Extended License – $245
---
Affiliate for WooCommerce is a popular plugin on the WooCommerce marketplace with 4000+ active installs, consistently rated five stars.
Set up and run your own successful affiliate program. Track referrals and sales, create commission plans, set up marketing campaigns and make payouts from a single place.

Top features:
Default and custom registration forms allow users to sign up for your affiliate program.
Automatically or manually approve affiliates.
Allow affiliates to promote via coupons.
Compatible with Smart Coupons to bulk generate, import, and export coupons for affiliates.
Set a default commission rate.
Set different commission rates based on products, product categories, affiliates, and affiliate tags.
Set up a multi-tier affiliate program.
Create affiliate marketing campaigns.
Export affiliates' data to CSV based on search filters.
Make payouts via PayPal or manually.
Real-time reports and stats to monitor affiliate performance, products sold, payments and commissions, etc.
Pricing: $129
---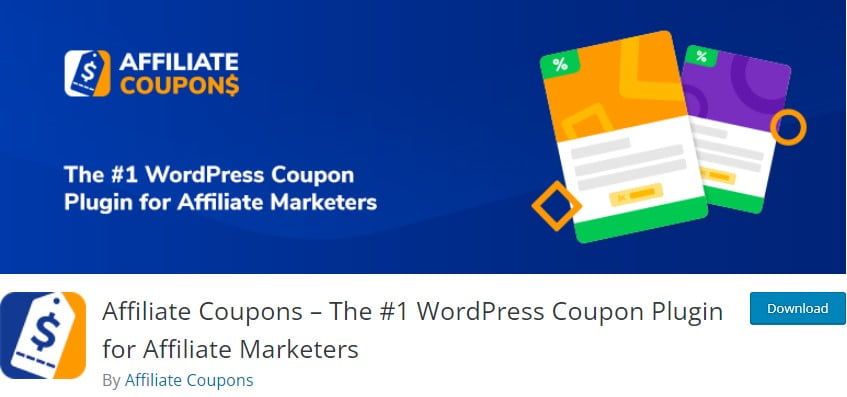 So the next plugin from our list is the WordPress Affiliate Coupons plugin. It has 2,000+ activations and 23 5-stars on the WP Repository.
Due to it, you can actively expand your revenue. And all this can be done by discount codes promotion.
So, here are some of the key features of the Affiliate Coupons plugin:
Vendors and links creation
Shortcode availability
Filtering coupons
Presentation options through the ready-made templates
Widgets and sidebars to display the coupons
Demo version
These features are available in the plugin's free version. Yet, if you want to access more advanced functionalities then you may upgrade to the Affiliate Coupons plugin's Pro version with this pricing:
Pro – $199
Plus – $99
Personal – $29
All the plans are billed annually until canceled and provide a 30-day money-back guarantee.
---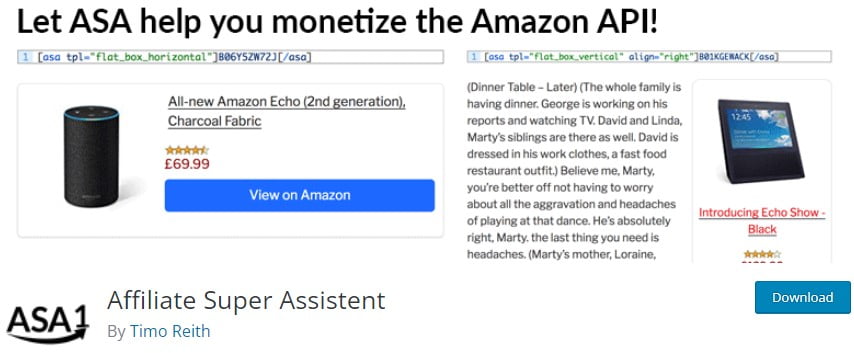 Another plugin from our list is Affiliate Super Assitant which has 3,000+ active installs and 28 5-stars on the WP Repository.
Thanks to this plugin, you can easily integrate Amazon products into your WP pages. Due to different available templates, you may present the items in various styles and pages. The process is very easy. Because you may use the shortcodes.
Here are some of the main functionalities that will be provided after activating the plugin:
Making money through WP and Amazon's affiliate programs
Amazon PA API 5.0 support
Amazon Product Advertising API to collect item data
Customizable templates
[asa] shortcodes
All Amazon stores support
Enabling the usage of Amazon Associate ID
Backend translation into Serbian, German, Spanish, and English
Preview layers support
Test section
Functions to handle errors, etc.
These and many more other functionalities are available in the plugin's Free version. Yet, you may get more advanced and professional functions by activating its Pro version. Here is the pricing:
Personal – $59
Professional – $119
Business – $249
The plans include 1-year updates and support. As well as you receive a 30% discount for the license renewal process.
---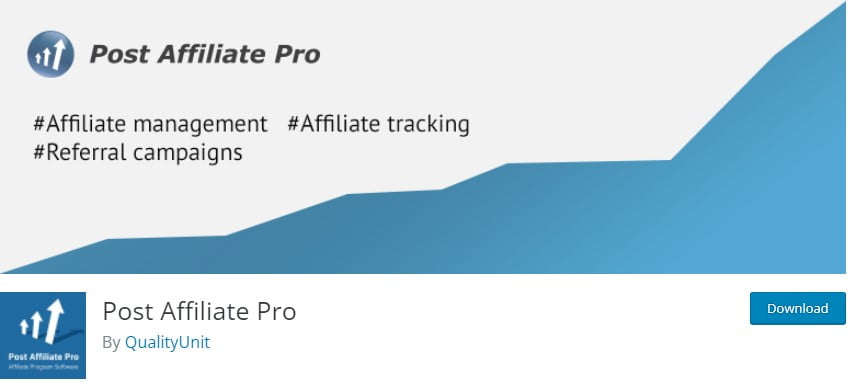 Moving forward, let us review another affiliate plugin called Post Affiliate Pro. It was developed by the QualityUnit and scores 1,000+ active installations as well as 17 5-stars in the WordPress Repository.
The plugin is one of the leading affiliate software including various significant features. Here are some of them:
WP user signup with Post Affiliate Pro signup integration
Post Affiliate Pro click-tracking into WP integration
Available shortcodes for affiliates, etc.
Furthermore, the plugin integrates to:
Contact form 7
WooCommerce Subscription and RevCent
Easy Digital Downloads
Marketipress
WooCommerce Autoship
MemberPress
Membership 2 Pro
Wishlist Member
WooCommerce
WP EasyCart, etc.
These are just a little part of the existing features in this plugin.
Yet, if the free version features are not enough for you to fulfill all your goals, then you can easily upgrade to the paid Pro version at an affordable price presented in the pricing list below:
Pro – $129 per month
Ultimate – $249 per month
Network – $599 per month
To reveal the advanced functionalities of the paid version you may visit the Post Affiliate Pro official website.
---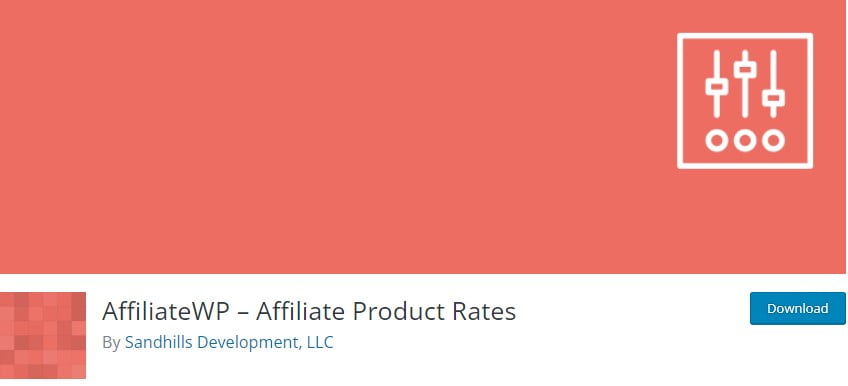 AffiliateWP is a comprehensive affiliate management system for the WP site. It has more than 2,000 activations on the WP Plugin Directory.
This plugin integrates almost all the major eCommerce solutions as well as membership plugins. So, it is simply utilized and managed. Besides, it permits to set up global referral rates that all the affiliates share.
AffiliateWP has a paid version, too. Here is the pricing list:
Professional – $599
Plus – $399
Personal– $299
---
The last plugin from our list is YITH WooCommerce Affiliates which has more than 8,000 activations. If you want to boost high traffic on your website and run a great campaign then you should choose exactly this plugin. Because it enables you to cooperate with customers, influencers, bloggers, etc. So, here are some of the key functions of the YITH WooCommerce Affiliates plugin:
Affiliate registration default form
Terms and Condition checkbox available
Shortcode for affiliate registration
Getting the Referrer ID through query string
AJAX call execution
Entering cookies identifying name
Total affiliate commissions deduction, etc.
So, if you want to have more functions along with the free version features then it is high time you activated the paid Pro version at €129.99 yearly price.
---
Comparison Table
| Plugin Name | Active Installations / Sales | Free Version | Pro Version |
| --- | --- | --- | --- |
| Solid Affiliate | Data not available | Not available | $149 |
| ThirstyAffiliates | 40,000+ | Available | $99 – $199 |
| Coupon Affiliates | 1,000+ | Available | $9.99 – $719.99 |
| Newsomatic | 3,000+ | Not available | $49 – $245 |
| Affiliate Coupons | 2,000+ | Available | $29 – $199 |
| Affiliate Super Assistant | 3,000+ | Available | $59 – $249 |
| Post Affiliate Pro | 1,000+ | Available | $129- $599 |
| AffiliateWP- Affiliate Product Rates | 2,000+ | Available | $299 – $599 |
| YITH WooCommerce Affiliates | 8000+ | Available | €129.99 |
---
Summary
Summing up, the described 9 best affiliate plugins for WordPress can be your keys to success on your website. Furthermore, all of them may serve your purposes in a perfect way. So, if you want to promote the external traffic on your WP site or increase your product sales then it would be better to use one of the plugins. Moreover, you may find both free and paid features on them. So, even if you can not afford the paid plugins you can simply use the freemium ones and reach your aims easily.
If you like the article, do not hesitate to find us on Facebook and Twitter. For interesting WP tutorials, please subscribe to our YouTube channel.
Latest posts by Anahit V.
(see all)