Which is best Shopify or WordPress? This is a very common question among a lot of businesses. Sometimes it's a bit challenging to find out which one is the best for a particular business. To clarify your mind I will provide a full examination of both platforms and their key functionalities and offers. Most importantly you can find out the main reasons why you should choose one of them over the other during the process of building an eCommerce website. I promise that by the end of this analysis you'll have a much better understanding of this issue. You will be able to clearly understand which of these two platforms can fully satisfy your business needs. So, let's start the Shopify VS WordPress/WooCommerce comparison.
---

What is WordPress?
You might be asking yourself, "What is WordPress and what is it used for?"
WordPress powers a third of the websites throughout the world. It offers tools for everyone starting from individual bloggers to large organizations. This well-developed website builder and content management system allows anyone to design an online platform in a few minutes.
The WordPress platform is very flexible and always free to use.
Well, another thing you need to know is that there are two types of WordPress available such as WordPress.com and WordPress.com.
The .com option of the tool is owned by a separate company, while you host the .org option yourself. Additionally, the hosted WordPress.com is a SaaS tool that you can purchase with a monthly fee. This option is more of an all-inclusive solution that you can use to create and maintain a big range of websites selection.
On the other hand, you might definitely ask: " Is WordPress good for e-commerce ". In fact, WordPress.org is a website-building or eCommerce software. You can easily install it on your own web server. This unique open-source solution can be designed and customized as much as you wish. WordPress.org is extremely user-friendly, especially for those who have some coding background. But using WordPress for e-commerce can be quite beneficial and easy also for those who do not have programming skills.
You can install the WordPress.org solution into your server for free, however, some payments are required for hosting it. Thus it's not completely free of charge. Moreover, with your WordPress website, you get a number of fantastic features. WordPress provides access to the WooCommerce plugin for eCommerce and all the tools that you need to make your own WordPress stores and checkout.
With the help of different plugins, you can quickly and easily access all the eCommerce features you need.
---

What is Shopify?
If you are interested in the question of what is the difference between Shopify and WooCommerce, then we are here to answer you. S, Shopify is an advanced web application. Its main purpose is to allow merchants to create and launch their online stores. It provides a wide range of templates that can be customized in order to satisfy all your business standards and requirements. Shopify does not have any limitations. You can sell both physical and digital goods there.
One of the main ideas behind Shopify is that users without any technical and design skills background can create a store without a need for further assistance. Thus, the main advantage is that you don't have to obtain special coding skills in order to use Shopify.
With the help of Shopify, you can also edit the HTML and CSS of your website. Therefore, those who don't have any coding skills will manage to design their stores in an extensive manner.
Basically, if you're looking for an eCommerce platform that can offer you a domain name, PayPal integration, a shopping cart, your own eCommerce plugin, and many other beneficial features, Shopify is the best option. The main idea that Shopify follows is to provide maximum high-quality assistance to those who want to shop.

---

Shopify VS WordPress/WooCommerce – What Sort of Users are Aimed at?
Shopify's target audience includes people who are lacking the following things:
web development skills and knowledge
a proper budget to hire somebody to build their store.
Those people mostly prefer to use Shopify because the platform allows you to create an online store without any coding skills.
In contrast, WordPress includes a wider group of users in its niche:
web design novices
users with web development skills
users with the proper budget to hire developers.
Both WordPress and Shopify can be suitable for users who are relatively new to web design and don't have a deep technological background. It's certainly possible to create and manage a WordPress website without advanced coding skills. However, I'd argue with this statement. The reason is that in most cases before publishing a website you need more WordPress configuration. It all depends on your operating purposes.
The second target group that uses WordPress services is people with advanced web development skills and experience. Mostly they feel satisfied with the website creation process in WordPress.
Finally, the third target segment includes people with a large budget. They prefer to hire a WordPress expert to develop a 'bespoke' website that works on super-fast servers.
The word 'bespoke' underlines the main difference between WordPress and Shopify. In other words, even though it's possible to modify Shopify through coding or with additional apps, there are more limits on your performance and you'll always need to host your website on Shopify's servers.
---

WordPress VS Shopify for E-commerce – How Many Users Do They Have?
In the process of selecting a website building tool, it's extremely important to make research and find out how many people use that tool to create their websites or online stores.
There is a logical explanation for this. Generally, if a certain platform is used by numerous people you will consider it more reliable. It might create an opinion that there are more support options, resources, and apps available.
Moreover, there is a lower risk of the platform disappearing and resulting in your website being lost. A big userbase basically minimizes this risk.
Want some positive news? Both Shopify and WordPress are very popular and have huge user bases. There are approximately 75-90 million self-hosted WP websites. Meanwhile, Shopify powers 3,7 million stores.
According to different researches, WordPress is technically a safe option to use and Shopify is well-known and it's unlikely that it'll disappear anytime. Thus, you may conclude that you can build your online shop either with WordPress or Shopify, without any worries.
---

Pricing – Shopify VS WordPress WooCommerce
Let's compare Shopify with WordPress based on the pricing aspect.
WordPress Pricing:
It's really challenging to estimate the exact cost of building a WordPress website. The reason is that there are a lot of affecting variables present.
Common disbelief is that WordPress is completely free to use. Of course, you may get the content management system software without a charge. However, there are other paid features that you'll need while creating WordPress websites. Those include:
Hosting 
E-commerce integration 
Template 
Plugins 
Additionally, you may need a developer's assistance. So, make sure you have enough budget to afford such services.
Below find the pricing list of WordPress.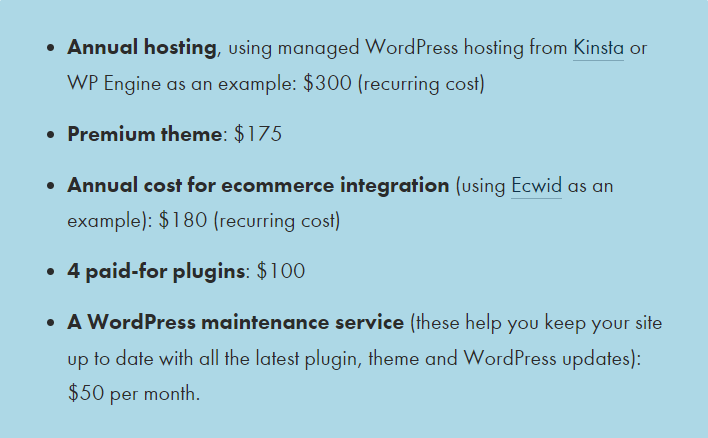 ---

Shopify Pricing
Shopify provides the following pricing plans:
Besides, Shopify offers a Free Trial. Isn't it amazing? You can access the free trial here.
---

WordPress VS Shopify – Pros and Cons
Now let's reveal the difference between Shopify and WordPress.
WordPress Pros
WordPress Cons
1. Gutenberg editor makes it easy and quick to use
2. Provides a lot of online resources from user forums and developers
3. Powerful and flexible to use
4. Easy to customize totally

1. Requires technical skills
2. It can get very expensive
3. You'll need to source things by yourself


---
Shopify Pros
Shopify Cons
1. No need to have special coding skills
2. No external security and hosting fees are required
3. As it's an eCommerce website all the necessary sales tools are available for you
1. Extra transaction fees (0.5% – 2% per transaction) are required unless you use Shopify's payment gateway Shopify Payments
2. It's not as easy as a drag-and-drop platform
3. In order to change the theme you need to reformat the content
---

Summary
Now we are totally done! You have enough knowledge and information regarding both WordPress and Shopify. You are aware of the pricing lists, and important functionalities that each of them offers.
Now let's ask this very common question again. " Shopify VS WordPress/WooCommerce – Which is Better For You? "
Basically, as you may notice the answer to this question can be different for each person and business. It depends on your individual and business needs and requirements. Thus you need to analyze precisely which functionalities and offers are mostly necessary to meet all the requirements and standards.
I hope that this article helped you clarify your mind and find out the best option for you. Enjoy your experience both with WordPress and Shopify. Make sure to share with us your choice between these two giant alternatives in the comments section. Additionally, if you have any suggestions on Shopify VS WordPress/WooCommerce comparison feel free to inform us about them in the comments.
Article Recommendations
Check out the following informative articles that may assist you throughout your WordPress experience.
WordPress User Roles and Permissions Management
7 Best WordPress Photo Gallery Plugins 2021
If you like the article, do not forget to follow us on Facebook and Twitter. For interesting WordPress tutorials, please subscribe to our YouTube channel where a number of WordPress tutorials are waiting for you!