Online courses and e-learning became so popular during the pandemic and continue to stay on top due to the millions of benefits that come with it. Therefore learning management systems are extremely helpful for e-learning platforms. Luckily in WordPress, without any extra coding and costs, you will have the opportunity to transfer your website to a full-featured e-learning platform with a simple LMS PLUGIN. This plugin is considered one of the best among LMS plugins; why is that so? For what is it so popular? Every answer you will get in the "LearnPress LMS Plugin Full Review" article. If you are ready, let's start.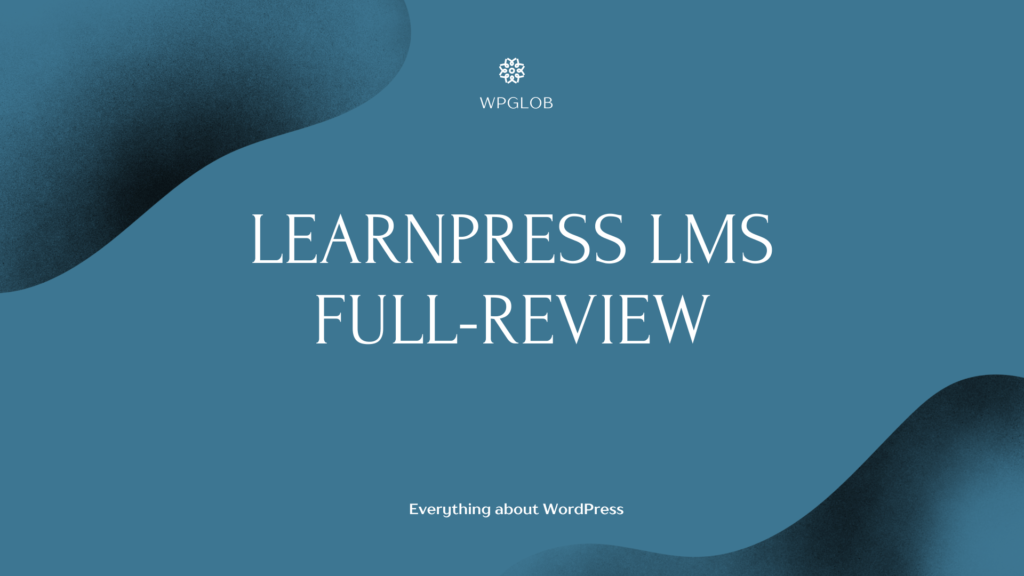 ---
What are plugins?

Let's start from scratch – in our place, the definition of the plugins. So, what are plugins? Basically, plugins are add-ons (additional pieces of software) that add extra functionality to your website without the need to write extra code for that. Plugins not only add extra functionality, but some plugins also aim to help you manage the information and content on your website. For example, there are cache plugins that speed up your website; there are forms and membership plugins, etc. Basically, the purpose of those is to save your time and money. There is a whole list of plugins that you must have in 2022, and some of those are:
Yoast SEO: One of the best SEO plugins available out there. It has both free and paid versions, and this is the plugin that will help you to rank higher in search engines. The main features are readability and SEO scores, highlighting problematic parts of the text, keyword analysis, and meta descriptions. However, the free version features are limited, and paid one is quite pricey, but for those who cannot afford it, we have a whole article about the five best alternatives of Yoast SEO.
Monster Insights: This plugin is an incredible Google Analytics plugin for your WordPress website. With this plugin, you will be able to track your rankings and monthly results, giving you a better idea of your website's strong and weak spots and how you could improve those. The main features are Google AMP tracking, Ads tracking, eCommerce and forms tracking, Google Optimize, and Custom dimensions.
Elementor: It is one more plugin that every website needs. Sometimes, WordPress website builders can seem hard to use. Therefore, I recommend you download Elementor, a website builder inside the website builder, with a nice and user-friendly interface. It has every necessary feature and lots of customization options. The main features are drag & drop editor, 90+ widgets, perfect pixel design, and advanced web creation.

---
What is an LMS?
Now let's figure out what LMS is. Firstly, it is an abbreviation for Learning Management System, which is software for the administration, tracking, documentation, and delivery of educational courses training programs. Especially popular they got when e-learning needs to be boosted due to pandemics. Many prefer e-learning over offline because it saves your time, gives you more flexibility, and reduces costs on transportation, or in some conferences cases on traveling.
What are the advantages of Learning management Systems on online learning? And why would you need an LMS Plugin? The main benefits of Learning Management systems are:
Consistency of Learning: if you choose to deliver your course through LMS, that will help you to keep all the content centralized and make sure that each student gets the same.
Easier tracking processes: LMS allows you to track the progress of your students, to see who finished the course, see and answer their comments and questions 
Up-to-date information: anything you may need to update on your course, or anything you will want to share/edit, etc. is made easy with LMS
Better results: Being able to track your student's success, see their assignments results, test results, etc., gives you better insights into how your course works and what can be done differently in order to improve
Finally, as far as we are clear on what an LMS is and what are plugins, let's start with LearnPress LMS Plugin Full Review.

---
LearnPress LMS Plugin Review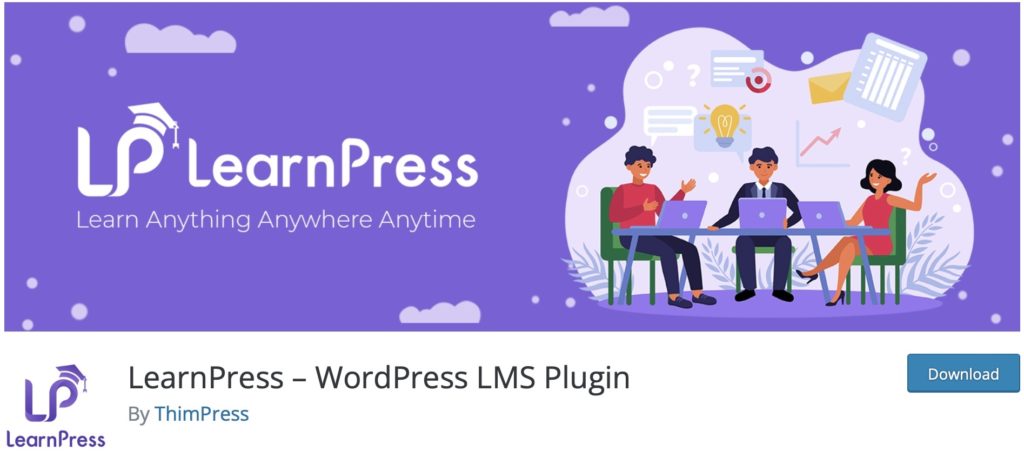 ---

As far as we are clear on plugins and PMS, I suggest that we start reviewing LearnPress – WordPress LMS Plugin. LearnPress is one of the most famous LMS plugins on WordPress, with more than 100.000+ active installations, regular updates, and a 5 out of 5-star rating. These impressive numbers show us the usefulness and good experience that we will gain if we decide to go with this plugin.

---
LearnPress Installation
Now let's take a look at how to download this plugin. It is quite simple to do; first of all, go to your WordPress Amin's dashboard. Afterward, click on plugins – "add new", then type "LearnPress LMS" on the search line. Finally, click on download, then activate, and that is it. You already have the plugin installed and can take a look at key features and customize and experiment with it.
---
Main Features
To comprehend the value of this plugin, we have to take a look at the key features and functionality it offers.
Works with any WordPress theme – you do not have to change the theme.
Works with WordPress Multisite
Create Course – LearnPress LMS Plugin has a great user interface for building online courses with all the features you need. It is simple to create a complete curriculum layout, as well as to amend and maintain it. LearnPress also allows you to export and import your courses to another website.
Sell Courses – One of the best features LearnPress offers is selling courses and quite a few billing methods such as WooCommerce stripe and PayPal.
Manage Course – You gain total control over the course you have created, including sharing it, reviewing the statistics, etc.
Communication – BuddyPress Integration makes the communication process with your students a lot easier
LearnPress Wishlist – allows students to add courses to their wishlists.
Course review – allows enrolled students to review courses.
Import/export-import and export of the courses is made easy.
bbPress integration – allows students and instructors to interact in a course
BuddyPress integration – will give you an opportunity to turn your website to BuddyPress LMS.
Assignments add-on – with this feature, you can give your students assignments and grade them later on.
myCred add-on – allows you to add a point system to your learning platform
Certificate add-on – provides you with a drag & drop certificate builder so that you can easily design and provide students who passed the course with certification.
Co-instructors add-on – multiple instructors support
Also, LearnPress offers a Demo website for you to review, to get a better idea of what your final website will look like, so do not forget to check it out.
---
Pros & Cons

Besides many amazing features we found out while testing it for the "LearnPress LMS Plugin Full Review" article, we also noticed certain benefits and drawbacks while testing this plugin. So Pros and Cons of the LearnPress LMS are:
Pros
Easy of use – this is one of the most crucial benefits of LearnPress, no one in this dynamic industry has extra time to learn how to use a plugin. LEarnPress has a user-friendly interface which makes it straightforward in use.
Value – a free plugin that also offers some free adding, is invaluable and great; it works fine with many other plugins, etc. Besides, it also offers some premium themes and add-ons; however, each is priced reasonably and affordable.
It uses a WordPress dashboard, which is already familiar to all WordPress website owners.
Need not to bang your head going through Flatiron School Reviews to get away with coding problems. It does not require any coding or web development experience; you can easily adjust and customize anything you need
Straightforward and logical course creation
Cons
Support – The support team for the free version could've operated better; it is not hideous. However, it is not as good quality as expected from such a nice plugin.
Power: The plugin offers many necessary features, however in comparison with a dedicated LMS, it is still not as potent

---
Summary
To summarize the "LearnPress LMS Plugin Full Review" article, I can say that it deserves the positive publicity it got. This plugin will allow you to transfer your WordPress website to a full-featured Learning Management System in just a few simple steps. With LearnPress LMS, you will easily create, manage, sell, and make some profit out of online courses. In addition, there is an opportunity to take some more courses, that again concern Learning Management Systems on online learning. Take your chance and start it right now; do not miss out, especially in this competitive and dynamic industry with rapidly changing technological trends.
---
If you liked the article do not forget to check out our YouTube channel with tons of WordPress tutorials! And you can find us on Facebook & Twitter, where we post interesting updates about upcoming events.

Must-Read Articles
Also, do not forget to check out our Must-Read articles, which will help you to gain the necessary knowledge about WordPress, SEO, and different plugins, along with assisting you in taking your website to the next level.