Top 5 Mind-Blowing Yoast SEO Alternatives in WordPress
Yoast SEO is an outstanding and powerful tool for SEO optimization, which really contributes to higher search rankings of your article in search engines. However, its pro version can seem pricey. Therefore, in this article, "Top 5 mind-blowing Yoast SEO alternatives in WordPress," we will review some other tools that are as powerful as Yoast and easy to use.
If you are ready, let's start.

---

What is SEO?
SEO – search engine optimization is a process and specific steps you perform to improve your site's traffic and help it rank higher in search engines. Because it assists you in making content persuasive enough so that search engines will promote it themselves. The main objective is to appear on the first page desirably on the first line, e.g., Google.
There are two main types of SEO :
On-page SEO: URLs, title tags, meta descriptions, keywords, header tags, internal/external links, content length, readability, images
Off-page SEO: PR, link building service, content marketing, guest posting
There are key ranking factors that algorithms of search engines consider:
Quality: you have to build trust with your audience, and for that, you have to provide high-quality SEO-optimized content that your users will be satisfied with.
Relevance of the source: when someone types on the search line keyphrase and your content contains enough algorithms, identify it as a relevant source for search and rank it higher.
---

The Importance of Good SEO, How Does It Benefit Your Website?
SEO is important for many reasons such as gaining online visibility, growing the audience of the blog, making money and generating leads. Perhaps the main goal for you to have a blog is to gain something from it at least visibility if not money if you want that you have to pay close attention to SEO optimization of your content.
By the way, if you want to level up your website here you can find the best blogs to follow and take an example from.
---
---
Yoast SEO? First things first, as I say. Yoast SEO is one of WordPress's most potent SEO optimization tools. It has every necessary feature. Throughout the years, it gained trust due to its high-quality performance.
The main features of this plugin are readability analysis & suggestions for improvements, SEO analysis & recommendation for advances, meta description blocks, key phrase density analysis, internal/external links suggestion, etc. As you can see, it offers every first-hand feature for high rankings and good optimization; however, the pro plans may seem pricey; therefore, after careful research, we are ready to present the best alternatives of Yoast SEO.
---

Best Alternatives of Yoast SEO in WordPress
Now let's dive into the world of WordPress's plugins available out there for easy installation, optimization, and use. In this article, "Top 5 mind-blowing Yoast SEO alternatives in WordPress," as you understood from the heading, we will review the best out of the best alternative plugins that can easily replace Yoast SEO.
---
---
Rank Math has been out there for a few years, and it quickly became popular among users due to advanced functionality and enough features in the free version.
So Main Features are:
Uses AI to give out the best recommendations for content improvements
Auto-Configuration: set up a few things and leave Rank Math alone; it will configure everything else for your website itself
Responsiveness: responsive to all screen sizes, mobile-friendly, easily access and edit whatever you need from any device and whenever you need
Automatic keyword suggestions: it gives the best keyword suggestions directly from Google
Unlimited keyword optimization: you can optimize your post for unlimited keywords
Image SEO: it provides blocks for you to add alt descriptions for the images easily
Pros & Cons list
So we already reviewed Rank Math plugin features, and now we can take a look at the list of benefits and cons that comes with it, let's start.
Pros
Dynamic suggestions
Mobile friendly
Good user interface
Smart link suggestions
Rich snippets
Cons
Beginners may be overwhelmed
Lots of features remain unused
Review pricing over here.
---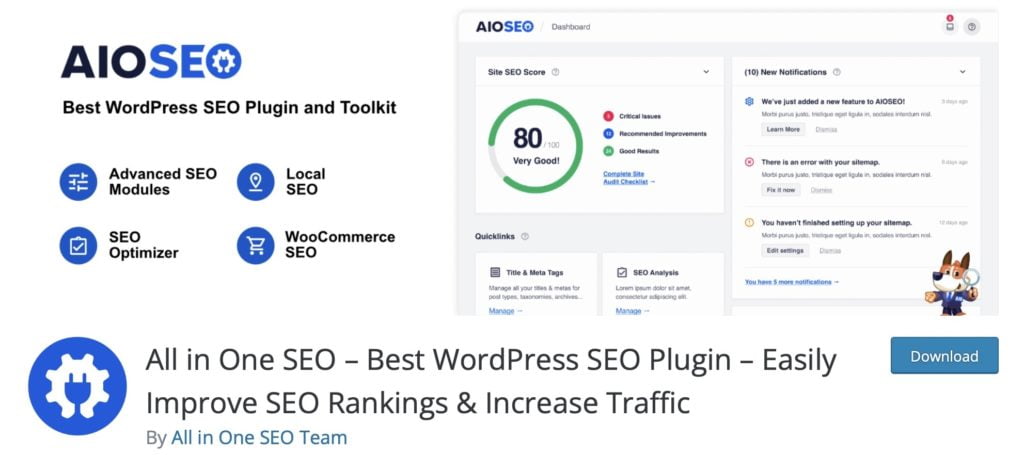 ---
One of the best WordPress SEO plugins is All-in-one SEO which assists you to improve SEO rankings and increase your website's traffic easily. This plugin gets regular updates which is a significant factor to consider before downloading any, and it has more than 3 million active installations. Considering the massive amount of active installations and higher than 4.9 ratings out of 5, we can surely tell that this potent tool will benefit you.
So Main Features are:
Works perfectly with no bugs with LOCAL SEO, WOOCOMMERCE SEO, GOOGLE AMP, AND MORE
Rich Snippets
Seamless SEO integrations with social media platforms: YouTube, Facebook, Instagram, Linkedin, Twitter, Pinterest, etc. This feature allows you to create SEO content that works great both for social media and your website.
SEO redirection manager including 404-page monitoring
WordPress SEO setup Wizard
Smart meta title & description: SEO suggestions, meta tags, etc
Advanced SEO schema
Readability & SEO analysis
Pros & Cons list
The All-in-one SEO plugin is a powerful tool for good SEO optimization, nonetheless, it still has a few advantages and disadvantages, let's take a look at those.
Pros
New and modern design
Good user-friendly interface
Great SEO audit results
SEO panel is located inside the editor
Cons
Most of the paid features stay unused
Review pricing over here.
---
---
A relatively new and reliable tool, which gets regular updates is the WP Meta SEO plugin. It is worth our attention because it has more than 20,000 active installations and a 4,7 out of 5-star rating.
So Main Features are:
Meta descriptions, image SEO, and bulk edit options
On-page SEO and content analysis: smart analysis of the content, keyword suggestions
404-page and redirect manager: 404 is not good for user experience, and Google does not like it as well; therefore, having this feature will help you analyze links, find and fix broken ones
Google Analytics: it is connected to Google Analytics which can show you file download statistics, tracking options, and display analytics
XML and HTML SiteMap
Email SEO report
Automatic schedule crawl content for broken links
Redirect URL based on rules
Add custom redirect, not only 404 errors.
Custom post type in sitemaps
Pros & Cons list
Now as we are familiar with the main features offered by this astonishing plugin we can finally review the list of main pros and cons.
Pros
It offers many necessary features
Breadcrumb generator
Gutenberg SEO content checker
Gives smart suggestions
Cons
It can slow down website loading. However, it can be easily fixed with a cache plugin.
---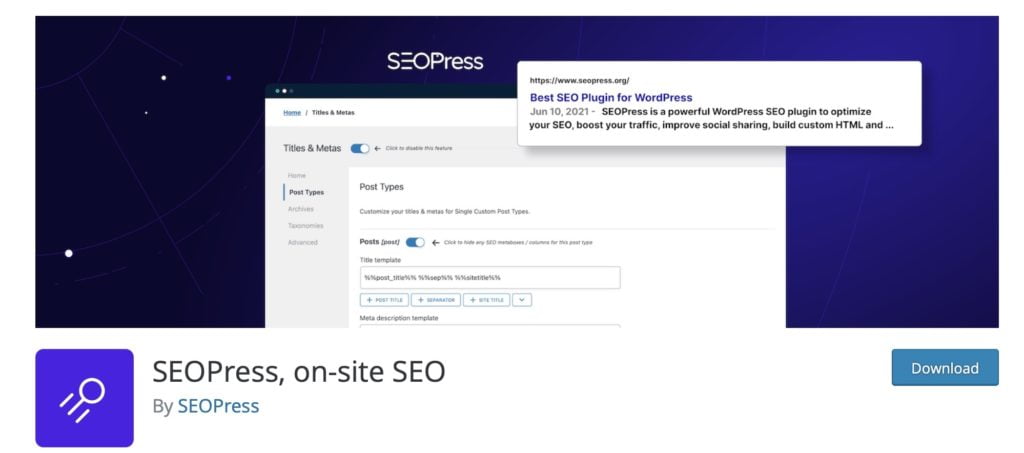 ---
SEOPress is one more SEO plugin available on WordPress for free installation and use, and we include it in this list due to its amazing features able to improve your website's SEO. Moreover, it has more than 200,000 active installations and a higher than 4,7-star rating out of the 5. Now let's review its main features.
So Main Features are:
Universal SEO Metabox: it allows you to use access and edit your SEO metadata from everywhere
Content analysis
Facebook and Twitter preview
Google Analytics integration
Image XML Sitemaps
Image SEO
Pros & Cons list
Of course, like with every other plugin, it has a few pros and cons; you can see them down below.
Pros
All in one SEO plugin: all the features you need you can find in one place
WooCommerce integration
Google Structured Data Types
Cons
Lack of "nofollow" for links
Review pricing over here.
---
---
Minimalistic, simple, and modern are the best words to describe this plugin. It is quite simple. However, it offers all the necessary features for good SEO optimization. Furthermore, it gives you the opportunity to design and preview how your content is going to look on Google and social media.
So Main Features are:
Works well with Woocommerce and other e-commerce plugins
Works with Worpdress Multisite
SEO Patterns for each Post Type and Custom Post Types
Title, Description, Keywords, Canonical Metas
Open Graph Image, Title, Description, Type
Pros & Cons list
As with every plugin, it has a few pros and cons.
Pros
Simplicity: It is easy to use; all the features are first-hand use features
It works well with eCommerce plugins
Good user interface
Cons
As any other plugin can slow down your website loading time, not considerably
---

Summary
To summarize the "Top 5 mind-blowing Yoast SEO alternatives in WordPress" article, I can say that the final choice is yours, and no matter which one you will go with, please review them once more very carefully to make sure you are making the right choice, because remember, every website has different needs, and you have to pick one which best suits yours.

If you liked this article, do not hesitate to write any comments, questions, or feedback down below in the comments section. Moreover, you can share this article with your friends and colleges who may be interested in this topic.
And of course, a bonus article for YOU, to generally improve the content on your blog you can check out our best content writing tools article.
If you liked the article do not forget to check out our YouTube channel with tons of WordPress tutorials! And you can find us on Facebook & Twitter, where we post interesting updates about upcoming events.
---
Must-Read Articles