If you want to organize your website information or make it easy to collect data and use it for further comparison then saving the whole info within a data table will be highly effective. And if you want to know how to start building one for your site then you need to keep reading this article. As we are going to speak about the 4 best WordPress data table creator plugins for 2022.
---
Why Do I Need a Data Table?
So first of all, the data table is an arranged and well-organized source of information that is spread in rows and columns and is highly viewable. It can be beneficial in so many fields. As well as you are able to understand the info collected before by arranging it in a single data table. Besides, if you are going to observe the records then it can serve as a good reminder being made and presented by order.
---
4 Best WordPress Data Table Creator Plugins
Now it is time to discover the 4 best WordPress Data Table Creator Plugins that are actual in the upcoming 2022.
The WP Data Access plugin is a strong tool that helps you to administrate, publish and manage data. It effectively assists you to complete many tasks related to the database directly from WordPress. The plugin has 10.000+ active installations and a 5/5- star rating.
Expanding its features the plugin developers offer you many exclusive options such as:
WP user integration
Remote database access
WP role integration
Add database table
Dynamic hyperlinks
Master-detail pages
WP media library integration, etc.
These present only a small part of the WP Data Access plugin's many functions.
It enables you:
Build your dashboard by utilizing data sidebars
Collect all the details in one place
Have responsive tables
JSON configuration
Adding JavaScript options
Query Builder integration
Multiple formats to be exported and imported
Local and remote database management, etc.
All these options are available in the offered Free package. Yet, if you want to access more functions then you have an opportunity to activate the Premium version with monthly, annually, or lifetime payments.
Premium Single Site– $39.99 annually
3 Sites– $99.99 annually
Unlimited Sites– $149.99 annually
So, here are the available Pro features from the plugin's developers- Passionate Programmers.
Data forms
Geolocation
Data widget sharing on the back-end
Export to CSV, EXCEL, PDF, SQL formats
Copying the publication and printing it
Searching the full text
Searching with advanced functionalities
Inline editing
---
How To Use The WP Data Access Plugin?
Now, let us see how the plugin works actually.
The plugin's dashboard looks like this when you enter it:
Explorer
Queries
Designer
Dashboard
Publications
Projects
Templates
Settings
Account
Pricing
Docs
Forum
Premium
Here among many sections, you will notice:
Add Dashboard
Create Widget
Add Widget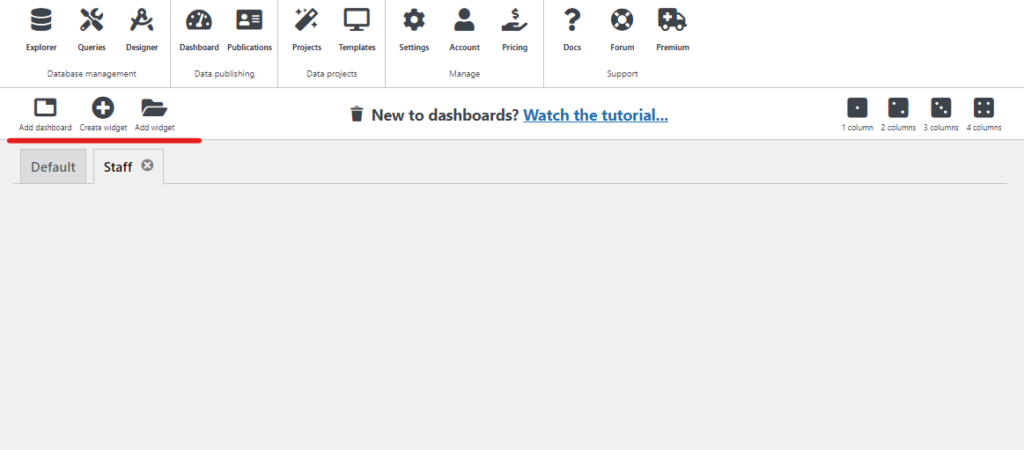 Let's see how we may create a widget with our previously made data table․ We should select a widget type, and name it. After that insert the available data into the chart to display it for you.
Then you have to select the needed type and move forward by choosing an SQL due to the Query Builder. Then we should set one of the available designs and click on the "OK" button.
And here is our data table. As you may see it is very fast and simple.

---
Here is the second plugin from our list that has more than 4000 active installations and a 4.5 out of 5-star rating. This plugin will assist you to sort and filter the WP posts in tables. Due to this function, the customers will be easily navigated within your WordPress site.
Being able to sort the data according to the date, content category, tag, or author is a very huge benefit. The features of this plugin are great. It enables you to implement also pagination, responsive layouts, etc.
One more method that the Product Tables plugin developers created for you is the availability of shortcode. Due to it, you can insert the sortable table wherever you want including any of the pages or sidebars.
You are just required to copy and insert the ready-made shortcode. Here is it:
"[posts_data_table]"
The plugin's free version gives you many important options, such as:
Creating post tables that can be filtered and sorted
Selecting the columns, such as Post ID, Image, Content, Title, Categories, Date, etc.
Pagination features
Responsiveness for different devices
Displaying the WP posts in an HTML table
WPML compatibility
In addition to these features, you may create product tables for your WooCommerce shop including:
Stock level
Price
Reviews
Quantity
"Add to Cart" buttons
Categories, etc.
Also, you may build an order form. This will be highly effective in boosting your website traffic and surely the conversion rate.
Besides the plugin's free version, the Barn2 team provides you with the advanced payable version. It is important to note that all the plans have a 30-days money-back guarantee and yearly or lifetime access. Here are the Pro version packages:
All Access Pass-$799 yearly. This plan includes up to 20 sites
Agency– $349 yearly. This one also has up to 20 sites
Business– $149 yearly. And it has up to 5 sites
Starter– $99 yearly. And the last package is for only 1 site.
Barn2 also offers numerous other plugins to further improve your WordPress website, such as the WooCommerce Product Options and WooCommerce Product Filters.
---
So, our third plugin is Ninja Tables. This WordPress plugin has more than 70.000 active installations and a 4.6 out of 5-star rating.
The plugin can be highly useful if you decided to build a data table for your WP posts and pages. Yet, among all the features of this plugin, you will most appreciate the fact that implementing the data tables will not slow down your website operation regardless of the quantity of the rows included in them.
With its help, you may customize the table design, import, or export the data tables. Moreover, they will be highly responsive and mobile-friendly which means that they will be displayed correctly on every device.
Along with the Free versions you are able to purchase the Pro version packages. Here are some of the characteristics you will get after activating it:
Adding Media files
Different Colors selection
Google Sheet connection
Export or Import with CSV format
WooCommerce Integration
WP Fluent Form connection
VIP Support, and much more.
And these are the Premium version plans available on the plugin's official website:
Single Site License– $49 annually
Agency License– $99 annually
Unlimited License– $199 annually
---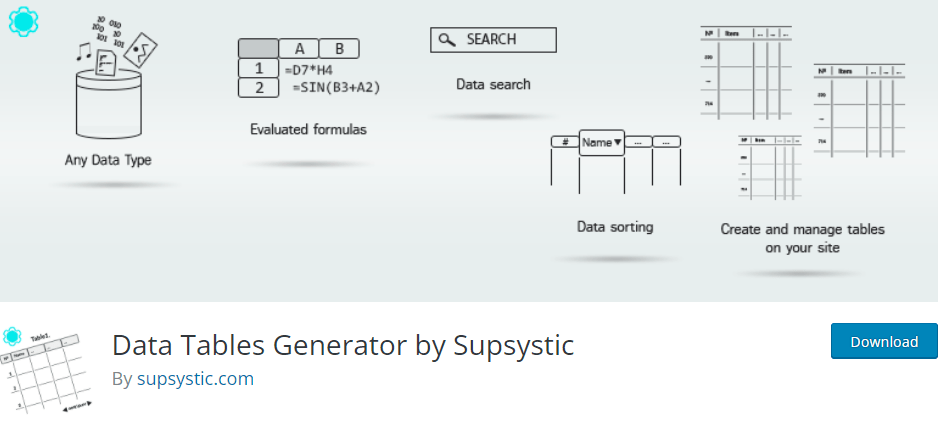 And our last plugin is the WordPress Data Tables Generator By Supsystic. So, if you tend to make a highly responsive and mobile-friendly data table then this can be a good variant.
The plugin has been developed by Supsystic and scores more than 30.000 active installations and a 4.7 out of 5-star rating on the WordPress official website.
Here you may encounter some of the big functions of this plugin:
Formulas
HTML support
Sorting and filtering features
Table export-import with CSV, EXCEL, PDF, and GOOGLE SHEETS
Media and video files, links support, etc.
Like all the other plugins from our list, this one also offers a payable Pro version. Here you may find the Pro plans' pricing:
Personal– $46-$79 for a single site
Developer– $69-$149 for up to 5 sites
Enterprise– $149-$319 for 6 and more sites
The following options refer to the Pro version only:
Editing Table Content
Database Source
Editable Fields
Tables' mass migration
Autoupdate from Google Sheets
Table History
Roles Restriction, etc.
---
So, now let us summarize the most important details about all the mentioned plugins from our list:
| | | | |
| --- | --- | --- | --- |
| Plugin Name | Active Installations | Rating | Pricing |
| WP Data Access | 10.000+ | 5/5 | $39.99- $149.99 |
| Product Tables by Barn2 | 4000+ | 4.5/5 | $99- $799 |
| Ninja Tables | 70.000+ | 4.6/5 | $49- $199 |
| Data Tables Generator by Supsystic | 30.000+ | 4.7/5 | $46- $319 |
---
Summing up
So, in this article, we discussed one of the great things needed for your website. And that is a data table. It can perform an essential role on your WP site providing an organized, sortable, and filterable table full of highly arranged data. This will ease not only your working process but also the ones who will work with that database with you. Besides, it is very viewable and can make you understand also the connection between the available data, compare the details and make your life somehow easier.
Therefore, we offered you the 4 best WordPress Data Table Plugins for 2022. Each of them is unique in a different way. All suggest you both Free and Pro versions. But this does not mean that the Free versions are so far weaker. They offer huge functionality. Yet, the Pro version enables you to utilize more advanced options.
As the New Year is coming, we recommend you to benefit from the plugins listed above and make not only your but your colleagues' working process simple and enjoyable.
If you like the article, do not hesitate to find us on Facebook and Twitter. For interesting WP tutorials, please subscribe to our YouTube channel.
Latest posts by Anahit V.
(see all)