Do you want to have an awesome website because yours still look static in this dynamic environment? Congratulations, you are at the right place! Slider Plugins will help you to transform your website from Boring to Dynamic and Awesome in just a few steps. The main question is which one of these plugins is the best, and which one should you choose.
In this "Top 4 Best Slider Plugins for WordPress" article, we are going to review the greatest and the most powerful Slider plugins available out there.
By the way, you can also check out the 7 best WordPress Photo Gallery Plugins.
---
What is a Slider?
Before we start, let's, first of all, understand what are slider plugins, as I say, let's start from scratch. A slider is a website design component that displays images and videos. It functions similarly to a slideshow, displaying one image or video at a time. This means that the content, e.g., images, changes in a few seconds.
---
Why Would You Need a Slider Plugin?
Slider Plugins are amazing tools/add-ons for WordPress site which allow you to display sliders on home pages, landing pages, posts, and any other area of your website. The most common use of sliders is designer portfolio displays; freelancers often use sliders even if they are not graphic designers. Why? Because sliders add an interactive element to your website and visual attractiveness.
---
On What Criteria Should You Choose a Slider Plugin?
To make sure you are choosing the absolute best, I will friendly suggest paying attention to several factors/criteria when selecting the slider plugin:
Layout & Design: The slider plugin should have enough design and customization options because you want it to be relevant to your website's custom style.
Ease of use: The user interface must be beginner-friendly and not require a long learning curve. The purpose of add-ons and plugins is mainly to make your life easier and offer functionality without extra coding, so pick something that is easy to use and is not time-consuming.
Responsiveness: The plugin you choose, especially if it is connected to design such as slider plugins, you have to keep in mind creating responsive ones for all screen sizes. Why? Because people may access your website from a smartphone or tablet, or laptop, and all of those have different screen sizes.
---
Pros and Cons of Slider Plugins
Before we dive into the different slider plugins, let's quickly review some general pros and cons.
Pros
Add interaction to your website
Improve visual communication element
Cons
Some argue that Sliders decrease conversions
Sliders, like any other plugin, potentially can slow down the speed of your website
Can distract from important content
However, most of the "cons" are under your control. For example, you can display your image and video slider in a way that complements vital content and does not distract from it. Moreover, if you want your website to perform quickly, you can use cache plugins. The performance is a vital component of an SEO-friendly website.
---
Top 4 Best Slider Plugins Available on WordPress
Finally, we arrived at the part we all were waiting for the best out of the best Slider Plugins available on WordPress, there are brief descriptions and, of course, links for installations.
---
This plugin is one of the best free slider plugins available out there for download. It has both free version and paid —the benefit of Smart Slider, which is worth outlining, is its intuitive design, and efficient user interface. Smart Slider 3 has been around for a few years and gained a good reputation; if we take a look at some statistics, we can see: 800,000+ active installations, tested up to 5.8.2 version of WordPress, and has 900+ 5 star ratings; these numbers surely tell us how reliable is this plugin. So let's not waste our time and take a look at the main features and major benefits it offers.
Main Features
Responsiveness to all screen sizes: no matter where you access the plugin, be it your smartphone, laptop, or iPad, you will be able to make necessary adjustments easily
Slide Library: saves your time by providing ready-to-use templates for sliders
Customization: You can fully customize and adopt a slider to your website's unique style, including fonts
WordPress complete integration works perfectly with media managers, shortcodes, and widgets.
Smooth background animations are available.
Page builder support: works incredibly smoothly with page builders (Elementor, Divi, Beaver Builder, Visual Composer, Gutenberg Editor, etc.) and does not cause any delays.
Major Benefits
LIVE SLIDE EDITOR: Slider, gives you an opportunity to build whatever you want and use multiple layers to avoid confusion
RESPONSIVE: Plugin that works and is accessible from any device
UNIQUE LAYOUTS, MULTIPLE LAYERS: for high customization
What can you do with this plugin?
Easily import/export sliders
Autoplay timing animations
Use ready-to-go templates to create fantastic sliders
Customize anything to your website's specific needs and style
Use it for multiple sites
Intuitively comprehend and quickly start to use it like a pro
---
WordPress Slider Block – GutenSlider has more than 10,000 active installations and gets regularly updated. It is a wonderful plugin, which is also available in 8 languages. GutenSlider is an image/video slider block for your WordPress website. It is considered one of the best, therefore let's review its main features in order to understand why.
Main Features
Unlimited Sliders
Multiple Transition Modes: fade, slide, and flip
Alignments: easily align your blocks and content (wide, full, top, center, bottom, left, right)
Customization of designs, margins, and spaces
Automatic Captions
Full-Screen mode
Hyperlink Slides
Video Slider: Allows you to add videos to your slide backgrounds (Pro version)
Gradient and Color Overlays (Pro version)
Five transition modes: fade, slide, flip, overflow, cube (Pro version)
Bulk Editing (Pro version)
Advanced progress options: offset, style, and positions (Pro version)
Advances light gallery (Pro version)
Major Benefits
High-customization: customize Slider to the specific needs of your website to better communicate the message of your brand
Add a Gutenberg Block with one click.
What can you do with this plugin?
With this astonishing plugin, you can create astonishing images and video Sliders which will be able to grab visitors' attention. You also can customize literally every detail to show sliders that best fit your style. As well as you can get support and assistance from developers whenever you need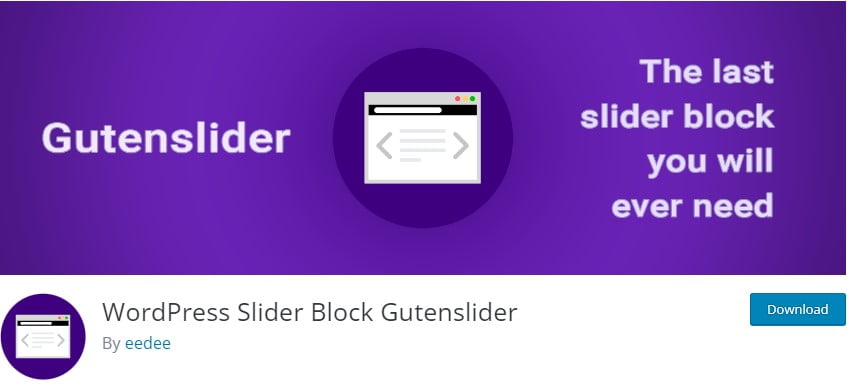 ---

What do you think so far about the "Top 4 Best Slider Plugins for WordPress" article? Make sure to share some thoughts in the comments section.
Video Slider is also quite famous WordPress carousel plugin for sliders. It allows you to create impressive video sliders on your website. Also, it regularly gets updates and is tested up to WP 5,8,2 versions. With this free WordPress slider plugin, you can create modern animations, enjoy the speed and customize practically everything that comes to your mind. Now let's take a look at its functionality.
Main Features
Animation: adds interaction and modernism
Navigation arrows: to make it user friendly
Font settings: allows you to choose a font that best suits your website, style, and specific video slider theme you are working on
Customization options: color, layouts
Pause time
Speed: you can easily adjust the speed of changing slides
Fully responsive and has multiple layout settings.
Unlimited videos can be created and added to your webpage.
Allows you to create slides transitions
Drag ad Drop functionality: makes it easier to use
WordPress Posts Sliders for video (Pro version)
Supports HTML layers (Pro Version)
Major Benefits
You do not need programming skills to create an amazing video slider
The plugin supports: Youtube, Vimeo, Vevo, and MP4 videos
What can you do with this plugin?
Create beautiful slideshow effects
Use automated image cropping function
Use multiple sliders and ready-to-use themes
---
Yoo Slider plugin definitely deserves our attention because it performs fast and offers the features we need to create amazing sliders. With this plugin creation of Sliders becomes an easier process, because first of all, you do not need coding skills to create those, and secondly, it has a simple user interface. Therefore I suggest that we check out its functionalities.
Main Features
Unlimited sliders and layouts
Integrated with WordPress: which means it works well with WordPress media, shortcodes, and Gutenberg Editor
Design Customization
Some premium version features are Thumbnails controller, Coverflow, Animations, Borders & Shadows, Dynamic, Advanced functionality, and fonts.
Major Benefits
All-in-one plugin
Intuitive UI
What can you do with this plugin?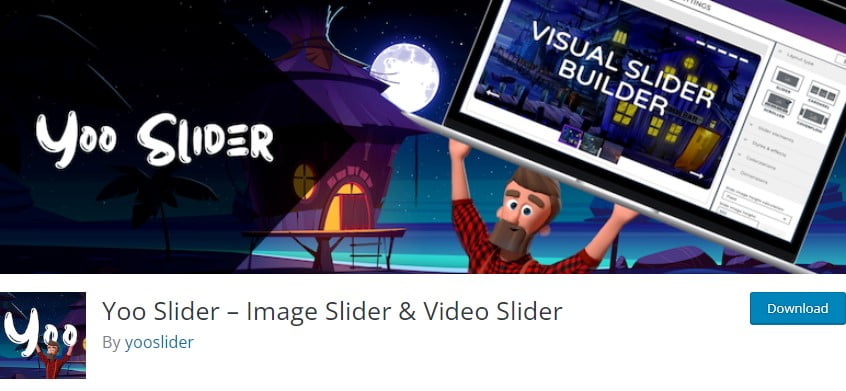 ---
Summary
So to summarize the Top 4 Best Slider Plugins for WordPress article, I can say that sliders are a great way to grab your visitors' attention. Those give you an incredible opportunity to display images and videos, do not take a lot of space, and add dynamics and interactive elements to your website. Of course, the final choice is yours; all of those slider plugins that we reviewed in this article are great; it mostly depends on your personal preference and budget. So do not hurry and carefully decide what will give you the best outcome that you expect.
We are waiting for your comments and feedback down below. Also, share this article with your friends and colleagues who may be interested in the topic.
---
If you liked the article do not forget to check out our YouTube channel with tons of WordPress tutorials! And you can find us on Facebook & Twitter, where we post interesting updates about upcoming events.
---
Must-Read Articles