If you are a WordPress developer or an individual user who wants to get a valuable and full-of-functionality contact form plugin then you can enter the CodeCanyon platform. Here you will find at least one plugin that matches your business or personal aims. In this article, you will get acquainted with the top 6 best WordPress form plugins on Codecanyon.
---
What is CodeCanyon?
CodeCanyon is an online platform where WP developers can upload their products and sell them to interested customers. Though it has not gained the best popularity among the WP users due to licensing and other issues, it continues to grow faster, engaging more users.
So, in short, CodeCanyon is a unique marketplace where the author of the item and developers present their plugins and interested clients purchase them. It is an easy process thanks to this platform. Yet, it will take a certain commission. The majority of WP developers prefer to give a part of their revenue in order to get a high level of sales.
Yet, there are some factors you need to take into account before choosing Codecanyon as a sale platform for your digital product.
It will bring popularity to your new product.
CodeCanyon has good traffic and loyal customers and users.
It is a well-known marketing and dispensing channel.
Along with all these advantages, it has some disadvantages, too. For example, the competition on this platform is relatively high and you should put huge efforts to increase your brand awareness among different interested users. Besides, you should consider its terms and conditions while entering CodeCanyon. Also, the commissions may seem too high. And in addition to this, you should keep communicating with your customers only via this platform.
Yet, this platform is a good solution both for the developers and users. So if you are a user seeking to find a good and best-selling Premium plugin, then keep reading this article. At this point, you will discover the top 6 best WordPress Form plugins.
---
So the first form maker plugin from our list is Quform. It is for users who want to build forms very easily without having any coding skills.
It is a user-friendly responsive plugin that will save your time and money.
The plugin has a 4.75 out of 5-star rating. The number of sales is 30.335. And here is the pricing strategy:
Regular License– $29, the license applies for only one WP installation creating endless forms. Also, you will get lifetime updates for the plugin for free and 6-month support.
Advanced License– $145. According to these license terms, you will be allowed to utilize the Quform plugin in larger stock item that is sold on Envato Market.
Both plans provide quality checking by Envato Market, upcoming updates, and technical support by the ThemeCatcher for 6 months.
Here are the plugin's advanced features:
Drag-n-drop
Tons of options
Nineteen element types
Preview during the building
Recaptcha (+2)
Theming system
Complex form layouts
Loads of form themes
On submit conditions
Search form entries
Edit form entries
Nine validators
Six filters
Conditional pages, etc.
The Quform plugin provides unlimited elements, such as:
Text
Text Area
Email
Select Menu
Radio Buttons
File upload
Name
Password
HTML
Submit button, etc.
Besides, the plugin developers give you a money-back guarantee and free documentation to use the plugin and in the case of any issues, you can contact their professional customer support operators.
---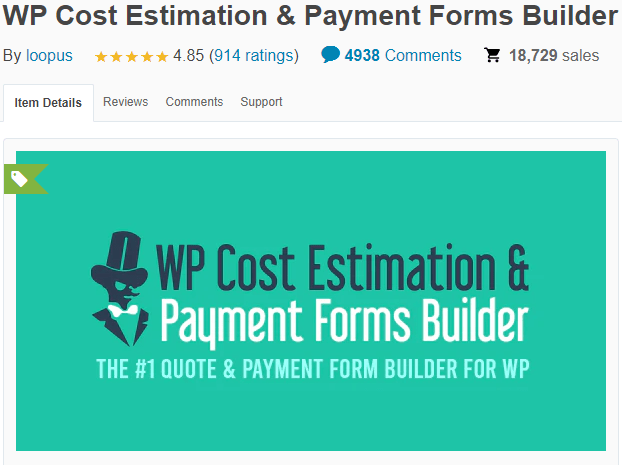 Another plugin from our best-seller list is the WPCost estimation and Payment Forms Builder plugin. With its help, you can estimate the cost and build unique forms on your WordPress site. This will promote you selling every type of product and various services.
The plugin has more than 18.729 sales and a 4.85 out of 5-star rating.
Here are the main options of the plugin:
PDF Files generation
Payment and subscription
Customizable Emails
Custom price calculation
Discount code
Import and export features
Edit stored orders
Uploading files
Woocommerce, Google Analytics support
Sales statistics
Conditional steps
Free automatic updates
Booking, etc.
This product enables you to create almost every type of form including contact forms, quizzes, booking (read also about the best booking plugin on WordPress), surveys, etc. You can implement an online payment system via PayPal, Stripe, Razorpay, and WooCommerce. The plugin is also GDPR compliant. It provides much more important features that will make your form-building experience very interesting and entertaining.
So here is the plugin's pricing system:
Regular License– $25
Extended License– $199
And both of the plans include quality checking by Envato, further updates for free, and support from the plugin's developers (loopus) for 6 months.
---
According to the CodeCanyon statistics, the ARForms plugin is the best-seller of 2021. If you do not have a good knowledge of coding or design skills then this plugin is just for you. As it is easy to use. Besides, it is gadget-friendly which is a good advantage. The plugin enables you to create not only contact forms but also multi-step forms, newsletter subscription popup, etc.
The ARForms plugin has a 4.59 out of 5-star rating and more than 8209 sales.
Here are its key features:
Material Outlined Theme
Crop and Rotate
Matrix Control
Spinner Control
Multi-column and resize
Single line Text
Multiline text
Radio button
Checkboxes
Dropdown
File upload
reCaptcha
Email Address
Number
Phone number
Autocomplete
Time
Smiley
Date
Website URL
Image URL
Hidden field, etc.
In addition to the mentioned fields and elements, there are advanced ones, such as:
HTML
Section
Page Break
Spinner
Digital Download
Matrix
Rich text editor,
Rating
Like button
Signature
Math logic
Email marketing integrations, such as AWeber, MailChimp, ConvertKit, HubSpot, GetResponse, Mailerlite, etc
Multiple languages and right-to-left language scripts support
Ajax forms
Analytics tools
Striking color schemes
Many addons, etc.
And here you can see the plugin's payable license costs start at $39.
---
This plugin is especially for those who like and use the Contact Form 7 plugin. Its rating is 4.95/5-star. And the number of sales scores 3614.
Here you may get acquainted with its wide list of features:
Making a form in a couple of minutes easily
Progress bar
Step tag
Customized buttons
Unlimited Steps
Adding previous answers
Excellent UI/UX
Customized colors
Contact Form 7 Database compatibility
6-month free support
Lifetime updates, etc.
And these are only a little part of many features of the Contact Form Multi-Step 7 Pro plugin.
The cost for the payable licenses are mentioned below:
Regular License– $25
Extended License– $149
---
Another good choice can be the Nex-Forms plugin. It has more than 13.218 sales and a 4.61 out of 5-star rating.
With the plugin's assistance, you can make these forms:
Interactive
Multi-step
Popup
Online Quiz
Contractual
Payment
Cost estimation
Slide-in
Booking
Survey
Contact
Auto Step
Thanks to the plugin's drag-n-drop feature you can easily manage working with it. Even you do not need to have coding skills.
By purchasing this plugin you will get these Premium add-ons:
Form themes
Mailster
Mailpoet
MailChimp
GetResponse
Digital Signatures
PayPal classic, etc.
Along with the mentioned option, you will also get these functions:
Conditional logic
Math logic
Builtin Anti Spam
Form analytics
Autoresponder
Form submission export and report
Preview
GDPR compatibility
AJAX powered
Widgets
Smart Data tags, etc.
And here are the purchasing prices:
Regular License– $39
Extended License– $199
---
And the last recommended plugin is eForm. You may create unlimited quizzes, surveys, cost estimation, etc. with this plugin. It has scored more than 14.203 sales and a 4.49/5-star rating.
Here is a list of free add-ons provided with this purchased license:
Payment and cost estimation
PDF Emails
Newsletter integration
Conditional logic
Automated quizzes
Digital signature
WooCommerce integration
Google Analytics
Submissions and reports, etc.
Besides the mentioned integrations, it is worth mentioning that the plugin provides the Email marketing integrations, as well:
Aweber
Active Campaign
Campaign Monitor
MailPoet
MailChimp
GetResponse
ConvertKit
Mailerlite
Zapier, etc.
In addition to the mentioned features, you will definitely get fast and free support from professional developers.
And the price for this payable plugin begins from $39.
---
Now let us see the whole list of the plugins compared in a single table:
| | | | |
| --- | --- | --- | --- |
| Plugin | Rating | Sales | Price |
| Quform | 4.75/5 | 30.335 | $29-$145 |
| WP Cost Estimation And Payment Forms Builder | 4.85/5 | 18.729 | $25-$199 |
| ARForms | 4.59/5 | 8209 | Starting from $39 |
| Contact Form Multi-Step 7 Pro | 4.95/5 | 3614 | $25-$149 |
| Nex-Forms | 4.61/5 | 13.218 | $39-$199 |
| eForm | 4.49/5 | 14.203 | Starting from $39 |
---
Summary
To sum up, we have discussed the 6 best WordPress form plugins on CodeCanyon. So, if you tend to build a unique contact or other types of form then it is high time you got familiar with these plugins. Therefore, CodeCanyon gives you an opportunity to discover new plugins from the best developers. You are able to get them at a low price. And why we consider the price low. Because you pay for a huge list of functionalities that you are not able to find on other platforms. So, in this list, we have mentioned all the valuable and favorite plugins that have good sales and ratings on the CodeCanyon platform. And now it is your turn to compare them with one another and select one for your personal use.
If you like the article, do not hesitate to find us on Facebook and Twitter. For interesting WP tutorials, please subscribe to our YouTube channel.
Latest posts by Anahit V.
(see all)