Lead generation is the main step to active conversion and sales on your website. And the process is even faster and more efficient when you generate leads through contact forms. And in this case, you will probably like to know about the plugins that can help you create them.
This article will inform you about the best WordPress contact form maker plugins. Through these form creators, you can easily build and add various forms to your website.
---

What is a Contact Form?
First, you will supposedly think what are the contact forms and why you need them. So, they are short forms that you add to your website. You can create contact forms for the visitors who will leave their contacts and data by filling them. So firstly, it is a way to gather some essential leads for further conversion.
Besides, they enable you to get your visitor's email addresses without giving them yours. This protects your email from spammers. Moreover, by using contact forms you can contact customers when it is convenient for you.
WP contact forms will promote your Email Marketing strategy. And you will also receive some important suggestions from your customers. This can lead to improving the quality of your product or service.
So, now you know why the contact forms are too important on your website. At this point, you will gain some necessary information about the 10 best WP plugins for creating a contact form.
---
The Contact Form 7 WordPress plugin was developed in 2007 by Takayuki Miyoshi. It is considered one of the most popular WP contact form creators. Currently, this plugin has five million active installations and more than a thousand "five stars" from different users all over the world. This result speaks for itself.
It is quite easy to add a unique contact form to your website using this plugin.
Here you may see its main features:
You can fill your WP posts with contact forms easily and quickly. First, you should find different sections, such as: "Form", "Mail", "Messages", and "Additional Setting". You must simply choose one of these functions and move forward. After saving the form, you will receive a shortcode. You must copy and paste the shortcode into your WP post.
The Contact 7 forms enable you to improve your Email marketing strategy. It suggests you "Individual form editing interface" specialized in Emails. In this form, you can add everything connected to Email.
The plugin has some integrations like:

Constant Contact helps you to hold email marketing strategies very effectively.
Flamingo enables you to save the visitor's submissions from the filled contact forms.
Akismet helps you avoid spam.
With Bogo, you can create a blog in different languages at the same time on WordPress.
Recaptcha provides your WP website's security.
It offers a good support system and other useful documentation.
It will give you a good number of ready contact forms. Moreover, the automatic updates will increase the amount of the offered features.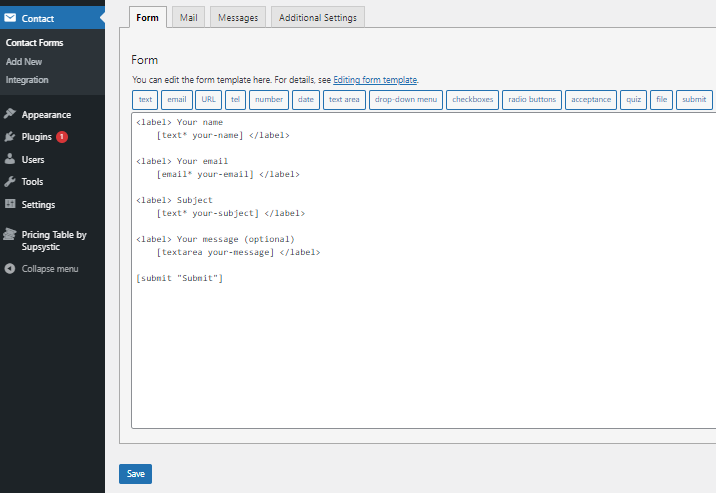 ---
The second plugin for creating a contact form is WPForms. This drag-and-drop form builder does not require you to work with a developer in order to build a contact form. Currently, there are more than four million active installations and over nine thousand "five-star" ratings for WPForms.
You can manage it yourself as it is very easy to use. Not only can this plugin help you create contact forms but also it can build payment, feedback, and subscription forms. Prioritizing the users' experience its developers tend to create templates that can be added even by the beginner.
Besides, WPForms integrated Gutenberg, Elementor, Classic Editor, and Divi. Moreover, your contact forms made with this plugin will perform absolutely well on every device.
WPForms is considered one of the high-speed contact form builders. And it has a good spam protection system. Along with the contact forms you may easily build surveys and polls that are very interesting to readers.
Another important feature of WPForms is that it also allows the creation of payment forms, donations, booking forms, etc. Moreover, it integrates PayPal and Stripe payment systems. So you can make the payments directly with your forms.
The other step to increase the conversion rate is that the WPForms enables the customers to leave the important data or simply fill in the form offline.
To sum up, the WordPress WPForms plugin is a perfect one for bloggers, developers, business owners, etc.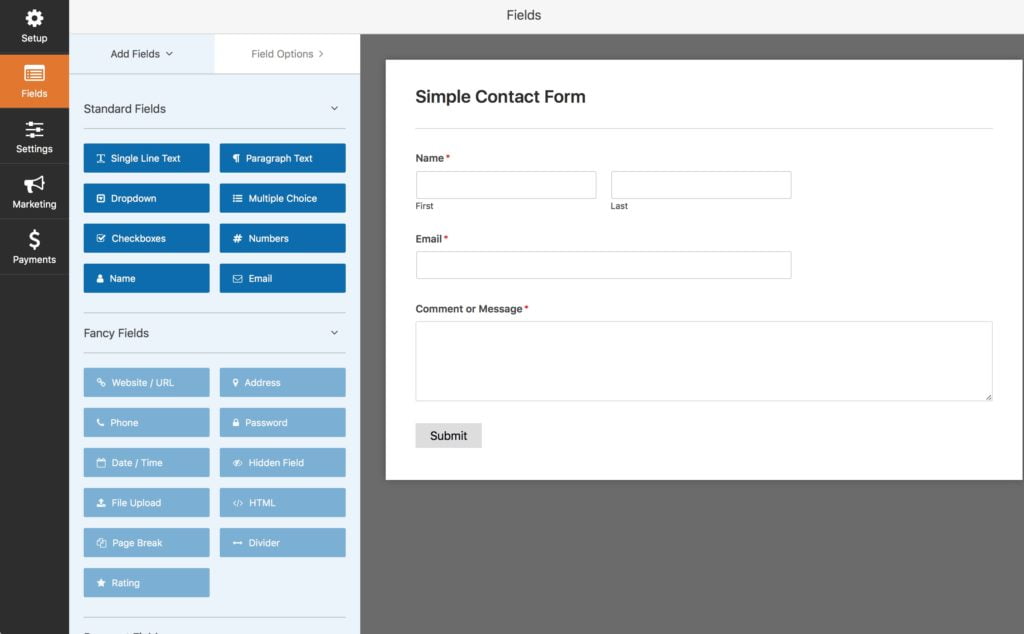 ---
Here is the third plugin from our list named Void Contact Form 7 Widget for Elementor Page Builder. It has over 40.000 active installations and a 4.9/5-star rating.
The Void Contact Form 7 Widget is a unique drag and drop plugin that works with the Elementor Page Builder by adding to it a new element (a widget).
Here are the beneficial functions of this plugin:
Create or edit a contact form without leaving the Elementor Page builder.
Utilize Contact form 7 forms very easily.
Add CSS to your contact form's different fields without any hustles.
Add any type of WordPress page.
Use a contact form 7 with various styles and redirect rules on the same page.
One more significant fact about this plugin is that it provides all these options free of charge. Yet, you may work with it only if the Elementor Page Builder is installed and updated.
---
To move forward, we would like to tell you about Forminator created one of the most famous plugin developers WPMU DEV. This form builder plugin has more than 200.000 active installations along with the full "five-star" rating on the official website.
One might definitely ask why to choose Forminator. The answer is that it offers a large variety of features for you to promote your business and engage more customers. You can use Forminator's unique polls, contact forms, quizzes, calculations, and payment forms for this aim.
Forminator suggests you benefit from its Free version with a large number of features. But in case you want to use the advanced version, you may surely activate the Pro version and enjoy your experience. So here are some advantages you will definitely appreciate while using the WordPress Forminator Plugin:
First, is the Forminator's drag-n-drop feature.
Besides, you can use the unique design of "Default", "Material", "Bold", and "Flat" options.
The Forminator plugin uses the "Gutenberg" block editor.
It integrates such programs as Mailchimp, Google Sheets, Slack, Trello, etc.
The security is also protected. As the plugin uses Google Recaptcha. This protects your forms from spammers.
Forminator utilizes GDPR, as well. In this case, you can sort and analyze all the gathered responses with GDPR or another privacy policy.
As it has PayPal and Stripe payment systems, you can easily get the payments directly with your form.
Pro version enables you to get E-signs in your contact form.
---
The WordPress Formidable plugin was created by the Formidable team with the contribution of Steph Wells and Steve Wells. You can use Formidable to build not only contact forms but also different surveys, quizzes, registration forms, calculators, and payment forms. Now the plugin has more than 300.000 active installations on WordPress.org.
Due to its drag and drop feature, it is easy to use. The plugin is fully responsive which means that it looks quite clearly on every device. Formidable is time-saving. It is the fastest one among other form makers.
You may use the GDPR checkbox field in your Formidable form. That is how you should collect the payments. By the way, you can accept payments via credit cards. And organize donations via PayPal, Stripe, and Authorize.net. This is because the Formidable plugin has integrations with the mentioned payment systems. Besides the plugin provides a lot of marketing integrations, such as MailChimp, GetResponse, AWeber, MailPoet, etc.
We shall importantly mention that almost all these features are included in the Free version. But in case you want many more advanced features, you can activate the payable Pro version.
---
The next form builder plugin is Form Maker by 10Web. It belongs to the list of the most time and effort-saving form builders in WordPress. This WordPress plugin has been developed by 10Web, WD Support, webdorado, and Form Maker Support. For now, it has over 90.000 active installations. And it is available in 5 languages.
The intuitive interface will allow you to create various forms without difficulties. It is very gadget-friendly due to its responsiveness. The plugin offers you forty-three field types, easily customizable 15 themes, and pre-made templates. As it has integrations with PayPal and Stripe payment systems you can get the payments directly through the forms.
The plugin provides spam protection due to IP blocking and captchas.
---
So, now we will speak about the Ninja Forms plugin. It is very famous and demanded among WordPress users. "Ninja forms" has over 1 million current installations.
This plugin enables you to create contact forms even if you are not a programmer. It is quite simple and beginner-friendly. Due to its responsible support service, you can manage to overcome all the supposed problems.
The plugin offers you drag and drop fields. Easily managed features will complete the designer's work instead of you. You may even permit the users' uploads. Even it is allowed to send or export such submissions as MS Excel and PDF files, Google Sheets.
As through other mentioned plugins, you can organize donations and accept payments via Ninja forms. It is quite secure to complete payments via PayPal, Stripe, and credit cards.
The Ninja forms are fully responsive, as well. It provides the protection system with Akismet and Google reCaptcha.
It has many integrations to help you keep the active in communications with the customers (Slack, Twilio SMS, ClickSend SMS, etc.).
---
Here is the next form builder called Everest Forms. Like the other mentioned plugins this one is also one of the best form builders in WordPress. The WordPress Everest Forms plugin has over 100.000 active installations and full "5 stars" on WordPress.org.
Many features can prove its effectiveness. So, one is its drag and drop option. Along with this feature, you can use its pre-made form templates, form fields, and conditional logic as a benefit. Moreover, you will never lose even one Email submission. As the plugin offers the "Form Entries" option. All the submissions will gather on the Dashboard Entries.
Do you need additional integrations? You will get a list of integrations to payment systems, Google sheets, E-mail marketing tools, etc.
Along with these features your forms will be protected with Google reCaptcha, Honeypot, and Math Captcha.
Besides, Everest Forms is ready for translations. You can use any translating plugin to translate Everest Forms' dashboard. Another important feature is that the plugin is totally responsive and GDPR compliant.
Do you want your customers to sign the form? If yes, then surely use this plugin to have e-signs in your form.
---
Send quick emails, build creative forms, add calculation formulas to calculate the totals, or organize smart donations without any programming skills with just one effective plugin named Smart Forms. It has been developed by RedNao.
So, here are the features of the WordPress Smart Forms. It provides full responsiveness. By using the generated shortcodes you can transfer your form to the newly created post or another page.
Moreover, you can easily get all the responses in one place due to the "Forms Entry" option.
The plugin allows you to export the forms in PDF and CSV formats. In the payable Pro version, you will find an option to upload your files in one form, as well. And in the Pro version, you may also find a "Multiple Step Forms" option. This allows you to divide the form into different sections to make the form filling even more convenient.
Besides, you will get many tools to use in your form design. In addition to these features, you can find out a JavaScript editor.
---
Moving forward we want to introduce the next best WP Contact Form plugin. It is HappyForms. Especially, this plugin is for those who are going to create contact forms, increase the conversion rate, collect qualified leads, receive feedback and simply keep communication with the website visitors. Now with HappyForms you will get rid of the irritating spam messages. Moreover, you will get free support any time you need it.
HappyForms suggests you Gutenberg block editor and drag-n-drop options. You have an opportunity to preview your created contact form. Build not only one but many forms on the same page. You will meet completely responsive forms in your website that can be designed with the huge variety of design tools offered by the plugin. And the most important feature is HoneyPot spam prevention.
Besides, the WordPress HappyForms plugin suggests GDPR and 508 compliant contact forms.
Also, Happyforms integrates many tools and programs such as reCaptcha, AWeber, MailPoet, Google Analytics, Gmail, Slack, Shopify, Dropbox, Trello, Google Calendar, etc. Yet, to utilize some of these features you should activate the Pro version of the HappyForms plugin.
---
So the last contact form creator plugin that we want to present to you is weForms. It is one of the most convenient and user-friendly plugins for making each kind of contact form that you wish. You will mostly appreciate its simple minimalistic style and high speed.
The WordPress weForms plugin has more than 30.000 active installations. Create unlimited contact forms by editing pre-built templates and themes. Enjoy your best contact form creating an experience with the drag and drop option. Manage the contact form submissions.
WeForms protects you from unwanted spam due to its antispam and reCaptcha functions. The plugin integrates also Slack, Quiz, SMS Notification, Trello, PayPal and Stripe payment systems, MailChimp, Google Sheets and Analytics, etc. All these integrations are planned for different aims. One is for keeping further communication, the other one is for gathering the payments and so on.
Besides, weForms is fully responsive. And one more joyous fact for the SEO specialists is that the plugin is absolutely SEO-friendly.
You will be able to regulate both the access to your form and the schedule. So your contact form will disappear after the date expires.
So, you knew almost everything about the top 10 contact form maker plugins in WordPress. Now it is time to compare these plugins with one another. This is to reveal all the advantages and disadvantages. To show the differences more clearly, we are going to use a table form.
---

Contact Form Maker Plugins Compared
| Plugin | Active Installations | Rates | Pricing |
| --- | --- | --- | --- |
| Contact Form 7 | 5 million+ | 4.1/5 | Free |
| WP Forms | 4 million+ | 4.9/5 | $31.60-$239.60/year |
| Void Contact Form 7 Widget | 40.000 | 4.9/5 | Free |
| Forminator | 200.000+ | 4.8/5 | $60-$190/year |
| Formidable | 300.000+ | 4.7/5 | $39.50-$299.50/year |
| Form Maker by 10 Web | 90.000+ | 4.5/5 | $30-$60/6 months |
| Ninja Forms | 1 million+ | 4.4/5 | $49.50-$249.50/year |
| Everest Forms | 100.000+ | 4.9/5 | $49-$199/year |
| Smart Forms | 10.000+ | 4.5/5 | $39.99-$89.99/lifetime |
| Happy Forms | 40.000+ | 4.4/5 | $49-$249/year |
| weForms | 30.000+ | 4.6/5 | $49-$249/year |
Watch the video tutorial
If you like the article, do not hesitate to find us on Facebook and Twitter. For interesting WP tutorials, please subscribe to our YouTube channel.
Latest posts by Anahit V.
(see all)