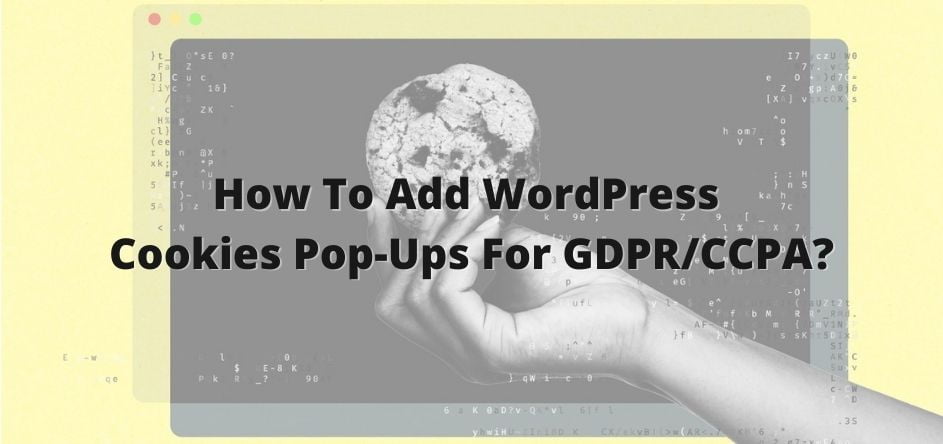 Sometimes when you enter a website you see an opening window informing you that the site is using the cookie files. In most cases, some people press accept just to move forward. These are the cookies pop-ups. They have so big a mission for users that you can not even imagine. Cookies popups are must-have elements on the website to inform the visitors that it is collecting their personal information. So, in this article, we will discuss the topic of cookies and adding WordPress Cookies Popups for GDPR/CCPA.
---
What are Cookies Pop-Ups?
Everyone probably encountered so-called "annoying" cookie pop-ups on the websites. According to the California Consumer Privacy Act, all websites must notify the visitor that they are gathering the visitor's personal information and what are they going to do with that data. Today almost all websites are using these pop-ups to inform the users about the actions with their data.
So, what are these cookie files initially? They are very small text files, that are stored on your PC by the websites. This is for your personal identification. But along with this reason, the cookie files help to keep you signed in on a website while you wander from 1 page to another, or, for example, keep you logged in when you add some items to shop from your cart.
Now tracking cookies have become very widespread. They are used by data collectors and online advertising networks to fix your actions on an online platform. This is for collecting consumers' or interested individuals' data to sell or advertise different products or services later.
The users have a right to know how their data is utilized. So, this is why you come across cookies pop-up almost on every website. Though you can not demand the site not collect your data, you can restrict them to sell it. Some sites even enable you to choose your cookie preferences. This is how you can ban some cookie types (marketing, functional, analytical, etc.).
---
GDPR (General Data Protection Regulation)
The EU GDPR stands for the regulation handled by the European Union. This is to control how the companies, website owners, and other structures utilize your personal information.
GDPR has good functionality on your website. So if your website visitors or even customers are from the European Union countries, then you need to have their consent before using their personal data. Moreover, you need to get their consent by describing why you need to utilize their data. And the description should be included within your website's Privacy Policy. In case the organizations are not compliant with this rule, then they will be fined over €20 million or pay 4% of the organization's annual profit.
---
CCPA (California Consumer Privacy Act)
The CCPA is a data protection act specialized for the State of California. It controls the processing of the State residents' personal information by worldwide businesses. Every case of violating this law can cause up to a $7500 penalty and $750 for each of the affected individuals.
If you have a website operating for California residents, then you ought to meet all the requirements. Before gathering the users' data you must inform them about its purposes. You are also obliged to provide a link that will have "Do not sell my personal information" instructions. The same should be included in your website's Privacy Policy and be updated annually.
---
Continuing to present the importance of cookies for websites we are moving forward to speak about the WordPress CookieYes plugin.
This plugin scores more than 1.000.000 active installations. Due to the efforts of translators, it is available in 38 languages. The plugin scores 5-stars on their WP official website.
You can install its Free version on the official WordPress.org site. Alternatively, you may find the plugin in the WordPress admin area. Besides the Free version, you may expand the plugin's features by activating the advanced Pro version.
---
How to Add WordPress Cookies Pop-ups with the CookieYes Plugin
To add a cookies pop-up on your WordPress website you need to follow these instructions:
After the plugin's installation and activation, you should move to the "Cookie list" page. After that you must complete these fields:
Name– you can enter the name in the Title section.
Description– here you can enter the most important things about the cookie, such as the reason why you use it, what data it gathers, etc.
Category.
Cookie-ID– this should be the same as the cookie name.
Type.
Duration– this determines how long you will display the cookie pop-up on the website.
Sensitivity– you need to choose whether the cookie is necessary or non-necessary.
After submitting all these fields you need to publish the created cookie and see the result on your website.
---
Main Features of CookieYes
The CookieYes WordPress plugin will help you to make your WordPress site GDPR and CCPA compliant. CookieYes provides many features. Here are some of them:
With this plugin, you will be able to create WP cookie notifications with "Accept" and "Reject" functions. First, the cookie value is "null" by default, then if you click to "Accept" or "Reject" then the value will change correspondingly to "Yes" or "No".
You are permitted to automatically scan and categorize the cookies.
The plugin enables you to transfer the cookies list to your cookie policy page via shortcode.
CookieYes add a cookie banner in the header or footer of your WP site so that you can show the visitors your GDPR compliance with the law updates.
By changing the notification's colors, styles, fonts, location, and behavior, you can totally customize it for your WP website style.
You are able to set the cookie notification to disappear after seconds.
Due to the "Cookie Audit Module", you can display the cookie types that your website uses. Moreover, you are able to include the information on your site's Privacy and Cookie Policy section.
With CookieYes you can have a "Do Not Sell My Personal Information" CCPA regulation in the cookie notification.
Besides CCPA and GDPR it helps in compliance of:

POPIA– Protection of Personal Information Act: (South Africa),
LGPD– Brazilian General Data Protection Law (Brazil),
CNIL– National Commission on Informatics and Liberty (France).
The plugin also integrates Twitter Feed, Smash Balloon Instagram Feed, and Facebook Pixel.
Another important feature is "qtranslate" and "Polylang support".
---
The WordPress CookieYes Plugin Utilizes the Following Cookies:
viewed_cookie_policy– this fixes if the user agrees or disagrees with the usage of cookie files.
cookielawinfo-checkbox-necessary and cookielawinfo-checkbox-non-necessary– work only with the above-mentioned primary cookie.
cookielawinforconsent– like the previous one it also works only with the primary cookie.
---
Advanced Templates for Cookies Notices (Pro)
If you like to change your cookies pop-ups design, then the plugin developers offer you to activate the Pro version. So the WebToffee team offers you these annual packages:
Single site– $69
Up to 5 sites– $199
Up to 25 sites– $399
By activating the Pro version, you can access a large variety of functions including different, eye-catching templates. The themes are presented separately not only for the banners but also for pop-ups and widgets.

Banner templates

Pop-up templates

Widget templates

By the way, you can fully customize the chosen templates by changing the text style, size, color, borders, etc.
Along with this important feature, the Pro version will give some more features, such as:
Automatic cookie scanner,
Javascript helper function,
GDPR compliance with Google Tag Manager,
Customized privacy overview,
User consent audit logs,
Advanced support for cache plugins,
Control over the cookie/script used by the site.
The list of advanced options is a bit larger including various other features.
So, if you want to get more advanced functions, you will definitely like the CookieYes plugin's Pro version. But in case you hesitate before upgrading to the Premium version, you need to know that CookieYes provides a 30-day money-back guarantee.
---
Other Plugins
Besides the reviewed plugin, we would like to present to you some of the best WordPress cookie plugins (pop-up creators), that are easily managed and full of important features.


This plugin, developed by Hu-manity.co has over 1 million active installations. Cookie Noice for GDPR provides only a Free version. And you can find the plugin's official page here.

---
The WordPress Termly GDPR/CCPA Cookie Consent Banner developed by Termly has more than 200.000 active installations. Termly offers Free and Pro versions. The price for the Pro package is $15 per month.

---
This plugin, developed by LuckyWP, has 4000+ active installations and ranks 4.7 out of "5-stars". Its developers offer only a Free version.

---
Moove Agency's plugin scores over 100.000 active installations and 4.5 out of a "5-star" rating. Currently, the developers suggest Free and Pro versions. There are 3 packages available:
Single- £49 (1 site),
Developer- £99 (up to 5 sites),
Agency- £199 (up to 25 sites).

---
The WordPress Complianz plugin, developed by Really Simple Plugins, has almost 200.000+ active installations, and its rating is 4.9 out of "5-stars". In addition to its Free version, the developers offer you to activate the plugin's Pro version. So, they provide these yearly plans:
Personal- $45 (for a singly website),
Professional- $165 (5 websites),
Agency- $355 (25 websites).

---
Summary
Summing up, you have already gained all the needed information about the cookies and WP plugins that can help you create cookies notices. In some countries, the cookies notices are even strictly required (such as EU countries, etc.). So you need to consider this fact on your websites, too.


If you like the article, do not hesitate to find us on Facebook and Twitter. For interesting WP tutorials, please subscribe to our YouTube channel.
Latest posts by Anahit V.
(see all)