Are you trying to build a website, but don't know anything about developing and programming? If you answered "yes" to that question, then welcome to the club. About 7.8 billion people also have no idea how to get around doing it. Fear not, however, because we're going to educate and motivate you and eliminate any threats that come your way! So, welcome to WordPress, the world's most popular content management system, which has a market share for about 40% of all websites and holds a 60% market share for content management systems. Here you don't have to be a WordPress developer to create an amazing WordPress website. You might be thinking "What is a WordPress developer" and here's the answer. A WordPress developer is a professional, a specialist in the field of WordPress. Now before we talk more numbers let's understand exactly what WordPress is and what it does.
---
What is WordPress?
What is the definition of WordPress? WordPress is a software system for basically anyone, no matter how proficient you are in the sphere. Ranging from blogs to websites, to portfolios, eCommerce stores, forums, resumes and so much more, WordPress offers accessibility, security, and ease of use. It provides an easy set-up that is not only for professionals in the field but for beginners making it simple to present and sell your products or services without getting stuck in a software maze.
WordPress is used by individuals, businesses, large companies, and basically, everyone. Some examples of companies that use WordPress for their official websites are Microsoft, The New Yorker, BBC America, MTV News and so much more including THE OFFICIAL WEBSITE OF THE WHITE HOUSE! Yes, that's a fact, check the link.
---
WordPress.com VS WordPress.org: Main Differences
Now that we know what WordPress is and what it does, it's time to understand the differences between WordPress.com and WordPress.org. As a beginner to WordPress you might not know which website to use, so here are the differences.
1. Who Functions as the Host?
First, let's define what a hosting website is and furthermore answer the question "What is WordPress hosting". Hosting is when you have the possibility to store files and other materials on the website. Web hosting makes it available to view the files on a website online. In order to function fully and properly websites refer to hosting services. There are different types of hosting (dedicated, shared, reseller, WordPress VPS), and depending on the type of host there are different amounts provided.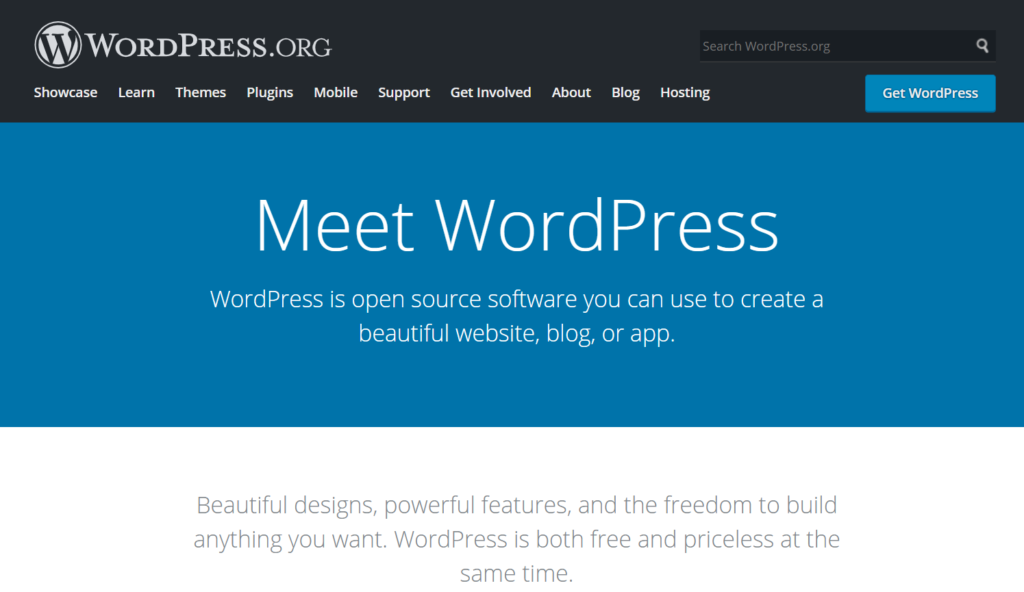 With WordPress.org you are your own host, which will give you more freedom to move around and make decisions on your website, but that comes with a price, and that's not paid in cash. If you commit to hosting yourself, you'll have a lot more on your plate, but often people prefer to do everything manually, so this is a minor problem.
$4.99/month
1.25s- loading time
5/5- rating
2. HostNoc
$3.74/month
1.25s- loading time
5/5- rating
3. Bluehost
$2.75 / month
1.25s- loading time
4/5- rating
4. WP Engine
$20 / month
1.18s- loading time
4/5-rating
5. Flywheel
$13.00 / month
1.68s- loading time
4/5- rating
6. Kinsta
$25.00 / month
1.27s
4/5- rating
7. DreamHost
$2.59 / month
1.23s- loading time
3/5- rating
$2.49 / month
1.0s- loading time
3/5- rating
9. A2 Hosting
$2.99 / month
2.14s- loading time
3/5- rating
10. Hostinger
$1.99 / month
1.12s- loading time
3/5- rating
11. HostGator
$2.75 / month
1.18s- loading time
3/5- rating
---
2. Cost Differences
Now you might be wondering "Is WordPress free?" and the answer is yes and no. Although setting up your website through WordPress.com is free, there are some disadvantages:
Website registration as a sub-domain
3GB worth of storage
Getting stuck with ads
Default themes and plugins
No option for monetizing
However, if you want to use your site for commercial purposes you have to pay a monthly fee of $8 for the website plan along with the custom domain name fee (the name of your website in a www.yourname.com) which is about $15 a year. The fee rounds up to a minimum of about $111 annually to maintain a site on WordPress.com.
When it comes to WordPress.org, you can launch a fully functional website for $35 for the first month and $50 yearly afterward. All you have to do is pick a host (choose an option from the list above for optimum quality).
---
3. How to Make the Choice?
If you're tech-savvy, enjoy the process, and have an eye for detail, you should definitely go for WordPress.org. You'll have many things to learn, but pair that learning with creating the perfect website for yourself making use of all the options and features and you'll have a blast!
Choose WordPress.com if you don't want to deal with customization and set-ups, leaving all the heavy-duty work to your preferred host. If you want things easy but you also want to have a say in customization then choose a pricier plan and gather all the benefits.
---
How to Install WordPress?
If you're new to installations and downloads, let me just ease your strain by saying that the installation process for WordPress is quite simple and easy. To make it even better, here's a breakdown of all the necessary steps to download and install the application. Download and unzip the WordPress package

To download the package, please visit the following websites:
Here are some photos to further illustrate the process.
On the website, you'll see a button with "Download WordPress" written on it (refer to the image below) once you press it the download will begin.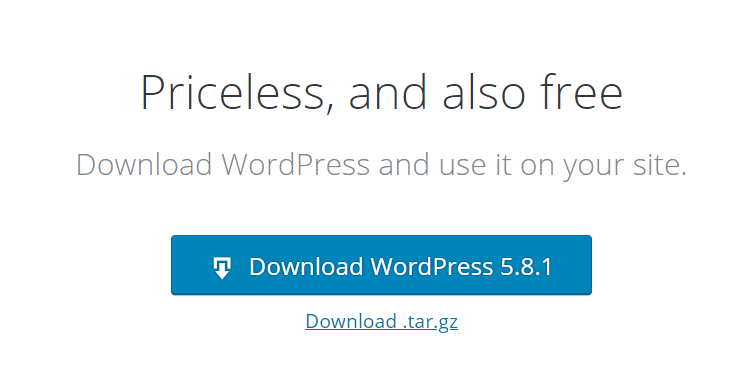 After you press download this will appear on your screen.
Only a few seconds later you'll see the window allowing you to save the application on your desktop. Press save and proceed to unzip the file as follows.
All you need to do here is click on the right side of your mouse and extract the zip file as follows (press extract all).
After your files have been extracted successfully it's time to set everything up. In order to do this, you should press on the file below named "Read me" with all the necessary further instructions.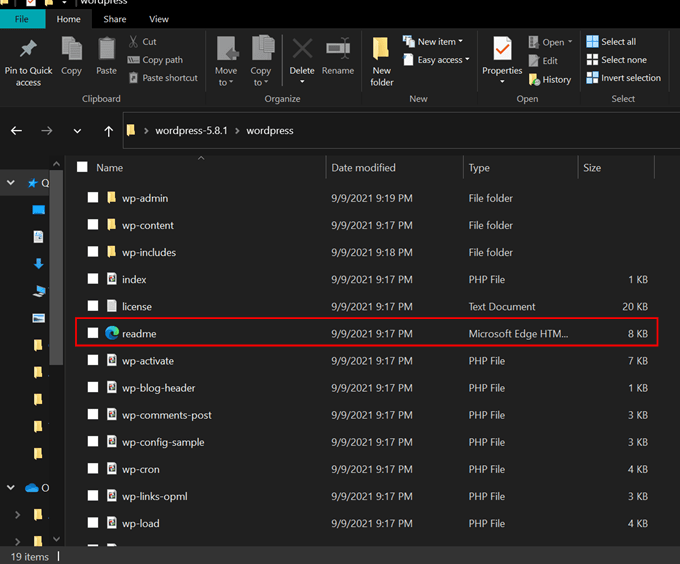 Once you press "Read Me" you will be redirected to the following page.
---
How to Set Up Your Account?
After you've downloaded and installed WordPress there are some steps you need to take. Here are the mentioned steps you should follow:
Set up your domain.
Choose a host (information about hosting is written above).
Select a theme.
Get plugins.
---
Setting up Your Domain
First, let's understand what a domain is. A domain is a part of the URL that represents your website. Below is an example of the URL for WordPress.com with all its necessary parts.
Here are a few recommendations to take into consideration before you choose and buy a domain name.
1. Your Domain Name Represents Your Brand
This being said you have to make sure that it (the SLD- second-level domain, which contains the actual name of the website) represents what your products or services are about as well as being clear. When it comes to clarity and simplicity, you might have a tough time as easy and simple names are usually taken.
2. Make Sure Your Website Has No Direct Domain Competitors
This means that you should try to choose a name that isn't as famous as having multiple different websites with the variation of TLD's (a TLD- Top Level Domain is the part of your domain containing the last bit starting from the dot (.com) like .com (all commercial purposes), .gov (US government), .org (organizations), .edu (educational institutions), etc. Out of all the possible TLD's .com is possibly the best choice as it's credible and well-known (people automatically assume your brand's name and .com will be your official website).
3. Keep Your Domain Name Short
The longer your name is the more the possibilities are for confusion, typos, and decreased traffic. A good amount of characters in your domain is about 15 of them. As important as keywords are (when using keywords you will be helping with SEO as well as working toward getting a higher Google ranking), you should stick to a small amount of them keeping the focus on the main characteristics of your service or product. Along with keeping it short, you should also stick to simple, easily pronounced, and spelled names. No matter how unique and creative your name is, if it's unclear how you spell or pronounce it, you're not going to get much traffic.
4. Avoid Hyphens
When using hyphens you increase the possibility of people going on error websites. Domains containing hyphens are also difficult to find, so if the only reason you're thinking of using a hyphen is that your desired name is already taken, it's better to just add another word or change it a bit. The last thing you need is your potential customers being sucked in by your competitor. Another well-known fact is that hyphens are usually used in spam domains, so avoid these at all costs.
5. Don't Use Double Letters
The more the letters in your domain name are repeated, the higher the chance that people will get lost due to typos. A website like stresssources.com will definitely stress a lot of people out with the number of "s" -s. As a result, it's better to use a variation of letters, but also to avoid borrowings that are hard to spell, like those adopted from the French language.
6. Use Domain Name Generator
If you're having a hard time coming up with a name you like you can turn to the help of domain generators like the following:
Using these generators will not only ease the creative process but will also bring up names that are not operating yet. In short, you'll kill two birds with one stone.
---
Selecting a Theme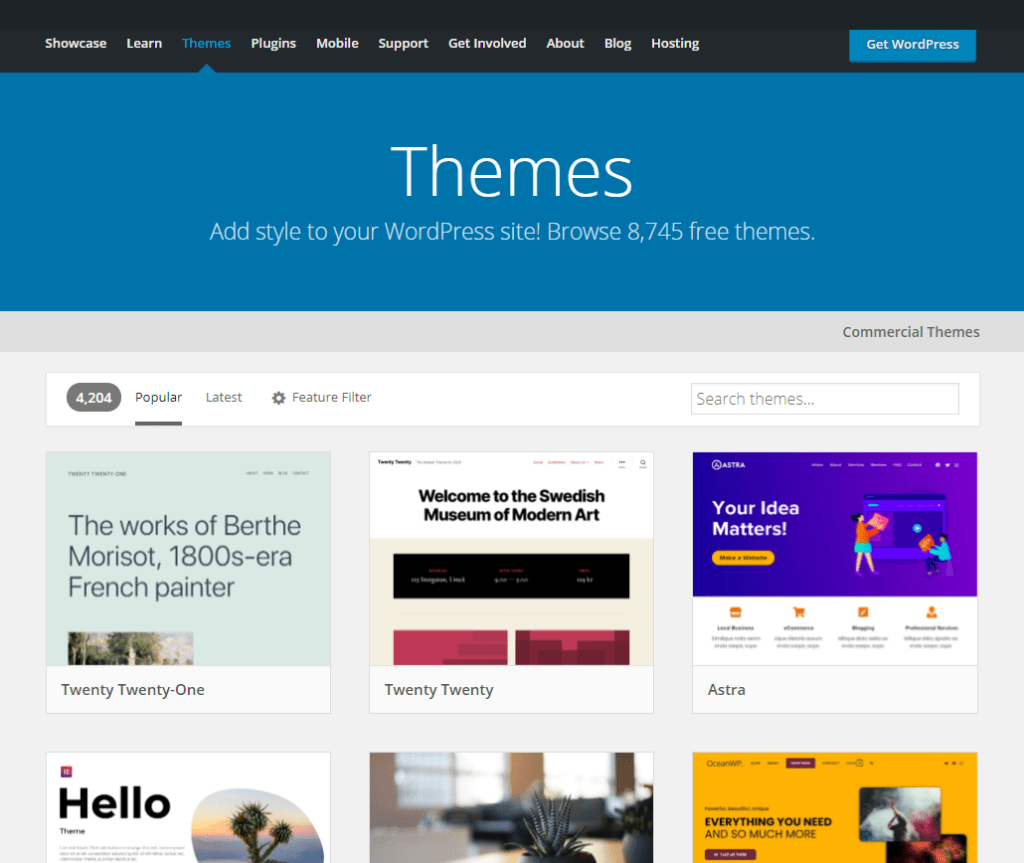 As easy as it sounds at first, the selection of the theme of your website is one of the most difficult things. You have to take many things into consideration when choosing your WordPress website design, as visuals are everything in our days.
The first thing you have to figure out is what kind of website you want and what you'll be using on it (pictures, videos, articles, etc). After you figure this out you can look through the appropriate themes for your requirements. If you're website mainly revolves around content, then all you need is a minimal theme, but for more complicated websites you might want to dig deeper.
As was mentioned you have to know your budget. Can you afford to buy a theme? Do you want to spend money on it? If you don't then you can just use the free themes for WordPress, but if you want to spice things up there is a variety of different paid themes to choose from. However, if you're not sure, here's a guide to figure out if you need a free or paid theme.
---
Do's and Don't's When Choosing WordPress Themes
DO! Think about all the features you want in advance
Once you open up the themes section on your WordPress account you'll see the "Feature Filter" button. There's a variety of features, layouts, and subjects by default that you can choose from. You only need to filter the necessary ones out and choose from the provided list.
DON'T! Choose a theme with a difficult-to-read font
You have to make sure that your visitors have an easy and fun time on your page and do not struggle to understand what's being said on the page.
Make sure that your website doesn't have anything like the above-mentioned text. In this case, simple is the answer. As important as design is, clarity and simplicity are key to attracting and keeping viewers or customers.
DO! Test the theme thoroughly
Before you actually commit to buying or choosing your theme make sure to test it to make sure that it's exactly what you want. Once you're done testing all the features, review it- go over your content, the visuals of the desktop and mobile versions, the images, and so forth.
If you do decide to proceed with buying a theme, here are some of the best websites to make the purchase.
---
Getting Plugins
Before we get into what kinds of WordPress plugins you'll need and how to download them, let's understand what plugins are. Plugins are additional facilities you can add to broaden your possibilities and ease your work on WordPress. You can think of these as mobile apps, which enhance the basic functions provided by the default service.
---
How to Install Plugins
You already know what plugins are, so it's time to learn how to install and activate them. The process itself is quite simple, all you need to know is which plugins to install, which will be spoken about shortly.
Step 1
Open up your account, go to your Dashboard, and from the left side of your screen find the "Plugins" button (refer to the picture below).
Step 2
After you've opened Plugins, you're going to press "Add New" after which you can either choose from the given options or you can search up any other plugin you need.
Step 3
Install and activate your desired plugin and get started.
ALL DONE!
---
Now let's take a look at some of the most famous and widely used plugins on WordPress.
Along with improving your WordPress SEO, Yoast SEO offers analysis on the readability of your website. Some key features include optimizing your posts and pages with keywords and meta descriptions, showing you how well your content optimizes, offering improvements and simple tips. If all of this wasn't enough to get you onboard, Yoast SEO is absolutely FREE, but if you want additional features you can get the premium version.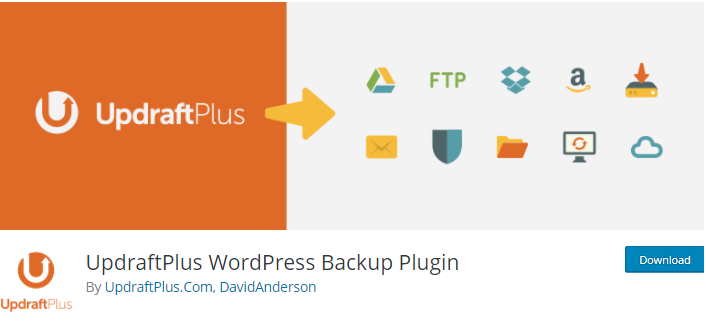 With hacking as a huge problem nowadays, and with WordPress being so widespread thereby making it a target, you need UpDraftPlus to save the day. UpDraftPlus will provide automatic and manual backups, store your backups (either locally or on the cloud), and restore your website to a previous state. UpDraftPlus is free, with the option of upgrading to a premium version.
When dealing with images, there's always the problem of your storage running out, which means that there's a solution and that is Optimole. With Optimole, every image uploaded is optimized, taking less space. Besides that Optimole automatically compresses your images, optimizes JPEG and PNG images, resizes them, supports Retina and WebP images, uses global CDN, and is compatible with modern page builders.
Find more useful Plugins (some more recommendations are Gutenberg, BuddyPress, Jetpack, WordPress logs like WP Activity Log, WordPress Elementor, and more)!
---
CONCLUSION
Now that you know everything you need and more about WordPress (what it is, what kinds there are, hosting, themes, plug-ins, installation, etc.) all that's left for you to do is follow the steps and let us set your WordPress foundation and way into the industry that will feel like your home in a blink of an eye. If you have any further questions, tutorial requests or want more information on anything, please leave them in the comments below, and don't forget to subscribe to our WordPress blog to see the newest posts fresh out the IT oven. Stay tuned and join our YouTube channel for WordPress tutorials.
READY! GET SET! START YOUR JOURNEY WITH WORDPRESS RIGHT NOW!
Liked our article? Then follow us on Facebook and Twitter. Do not forget to check our new tutorials on YouTube Channel.