Your website may be accessed from all the corners of the Globe. Therefore, it can be more interesting and worthy if you implement multiple languages on your website. By doing this you can even increase the conversion rate on your site. So, we are here to discuss and compare the 8 best translation plugins in WordPress.
---
The reasons to translate your WordPress site
As you may know, the majority of websites are in English. And also the majority of users speak English. Yet, the amount of non-English speakers increases day by day. Therefore, there are some reasons why you should present your website in multiple languages.
So, one of the reasons is that it can expand your website audience. English is considered the second language for many people. Some of them do not speak English at all. And in this case, you lose a huge amount of users to enter your website. Besides, they will most likely appreciate finding the whole info in their mother tongue. In addition to these reasons, the translation will make your site more accessible that is a quite big advantage.
And, of course, the availability of multiple languages can boost your site's SEO rank as your online visitors' amount increases very rapidly.
So it is time to present the top best Translation plugins in WordPress. This comparison will help you to choose the most beneficial one for you.
---
If there is one truly convenient way to translate your website, it must be through ConveyThis!
Successfully re-launched in 2018, an award-winning ConveyThis team has brought the process of translating a website to a new level. It is the most translated language plugin in the WordPress directory (over 38 language contributions) and is growing fast. ConveyThis makes it very simple to integrate into the WP website and activate as many as 100+ languages.
So, while you'll configure some basic settings from your WordPress dashboard, your actual translations reside on ConveyThis' servers, and you'll manage your translations from the ConveyThis web dashboard rather than your WordPress site.
So, what are the benefits of that approach?
Well, the big one is convenience. As soon as you activate the plugin and choose your languages, ConveyThis uses automatic machine translation to translate your entire site and adds a language switcher button. So within the first couple of minutes, you'll already have a working, SEO-friendly multilingual site.
Then, if you want to manually manage those translations, you can go to the ConveyThis dashboard, where you get two different interfaces:
Text Editor — you see a side-by-side list of the original text and the translated version.
Visual Editor — you see a live preview of your site. To translate any text on your site, you just click on it.
Or, you can also outsource your translations to professional translation services right from the ConveyThis dashboard.
To ensure translation consistency, ConveyThis comes with a powerful GLOSSARY function. It can ensure that certain words or phrases are translated in only one way and not the other. Consider something like ADIDAS. Do you want that brand name become ABIBAS in the Brazilian Portuguese language? We doubt that!
Finally, all of your content is SEO-friendly: HREFLANG tags and sitemap.xml integrations. It even includes integration for RankMath SEO to help you to translate your SEO titles and descriptions.
The only potential downside with ConveyThis is price. While ConveyThis does have a limited free plan that lets you translate up to 2,500 words into one language, the paid plans use SaaS-style billing, which means you'll need to continue to pay for as long as you want to use the service.
Paid plans start at €4 a month for one language and up to 10,000 words.
---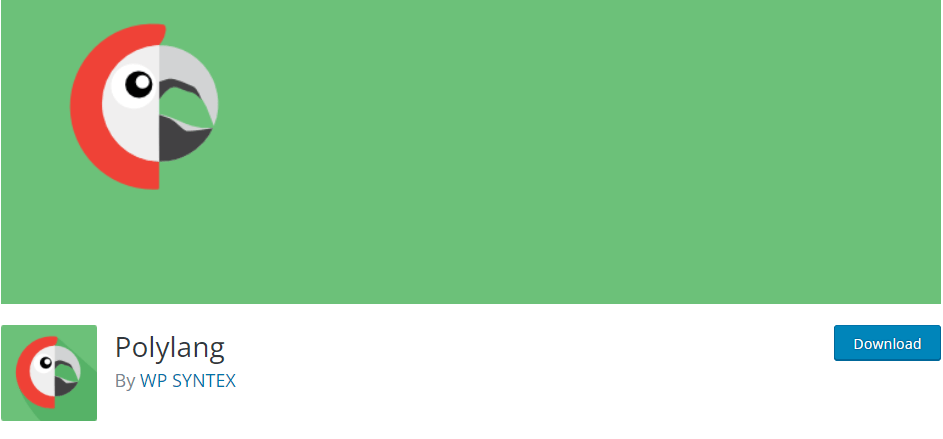 So our second plugin is Polylang. It has 600.000+ active installations and scores a 4.7 out of 5- star rating. It enables you to create not only bilingual but also multilingual websites.
One of the most important advantages of this plugin is that you just need to create posts, categories, pages, etc. as you have done it before. And after that choose a language for each of them separately.
Here you may see the key features of this all-in-one plugin:
Right-to-left languages scripts. You can use as many languages as you wish.
You can download the language packages easily.
Translate unlimited posts, pages, media, post tags, categories, menus, widgets, and everything possible.
Custom taxonomies, post types.
Sticky posts
Post formats
RSS feed
Default WordPress sidebars
The language switcher is provided as a sidebar or in the navigation menu.
In addition to the mentioned options, the plugin also accepts Lingotek Translation as an addon.
The plugin's developer WP SYNTEX offers you also the Premium packages:
Business Pack- €139
Polylang for Woocommerce- € 99
Polylang Pro- €99
---
Meet the WordPress TranslatePress plugin. It has about 200.000 active installations and a 4.7/5-star rating.
With its assistance, you can translate your WP site directly from the front-end by utilizing a visual translation interface.
You can get familiar with the plugin key functions here:
Full compatibility
Preview opportunity
Image, Sliders, and media files translation support
Manual and automatic translations
Dynamic Strings translation
Google Translate integration
HTML blocks translation
Shortcode usage for pasting the codes where you want (shortcode: [language-switcher])
Control over the editing process
Shortcodes for conditional display content
Gutenberg support
Woocommerce compatibility
Free website translation sidebar
It is important to note that the plugin utilizes Google Translation API. One more advantage is that it enables you to use various translation add-ons, such as:
SEO pack
Extra languages
Automatic User language detection
DeepL Automatic Translation, etc.
Here you may see the additional yearly Pro packages offered by the plugin Developers:
Developer- €199
Business- €139
Personal- €79
---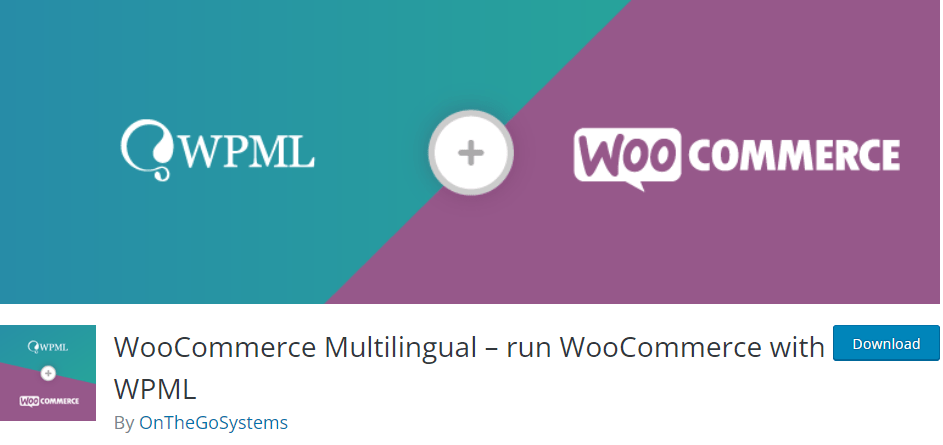 The WordPress WooCommerce Multilingual plugin has over 100.000 active installations and a 4/5-star rating.
With this plugin, you will have an opportunity to run a multilingual e-commerce site. This can be managed by using WooCommerce and WPML.
Here you may encounter the plugin's key functions:
All the products descriptions translation
Products, categories, tags, widgets, etc. easy translation
Multilingual E-mails to the customers
Enabling Woocommerce store to have multiple currencies based on the client's language and location.
Different payment systems selection based on the location
Compatibility with WooCommerce Bookings, Table rate shipping, Tab manager, Subscriptions, Product Add-ons
The product's developers- On The Go Systems offer you the plugin's Pro version with these packages available:
Blog- $39
CMS- $99
Agency- $199
---
The WordPress Google Language Translator plugin has more than 100.000 active installations and a 4.7 out of 5-star rating. It is a product belonging to the GTranslate family.
Here are the main features of the plugin:
Google automatic machine translation
Function to hide "Suggest better translation" pop-up and Google top frame
Google Analytics integration
Translate the menus, site on the fly, widgets, posts and pages, categories, tags, themes, plugins
RTL and Floating language support
Language widget with flags
WooCommerce shop translation
Yet, if you want to access the features like multilingual SEO or Yoast SEO compatibility, increase the website traffic, get Adsense revenue, etc. you have to activate the Pro version. Here are the Premium packages:
Custom- $7.99 per month
Startup- $17.99 per month
Business- $27.99 per month
Enterprise- $37.99 per month
---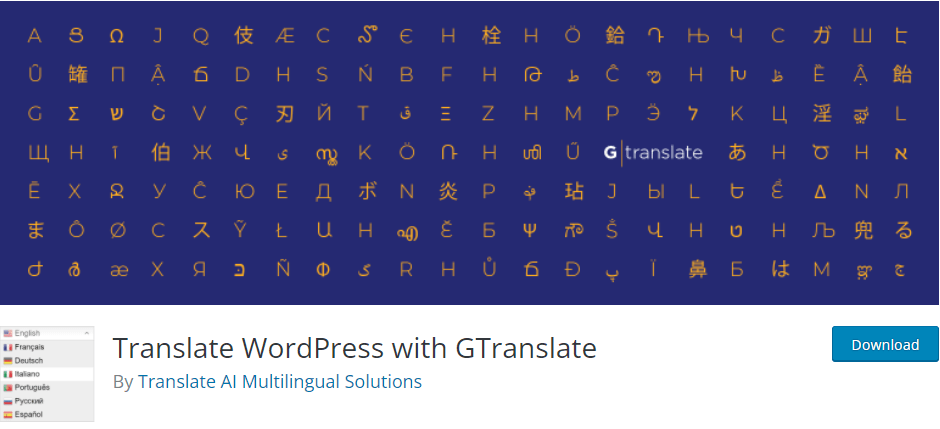 Here is the next Translate WordPress with Gtranslate plugin. It has approximately 300.000 active installations and a 4.9/5-star rating.
In this plugin, you will find 103 languages available. So your website will be available to about 99% of the Internet users. Besides its many functionalities, the plugin's payable version provides SEO compatibility to increase your website traffic and accordingly the sales.
Here you may meet the plugin's main features:
Google automatic machine translation
Hiding "Suggest better translation" popup and Google tope frame
GA integration
Translate posts, pages, categories, tags, website on the fly, menus and sidebars, themes plugins
RTL support
Many styles are available, such as Dropdown, flags with dropdowns or separate, flags with language names, etc.
WooCommerce store translation
Live chat with dedicated support specialists, etc.
These are some of the main options that the plugin provides you. But besides these mentioned points, it offers you a payable version. So, here you may get familiar with all the suggested plans:
Custom- $7.99 monthly
Startup- $17.99 monthly
Business- $27.99 monthly
Enterprise- $37.99 monthly
---
The WordPress Loco Translate plugin enables you to edit the WP translation directly in the browser. The plugin has over 1.000.000 active installations and scores a 4.9/5-star rating. It integrates your site with translation automatic services.
There is a good option special for developers. The plugin provides Gettext/localization tools.
The most valuable features of the plugin are mentioned below:
The WordPress admin builtin translation editor
Integration with translation API (DeepL, Google, Yandex, Microsoft)
Updating the language files within the themes or plugins
PO features support (comments, forms, references)
Configurable PO file backups, etc.
Moreover, this list includes many more other features. Yet, if you want to gain additional functionalities, then you can purchase the plugin's Pro version. Here are the available plans:
Pro- $5.95 per month
Business- $19.95 per month
Agency- $29.95 per month
---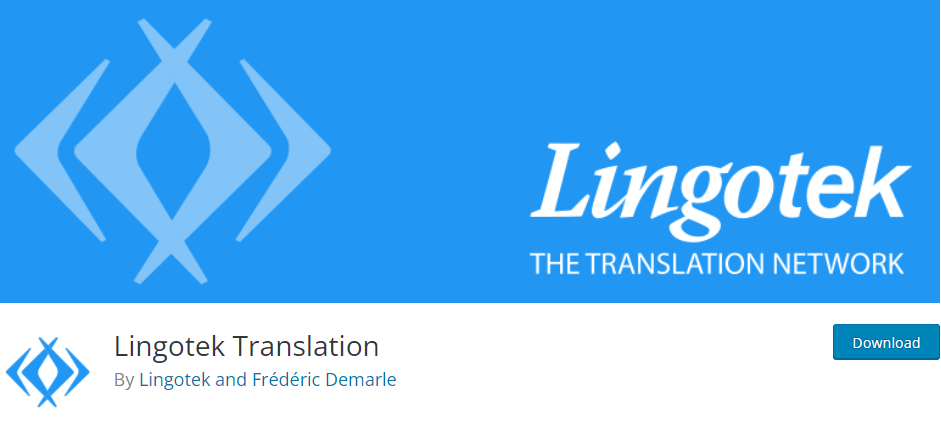 And our last WordPress Lingotek Translation plugin has more than 30.000 active installations. It offers a convenient way of use including cloud-based localization and WP site translation by creating a multilingual platform for users from all over the world.
The process includes not only mechanical automatic translations but also professional and manual ones.
Here are the translation details:
Automatic– This variant is very convenient for those who do not have enough budget to get one of the other ways. It gives an instant result.
Professional– Due to the plugin's this feature you are able to use your translation team. This enables you to find a qualified translator from Lingotek's marketplace, too.
Community– This method will save your money in the case of low-budget availability. You can translate yourself or assign your employees and partners to translate directly within WordPress.
So, with this plugin, you will save your money, get high-quality and fast translations.
Along with the mentioned features, you will find these functions very helpful:
Unlimited language selection
RTL language support
Translation of the Post, Pages, Widgets, Categories, Tags, etc
Custom taxonomies and post types
Customizable language sidebar
High level of Privacy
---
And now, let us see the plugins compared with one another. The comparison table will help you to select one of them more easily.
| | | | |
| --- | --- | --- | --- |
| Plugin | Active installation | Rating | Pricing |
| ConveyThis | 2000+ | 4.6/5 | €4 |
| Polylang | 600.000+ | 4.7/5 | €99- €139 |
| Translate Press | 200.000+ | 4.7/5 | €79- €199 |
| WPML | 100.000+ | 4/5 | $39- $99 |
| Google Language Translator | 100.000+ | 4.7/5 | $7.99- $37.99 |
| Gtranslate | 300.000 | 4.9/5 | $7.99- $37.99 |
| Loco Translate | 1.000.000+ | 4.9/5 | $5.95- $29.95 |
| Lingotek Translation | 30.000+ | 2.9/5 | Free |
---
Summary
Summing up, you have already understood that having a multilingual website will ease your work with international visitors. This will boost your website SEO rank to reach the highest traffic. We have revealed some helpful plugins for the translation. And now it is your turn to choose one of them and enjoy having a multilingual website with all its benefits.
If you like the article, do not hesitate to find us on Facebook and Twitter. For interesting WP tutorials, please subscribe to our YouTube channel.
Latest posts by Anahit V.
(see all)