MailChimp is one of the most popular email marketing tools; replacing it can be tough due to a lack of time and information. Even though it offers enough functionality and performs just fine, the pricing can be slightly expensive for new businesses and websites. However, this is not a quandary anymore; in this "Top 5 Best Alternatives That Will Replace Mailchimp 100%" article, you will be able to find out about the most potent MailChimp alternatives with more affordable prices.
And as far as we started to talk about the "Top best" do not forget to check out our "Top 5 Amazing Typeform Alternative Plugins for WordPress" article.
If you are ready, let's start.
---

Why Email Marketing is Important?
Before we start our article, let's, first of all, understand why you would need email marketing services and email marketing in general. So what is email marketing? Basically, email marketing is the process of sending commercial messages to your contacts (email list) through email. Whether it is your loyal customer who needs to be informed on new products, deals, or discounts or a new/potential customer who can contribute to higher profits, email marketing is something you will need to use. Down below, I presented the list of a few primary benefits of using email marketing:
Easy to measure data and results
Budget-friendly
Personalization and Customization options
It can help you to turn potential customers into real customers
And now, you can take a look at the list of main steps that will help you get started. So How to Start Email Marketing? – The List
Set your Goals
Identify your target customer
Get to know your audience to understand how to meet their needs
Select an email marketing service
Collect leads to build an email list
Build an email list
Build email marketing strategies
Start
Well, this was the introduction to email marketing so that beginners will get a better idea of it; now we can start with the article, first of all, reviewing Mailchimp and then its best alternatives.
You can read more about Email Marketing here.

---
---

Mailchimp is a marketing automation platform and email marketing service. Many businesses, website owners, and marketing companies create campaigns, send emails to email lists, and automate every possible time-consuming process to save time and money.
So what is Mailchimp used for and what are its features?
Customization good Designs
Reports
MailChimp editor
Integrations
Mobile friendly
Responsiveness
Segmentation and Groups
Multi-User Accounts
Time-zone delivery
Ready-to-use email marketing templates
Pros and Cons of Mailchimp
As with everything, even the best service has some pros and cons, and here they are:
Pros
Intuitive design user interface – very short learning curve, especially Lead forms and Landing Pages
It easily integrates with most other major digital tools.
Its drag and drop feature makes email editing very easy
This platform stores multiple lists of contacts in one tab
Cons
List Segmentation has a long learning curve and confusing interface
Not many campaign options
Doesn't distribute emails to multiple lists at the same time
Expensive paid plans


---

Top 5 Best Alternatives that will replace Mailchimp 100%
Finally, we can start reviewing the best alternatives to Mailchimp. As you could've seen above Mailchimp is an impressive tool with a good user interface and useful features, however, this does not mean that there are no Mailchimp cheaper alternatives out there. You can review them down below.
---
---

ActiveCampaign is an online platform that allows you to automate your marketing in a few simple steps. This is one of the most famous email marketing tools that offers plenty of features in its plans.
So main features are:
Marketing Suite: Marketing automation, Email Marketing, Landing pages, Unlimited Email sending, Drag & Drop email builder, 125+ Templates, Newsletters, Subscription forms, Segmentation, Site, and Event Tracking, Campaign, and Automation Reporting, Product Blocks, Contact Scoring
Sales Suite: Ecommerce Sales Automation, Import Existing Customer List, Advanced Segmentation, Custom Order Management, Mobile CRM App
Service Suite: Customer Analytics, Chat Email and Facebook Messenger Service Channels, Automated Chatbot Workflows, Unified Inbox, Reporting, and Chat Transcripts
Platform and Support: 1 user, chat and email support, 500+ Automation Recipes, 870+ integrations, Unlimited Inactive Contacts
Pros and Cons
The features it offers are endless and unique. However, it still has some pros and cons, and let's take a look at those.
Pros
Easy to Use
Good value for the money
Lots of templates
Email Automation
Customer Service 24/7
Cons
Reporting can be difficult to navigate
---
---

GetResponse is a simple yet powerful tool for email marketing. It will assist you in getting your business online, growing your audience, engaging with customers, and boosting online sales.
So main features are:
Email Marketing: list building, segmentation
Marketing Automation
Website Builder
Paid Ads
Sales Funnels
Popup forms
Autoresponders
Website tracking
Live and on-demand webinars
Dedicated support
All the features listed above will help you automate lots of marketing processes and save some time investing in something else.
Pros and Cons
Features are quite useful, but what about the simple pros and cons that come with them? Down below, you can see the list of those.
Pros
Interface is user-friendly
Original templates
Detailed reports
Statistics System is highly Accurate
Cons
Not that many products it integrates with
So what do you think about the "Top 5 Best Alternatives That Will Replace Mailchimp 100%" article so far?
---
---

It is the fastest path from email marketing to business growth as it promises. And we could not disagree with that statement, because we were quite impressed by this tool and finding out its main features alongside pros and cons.
So main features are:
Drag & Drop Email Editor: Makes editing process unbelievably easy
Data Analytics
A/B testing: simple but potent feature
List Segmentation
Marketing Automation: email automation templates, website, and user tracking, advanced reporting
Landing pages: ready-to-use templates, separate mobile editor
Email Personalization: Product recommendations
Subscription forms: GDPR Compliance, bot protection, visibility
Pros and Cons
Finally, we can review the most exciting part of this tool, its pros, and its cons listed below.
Pros
Real-time analytics
Campaign scheduling
Cons
1000+ subscribers require Pro plan upgrade
The free plan has a limited customer support
---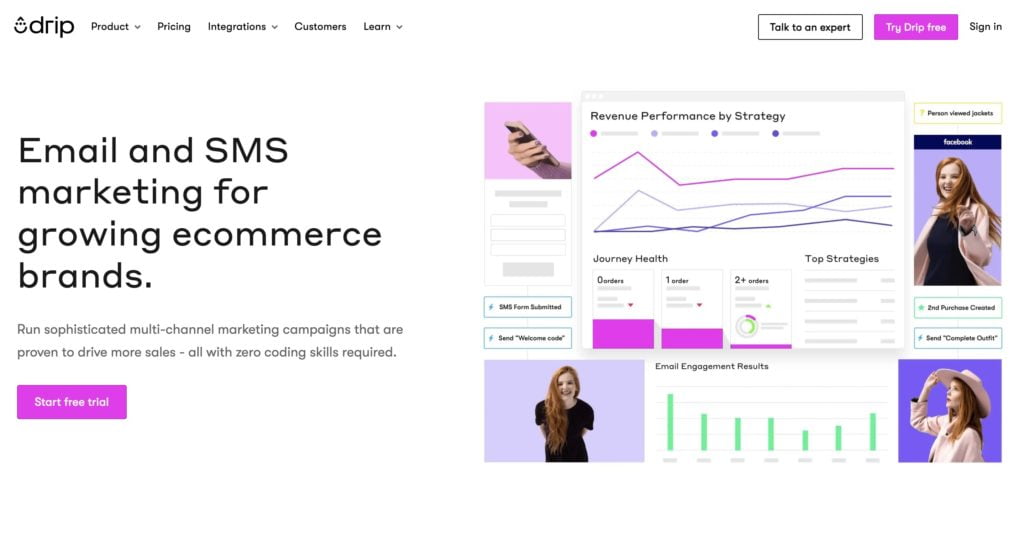 ---

Drip is a cloud-based platform that will assist you in automating the marketing processes of your business easily. Also, it will help you to expand your business and boost sales. Moreover, it offers many features for Automation; down below, you can see those.
So main features are:
Integrations
Split testing
Reports
Drip Campaigns
Performance tracking
Email address capture
Facebook Ads
Lead scoring
Process Automation
Pros and Cons
Although the features it offers are quite useful, it still has some pros and cons, and now let's take a look at those.
Pros
Visual: Drip is a visual workflow builder. Therefore it offers an amazing user interface and makes the creation process easy and enjoyable.
Powerful Automation: those help you to save time and still get quality results
Cons
Expensive Pricing, therefore not everyone can afford it
---
---

Finally, we got to the end! And right now, let's take a look at another quite powerful alongside popular tool with many positive reviews such as Constant Contact. This tool aims to make everything easy for you, especially Email Marketing. Moreover, this tool can easily replace Mailchimp with its features.
So main features are:
Contact list management
Email Automation: this feature helps you to keep your audience engaged, notify them and, of course gain a new audience alongside boosting sales
Drag & Drop editor: This editor makes everything easier because if you are not tech-savvy, it is still easy to use, practically no custom HTML is required
Pros and Cons
As with every potent tool, this one has a few benefits and drawbacks, which we will review down below.
Pros
Mass email
CRM utilization
Testing
Drag and drop interface
Offers one-month free trial
Can handle a large number of contacts
Cons
User-Interface is not the best one, it could be simpler
Customer Support
---

Summary
In this "Top 5 Best Alternatives That Will Replace Mailchimp 100%" article, we reviewed nearly every alternative that can truly replace Mailchimp. I hope you found it useful; the final choice is, of course, yours. No matter what you choose at the end, just make sure to be familiar with functionality and features as much as possible before the purchase. So that you can fully enjoy the product you get for your website.

---

If you liked this article, do not hesitate to write any comments/feedback or questions down below in the comments section. Furthermore, you can share this article with your friends or colleagues who may be interested in this topic.
If you liked the article do not forget to check out our YouTube channel with tons of WordPress tutorials! And you can find us on Facebook & Twitter, where we post interesting updates about upcoming events.



Must-Read Articles
Here are some articles you should definitely check out!