Typeform is an amazing tool for form creation, marketing, and business management, however, there are many small and medium enterprises that cannot afford such an expensive tool, and do not even need that advanced functionality. We prepared an article "Best Typeform Alternatives in WordPress" where we will review the most powerful alternatives at reasonable prices along with astonishing functionality. If you are ready, let's start.
---
Let's start from scratch, as we already mentioned above I think you got an idea of what Typeform could be, however, let me explain it in a bit more detail. Basically, Typeform is one of the most potent software that operates as a service company and specializes in online survey/form building.
It is used by major companies such as Apple, Uber, etc. Moreover, the functionality it offers is truly impressive. But in reality not all companies even major ones need many of those features. In the "The Best Typeform Alternatives in WordPress" article, you will be able to see plugins for WordPress practically as powerful as Typeform, most of which are also free.
---

Criterias of Best Online Form Builders
First of all, we have to understand based on which criteria the best online form builders are selected and which criteria you should choose the winner one which you will purchase later on if the functionality is sufficient for your website's specific needs. Undoubtedly one of those will be "The One" that you need.
Criteria
Price: It is not the most important criterion; however, it still highly affects your decision to purchase a particular product. So I strongly recommend you to look for something that offers enough functionality at an affordable price, especially as a beginner
User Interface: One of the most significant factors affecting decisions can be UI; why? Because you should use plugins to save your time, not double it. Therefore, plugins with easy, user-friendly, and intuitive interfaces that do not require a long learning curve are certainly gaining an advantage over those with the complete opposite
Money-Back guarantee: Huge chance that you will love the plugin you will decide to go with after this article, however maybe you will realize you do not really need it, or the pro version is not worth it, so it will be good to purchase something that gives you a money-back guarantee.
Integrations: Vital feature is that the form builder plugin you use can be connected to your email list because that is what you need for good marketing.
Customization: Before installation or purchase, pay close attention to customization options.
---
The Best Typeform Alternatives in WordPress
Taking into consideration all of the factors above, after some research and surveys we have conducted we came up with the list of "Customers Favorites", plugins that mostly provide the best user experience, and here they are.
---
---

A pretty popular plugin among WP users is WPForms. This plugin has astonishing numbers, such as 5 mln+ active installations; it is tested up to 5.8.2 WordPress's latest version, available in 25 languages, has 24/7 support, and 4.9 out of 5-star ratings. Everything sounds (looks) very good and compelling, but how did they get these results? Is it worth it, and is this the right plugin for you? We will answer these questions by taking a look at the main features of WPForms.
Main Features
Pre-built & Ready-to-use Form templates: saves your time and gives you more than enough 300+ ready-to-go form templates to choose from
Responsive to all screen sizes: access and create forms from any device, anytime you need
High-quality performance & good speed: it is well front-end and back-end optimized to ensure that users can enjoy good speed
Every possible feature Form Plugin could offer templates, online surveys, and polls, add-ons, memberships, RSVP forms, payment/donation/booking forms, etc.
Campaign Monitor Forms: an ideal tool to grow your email list
Major Benefits
Easy to use due to user-friendly interface
It saves your time due to offering lots of pre-designed form templates, drag and drop features, file uploads, etc.
Powerful tool packed in simplicity
---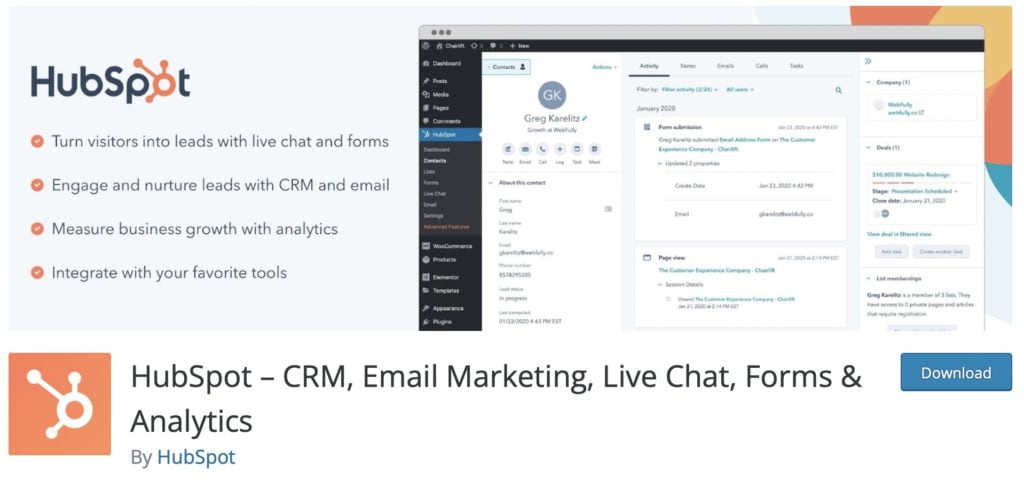 ---

A plugin that gets regular updates has 24/7 support and more than 200,000+ active installations with an enormous amount of happy customers is something we have to include in this article. HubSpot Forms is a plugin that helps you to grow your business, generate leads, turn your leads into customers, engage users, measure business analytics, and of course, all of that from one place.
Main features
CRM & Contact Management Platform: website forms automatically sync; therefore, it becomes easier to use contacts, perform actions in bulk, categorize, etc.
Email Automations & Newsletters: sometimes, your clients need a little reminder from you, especially if you have great news for them. This feature offers you templates to create an email quickly and send it to your customers in the contact database of your website.
Forms, Surveys, and Popups: things offered by each forms plugin, and the main purpose of form plugins
Chatbots and Live chats: You can add live chats and chatbots to your website, which will be pretty amazing and interesting for your viewers to try to use. Plus, chatbots can answer FAQs and save your support team's time.
Analytics: it offers you build in analytics where for measurement, result analysis, and data collection about the performance of different marketing actions taken
Integrations: 400+ native integrations
Major benefits
All-in-one: Offers advanced functionality and every tool you would need in a form plugin
Responsiveness: It is mobile-friendly. Therefore you can edit a form or quickly create a new one from anywhere with your smartphone
Write down in the comments section; Are you enjoying "The Best Typeform Alternatives in WordPress" article so far?
---
---

Minimalistic, simple, and easy to use, those words perfectly describe Google Forms. It is a drag and drop builder, though it does not offer advanced functionality. However, taking into account the fact that many companies need simple forms for creating surveys, and customizing them a bit then I think the Google Forms tool is a perfect free option.
Main features
Images: you can add pictures to surveys, forms
Easy of create forms: simple user interface
Organization: It is quite beneficial to easily structure and break down long forms.
Notifications: turn on or off
Offline access: This pretty nice feature in case you do not have access the internet but want to quickly adjust something in the form or create a new one
Major Benefits
Short learning curve due to simple design
Create unlimited forms
Free to use
Embedding available
---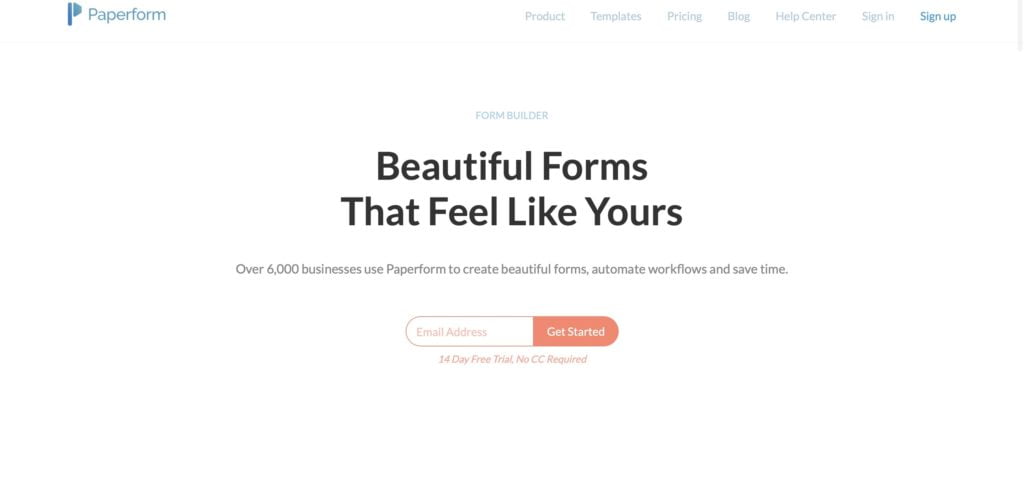 ---

PaperForm is a simple tool that does not offer tons of features. Nonetheless, it is still popular among users who need simple functionality. PaperForms is the most accessible tool to use with lots of ready-to-use templates. It has 5-star ratings and regularly gets updated.
Main features
24/7 support
Analytics: easily embed forms anywhere on your WP website, analyze results using PaperForm analytics within a built-in data dashboard
500+ ready-to-use templates alongside customization options available
Payment forms: PaperForms offers amazing payment forms which allow you to collect payments in seconds
Conditional Logic: You can define your own conditional logic rules and decide when particular pages or content should be displayed to the user.
Every form that you may ever need: payment forms, booking & appointments, lead generation, registration forms, quizzes & tests, surveys & questionaries, and contact forms.
Major Benefits
Intuitive user-interface
Features that are needed and make sense
It has Google Sheets, Mailchimp, and Notion direct integrations
---
---

This is a too to build forms relevant for literally any user no matter if you want basic or advanced functionality, free or paid form, builder. It offers everything; let's quickly review some of its main features and benefits down below.
Main Features
Unlimited forms: create as many forms as you need
Calculations: no need to be good at math over here
Conditional Logic
Multiple languages
Email Notifications
Spam prevention
File Uploads
Shared templates: if you created a good template, you could share it, and other users can use it as well
Data Encryption (Premium)
Document Merging (Premium)
Electronic Signatures (Premium)
Entry Sharing (Premium)
Major Benefits
A user-friendly interface saves your time
Lots of features
Sharing options
Affordable
---
Zonka Feedback form builder allows users to create online surveys and feedback forms in minutes. Its user-friendly interface allows users to create simple as well as dynamic forms that help capture customer feedback more effectively. As a Typeform alternative, it goes beyond simple form creation. It gives you the ability to create surveys with advanced logic, get in-depth insights and analytics, real-time alerts, and close the feedback loop.

Main Features
100+ ready-to-use templates and 30+ question types to create interesting surveys and feedback forms
Multiple survey distribution channels like email surveys, SMS surveys, in-app SDKs, links, offline surveys, and more
CX automation and workflows to take instant action and close the feedback loop
Seamless integration with your business ecosystem and third-party apps for consolidated customer data
Major Benefits
A complete view of customer journey and satisfaction levels
In-depth survey reports and analytics along with real-time alerts for responses and low scores
Omnichannel feedback collection and analysis
User segmentation to tailor surveys based on customer attributes and demographics
---
Summary
To summarize the "The Best Typeform Alternatives in WordPress" article, we can point out that those tools are similar with very few differences. The major difference is pricing, each of them has different pricing plans. So to decide what your final choice is going to be, I suggest that you, first of all, check out all of those plugins once more. You can even install their free versions and try them out in practice. Surely you will find something that satisfies your needs and perform every possible task your business/website may need.

If you liked this article, do not hesitate to write any comments/questions or feedback down below in the comments section. Furthermore, you can share this article with your friends or colleagues who may be interested in this topic.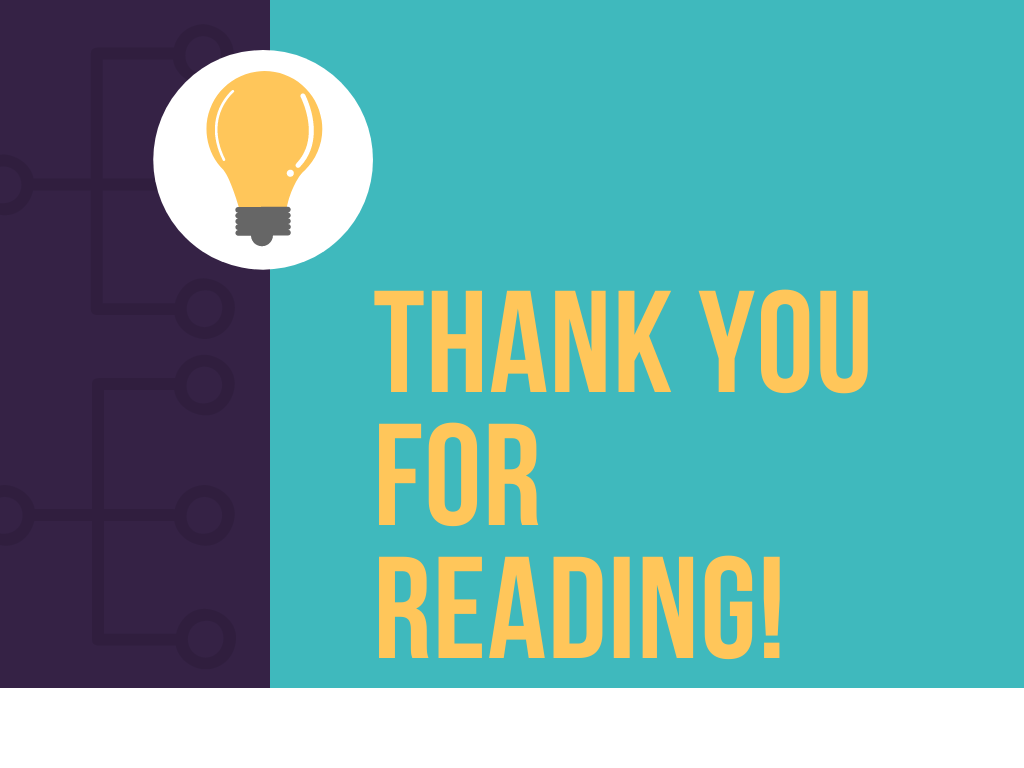 ---
If you liked the article do not forget to check out our YouTube channel with tons of WordPress tutorials! And you can find us on Facebook & Twitter, where we post interesting updates about upcoming events.
Must-Read Articles
Here are some articles that you must read to take your website to the next level, one step closer to success.