Every website owner knows how it is important to gain loyal users and visitors. They are so-called "consumers" of your business in the online sphere. Therefore, it is essential to set convenient conditions for them on your online platform. In this case, to receive visitors' comments, let them add posts, and give them premium access you need to insert user registration forms on your WP site. So, we are here to present to you the best User registration and membership plugins on WordPress.
---
Why Should You Benefit From The User Registration Forms?
As you must know the best user experience on your website should be the number one preference. Some customers enter the website, view the products, send comments, want to add some posts, or subscribe for premium access. All these processes can be easily regulated with the user registration forms.
In other words, customers will have an opportunity to open an account on your site. Although WP enables the users to open their accounts. Yet, this gives them only limited access. For this reason, WordPress suggests some well-functioned plugins to manage not only the process of registrations but also set the user roles and more. Besides, this will prevent the availability of some spammy accounts. And along with these options, you will be able to give the registered users some discount coupons, publish guest posts without admin entry, etc.
---
The Main Features For taking Into Account While Choosing a Registration Forms
Every plugin has its own features and structure. Yet, some options may be the same for all. While selecting a login form plugin you need to pay special attention to different factors such as:
Adding unlimited forms
Payment collection
Content protection
Drag and Drop editor
Well-designed ready-made templates
User profiles with avatars, profiles pics, biography, etc.
These are not mandatory features. Yet, their availability may highly impact the quality of your created user registration form.
At this point, we are going to present to you all the valuable and effectively managed user profile builder, membership, and login form creator plugins that you will appreciate.
---
So the first plugin from our list is WPForms. It has over 5 mln. active installations and a 4.9/5-star rating.
The plugin is very famous among WordPress users due to its advanced features. It is a combination of powerful tools and easy usage that does not even demand basic coding skills. So, you are able to create:
Payment forms
Subscription forms
Feedback forms
Registration forms
Contact forms

, etc.
Here are some of the most worthwhile functions that this plugin holds:
Responsiveness
Drag and Drop feature
Previously built form templates
SEO-friendly features
Optimized Speed
Login and Custom User Registration forms
Password Protected contact forms
Membership registration forms, etc.
The form customization can be completed with the suggested section dividers, CSS, or HTML blocks.
The plugin carries out the spam protection process by utilizing hcaptcha and reCaptcha. Besides, it provides many integrations, such as:
Aweber
Mailchimp
Zapier
Stripe
PayPal
ActiveCampaign
GetResponse, etc.
Besides the Free version, the plugin enables the users to have Pro version access and more advanced functions. So, here is the Premium version's pricing:
Elite– $299.50 per year
Pro– $199.50 per year
Plus– $99.50 per year
Basic– $39.50 per year
---
Moving forward, we would like to present to you the next plugin full of many necessary features. The WordPress Registration Magic plugin has more than 10.000 active installations and a 4.5/5-star rating.
The plugin enables you to:
Make the user registration process secure
Follow the submissions
Accept Payments
Analyze the statistics
Set the user roles
Send Emails
The plugin is fully GDPR compliant and provides security with Google reCaptcha.
Besides the free version, the RegistrationMagic WordPress plugin offers you an advanced Pro version. Here are the suggested pricing plans:
Premium– $89 (provides updates and support per one year )
Premium"+"– $189 (provides updates and support on a lifetime basis)
---
The third plugin for our top plugins list is Import and Export users and customers plugin developed by Codection. It has over 70.000 active installations and 176 5-stars in the WordPress Repository.
The plugin is very simple to use on WordPress and especially on WooCommerce. Below, you can sport some of the plugin's features:
Import/export the users or customers to your WordPress or WooCommerce directly in CSV file format
Filtering exported list by user role and registration date
Meta-data import
Role assignment during importing
Send mails to the new users
Save and customize mail template
Cron Task creation to import users from time to time
Provided hooks to extend the plugin, etc.
Moreover, the plugin works very rapidly. Even you can import thousands of users in just a few seconds. It is compatible with different plugins, such as WooCommerce Memberships, WooCommerce Subscriptions, BuddyPress, Paid Membership Pro, WP LMS Course, WP-Members, WooCommerce Membership by RightPress, etc.
---
Profile Builder is a WordPress plugin, which enables you to provide your users with the flexibility to adjust their user profile as well as build front-end user registration forms with custom fields.
It's one of the most popular user management plugins, with over 60.000+ installations in WordPress and 4.7 out of 5 stars ratings. One of the most important features of this plugin is that it allows the possibility to add multiple registration forms with various fields for particular user roles, as well as, it provides conditional logic for fields, which permits to display or concealing of fields based on user selection.
Let's take a look at the Profile Builder plugin more comprehensively.
Main Features
Easy to use shortcodes or blocks for front-end login, registration, edit-profile, and password recovery forms
Email corroboration user registration, upload of avatar, and reverse of profile fields for plugin customers
Admin approval for new customers, permitting you to determine who is a user on your website
You can either use email or username to register
Implementation of minimum password length and strength to get rid of frail passwords and boost security
Conditional logic for fields to display or conceal fields easily and carry out dynamic front-end registration
Roles Editor module to create, edit, removal, and copy user roles, also attach and take out capacities
Import and Export of common user and custom fields, specification of ID field to update subsisting customers, the transition of users via role and data scope
Multiple registration forms to receive various information from distinguished kinds of users, which provides automatic login for customers, administration of the fields appearing on every form, modification of users after signing up
Custom redirects, which averts users after their first login or when they try to enter the default WordPress dashboard, lost password, and registration constructions
Creation of user's map location, as well as, availability to support and documentation
User Listing to create a beautiful member directory of all your website's users
Benefits
Custom Login Page Templates personalization of default WordPress login sheet by your own sketch
Client Portal establishment of the personal pages for your internet site users solely open for the administrator's edition
Email Confirmation Field checking of the accuracy and validity of email addresses entered by the users
Multiple Admin Emails sending of customer's notification emails to multitudinous email addresses
Numbers and Phone Validation involving solely zip codes, phone numbers, ID's require the custom input field
Passwordless Login permission of logins without a passwords
Maximum Character Length putting of maximum character length for textarea fields
Placeholder Labels restoring labels along with placeholders in Profile Builder form
WooCommerce Sync directing Shipping and Billing fields from WooCommerce with PB
Social Connect gives the ability to social login on to your website
MailChimp permits users to inscribe to your MailChimp lists immediately from the Edit Profile forms
Campaign Monitor allows subscribing to your Campaign Monitor lists instantly from the Register Profile forms
Field Visibility permits you to convert the perceptibility options for the additional fields
bbPress enables you to combine Profile Builder with the outstanding forums plugin, bbPress
Multi-Step Forms let customers establish multi-step forms for Registration and Edit Profile forms
BuddyPress qualifies to enlarge BuddyPress user profiles along with Profile Builder customer fields
Pricing
It is also crucial to mention the pricing plans represented by the Profile Builder plugin. The characteristic differences between them are linked with the addons and the restrictions of site usage.
The pricing for Profile Builder is as follows:
Basic – €99
Pro version – €169
Agency version – €299
---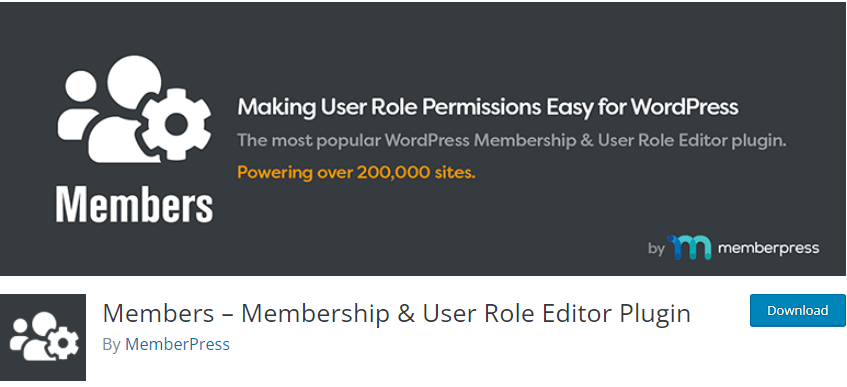 The next Members plugin differs from the previous one. As it provides huge functionality for the users to have a member experience on your website. In other words, you will have permission and many strong tools to set the user roles and capabilities.
The plugin has over 200.000 active installations and a 4.9/5-star rating.
Without having coding skills you will be able to put restrictions on the published content on your site, set, edit or remove the user roles. Here is the entire list of the plugin's many significant features:
An additional role for each of the users
Exclude the special user roles from doing this or that action on your website
Creating a new role due to the cloned existing one
Permit the specific user roles to publish content on the site
Regulate the content access with the provided shortcodes
Display the login form widgets on your site's sidebars
Make the feed of your site absolutely private
The plugin's features are so helpful that some other plugins trust their user roles and compatibility options to this plugin. Therefore, the plugin developers suggest so many other plugin integrations.
Besides, you may gain many add-ons such as privacy caps, categories, tag caps, role levels, Meta Box integration, etc. for free.
Its developers- MemberPress provides fast and caring support.
Yet, if you want to create paid memberships then you may simply choose MemberPress. These two plugins work together. Here you may see the Memberpress plugin's pricing strategy:
Pro– $599
Plus– $449
Basic– $279
---
And the last plugin from our list is Ultimate Member. It is a famous plugin having 200.000+ active installations and a 4.4/5-star rating.
Due to its simple but powerful technology, the plugin provides sign-up forms and user profiles to create membership sites or communities on the online platform.
Here are its super functions:
Drag and drop form creator
User account page
User emails
Front-end user login, profile, registration forms
Conditional logic
Content regulation
Developer-friendly features
The security is provided due to the Google reCAPTCHA.
Besides the mentioned features, the plugin developers offer you free and payable extensions.
Here you may find the free extensions:
ForumWP
Online Users
Terms and Conditions
Jobs Board WP
Payable extensions:
WooCommerce
User tags
Private Messages
Followers
Private Content
User Photos
User Locations
bbPress
myCRED
Social Login
User Bookmarks
User Notes
Friends
MailChimp, etc.
Here are the Pro version's packages:
Extensions Pass– $249 per year
Extensions+ Theme Pass– $299 per year
Both the first and the second package's bills should be paid annually until you cancel the subscription.
---
Plugin's Comparison in 2022
| Plugin Name | Active Installations | Rating | Pricing Plans |
| --- | --- | --- | --- |
| WPForms | 5.000.000 | 4.9/5 | $39.50-$299.50 |
| RagistrationMagic | 10.000 | 4.5/5 | $89-$189 |
| Import and Export Users and Customers | 70.000 | 4.7/5 | Free |
| Profile Builder | 60.000 | 4.7/5 | $99-299 |
| Members | 200.000 | 4.9/5 | $279-$599 for MemberPress |
| Ultimate Member | 200.000 | 4.4/5 | $249-$299 |
---
Summing Up
So, in this article, we have already discussed how it is important to add the user registration, profile builder, login forms. They may guarantee the best user experience on your online platform. Besides, it can prevent creating spammy accounts.
It is helpful not only for the visitors who register on your website but also for you. As you may control the user roles and complete much more actions via the registration forms.
And as WordPress is famous for its user-friendly solutions it suggests you activate the login forms plugins to ease your work as a website user who does not know any of the programming languages. Therefore, we discussed the features of the following plugins:
WPForms
RegistationMagic
Import and Export Users and Customers
Members
Ultimate Member
All these plugins were picked up thoroughly to be recommended to our readers.
So, all you need to do is select one of the best user registration and membership plugins on WordPress for your personal use and enjoy the best experience on your online platform.
If you like the article, do not hesitate to find us on Facebook and Twitter. For interesting WP tutorials, please subscribe to our YouTube channel.
Latest posts by Anahit V.
(see all)