If you are a blogger managing a website to help people follow their bodies then you will probably need the WP Calorie Calculator plugin. Whether you help others or you are the person who wants to have an ideal body by managing your weight you will definitely benefit from this plugin. And in this article, we are going to present to you both the Free and Pro features of the best WP Calorie Calculator Plugin.
---
Why Do You Need a Calorie Calculator On WordPress?
First, let us discover what is a calorie calculator itself.
So, it is utilized to estimate the calories that an individual needs to gain on a daily basis. It might contain also some guidelines that will lead to gaining or losing weight.
This section is mandatory for the website owners whose business is in the fitness, health, and nutrition niche.
These simple tables provide a better user experience and reliability. Besides, they get almost 100% accurate recommendations about the number of daily calories that one should consume to be healthy while losing or gaining weight.
So, at this point, we have understood why the WP Calorie Calculator can be helpful and even a must-have plugin on the websites of the related niche.
And now it is high time we represented the best features that are available in both Free and Pro versions.
---
So, the plugin has been developed by the Belov Digital Agency. Currently, it has more than 900 active installations and a 5/5-star rating. It makes weight management simpler.
This plugin will effectively save your time and estimate the needed calories instead of you. You need to enter some details in the required fields and get the exact estimation right away. And if the users find this option on your website they should be more attracted and engaged on your fitness and nutrition website.
It includes also the Basal Metabolic Rate. It is widely used all over the world to find the needed calorie ratio. The plugin utilizes three formulas such as:
Mifflin-ST Jeor formula
Harris-Benedict formula
World Health Organization
These formulas help to reveal the characteristics of your organism, eg. your body mass, height, gender, and age.
The system works in a way of multiplying these details with a special coefficient. And in a result, you gain the number of calories that should be consumed per day.
It is important to mention, that besides your body characteristics and metrics the plugin's advanced system pays attention to your activity.
Along with the above-mentioned points, the calculator is easy to use. As it utilizes shortcodes. That means that you customize the calorie calculator within the plugin and insert the provided shortcode in the newly-created or already existing Post or Page.
As you may see, you do not even need to have development or coding skills to insert this field on your website.
Currently, the plugin is translated into German, Russian, Turkish. But the translation into other languages is in process.
The support specialists are ready to provide caring, fast and helpful support.
---
So, the plugin developers offer you to activate and use the plugin's Free version with some available features. The free version may be helpful for beginners or those who want to add a simple and basic calorie calculator.
For the plugin's activation, you just need to enter your WordPress Admin Dashboard and click on the "Plugins" section. After that add the plugin as a new one.
By installing and activating the plugin you will be able to see its simple dashboard and the shortcode prepared for the Free version users. This means that you should make all the needed changes and customization and paste the mentioned shortcode on your New, existing Post, or Page.
So, here is the Shortcode provided for the Free plan users:
[cal_calc]
The following points are available for the Free plan users:
Settings: At this point, you may customize the "Main Calculator Title" and "Calculation Result Type". Here you enable your users to write down their Email addresses and receive results afterward.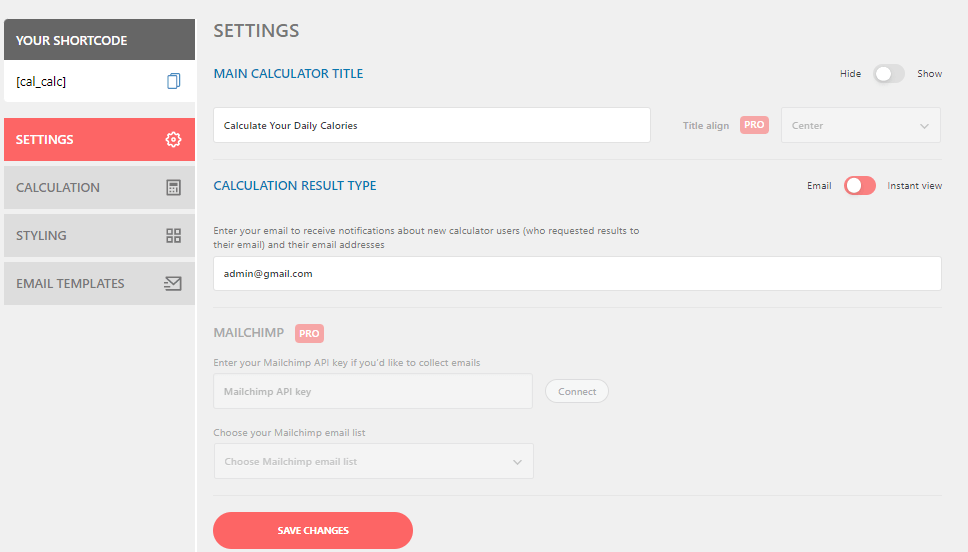 Calculation: This section enables you to set the default units system. There are two variants suggested, such as "Imperial" and "Metric".
Styling: Here you may customize the background color.
These are the only available features in the Free version.
And here is a calculator implemented on the website:
---
If you prefer to get the plugin's advanced features then it is high time you got familiar with its Pro version plan. It costs $35 and is billed annually before its cancellation. And now we are going to present the WP Calorie Calculator's Pro version features.
As you noticed, the Free version provides only a limited number of options to be utilized on the nutrition website. Although it gives an instant result of the estimated calories daily via Email or on display it does not contain other important functions that you are able to find in the Premium version.
So, here are those features:
Shortcodes
The shortcode differs from the Free version's one. Here is it:
[calorie_calc id="457″]
Settings
In the "Settings" section you will be able to "Align the title" "Left", "Centre", and "Right". Besides, you will gain MailChimp integration that was not available in the Free version. This is to collect Emails. All you have to do is enter your MailChimp API key. The process is not complicated.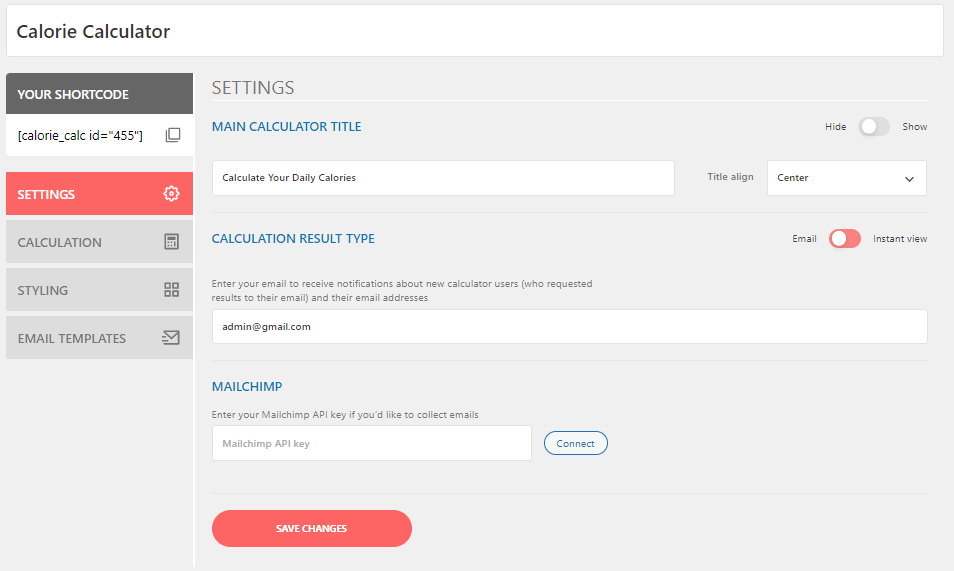 Calculation
You may reveal plenty of differences, especially in the "Calculation" section. The following formulas are available in the Pro version:

Mifflin-St Jeor formula
Harris-Benedict formula
World Health Organization
Besides, you may set "Goals" like "Gain weight fast", "Weight loss", etc. and write an appropriate coefficient for each of the goals. The goals can be both added and removed any time you wish.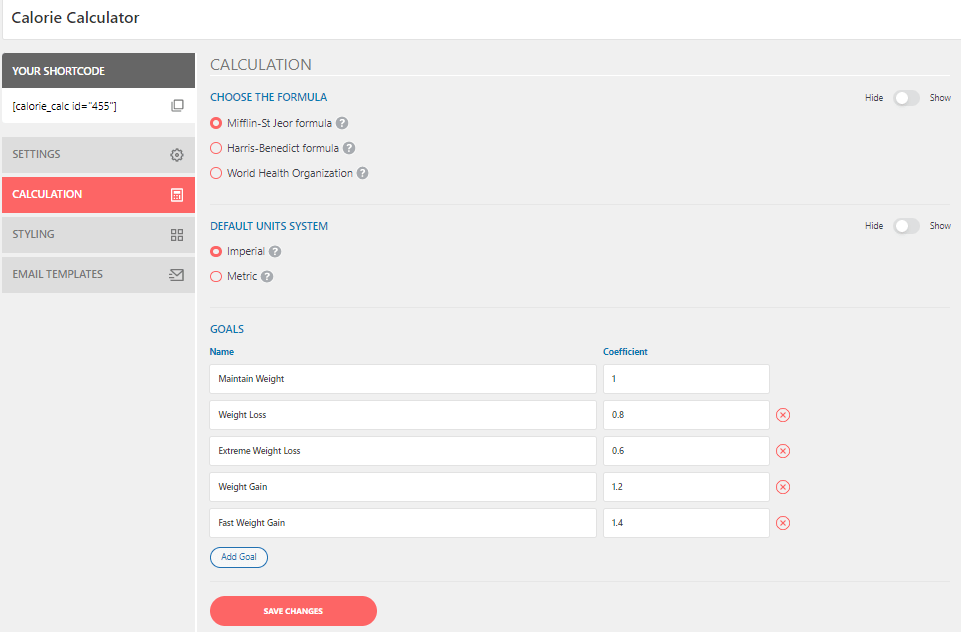 Along with the "Change color" option, you will find "Choose the Layout style" function with its following selections:

Simple "Plain HTML"
Compact Pretty
Extended
And, the system will permit you to choose the "Base Font Size" with its 4 choices such as "Small", "Normal", "Large", and "Extra large".
Email Templates
The next section is "Email templates". The Free version does not involve any of this section's features. Here are the 3 main parts in the "Email templates" section:

The text that you send to admin or customer after completing the calculation process
The main text with the "Subject" and "Content"
And the last one is the "Notification template" that you receive when someone enters his/her email in the appropriate box
After customizing the calculator according to your needs and preferences you need to copy the shortcode and paste it to the post or page you wish and click on the "Publish" button.
---
Comparison called "Free Version" VS "Pro Version"
At this point, we are going to summarize the Free and Pro version differences so that you understand them better.
| Feature | Free Version | Pro Version |
| --- | --- | --- |
| Shortcode | | |
| Email Address Entry Box | | |
| MailChimp | | |
| Imperial and Metric Units | | |
| Email Template | | |
| Color Customization | | |
| Title Alignment | | |
| Availability of Various Formulas (such as Mifflin-St Jeor formula, Harris-Benedict formula, World Health Organization) | | |
| Setting Goals With Coefficient (such as Gain weight, Loss weight, Extreme weight loss, etc.) | | |
| Instant Calorie Calculator on Website | | |
| Layout Style | | |
| Font Size | | |
| | Free of Charge | $35 Billed Annually |
---
Summary
And in the end, we would like to mention that caring about your health on a daily basis is very important. And doing this by choosing healthy food with the required calories is mandatory.
If you are tired of doing math calculations every single day to determine the number of calories to consume then it is high time you activated this plugin. The WP Calorie Calculator plugin can be your best choice. It is famous for its huge functionality and instant result. You do not wait for even a few seconds and the calculated calories appear on the screen. Or you receive it via Email.
Moreover, you may see your daily calories even if you utilize the plugin's Free version. Yet, for more advanced outcomes you should activate the Pro version.
This plugin is popular with its easy usage and customization. You must not know any of the programming languages to proceed with this plugin. As the plugin offers you two types of shortcodes (one for the Free version, and the second for the Pro version).
Its interface is simple both for the users and website owners. Moreover, it provides a simple User Interface and accurate results at the same time.
So, if you decide to become a nutrition and health blogger then you can absolutely trust this plugin making sure that both you and your website users will enjoy the best experience.
Read about the best image compressing plugin:
If you like the article, do not hesitate to find us on Facebook and Twitter. For interesting WP tutorials, please subscribe to our YouTube channel.
Latest posts by Anahit V.
(see all)