In this article, we will review the best restaurant plugins for WordPress 2022. These plugins will help you to showcase your restaurant's menu online easily, without additional coding needed.
So, if you are ready let's start.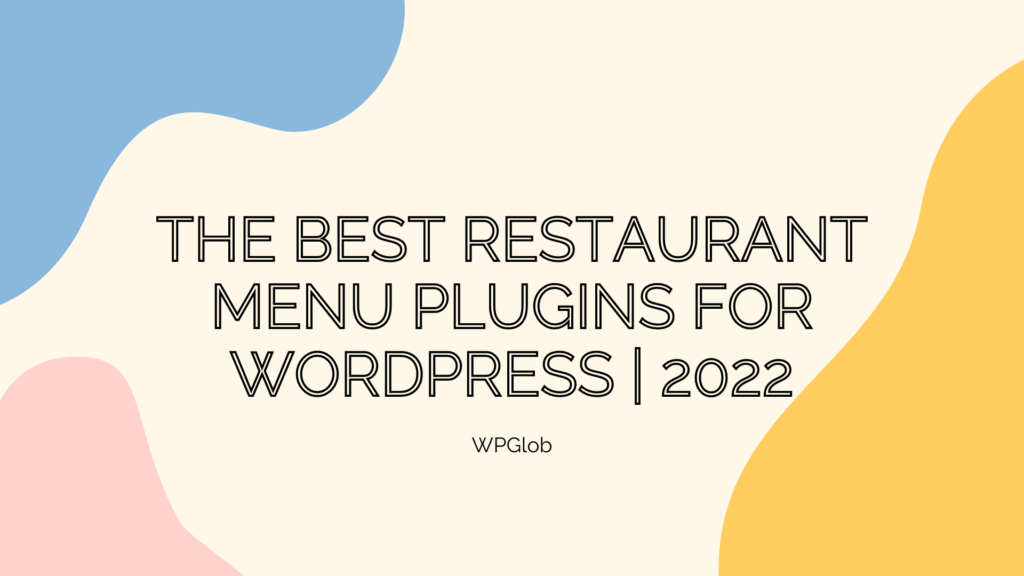 What are Restaurant Plugins?
Restaurant menu plugins will allow you to manage menus of your restaurants online (on your website) with greater ease. Moreover, those plugins are designed to make the overall experience a lot more straightforward.
---
What to Look for in a Good Restaurant Plugin?
Furthermore, a good restaurant plugin must be:
Feature-rich
User-friendly
Save your time, and provide better tools for management
Does not require technical knowledge or a long learning curve
Be affordable
---
Best Restaurant Plugins for WordPress
So, now let's finally take a look at the Best Restaurant Plugins for WordPress website. Moreover, I should mention that we tested all of them before making the list.
---
ReDi Restaurant Reservation is a plugin created by Reservation Diary, the main goal of which is to provide website creators with a centralized reservation space. The plugin works on an automated reservation system, which means that reservations happen without the participation of a human being. Thus, when a website visitor creates a reservation, they get an instant confirmation. The plugin is rated 4.5 stars, being very useful from users' point of view.
Main Features
Let's have a look at the main features of the plugin:
Automatization. The plugin works independently from the website developer, thus reservations are made instantly without a need for manual intervention.
CSS. Using CSS you can create your own restaurant reservation form, which plays greatly for your white-label website.
Design. The design is responsive, so the plugin looks and functions well on all types of devices.
Use. The plugin is a beginner- and user-friendly, therefore it is easy to work within all the stages of work, beginning with installation, and ending with a full-time work on your website
Customer. First, you can get quick automated responses from your client; second, you can send automated email confirmations of their reservations. Third, you yourself get notified when a reservation is made.
Localization. The plugin supports more than 20 languages.
Pricing
There is a free version with limited functions, but the one that we described is the basic plan — that's the one you would want to use as a professional. The price of the basic package is 5€ per month plus value-added tax; you can get the annual discount and pay 4€ a month.
Benefits
Time. So, since no one is required to manage the plugin after its installation, that is during its work on your website, you or your specialists save a lot of time on automatic reservations.
Effort. The plugin is extremely beginner-friendly, therefore it is easy to install and work with.
Appearance. With this plugin your website will look very professional, therefore your website visitors will build up some respect for you and become your restaurant guests.
---
Restaurant & Cafe Addon for Elementor is an ultimate plugin for restaurant and cafe owners that need a professional-looking website for the services they provide. Furthermore, the number of widgets and functions that this plugin provides will help you to design the perfect website for a restaurant or cafe. With constant updates (the last being 3 months ago) and more than 1000 active installations, the plugin has 5 stars on WordPress.
Main Features
Information. Via this plugin, you can add information about yourself (name, profession), your team, the history of your brand, et cetera.
Blog. You can add a blog to your website and customize it to your liking.
Contacts. Add your professional and personal phone number, email, social media links, etc. in a special box for that.
Gallery. You can embed a gallery to your website and customize it as you wish, changing the title, subtitle, links, zoom, etc. There is a function for filtering the photographs in your gallery.
Templates. The plugin includes three different templates for your website design that are also customizable.
Slider. Add a slider to your restaurant/cafe website and change the images, headings, and animations.
Video. You can upload videos to your website and change the title, thumbnail, and popups.
And 50 more!
Pro Version
With the pro version, you can add:
A Menu
Chefs Recipes
Food Items
Gift Cards
Offers
Pricing Tabs
Rooms
Working Hours
Statistics
And Other
Pricing
With a seven-day free trial, the plugin costs $29.99 as a subscription. You can also purchase it for a lifetime for $79.99.
Benefits
Add More Than 50 Restaurant Widgets
Easy To Customise
Quick Customer Service And Support
Detailed Manual And Q&A
---
Easy Restaurant Menu Upload is a plugin created by Nikel Shubert, and it fulfills the exact goal that is described in its name. Moreover, the plugin will help you to upload restaurant menus to your website as any file type, including PDF. Also, the plugin has more than three hundred active installations and is graded full 5 stars by WordPress users. Let's have a look at the main features:
Main Features
Gutenberg. The plugin supports Gutenberg Blocks.
SEO. With stable links, the plugin itself is SEO-friendly. Besides, it adds additional search engine optimization to your website.
Use. The plugin is a beginner- and user-friendly.
Menus. You can add an unlimited number of menus, adding links to it and putting links to dishes.
Shortcode. You can turn link texts to shortcodes.
Localization. The plugin supports foreign languages.
Text. You can add descriptive texts to your uploaded menus.
Pro Version
When the free version allows you to upload only two types of menu (food and drink), the pro version is unlimited in that instance. Besides, it allows you to use the updates of the plugin as they come.
Pricing
The Standard plan is free, and it works for one domain. Furthermore, the Premium subscription costs 8€ and can be used for 10 domains, the other one is 24€ for an unlimited number of domains.
Benefits
Easy to use
Convenient
Time and effort saving
Relatively Cheap
Many useful functions
SEO-friendly
This plugin is created by smart cms, a team that provides WordPress users with professional communication management system tools. Also, the Restaurant Reservation plugin provides a booking system for the WooCommerce plugin on WordPress and allows you to put a simple restaurant table booking form on your website.
Main Features
Main features include:
Room Managing
Table Type Managing
Seat And Table Mapping
Order Price Calculations
Price Management
Integrated With WordPress Post, Wp 5, and Woocommerce 6
Templates
Pricing
Moreover, the plugin costs $34: you buy it once, but get future updates and 6-month support from the provider. Moreover, for an additional $25.38, you can extend the support to 12 months — right now, there is a discount, so you can extend the support for $10.88.
Benefits
High-Quality Customer Support. So, the included customer support from the provider is high-quality and very fast.
Cheap. The plugin is quite affordable, besides it is not subscription-based. Rather, you buy it and can use it for as long as your website exists.
Beginner- And User-Friendly. Subsequently, it is easy to install and use for both people who are complete beginners and those who have a bit of experience. And, your website visitors can easily book tables via this plugin.
Responsive Design. Also, the complete table booking system looks good on any kind of device.
SEO-Friendly. Not only is this plugin SEO-friendly itself, but it also further optimizes your website for search engines.
Furthermore, it has regular updates, because this plugin improves and updates often, and you have lifetime access to those updates.
---
The Restaurant Menu plugin created by GloriaFood is a plugin that allows you to create a simple and attractive restaurant menu for your website. Moreover, this is the ultimate plugin for turning your website into another source of income. Also, having more than ten thousand active installations, this plugin is rated 4.5 stars on WordPress.
Main Features
Restaurant Menu

Drag & Drop Based Visual Editor
Upload Images
Highly Customisable Everything
Eligible With Complex Menus

Online Food Ordering System

Customer-Friendly Interface
Responsive Design
Complex Delivery System Inclusion
Different Options For Opening Hours, Types Of Payment, and Delivery Prices
Suitable With Tip System
Notifications 

Restaurant Booking System

Simple Reservations
Food Order Ahead
Restaurant App
Pricing
The plugin is absolutely free!
Benefits
Completely free
Customer- and user-friendly
Support for all types of menus and deliveries
---
Summary
So, to wrap things up in the Best Restaurant Plugins for WordPress 2022, I can say that no matter which plugin you choose to use, you can be confident in your choice. Because, after hours of research and testing, we included only the best ones in this listing. Moreover, we made sure these plugins have a free version or are affordable.
---
Must-read Articles
Also, do not forget to check out our must-read articles.