If you are looking for an interactive and modern looking map to add to your website, you are at the right place. No codes or technical skills are required; just choose the plugin you liked the most from our list and add the map you would like. In the Best Image Mapping Plugins for WordPress 2022 article, we will review the best ones.
So, if you are ready, let's start!
What are Image Mapping Plugins?
Mapping Plugins simply are plugins that allow you to add maps to your WordPress website without any additional coding. This accordingly means that those save your time and, of course, create a better user experience. Imagine how. Great, it would be when you have, for example, a travel blog and you actually mention the places shown on the map, not just telling about them. Users will be so grateful, as they would not have to spend their time trying to find the place you named. Therefore, mapping plugins are really useful, and this was just one scenario of usage.
---
What to Look for in a Good Plugin?
Indeed, if you are reading this article, then you know that you need a mapping plugin. However, here is another question for you, how to choose a good one? Well, we saved your time on research and will present to you the Best Image Mapping Plugins for WordPress. But, what should you look for in a good mapping plugin?
Features – the plugin of your choice should be feature-rich, but at the same time t should offer features that you will need and use, not just features for the quantity
Affordable – in this competitive industry with so many affordable and high-quality options it would be just silly to choose the expensive one
Be available in free and pro versions
---
The Best Image Mapping Plugins for WordPress
Finally, let's just start looking at the best image mapping plugins for WordPress.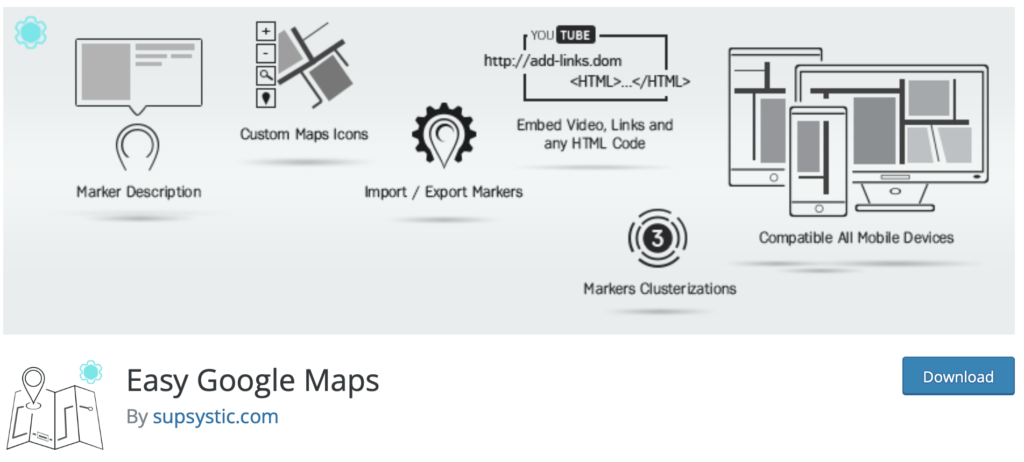 Easy Google Maps is an incredibly potent and at the same time simple mapping plugin for your WordPress website. Using this plugin you can add maps anywhere on your website with the simple shortcode it generates.
Main Features
Add an unlimited number of map markers, locations
Add map markers with media descriptions
Responsiveness to various screen sizes
Add maps with simple shortcodes
Customization options
Social share buttons for the maps
KML layers, import, and various filters are available
Heatmap layer
Map styles
Benefits
Easy to use
Easy and time-saving installment
Simple navigation
Social share buttons that allow your users to easily share your maps and locations with their friends
Responsiveness to a different screen size that enhances the overall user experience
Pricing
Now I suggest that we take a look at the pricing of the Pro version of this plugin. The pricing plans are simple:
Personal: 1-year license and a single site – $46 a year, 2-year license – $59, 3-year license – $79
Developer: Up to 5 sites, 1 year license – $69, 2 year license – $109, 3 year license – $149
Enterprise: 6 and more sites, 1-year license $149, 2-year license – $239, 3-year license – $319
---
Interactive Geo Maps is an amazing WordPress plugin that will allow you to create interactive and modern maps in a matter of minutes. One of the outstanding features of this plugin is that the maps generated in it are minimalist looking, and you can create maps of continents, countries, or even specific regions.
If we take a look at the WordPress.org statistic, we will see that this plugin has over 20.000+ active installations, gets regular updates, and has 5 out of 5-star ratings. These numbers definitely indicate high quality. This plugin comes in both versions, Free and Pro, and now let's take a look at the main features of both.
World Map preview
World regions and continents display
Countries display
With Interactive Geo Maps, you will be able to display your content outside the map and get an opportunity to export the map as a PDF. Some of the other features include:
Interactive globe projection
HTML Tooltips
Heatmap
250+ maps
Color regions
Hover color change
Round markers
Simple zoom
Open URL with one click
Support
The choice between various map projection options
The features offered by a free version are quite enough to start out with and be satisfied with. However, the Pro version offers more advanced functionality and still costs peanuts. So, let's take a look at the Pro one.
Includes all the features that free one offers
Priority support
Individual color regions in markers
Vector icons, images, text, labels
Advanced click actions
Creation of heatmaps, group regions
Availability to add lines that connect markers
Benefits of Interactive Geo Maps
Simple & easy to use, meaning that it does not have a complicated interface which saves time on the learning curve.
Amazing, especially for travel bloggers and various businesses
Feature-rich – and most importantly, features are useful
Affordable
The plugin simply offers Free, Pro, and Lifetime versions.
Free – Free of charge
Monthly– $3.99
Annually – $29.99
Lifetime – $79.99
A free trial-run period is available.
It is worth mentioning that Interactive Geo Maps is trusted by more than 20.000 site owners who successfully implemented this plugin and are satisfied with its services.
---
Interactive US Map is another great image mapping plugin for your WordPress website. It provides you with a professional-looking map of the United States, where states are separated into ten Standard Federal Regions. Let's have a look at the main features that the plugin offers:
Main Features
Ten clickable Standard Federal Regions. Standard Federal Regions in the US include Northeast (New England and Mid-Atlantic), Midwest (East and West North Central), South (South Atlantic, East South Central, West South Central), and West (Mountain and Pacific).
Customizable. You can change the color, link, and information you provide for each region.
Integrated with popup plugins
Visual editor. You don't need to know how to code to use this plugin.
SEO friendly. This plugin is very well optimized for search engines.
Fast. Since it is a small plugin, it doesn't slow down your website and loads fastly.
Pricing
There is a free version of this plugin, but the paid version also exists and provides a wider functionality. It costs $29 and is not based on a subscription, which means that you buy it once and can use it for your whole life.
Benefits
No coding. Coding skills are not required for using this plugin.
Beginner-friendly. It is really easy to use from cradle to grave: buying, customizing, embedding, and using on your website are all very easy.
Responsive design. This thing is designed in a way to look wonderful on both PCs and mobile gadgets.
Easy to embed to your website. Just copy and paste a snippet.
---
The next plugin from our best mapping plugins list is US Interactive Map. Its free version is presented on WordPress and scores a 5/5-star rating based on the satisfied users' reviews.
With the help of this plugin, you can display the interactive map of the US regions. It is a highly customizable map standing out with its easy usage. This means that by embedding these maps, you do not show just an SVG image. But you display a perfect interactive map with many helpful features. This tool is great for any US company.
Here are the free options:
Responsiveness
Clickable regions
Easy installation
Unlimited map creation
Shortcodes
Tooltips, etc.
Yet, to enjoy all the valuable functions of this plugin you should activate the pro version of the US Interactive Map plugin.
Main Features
Among the main features of this WordPress plugin you will find:
Different settings to create an unlimited number of maps
Click actions customization (such as links, pop-ups, etc.)
Hovering to get tooltips
Font customization (choosing colors, font size, and font family)
Points and markers for maps
Easy map embedding with shortcode
Grouping different states into regions
Displaying content along with the map
Individual settings for each state
Import/Export options through CSV table
Compatibility with such plugins as TablePress, Popup builder, etc.
Applications including representatives, dealers, sales regions maps, interactive infographics, site navigation, 
Launching JavaScript by using API, etc.
Main Benefits
US Interactive Map plugin enables WordPress users to benefit from its many advantages. Here are some of them listed below:
Responsiveness enables you to display the maps on all browsers and devices
Simple installation
High compatibility with any WP theme, including Avada, Divi, etc.
Advanced settings like state merging, editing, and caching for boosting downloads
Various built-in features
Premium support via Email and online chat
Along with the WordPress plugins, Fla-shop.com also offers JS/CSS maps for any kind of website. A big difference between both versions is that the WordPress plugin has totally visual interface. It does not require the users to have programming skills to use it. Yet, HTML5-powered JavaScript map is mainly foreseen for plain HTML websites, Joomla, Drupal, etc. However, to use this version, you should have basic coding knowledge.
Pricing
The cost of the premium version is $69. It is a one-time fee that also includes support.
In order to see its functions in action you may look through the plugin's demo version. You can download the demo free without registration. Or else, you have an opportunity to visit the showcase gallery with real cases of the US Interactive Map plugin's usage.
Also, if you have special needs for functions that are not included in this plugin, then its developers offer you customization services. These features will be included only in your package.
---
WP Store Locator works with your logistics. It provides you with a map that your website visitors can use to find your stores. The map is, of course, highly customizable; besides, it has many detailed and helpful filters and can be localized to many languages.
Main features
Main features include:
Number of Stores. You can work with an unlimited number of stores.
Extra Details. You can label each store and write down extra details like phone, email, opening hours, etc.
Customize. You can change the appearance of the website however you want, using custom map styles as well.
Distances. You can show the driving distances in both miles and kilometers, and you can show the directions as well.
Search Results. You can tune in the map in a way that shows the search results either under or next to it.
Filter. Users can filter the location according to a radius, category, etc.
Pricing
Oop! It's completely free.
Benefits
Customizable. You can work with the map settings in many different ways, changing the appearance and functions it provides.
Information. You can include a lot of information about your shops on the map.
Beginner-friendly. The map is easy to embed into your website and easy to change.
Convenient. It is really useful for your website visitors since they can see the distances, the shops (and use filters to find the needed shops), and information about the shops.
---
Vision Interactive is a visual map builder for your WordPress website. It has a lot of features but it doesn't slow down your website since it is really lightweight. Not only can you implement maps to your website using this plugin, but you can also use it as a responsive visual editor. Let's have a detailed look at its main features:
Main features
Add-ons. You can add links, images, text. Etc. to your website using the plugin.
Design. The design is responsive to different gadgets, plus the elements themselves can be adjusted to image size.
Feature-rich. It has a lot of features and options.
Code editor. You can add CSS or JavaScript code to the design.
Pricing
The license that the authors of this plugin provide will cost you $25 with 6-month support from Avirtum. Generally, you can extend the support to 12 months for $17.50, but there is a discount going on right now for the plugin, so you can pay an additional $7.50 instead of $17.50.
Benefits
Beginner and Pro-friendly. The plugin is easy enough to use to not intimidate a beginner, but it also has functionality that a professional would enjoy, for example, the availability of coding.
Customer support. If there's something wrong, the creators of the plugin are here to help you.
Tips. There are small boxes with information in case you need to clarify something.
---
Summary
So, to wrap things up with the best image mapping plugins for WordPress 2022 I can say that the final choice is yours. However, one thing that you can be sure about is that no matter which plugin from the list mentioned will you choose by the end, you can still be confident in your choice. Each plugin presented in this article is a high-quality and reliable plugin that will perform its functions just fine, and help you to easily add the most amazing maps to your website.
If you liked the article do not forget to check out our YouTube channel with tons of WordPress tutorials! And you can find us on Facebook & Twitter, where we post interesting updates about upcoming events.