CAPTCHAs are very important to prevent spam and bot activities on your website. And if you use a powerful platform such as WordPress then it is very easy to add a CAPTCHA using one of the available plugins. So, in this 2022 advanced Review, we are about to reveal the best WordPress CAPTCHA plugins.
---
What is CAPTCHA?
This is a very efficient way to prevent bots and spam activities on your WordPress site.
You can find over ten types (for example, text, image, audio, puzzle, math task, etc.) of CAPTCHAs for blocking spammers.
You need CAPTCHAs because every single day your site can be attacked by bots. This will affect the site in a bad way, slow down its performance, and disturb your SEO ranking.
If you have an eCommerce platform or a membership website then adding CAPTCHAs is a must. This is to avoid fake registrations and attacking bots, and orders.
And as you already know what is a WordPress CAPTCHA itself, you can start using one of the below-mentioned plugins for your choice.
---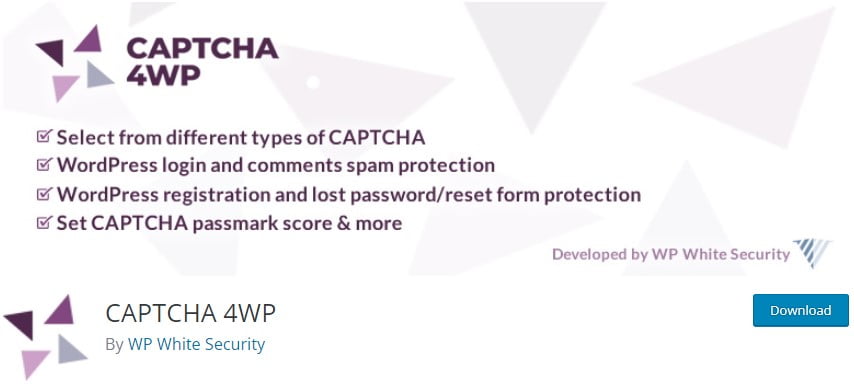 The first plugin from our list is CAPTCHA 4WP. It has 200,000 active installations and 109 5-stars in the WP Plugin Directory.
With this plugin, you can add CAPTCHA to any inserted form on your website. In this way, you will be able to protect WP login, lost password, comments, or registration forms. The CAPTCHA can be added to different forms created by the majority of famous plugins, such as:
BuddyPress

WooCommerce

bbPress
Mailchimp
Contact Form 7, etc.
WP White Security supports the plugin.
The plugin gives you an opportunity to select one of the CAPTCHA's different versions:
V2 – I am not robot
V2 – Invisible
V3
You can find many other advanced functions in the plugin's paid version. Here are the Pro version pricing plans for a single site:
Professional – $24.99 annually
Business – $29.99 annually
It is important to note that the prices differ based on the site quantity on which you are going to use the plugin. Before purchasing one of the offered plans, you have the capacity to get a 7-day free trial.
---
The second plugin from our list is a modern human-machine verification tool. It is based on AI and huge data. The VAPTCHA plugin has more than a hundred active and constantly growing installations.
It fully analyzes the user behavior and intelligently identifies attack requests and even manual coding. It has advanced security features to approve the most impressive user experience on your website.
As we have already mentioned, the greatest advantage of the VAPTCHA plugin is safety. Below you may find the options and various features:
Strong anti-recognition algorithm for verification maps
Extracted biometric features, gestures, and device fingerprints
Strong recognition of attackers and spammers
Manual coding prevention
Fresh blacklist database updates, etc.
But this type of security does not complicate the low-risk client verification. As they can be verified within a few seconds with just clicking on the available button.
Overall, working with this plugin is very easy, safe, and brings many advantages. One more essential thing about this plugin is that it is absolutely free to install and activate. Furthermore, there is no verification or QPS limitation. If the users have any issues or questions regarding the plugin then they can contact VAPTCHA's fast-replying and free support service to get the desired answers.
---
Moving forward, let us review the WP reCAPTCHA plugin. It has over 300 active installations in the WordPress Plugin Directory.
The main functionality of the WP reCAPTCHA plugin is that it effectively protects your website from spam and abuse using its advanced technique of separating humans from bots. Having many important features both free and chargeable it is considered the only plugin that offers reCAPTCHA Version 3 for Gravity forms. So, you can insert reCAPTCHAs in three versions (version 3, checkbox, and invisible).
You can understand the plugin's usage very easily. After its installation, it is required to enter the pages where you have already inserted the form. And the plugin automatically generates the reCAPTCHA code for the form. So, it supports almost all types of forms including:
Login
Registration
Lost/Reset Password
Comments
Besides, you can set your preferred reCAPTCHA language manually or switch different languages. And if you have users that are already registered through the form then you can disable the reCAPTCHA for them. It is compatible with the latest updated WP version and is configurable for all the network subsites.
All the above-mentioned features are available in the plugin's free version. Yet, if you want to obtain more expanded functionalities then you can upgrade to the plugin's Pro version with these annual costs:
Basic License – $14.99 (1 site)
Pro License – $49.99 (5 sites)
Pro10 License – $89.99 (10 sites)
The Pro version brings so many important features such as compatibility with WooCommerce and many other plugins including Contact Form 7, WPForms, MailChimp for WP, etc. Along with the new functions added, you will obtain 24/7 fast and smooth support on the condition of issues and questions.
---
Another user-friendly plugin is GeeTest's CAPTCHA. It has constantly increasing active installations and a 5/5-star rating in the WordPress Repository. The plugin will successfully protect the forms from the bots' spammy attacks and provide high security to your website.
You may utilize the plugin on different types of forms, including:
Login
Gravity Form
Registration
Comment
You will surely benefit from the permanent free version access and exclusively designed dashboard. Besides, in the case of any questions, you may simply contact to multilingual technical support to get solutions.
The CAPTCHAs are highly customizable. This refers to not only its types but also its difficulty level. By activating the GeeTest's CAPTCHA plugin you will definitely upgrade to an intelligent operating system, get a data retention opportunity, and many more other features.
---
The next WordPress CAPTCHA plugin is Captcha Pro plugin developed by BestWebSoft. It is a great solution for your website form protection. You are able to use it in adding the best WordPress login Captcha to your website. As well as you can add it to registration, password loss, and other types of forms.
There are many useful guides to learning how to use the plugin. As well as it is available in 39 languages.
The Captcha Pro plugin provides two versions: free and pro.
By installing the free version you can add CAPTCHA to different forms, choose various CAPTCHA types, harden it with letters, numbers, or images, hide it for certain users, etc.
While purchasing its Pro version can be even more beneficial. Here are some of the functions presented in the paid version:
Compatibility with Contact Form 7, Jetpack, MailChimp, Ninja, gravity, and WP forms
Compatibility with WooCommerce, bbPress, BuddyPress, and Forums
Hide CAPTCHA from IP addresses in the whitelist
Editing appearance
Adding custom code, and many other options
Here is the Captcha Pro plugin's pricing:
Annual – $27
Lifetime – $220
Membership – $250
---
And last but not least WordPress form CAPTCHA plugin from our list is WP Forms Puzzle CAPTCHA. It has over 4,000+ activations and 4 5-stars in the WordPress Repository.
This plugin adds CAPTCHA to WP login and registration forms. As well as this CAPTCHA form WordPress plugin effectively works with different Form plugins, such as Contact Form 7.
To submit the form users must pass the puzzle CAPTCHA proving that they are not robots. It is not too hard to complete the CAPTCHA added by this plugin. But it will totally prevent spam on your website.
It is very easy to install and activate this free CAPTCHA plugin on your WordPress site.
---
Comparison Table
At this point, we are going to show you the main features of the above-listed WordPress CAPTCHA plugins implemented in the comparison table.
| Plugin Name | Active Installations / Sales | Pricing |
| --- | --- | --- |
| CAPTCHA 4WP | 200,000+ | Free + $24.99 – $29.99 |
| VAPTCHA | 100+ | Free |
| WP reCAPTCHA | 300+ | Free + $14.99 – $89.99 |
| GeeTest's CAPTCHA | 20+ | Free |
| CAPTCHA Pro | 8,000+ | Free + $27 – $250 |
| WP Forms Puzzle CAPTCHA | 4,000+ | Free |
---
Summary
In conclusion, you have already identified the best WordPress CAPTCHA plugins that will help you to prevent spam on your website through forms. So, if you are going to actively use a WordPress form CAPTCHA on your site then it will be beneficial to install one of the above-listed plugins and enjoy your greatest experience. When choosing the best CAPTCHA 2022 plugin, you should take into account its features. Different types are presented by the plugin. As well as the pricing should be highly affordable for your business or personal use. So, we have chosen both free and paid versions providing plugins to cover all your needs even if you prefer to use a free version.
WPGlob Blog is your comprehensive guide in WordPress. Whether you are a beginner, plugin owner, or simply an expert user, you will highly benefit from fast-updated and informative articles.  Find a category that you are most interested in and start discovering WordPress with WPGlob.
If you like the article, do not hesitate to find us on Facebook and Twitter. For interesting WP tutorials, please subscribe to our YouTube channel.
Latest posts by Anahit V.
(see all)