Transforming your website into a mobile app is a game-changer now! AppMySite is a website-to-app builder solution that makes it simple, but now you have a choice: Stick with the Free Plan or level up to the Pro Plan. This decision shapes what your app can do, how it looks, and whether it shows any branding.
This guide breaks down the offerings of each plan. From the Basics of the Free Plan to the advanced Features of the Pro plan. We are here to grasp what each one brings to the table. Understanding these strategies is essential whether you run a blog or a business.
Let's dive deep into the details of AppMySite Free and Pro Plans. So let's explore and make your mobile app journey a breeze!
AppMySite Free Version
AppMySite's Free Version is an excellent start for beginners, offering a straightforward process to build their mobile apps and to get acquainted with the main features.
Key Features of the AppMySite Free Plan include:
WordPress Sync: The Free plan supports the synchronization of fundamental WordPress elements, including pages, posts, and media. However, advanced elements like custom post types and taxonomies are not included.
In-App Browser: The Free plan provides a versatile in-app browser, allowing users to navigate any domain or web page seamlessly.
User Access: User access features are reasonably comprehensive in the Free plan, including access management, WordPress user synchronization, guest browsing, and email login. Social logins via websites like Google, Facebook, and Apple are not offered, though.
Personalization: Basic personalization options are available, allowing users to customize design elements such as templates, app icons, splash screens, login screens, and home screens. However, advanced features like white labeling and user consent design are not included.
Basic Customization Options: You can tailor your app's appearance to align with your brand using basic customization features available in the Free version.
Note: With the Free plan you can't publish your apps on Google Store or Apple App Store. So you can only build apps and see them working on in-built simulators and your own smartphone devices. You can't be able to download your app's APK and IPA files for app store submission.
What are The User Cases of the AppMySite Free Version?
The AppMySite Free Version is for users who are looking for a simple and accessible way to turn their WordPress websites into mobile applications. However here are some common User Cases for the AppMySite Free Version:
Bloggers: People who write blogs on their WordPress websites can use the free version to turn their blogs into mobile apps. 
Small Businesses: Small Businesses with WordPress websites can make free mobile apps. Customers now have an easy way to check out their goods and services on their phones thanks to this.
Freelancers: Individuals showcasing their work, like photographers or designers with WordPress portfolios, can use the free version to turn their portfolios into mobile apps. 
Educators: Educational websites using WordPress can use the free version to create mobile app surveys. 
Event Organizers: Those organizing events or conferences with WordPress sites can use the free version to build mobile apps.
Note: The Free plan is ideal for those who want to test the product before buying it. So here you can explore the features and get to know more about the app.
AppMySite Premium Version
Let's now consider advanced features that will provide you with the Pro Version of AppMySite.
App Simulator: This feature allows its users to preview and test their mobile app before publishing it.
App Monetization: The App Monetization feature enables users to generate revenue through their mobile apps. This can include various monetization strategies such as in-app ads, subscription plans, or other methods to generate income.
Merge Apps: Users can combine or merge many apps into one using this special capability. Those who oversee several projects or services may find this useful.
Language Selection: It provides users with the ability to create multilingual apps.
Right-To-Left Support: For languages that are written from right to left, like Arabic, this functionality is crucial. Moreover, It ensures that the app's interface is correctly oriented for users who read and write in RTL languages.
Customer Chat: This feature enhances user engagement by integrating chat functionality directly within the app.
Supported Devices: The Pro plan offers comprehensive support for both iOS and Android, making it an ideal choice for those targeting a broad user base across different platforms.
App Stores: You can upload your app to popular app stores and stores like Google Play and the App Store.
WordPress Sync: You can enjoy full WordPress synchronization capabilities with the Pro plan, including support for custom post types, taxonomies, and multisite networks.
In-App Browser: The Pro plan retains all the features of the Free Plan in terms of in-app browser, ensuring a seamless and feature-rich browsing experience.
User Access: Unlock the full features of User Access, including social logins via Google, Facebook, and Apple, providing users with multiple options for authentication.
Notifications: You can experience a comprehensive suite of notification features, enabling unlimited notifications, rich push notifications, audience segmentation, and detailed user analytics for enhanced engagement.
What are The User Cases of the AppMySite Pro Version?
We discussed above some user cases concerning the Free Version of AppMySite. Now let's consider some popular user cases of AppMySite Pro Version.
Business Apps: Business owners can use the Pro version to create a professional and fully customized mobile app for their company.
E-commerce Stores: Online stores can leverage the advanced features of the Pro plan to build a feature-rich mobile app, offering users a seamless shopping experience and boosting sales.
Multilingual Apps: For those who want to target a diverse audience, the Pro Version allows you to create multilingual apps, ensuring that users can access content in their preferred language.
Monetized Apps: Businesses looking to generate revenue through their apps can utilize the monetization features of the Pro Version, including in-app ads, subscriptions, and other strategies to monetize content.
Educational Apps: Educational institutions or content creators offering courses can use the Pro Version to create a feature-rich educational app, providing a more interactive learning experience for users.
AppMySite Free Version VS AppMySite Pro Version: Which one to choose?
As you are getting ready to make your app, deciding between the Free and Pro Versions might be a big deal. In this comparison, we will look at what each version offers, to see the feedback that other people provide who have used the app, and help you find out which one fits your needs best.
Side-by-Side Analysis
In the question of which one to choose, a comprehensive feature comparison is the first step. The Free Version is a wonderful place to start because it provides Android users with the essential functionality. However, for those seeking a more expansive experience, the Pro Version steps in. It not only supports both Android and iOS but also provides advanced features like comprehensive WordPress sync, in-app browser enhancements, and full user access capabilities.
Which Feature Matters The Most?
Identifying your app's key requirements is crucial. If you want to publish your app, it is crucial to upgrade your plan to a paid one. The Free Plan won't allow app store submission.
Making the decision: Considerations for Free VS Pro
Budget
Free Version: It is ideal for those with budget limitations seeking a basic app appearance.
Pro Version: It suits those who are willing to invest in a comprehensive and professional app experience.
App complexity
Free Version: Best for simpler app needs.
Pro Version: Suitable for complex app projects with advanced features.
Note: The Free Version doesn't allow any app complexity.
Monetization Goals
Free Version: Limited monetization capabilities
Pro Version: Offers advanced monetization options for revenue generation.
Note: The Free Version doesn't allow monetization.
Target Audience
Free Version: Basic Audience Targeting
Pro Version: Comprehensive audience targeting with advanced features
Note: The Free Version doesn't allow audience targeting.
Pricing Plans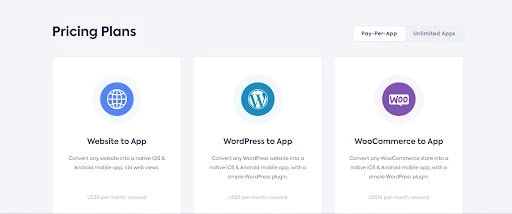 AppMySite offers a range of pricing plans to suit various needs.
Website to App Plan (Starting at US $9 per month onward)
For those with multiple websites or a portfolio of projects, the Unlimited Apps Plan allows you to create mobile apps for all of them without breaking the bank.
WordPress to App Plan (Starting at US $9 per month onward)
If your website runs on WordPress, this plan simplifies the app creation process with a user-friendly WordPress plugin.
WooCommerce to App Plan (Starting at US $19 per month onward)
For e-commerce enthusiasts, this plan caters specifically to WooCommerce stores, offering seamless integration and app development.
Custom App Plan (Starting at US $9 per month onward)
Tailored for those who want to build an app without a pre-existing website. This plan allows you to start your mobile app journey from scratch.
Shopify To App Plan (Coming Soon)
It promises a seamless transformation of Shopify stores into mobile apps through an easy-to-use Shopify plugin.
To Wrap Things Up
When you are picking between AppMySite's Free and Pro Versions, you need to compare the features that you want for your app. The Free one is a good starting point, and the Pro one opens up a whole bunch of cool possibilities for those aiming high. Think about what you need, listen to what other people say, and let what you want to do with your app help you choose. Whether you want something simple or a bunch of fancy features, AppMySite is here to help you make your app awesome. There are many awesome things you can do, and you get to decide!
Latest posts by Anahit Amiraqyan
(see all)