With the increasing number of online shops, people mainly use those providing personalized experiences and exclusive products. So, not only do they buy an item but they also tend to get professional and high-quality product presentation. So, e-commerce platform owners should take this into account to meet the shoppers' demands properly. One of the greatest methods to implement this practice into your online store is adding product configuration. Luckily, if your store is built with WooCommerce, you have an opportunity to install a perfect WooCommerce product configurator plugin – Staggs. Working with this plugin will help you showcase your products in a more fascinating way to get more website visitors engaged in your store.
---
Why Use WooCommerce Product Configurator Plugin?
Before starting the plugin review, let's understand what are the benefits of having the WooCommere product configurator plugin.
Personalization – The WooCommerce product configurator plugin enables you to easily highlight various styles, sizes, colors, and other characteristics to provide personalized shopping for your website visitors.
Item's Visual Presentation – In the case of many types of products, mastering art of virtual presentations is important to display appealing visuals in order for buyers to make a purchasing decision. So, the product configurator tool allows you to showcase items visually even in 2D and 3D models.
Simple Ordering System – By offering configurable products, you make the ordering system more simple on your website by minimizing processing errors.
Better User Experience – The approach of WooCommerce product customization highly increases the user experience on your website by providing a user-friendly interface. This, in turn, simplifies the shopping process and leads customers to more purchases without any hassles.
Important Data Collection –  By tracking user behavior while browsing your configurable product, you can understand your customers' preferences. This data can make a big contribution to your future Marketing campaigns.
Improved Sales – If you allow your clients to quickly visualize your configurable items and find the ideal match for them, they are more likely to buy a product from your online store.
---
Keeping all these benefits in mind, let's move forward to review one of the most feature-rich WooCommerce product configurator plugins – Staggs. Scoring a 5-star rating on the WordPress Plugin Directory, Staggs is your all-in-one solution to drive your sales through a configurable product.
The plugin provides all the necessary toolkits to make truly appealing product configurators directly from your WordPress Admin Dashboard. Here are some of the most outstanding features of Staggs:
Visualization through 2D and 3D rendered images with AR support to make the product more realistic. The feature allows you to scale with the Staggs plugin to build a full product configurator.
Customizable ready-made templates to make the product configuration even faster and simpler than you might think.
Speed optimization to not affect your website performance.
A wide variety of product configurator attribute types, such as: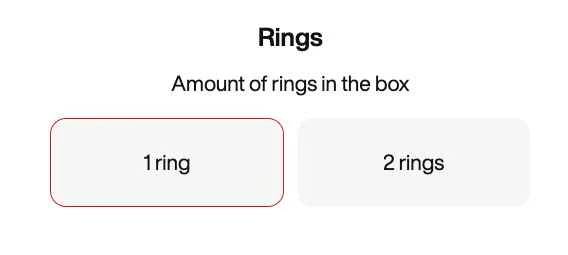 Text, Number, or Date Inputs
Image upload (Pro feature)

Related products (Pro features), etc.
Stackable images save your time when creating product variations and give you full control over the product preview option.
Analytics and insights to help you identify your audience's needs and build personalized marketing campaigns based on your customer's preferences.
Other Features
Staggs provides real-time price calculation to simplify the ordering system and minimize the errors and mistakes in the checkout process. This option will make you stand out from your competitors by providing an all-in-one customizable shop for visitors. Aside from this, Staggs enables you to complete the checkout process by requesting an invoice through the form. The plugin is highly compatible with such form builders, as:
Gravity Forms
Contact Form 7
WP Forms
Fluent Forms
Ninja Forms
However, the plugin's compatibility is not limited to the above-mentioned form builders. It works well with:
Advanced Custom Fields Pro for enhanced Admin panel.
Yoast Duplicate Post for attribute duplication.
Deposit and Partial Payments to charge only a small part of the total checkout cost.
Table Press for pricing table management process.
WPML and Polylang to quickly translate the Staggs attribute to any language you want.
Apart from these perfect configurator features, you can find some advanced ones included in the Staggs Pro version:
Conditional logic to show the attributes based on the client's preferences.
Image uploads and related product templates
Sharable configuration link
Active configuration's PDF downloads
3D product display
Import and Export tool
Also, you can find other paid features to enhance the Staggs Product Configurator plugin's functionality.
Pricing
Staggs comes up with two versions: Free and Pro.
If you decide to move forward with the free version, you can make sure to have a highly responsive and user-friendly product configurator on your WooCommerce store.
However, for more advanced features and enhanced configurator functions, you will need to activate Staggs Pro at these pricing plans:
Personal – $4.92 per month
Business – $8.25 per month
Agency – $16.58 per month
If you are uncertain about activating the plugin's Pro version, then you can try the additional features absolutely for free within 14 days without the need to add credit card details.
---
Building WooCommerce Configurator Product with Staggs
Now let's see how the Staggs plugin works.
So, to make a product configurator, you need to complete 3 steps:
Add product configurator attributes
Make your configurable product with the added attributes
Build a configurator theme by customizing its options
Step 1
Before getting started it is important to go to the Staggs "Settings" section to "Enable the new configurator builder" and "Move theme builder to create reusable themes fast".
To add product attributes, you should enter the "Attributes" section from the dropdown submenu of the Staggs plugin featured on your Admin dashboard's Menu bar after the activation.
After that, you have to click on the "New attribute" button.
Let's customize a T-shirt by adding different sizes and colors for it.
The "Title" section will be displayed in the product configurator. So, here you should write "Size".
Next, you must choose one of the available "Template" types, such as Option list, Dropdown, Cards, Measurements, etc.
After that, you have to define the type of attribute in this template. You can set an image, input, color, font family, or product.
Moving forward, you will be able to put the "Shared group name", fill in the Short or Long product descriptions, style the attributes, choose the gallery type, and even define how many images will be displayed on slides.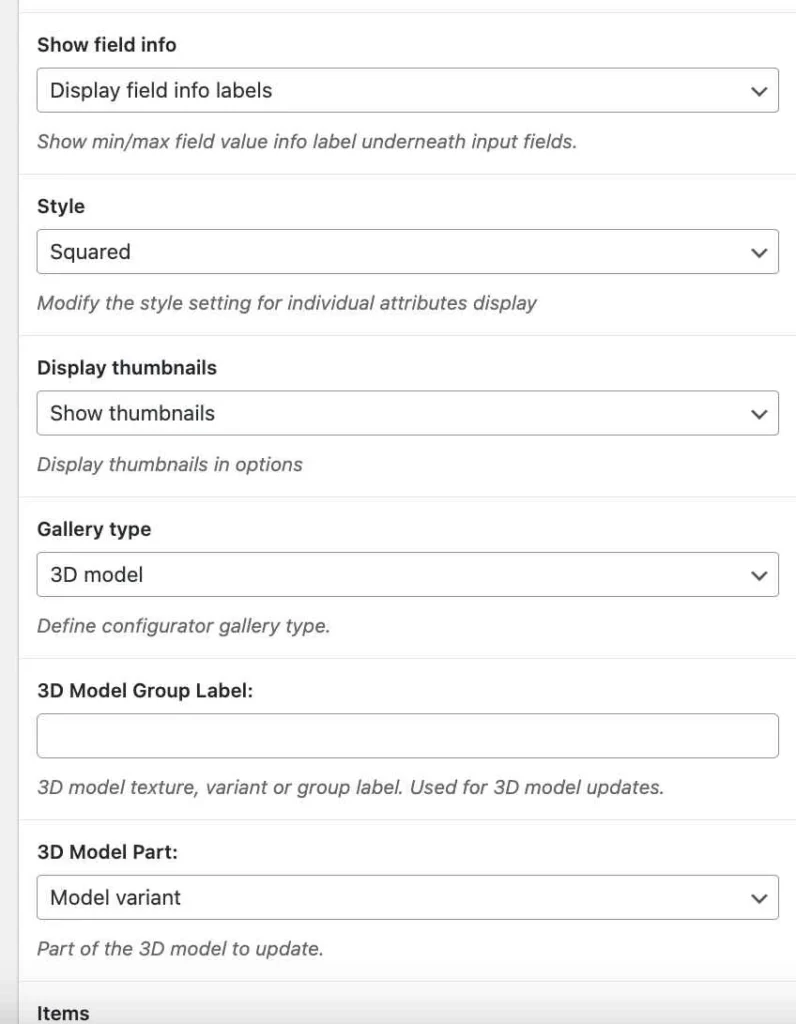 After adding the needed quantity of "Attribute Items" you can publish the Attribute.
The same steps should be completed to add the color attribute. In this case, you need to add images, too.
Step 2
After customizing the product configurator attributes, you should jump to the next step of building the product. For this, you have to enter the configurator product from your WooCommerce item list. Here you should move to the "Attributes" section and choose the previously created ones from the dropdown list.
In this case, you may set the "Color" and "Size" attributes to the product.
Step 3
Finally, in the last step, you need to "Apply the Theme".
For this, you should move to the Staggs 'Themes" section and "Add New Theme". Here you can notice a wide variety of options to customize the product configurator theme, such as:
Template variants
Layout and alignment options
Product display
Preview type
Theme display modes (Light, Dark, Custom)
Button color
Gallery configurator
Separator Template variants, etc.
After making all the needed changes, you must publish the theme.
To apply the theme to the configurator product, you should complete these steps:
Move to the "Products" section.
Find the needed item.
Scroll down to the Staggs Configurator Builder.
Find the "Product Configurator Theme" section.
Select the needed theme from the dropdown list.
Update the product to save changes.
In this way, you will get a highly customized product that is easy and convenient to purchase on the online shop. Additionally, it is crucial to note, that there is no limited amount of configurators you can build. Both the free and pro plan users may seamlessly enjoy the creation of product configurations.
---
To Wrap Things Up
Reaching the end of this article, we would like to highlight the benefits of using the Staggs WooCommerce Product Configurator plugin.
Easy and quick setup process
Free version with many valuable features to build a product configurator
2D and 3D realistic display modes rendered in real-time
Various templates
Attribute types for user-friendly design
Advanced themes and layout options
Unlimited product configurators on your Woocommerce shop
Conditional Logic for more personalized experiences
Staggs plugin's significant features will help you to make your WooCommerce products more visible, attractive, personalized, and easily navigated. These are the vital points people look to find when shopping on an e-commerce platform.
Latest posts by Anahit V.
(see all)