If you were looking for a WordPress plugin able to translate your site from the front end, that works out of the box with WooCommerce, as well as site builders, then you are in a right place.
In this article, we'll review the WordPress TranslatePress plugin, which allows you to easily translate your WordPress site with the main purpose of growing multilingual traffic and increasing conversions.
Below, we'll discuss the plugin's main characteristics, benefits, and features, and in addition to this how to get started with this useful WordPress TranslatePress plugin.
So, let's jump in:
---
TranslatePress is a very popular WordPress translation plugin with high installations and positive ratings. This plugin's ultimate goal is to enable you to translate your entire WordPress site, both by manual and automatic means, from the front end using a visual translation interface.
This plugin makes it possible to handle translations with a user-friendly interface and lets you translate the whole page immediately.
With the tools and translation add-ons provided by the plugin, it turns out to be helpful to implement meaningful and good translations.
To get familiar with the TranslatePress plugin more comprehensively, let's take a look at its main features.
Main Features
So, the main features of TranslatePress – Multilingual are the followings:
The translation of the whole page text, using the visual translation interface, as well as, the ability the translation of images, sliders, and other forms
You can use both manual and automatic translations, using services like Google Translate or DeepL
Full compatibility with all well-known plugins such as WooCommerce and Elementor
The capability to attach a language switcher to your website without any obstacles and customize it to your liking
Allowance of summarizing mechanical translations in free versions through Google Translate, or by utilizing DeepL API integration accessible in the paid version
Via the usage of multiple strings the translation of HTML blocks
All these above-mentioned characteristics are aimed to provide you with a self-contained and really interesting practice of the plugin.
Pricing
It is also crucial to utter that TranslatePress has affordable pricing plans. The characteristics that vary are add-ons, which you can employ, and boundaries of the site's usage.
The Pricing for TranslatePress is as follows:
Personal – €89
Business – €159
Developer – €249
Benefits
TranslatePress's compatibility with WooCommerce and support of the native Block editor (Gutenberg) make it possible to implement translations easily.
The user-friendly interface permits translation skillfully the whole page immediately, encompassing output from shortcodes, forms, and page builders
It is a GPL and self-hosted plugin due to which you'll possess all your translations forever
It features that help to conclude accurate, reasonable, and good translations, without any obstacles.
It is the most rapid means to establish a bilingual and multilingual site.
How to Get Started With TranslatePress plugin?
And now let's start with the practical usage of the TranslatePress plugin. Let's have a look at the dashboard.
Step 1 – Installation
TranslatePress – Multilingual is a very simple, from a usage perspective, WordPress plugin. In order to use the plugin you first need to install it.
For that, pursue the guides shown below. (For the Free Version)
First, you should go to your WordPress dashboard
Secondly, click on ''Plugins'' then ''Add New''
Thirdly, search for your plugin in the ''Search Plugins'' section
Finally, you must click on the ''Activate'' button and already you are organized to start
Step 2 – Configure your Default Translation Settings
After installing TranslatePress to your site already you can form the plugin's default settings. You should go to Settings → TranslatePress in order to do this. In the settings page General tab, you can select the default language of your site and extra languages.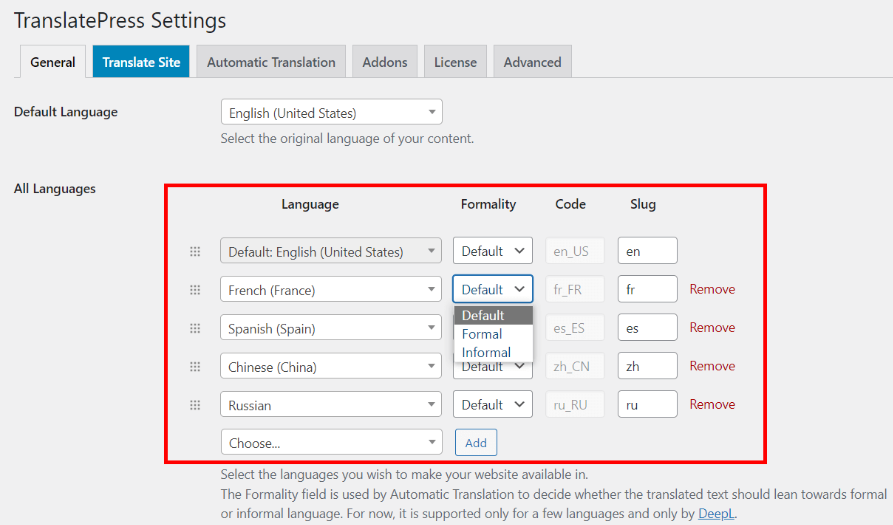 You have to select your translation to be formal or informal. From this perspective, automatic translation features can be implemented by using Google Translate or DeepL integration.
Step 3 – How to Set up a Language Switcher
You should scroll down to the Language Switcher section of the General tab. It will pop up on the site's front end. Here you can edit its front by selecting the location to show it on the screen or whether to attach the switcher as a menu item.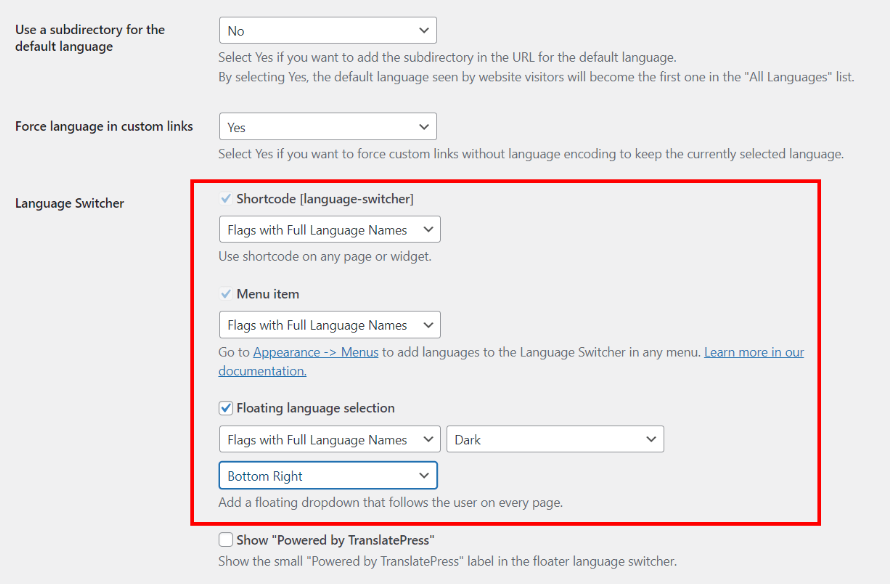 You also would decide how your site should translate plugin text strings and the content. Thus, to do this switch to the Automatic Translation tab.
If you choose an automatic translation, you will be able to select among the Google Translate API or DeepL API integration. The difference is that the Google Translate engine is available for free, in contrast, DeepL automatic translation needs a paid TranslatePress package. In spite of the fact which service you'll choose, they both need to recover the API key first. So if you want to go through automatic translation, follow these guidelines on how to utilize an API key.
Manual translation can sometimes be your best decision to get accurate results, which would have a huge impact on your audience.
Step 4 – How to Translate Your Plugin's Text Strings in the Live Editor
So, as we made ready our plugin for translation so far we can now begin translating in the live editor on the front end.
Go to any site pages where the plugin's text strings are shown while registering into your admin account. After that click on Translate Page on the top board of the page.
On the next page, you can correct any of the apparent text strings on your page. As you can see active plugin's text strings are also available for translation. If not, just creep up any text string, and to translate the text click on the edit icon.
Due to this beginner interface, you can easily translate your plugin. This includes gettext strings, as well as, user-generated content.
When you manage to enter the translations in specified languages, click Save translation. Mechanically TranslatePress will save your translation in the PO and MO files in the plugin's language pack.
TranslatePress would pre-load those translations, that are previously available with your plugin. Due to this, you don't have to translate everything from the scratch.
TranslatePress Plugin Premium
Let's also emphasize the differentiated opportunities shown by this useful WordPress plugin, which enables you to apply more functions than those provided by the Free version. Accordingly, here are the key features present in the premium versions of TranslatePress:
SEO Pack permits you to interpret meta information for boosting Multilingual SEO and to enlarge traffic. You'll be able to translate URL slugs, Alt texts, etc
Extra Languages make it possible to add an infinite number of translation languages and publish each one when the translation is ready
Translation Accounts allows customers to interpret the site with no admin rights
Browse as User Role enables to observe and translate content available only to certain user roles
Navigation Based on Language compose and show different menu items for various languages
Automatic User Language Detection displays a certain language automatically based on browser language and IP addresses location
DeepL Automatic Translation capacitates to mechanically translate your website via DeepL API
Thus, if you are interested in translation plugins, then the TranslatePress premium version is the best option to choose.
Why Should You Choose TranslatePress – Multilingual?
There can be different reasons why you may need a plugin to manage your translations. One and the foremost reason is to easily conduct accurate and flawless translations.
But, in the diversity of the plugins represented in WordPress why should you particularly choose TranslatePress – Multilingual? All right, let's research it.
TranslatePress – Multilingual is incredibly advantageous to use and will help you implement your website translations correctly, via the features mentioned above.
You can translate any type of content, such as text, images, slides, forms, and more
Its user interface makes it extremely easy to use by nontechnical people
It is helpful to utilize both its Free & Pro versions, and it's already up to you to determine whether or not to elevate
Its Pro Version pricing is very affordable and suitable compared to the extra possibilities that it puts forward
It is a private-hosted plugin due to which you'll keep your translations all the time
It functions immediately with WooCommerce and is the swiftest technique to compose bilingual or multilingual eCommerce stores
And finally, it is a very popular plugin, backing close to 300.000 multilingual websites
These are the most vital and captivating features, which reveal why to choose especially TranslatePress – Multilingual to do translations.
Summary
To sum up the TranslatePress review article, we can assert that TranslatePress – Multilingual is the easiest-to-use WordPress translator plugin due to its intuitive visual interface. This plugin offers us a wide range of optimal functionalities for increasing multilingual traffic.
With the TranslatePress Pro version, as you already can see, you can have many advanced opportunities, such as the utilization of additional languages, translator accounts, SEO Pack, DeepL Automatic Translation, and more.
Therefore, if you are searching for an all-in-one solution to translate your website easily, grow traffic, and increase conversions, then TranslatePress – Multilingual is the best choice for you!
Furthermore, you can facilitate the translation process, by managing the translation teams and progress using project management plugins.
Must-Read Articles
Also, do not forget to check out our must-read articles. All of them are meant to ease up your WordPress journey and are based on research and quality testing. We make sure to provide value for our audience.
Top Marketing Tips To Boost Your WordPress Website – also learn about the best marketing strategies for promoting your WordPress website take a look at the above-mentioned article
7 Reasons Why Listicles Are a Powerful Way to Drive SEO Traffic – take a look at this article to empower your website and content with more keywords and keyword phrases.
How to Market a WordPress Plugin & Increase Plugin Sales – read this article to know and learn how to market your WordPress plugin by all useful means
So, if you are a WordPress newcomer and are looking for the latest WordPress news and developments, hurry to WPGlob's Blog.
Latest posts by Anzhelika
(see all)