Do you want to improve user-friendliness on your WooCommerce shop? Variation Swatches for WooCommerce is the right plugin for you. The plugin allows you to display your variation products in a better way. Instead of using product dropdowns, shoppers can sort out sizes, colors, or other attributes while purchasing a product.
Moreover, variation swatches reduce customers' time and effort in finding the right products. Thus, you can increase your chance of sales. It cannot be easy to choose from with so many WooCommerce variations plugins available on the market.
---
Benefits of Adding Variation Swatches
Your shoppers are more likely to convert if they see a visual representation of what they buy.
A great way to make your store look user-friendly is adding variation swatches on your eCommerce shop. It is helpful in grabbing your visitors' attention and lets you stand out from the competition.
It's easier for customers to choose from many variations as it may create confusion. However, adding swatches features on your WooCommerce site helps variations stand out on the product page.
It takes to know the available options from the product dropdown list, as it takes time and effort. But variation swatches make it much easier for your customers.
---
Best WooCommerce Variation Swatches plugin
If you can find the best WooCommerce variation swatches plugins, you'll be benefited from both sides. Not only can you enhance the customer experience, but you also can boost your sales.
You know the benefits already; now it's time to discuss the best variation swatches plugin for your eCommerce store.
WooCommerce Variation Swatches (GetWooPlugins)
Active Installations – 3,00000+
Total Downloads – 4,967,692+
No. of Ratings – 650 +
Variation Swatches for WooCommerce plugin by GetWooPlugins makes adding variation swatches straightforward. The plugin lets you quickly add buttons, colors, and image variations to your WooCommerce products.
Based on its active installations, the total number of ratings, and the features this plugin offers, it's considered the top variation swatches plugin. The plugin has all the features you want for your variation products. On the WordPress plugin directory, you'll get a free version of this Variation Swatch plugin.
The more useful the user experience you offer your shoppers, the more likely they will stay on your site. With the Woo Swatches plugin, it's easy to showcase your product variations. It lets you easily grab the attention of your site visitors and convert them into your customers.
Furthermore, the plugin supports most of the popular WooCommerce themes in the market, including Divi, OceanWP, Flatsome, and many more.
Key Features of the Variation Swatches for WooCommerce
The free version of this plugin has many features that benefit your WooCommerce shop. On the other hand, the pro version of Woo Swatches does a lot more to increase your sales.
Some of the features that are included –
Archive page swatches alignment
Show variation product stock info/notice
Show custom text in the variation tooltip
Control the swatches on the shop page
Dual or multi-color variation swatches
Generate selected attribute variation link
Show swatches on the shop or archive page
Work on variable product quick view popup
Different Types of Product Variation Swatches in WooCommerce
With WooCommerce Variation Swatches plugin, you can add different types of product variation swatches, including –
Color variation swatches
Radio variation swatches
Button or label variation swatches
Image or photos variation swatches
Color Variation Swatches for WooCommerce
You may sell a product that is available in different colors. For example, you are selling a hoodie in three different colors (red, green, and blue). You can show color swatches to let your customers choose from the available variants.
Image Variation Swatches for WooCommerce
Certain products are more versatile. You may showcase those variant products using image swatches.
For example, let's say you sell watches with different brands. So rather than displaying the drop-down selections, you may display products with image swatches.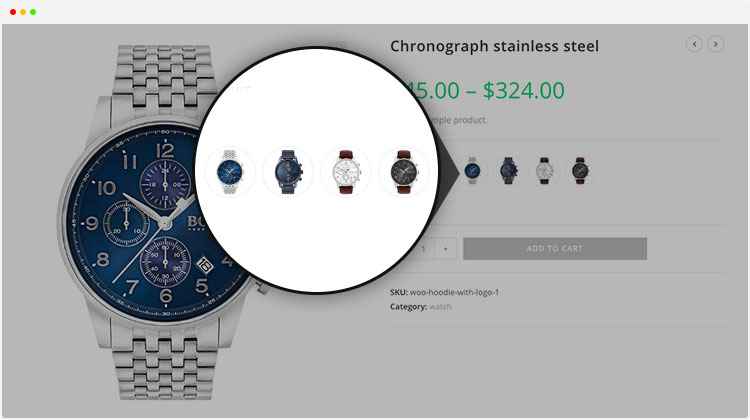 Label / Button Variation Swatches for WooCommerce
Certain factors (such as length or size) are difficult to showcase visually. For example, if you are selling shoes with sizes (such as L for large, M for medium, and S for small), then you have no way to show the actual sizes visually.
In that case, you can make it attractive by showing the variants using the button variation swatch.
Radio Variation Swatches for WooCommerce
Radio variations are more customer-friendly than the product select dropdown. The feature helps you to have a better UX in your WooCommerce store. Moreover, the radio variations allow the user to scan all available options and choose one.
Other features of the WooCommerce Variation Swatches
The plugin has all the swatches features you need for your WooCommerce store. Moreover, it is frequently updated with new features. Some useful features are:
Rounded and Square Shape For Variation
It's easier for you to grab the attention of shoppers by using rounded attribute swatches. On the other hand, sometimes, you need to show more than one color or add image swatches exclusively. In that scenario, using a squared shape is the best practice instead of a round shape.
Hide or Blur Out-of-Stock Variation Swatches
You need to avoid user frustration by not letting them pick unavailable products or variations. With the help of this Swatch plugin, you can not only hide but also make out-of-stock products blur with or without the cross sign.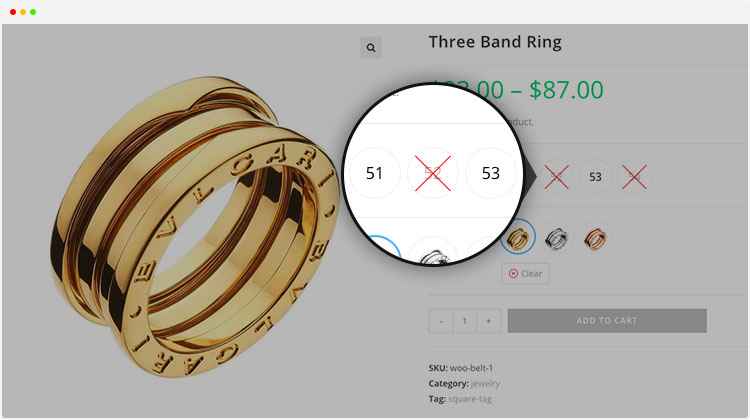 Show Swatches on the Shop Page
To convince visitors to the shop page, you need to attract your visitors. Displaying swatches on the shop page improves the standard of attributes and variations. It is one of the best premium features of this WooCommerce Variation Swatches plugin.
Highlight Special Attribute
When you want to send any specific link for variation products, this feature of highlighting attributes is helpful. Your shoppers may ask you to send them a direct link to a particular product. It will help not only help them make a quick purchase, but at the same time, it'll save them valuable time.
---
Final Words
If you are selling variable products on your WooCommerce store, the Variation Swatches plugin is a must-have plugin for your WooCommerce site. Adding product variation swatches to your store is a great way to enhance the shopping experience.
There's no doubt that the product select dropdown for variable products is no longer preferred. So, the best way to offer this is by using variation swatches.