Interested in making a newsletter for your WordPress website but not sure where to begin from? Using one of the best Newsletter plugins recommended below on our list you may set up a fully functional newsletter without ever having to leave the comfort of your WordPress Admin.
Almost everything you need to build a successful newsletter will be available at hand, including:
Build your subscribers list.
Create outstanding emails with flexible editing tools.
Send bulk emails to your segmented subscribers.
If you're still unsure whether to create a newsletter for your website, after reading this article all your hesitations will fade away. In this post, you will learn the main reason why you need newsletter plugins for your website, and discover the top 4 best WordPress newsletter plugins to take your website email marketing to a whole new level.
---
What Are Newsletter Plugins?
Email newsletters are a staple of online marketing and are a handy tool for capturing email addresses and staying in touch with potential customers and clients.
But if you don't know the most effective newsletter content strategies, you will fail to make the most out of email newsletters.
Businesses can use newsletters to promote goods and services in a highly targeted manner, develop brand awareness, and build firm bonds and relationships with interested users.
Despite the fact that we're using the term "newsletter", you don't necessarily have to distribute news on a regular basis. You may create a quick email course for your new subscribers to help them get to know you better. Additionally, you may leverage your email subscriber list to provide exclusive discounts on your goods and services.
There are three different kinds of WordPress newsletter plugins. The first kind of newsletter plugin is connected to email marketing providers, which provide the most comprehensive functions overall.
The second category consists of simple newsletter plugins that enable you to create emails inside WordPress but rely on outside SMTP services to deliver emails to your subscribers on a regular basis.
Finally, the third category of WordPress newsletter plugins is made to assist you in expanding your email list and gaining more subscribers.
As far as developing a successful email marketing campaign you will both need a WordPress newsletter and email subscription plugins, we have put all of them in now article.
---
Top 4 WordPress Newsletter Plugins
Now that you are aware of the benefits of WordPress newsletter plugins, now it's high time to dig into the top 4 Newsletter plugins.
Noptin is one of the best WordPress email marketing plugins available out there on the market. It comes with numerous helpful features that can come in handy for growing your subscription list, automating newsletters, tracking email performance, and many more.
First and foremost Noptin is a highly optimized and compatible plugin, it seamlessly works with other WordPress themes, plugins, and page builders.
Main Features
Noptin is a super feature-rich WordPress newsletter plugin. It's merely impossible to cover all of its features at once. So let's dive into some of its most prominent features and see what the plugin has to offer us.
To start with, Noptin allows you to create and send personalized bulk emails and track the performance of your newsletters.
With Noptin you can add subscription checkboxes to your existing forms, and this is thanks to numerous integrations with form builders such as Contact Form 7, Ninja Forms, WPForms, and many others. So do you want a subscription checkbox on Contact Form 7 forms? With this plugin, it's so easy to handle.
But wait, this is not all about subscription checkboxes. Noptin also allows adding a WooCommerce checkout subscription checkbox. So every time your customers buy something they get a newsletter opt-in box.
Using Noptin you can make the subscription a real pleasure for your new newsletter subscribers by setting up a series of automated welcome emails, that will further encourage them to follow your emails.
Notifying your audience about news on your website is also very easy with Noptin. You can set it to send new post notifications on auto-pilot and thus, constantly drive traffic to your website.
The last feature we want to draw your attention to is sending coupon codes. With Noptin you can constantly encourage your new and old subscribers by sending them unique coupon codes.
More and more Noptin features…
Create unlimited newsletter subscription forms.
Add your opt-in forms anywhere on your website with a shortcode.
Collect unlimited newsletter subscribers.
Sync WordPress users and WooCommerce customers as subscribers.
Schedule email delivery at specific times.
Pricing
Noptin is a freemium plugin. The Noptin free offers pretty many features to handle WordPress email marketing for your website and business. It enables you to create an endless number of subscription forms, place them anywhere on your website, alert your subscribers once new content is available, and do many other things.
However, you must upgrade to Noptin premium plans in order to access a number of add-ons, like welcome emails, coupon codes, WordPress, and WooCommerce subscriber targeting. The yearly pricing plan starts at $59, but there are also lifetime plans that start at $179.
To wrap up, Noptin is definitely a great choice for email marketing that you'll never regret, we assure it.
---

WordPress newsletter plugin MailPoet takes pleasure in being a user-friendly email marketing plugin. With the plugin's integrated drag-and-drop editor, you may modify more than 50 predefined mail themes.
One of the most distinctive features of MailPoet is the fact that it has an email delivery service of its own. This implies that you can be sure that your newsletters will reach readers' inboxes, without any additional technological setup.
Moreover, MailPoet as well allows WooCommerce integration for individuals who own an e-commerce website. You may gather consumer information and entice repeat business by including a signup form on the checkout page.
Main Features
MailPoet does a lot more than simply send newsletters. its notable features make it stand out In the market. Following a simple procedure, you can easily and quickly set up a successful email campaign on your WordPress website.
Using the built-in WordPress editor, you can design newsletter opt-in forms using a variety of strategies, including in-content forms, popups, and more.
Once you have newsletter subscribers, it's simple to manage them across countless lists and categorize them as necessary.
The built-in visual, drag-and-drop builder in MailPoet will then allow you to send them emails.
When creating your emails, you can either start from scratch or use one of MailPoet's prepared newsletter themes.
More functionalities…
In-depth data to track reader engagement with your newsletters, such as clicks, opens, and unsubscribes.
WordPress users can be added automatically to an email list.
Automanotificatios about new posts on the site.
Additional automatic email formats, including welcome emails and autoresponder series.
Pricing
Alongside all the offered features and highlights MailPoet is also a super budget-friendly plugin. Free downloads of MailPoet are available in the WordPress plugin directory. The free download includes all of the features listed above, with only some limitations:
1,000 maximum subscribers.
Emails with the MailPoet logo and branding.
Use your own email-sending method to send emails (host, SendGrid, Amazon SES, etc).
For getting access to the MailPoet Sending Service you have to upgrade to MailPoet premium plans.
The MailPoet Premium plan is accessible for free with up to 1,000 members. To make lengthy lists, you must subscribe to a membership plan, which starts at €15/month and comes with a 30-day money-back guarantee. Depending on how many subscribers you have, prices increase.
---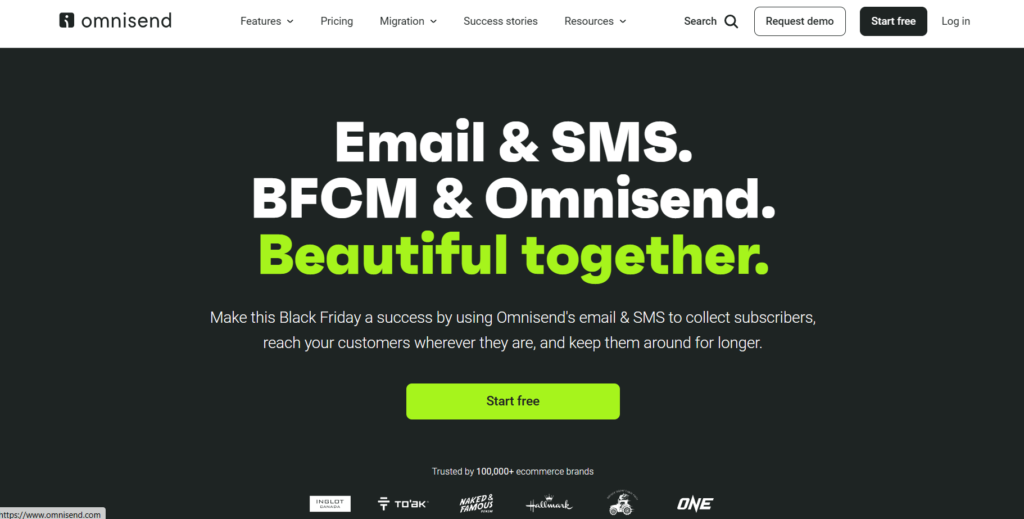 Omnisend is an email & SMS platform built for e-commerce brands, and it has everything you need to start and scale. The intuitive user interface makes it easy even for newcomers to email marketing, and there's a large library of templates as well as pre-built workflows and audience segments. In addition to extensive features, Omnisend also provides 24/7 human support to all customers, even on the free plan. Speaking of the free plan, there are no feature limitations, so you can try everything Omnisend has to offer at no cost.
Main features
Here are some of Omnisend's main features:
Easy to build campaigns: If you don't want to build everything from scratch, Omnisend has pre-built email templates, automated workflows, and audience segments to get you started.
Incorporate SMS into your automated workflows—Omnisend can send them to every country
Personalization options include the ability to send tailored messages to your customers based on over 500 data points, including their on-site behavior, purchase history, location, and more.
Your emails can automatically recommend products your audience will love, either based on their past purchases or by showing your best-selling items.
A/B tests your subject lines, sender name, and email content to find out what your audience best responds to.
More features…
Build landing pages and multi-step signup forms to collect email addresses, phone numbers, and custom data of your choice
Combine email, SMS, and push notifications in the same workflow to ensure your audience gets the right message at the right time
Award-winning 24/7 customer support is available to all users on all plans, and a dedicated Customer Success Manager is available to users who spend $400 a month
Pricing
Omnisend has a free-forever plan with no feature limitations, which is perfect for beginners, smaller brands, or if you want to see what it's capable of. Once you're ready for more there are two paid plans: Standard, starting at $16 a month, and Pro, starting at $59 a month.
---
Another WordPress newsletter plugin is The Newsletter plugin, which enables you to handle all of your newsletter activities without ever leaving the WP Admin.
It enables you to create newsletter opt-in forms, manage your subscriber list, and send emails to your subscribers. Newsletter offers the choice of adding single or double opt-ins to your forms so you can generate more leads. These forms will gather visitor information, giving you an advantage in expanding your email subscriber list.
You have access to a drag-and-drop builder tool to design your newsletter emails. It has both generic content elements and some unique elements for inserting GIFs, your most recent blog entries, and other things.
It's crucial to keep in mind that The Newsletter Plugin lacks a built-in email-sending service such as Noptin.
If you want to ensure that your newsletter will get in subscribers' inboxes, you must link it to a third-party email-sending provider. It includes API integrations for several sending services, including SendGrid, Amazon SES, and Mailgun, in addition to supporting standard SMTP connections.
Main Features
The following are the notable features and highlights of The Newsletter Plugin.
Autoresponders and automation solutions to send automatic roundups of your most recent materials.
Analytics to monitor newsletter engagement.
Integrations with popup and other form plugins so you can utilize them to expand your subscriber numbers.
Possibility of geotargeting newsletter subscribers according to their physical locations.
More features…
This well-known email marketing service provides a number of free add-ons to increase the effectiveness of your campaign. Use them to restrict premium content, import registered users as subscribers, and archive significant mailings.
Pricing
A free version of the Newsletter Plugin with minimal capabilities is available at WordPress.org. You must upgrade to a premium subscription if you want more sophisticated features. The Newsletter premium plans start at $65.
Additionally, you'll need a third-party email-sending provider, which will cost you money based on how many emails you send every month.
---
Summing Up
A wonderful method to develop a deep connection with your audience and provide a resource that is always relevant and not subject to the whims of Google or social media algorithms is to start your own newsletter.
Once you've persuaded someone to sign up for your newsletter, you may continue to communicate with them via their email inbox.
You can choose from one of the top WordPress newsletter plugins on the list above for the smoothest approach to designing and managing your own newsletter.
You'll be in complete control of your email marketing efforts and have access to all of the crucial capabilities you require without even leaving your WordPress admin.