In this article, we are going to review CryptAPI – a payment gateway designed to enable Woocommerce websites to accept payments in crypto.
What is a Crypto Payment Gateway for WooCommerce?
Generally, a payment gateway is a service that provides a safe and secure transfer of money from the customer to the merchant. Traditionally, a payment gateway gets money from the issuing bank through the consent of the customer. Then, it makes transfers to the bank account of the merchant.
Every time you buy something online, an online payment gateway works, ensuring safe remittance. There are plenty of payment gateways that work with usual credit or debit cards. But, we are interested in crypto payment gateways, specifically in CryptAPI. So, let's start the CryptAPI Payment Gateway for WooCommerce review.
---
CryptAPI Payment Gateway for WooCommerce
CryptAPI provides a payment gateway for your WooCommerce website. It is not just a generic payment gateway but a crypto payment gateway. This means that it enables you to receive cryptocurrency as a payment. Now, there are a few benefits to getting a cryptocurrency gateway in general.
First of all, you can get transactions from all over the world, and from all kinds of people therefore politics and all those kinds of things won't limit your customers in their purchases.
Second, the transactions are safe and anonymous. The whole blockchain system is quite secure on its own, but, as you'll see below, CryptAPI provides additional transaction safety. Therefore, neither you nor your customers won't be anxious about losing their money, especially when it's about big sums.
Last but not least, crypto transactions are fast. All you need is a single line of code, and the money reaches your wallet within seconds, unlike credit card transactions that sometimes can process over a few days. That is to say; it's not terrible when it happens, but quite annoying nonetheless.
CryptAPI is a safe crypto payment gateway. It is fast, safe, and user-friendly. And we know that one of the biggest concerns is the cost of the service, but we will discuss that later. Although, we should reassure you: that what you'll end up paying as CryptAPI fees will be just a fraction of the transaction value. By the way, you can use the plugin without registering, unless you also want to have a back office (statistics panel related to all your transactions), which is provided for free by the add-on CryptAPI Pro, which requires registration.
Before we go further if you really want to use this plugin, make sure that your PHP is equal to or above 5.5, your WordPress is equal to or above 4.4, and your WooCommerce is equal to or above 2.4.
---
How Does it Work?
There are very few steps to be followed, in order to install and set up the CryptAPI Plugin: they are explained very well in a short tutorial page provided by CryptAPI.
However, the installation and the setup will not take you more than 5 minutes of your time and it doesn't require any coding skills.
---
Payment Processing
Now that we discussed the embedding process, let's move on to the process of the payment:
The customer, once the order is completed, will choose the preferred crypto/tokens to be used to complete the payment. The plugin will automatically generate a dedicated address for that specific coin/token, with the related amount of crypto needed to fulfill the order. (for instance, if the order is 100USD and the chosen coin is BTC, the system will calculate the exact amount of BTC, equivalent to 100$).
Once the customer will send the right amount of crypto (either with 1 or more transactions), the system will wait for the needed blockchain confirmations.
The address will be available as long as the customer hasn't paid set by set the merchant on the administration panel of the plugin (you can set or not set an expiration for the address).
As soon as the transaction is confirmed by the blockchain, your order will be automatically updated ("green flagged"), and the merchant will receive the funds (minus service fee and blockchain fee) straight to the wallet set.
All the process explained above happens in less than 30 seconds (over networks like ERC20, TRC20, and BEP20).
Can you use this program as a WordPress plugin? Absolutely. You can easily embed the thing in your WooCommerce shop. To do so, you go to your WordPress dashboard to the section where you add platforms. Click to Add New and search for this plugin (CryptAPI Payment Gateway for WooCommerce). Install and activate the plugin on the dashboard. When the plugin updates, you will get it automatically. A very nice and well-explained "step by step" tutorial is provided by the CryptAPI team.
---
Main Features
Speed. Transactions are done within a few seconds, and that is said literally. You get notified that there was a transaction immediately.
You and your customers will be notified within 5 seconds, after the customer sends the payment, even if the transaction is still unconfirmed by the blockchain.
Quitting. If for some reason, you want to cease using the services of this plugin, you can quit whenever you want. Since each transaction is immediately settled (as soon as confirmed by the blockchain), you don't have any commitment with CryptAPI and you can stop using the service anytime, even without any notice. We bet once you will start using this plugin, it will be hard for you to find a better one!
Partial payments. In case your user has made a mistake and didn't transfer the whole amount, they can complete the payment with more than 1 transaction without bothering your support service.
What tokens to use? If you're thinking about what tokens to implement to your website payment gateway, you would be very pleased to know that CryptAPI uses more than 50 tokens, most notably Bitcoin, Ethereum, Bitcoin Cash, Litecoin, Monero, Tron, Binance Coin, USDT, Shiba Inu and Dogecoin. So, even if your customer uses the most unpopular token for shopping, CryptAPI got you covered still.
QRs. There is a QR code generator for a more mobile-friendly use of CryptAPI services.
---
Pro Version of CryptAPI Payment Gateway for WooCommerce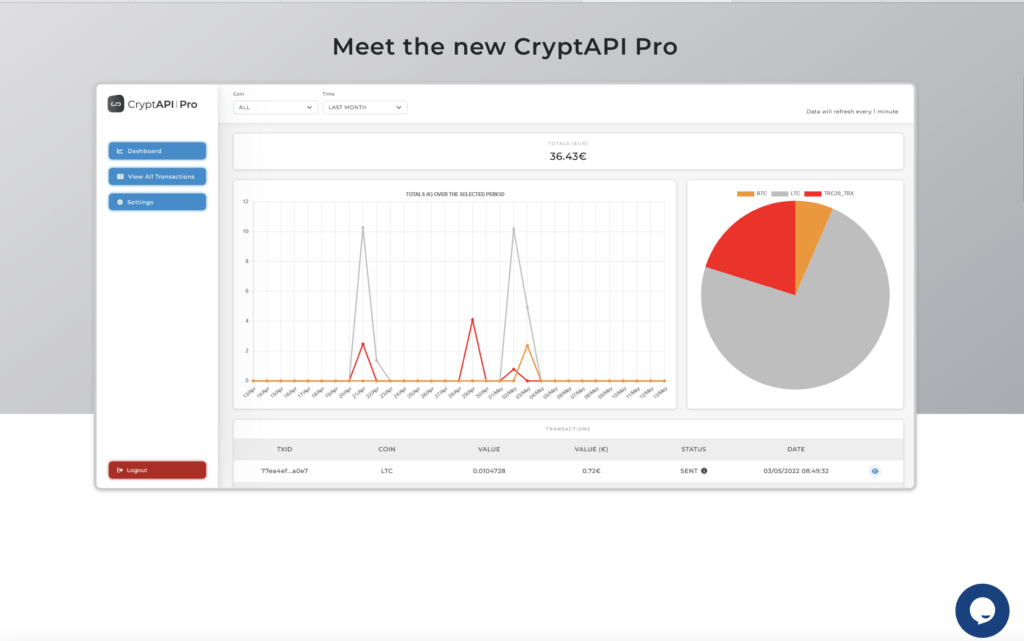 If you want to enrich the features that this plugin already provides, you can consider integrating to CryptAPI Plugin with the add-on CryptAPI Pro which will give you access to a free statistics panel and provide you with all the info related to any transactions on your website will generate.
In order to do this, you will need to register on the CryptAPI Pro page, create an API key and copy/paste it onto your plugin'' setting page. CryptAPI Pro is a complementary add-on offered by CryptAPI and does NOT affect in any way the fees.
Why would you want to use the Pro version?
First, you get a CryptAPI dashboard that you can use to control your account.
Then, a statistics chart allows you to see your cryptocurrency transaction information.
You will also receive income reports monthly and annually
And you can check transaction lists for each cryptocurrency.
At the moment, whenever your customer will pay with a specific coin/token, you as a merchant will receive the same coin/token in your wallet. For instance, if your customer pays BTC, you will receive BTC.
---
Unlike other plugins or website applications, you don't pay any monthly subscription. You will just pay a transaction fee over each transaction issued. The percent of the fee depends on the amount of money you have received in USD currency, starting from 1% for volumes up to $5,000 and going down.
So, from $5,000 to $10,000 volumes, the fee will be 0.85%, then 0.8% for $25 thousand plus, etc.
Here you can easily calculate the fees.
---
Benefits
Integrative. This payment gateway, as mentioned, uses around 50 tokens, including Bitcoin, Ethereum, Bitcoin Cash, Litecoin, Monero, Tron, Binance Coin, USDT, Shiba Inu, and Dogecoin.
Accessible. Transaction fees are very low, being between 1% and 0.25% of the transaction value.
Safe. SSL/TLS secures the transactions and your wallet.
User-friendly. The installation process is straightforward, easy, and doesn't require any single line of code. The UX from the customer side is one of the best if not the best we could check until now.
Open-source. In case you're curious, the plugin's source code is available on CryptAPI's Github and you are free to take the code and customize it as much as you want.
Support. One of the things that amazed us is the support that the CryptAPI team offers to their customers: they will reply to you within seconds over the live chat on the website, telegram, or discord (you can find out everything from the ("contact" page). Most likely any concern or problem you can ever have will be sorted out in real-time.
Regular updates. As far as we could see, this plugin is being updated and improved even more than once per month!
---
Is it Worth it?
Let's quickly reencounter what we just discussed in the article. So first, we broke down the concept of a payment gateway for an online shop. It is a software that processes your payments by redirecting the money through the issuing bank to a receiving bank; the customer transacts the money from their bank account or credit card to the merchant, the merchant being you.
CryptAPI is a plugin for your WordPress-based WooCommerce shop that will enable you to process crypto payments, those being any type of coin/token you can think about. Having crypto transactions, in general, is quite helpful since they are fast, safe, and reach throughout the whole world.
To use CryptAPI, you don't even need to register. It is really easy to install in your WooCommerce shop. You just need to navigate to your WordPress dashboard, find the plugin from the plugin search list, install it, and activate it. And that will definitely be worth it. Since CryptAPI provides you with many features. If you want to enhance your experience further, you can register for CryptAPI Pro.
You won't have to pay additionally for that; you, in fact, won't have to pay for a CryptAPI subscription at all. The only financial input from your side will happen during a transaction from the customer to you in the form of a small fee that is equal to or less than 1% of the transaction sum.
---
Summary
The benefits of the plugin include accessibility, safety, efficiency, ease of use, transparency, and regular updates. It also had low transaction fees, and since it is a crypto transaction, it's very safe and fast. It is easy and fast to use, especially for a WordPress-based website. Therefore, CryptAPI remains the best Payment Gateway for WooCommerce.
Also, as far as you have an online shop and are looking for the best payment gateway, I think it will be useful to find the fastest shipping as well. Therefore, check out the Best Shipping Platform for WordPress – Webshipper Review article.