As your website grows, evolves, and expands, staying on top of everything becomes more difficult. Therefore, managing your website, together with workflow and team can become quite hard from time to time. Thanks to the abundance of specialized project management plugins offered by WordPress, you can efficiently organize, communicate, coordinate, and work with your team. In this article we will be comparing two of them – Project Panorama vs WP Project Manager Pro, to ultimately help you decide which is the best solution for you.
---
Preliminary View on Comparison
Simply put, project management plugins are tools that enable you to organize business projects directly from your WordPress site. A project management plugin will automatically take on the task of recording the project's progress while you keep track of your team's work.
Panorama and WP Project Manager Pro both are effective and highly recommended project management solutions for your WordPress website. But Panorama stands out with more useful features and a more affordable pricing plan.
Main Differences: Project Panorama vs WP Project Manager
Panorama enables the creation of visual customized dashboards for team members and clients giving them an overview of the projects to which they have access.
Panorama creates a fully personalized and customized project platform for your clients, with your logo and brand colors.
Panorama enables sending and receiving project-related payments directly from WordPress with Sprout Invoices.
---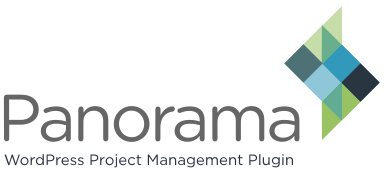 Panorama's mission is to provide clients with a visual project management platform that eliminates the headaches of managing projects that might cost time and money.
Panorama is an excellent project management tool for those who like to track the project's progress visually. It gives a comprehensive visual picture of projects, including important details such as project status, project phases, tasks, documents, key milestones, and timing.
The Panorama plugin also enables breaking down each project into smaller tasks and phases, to keep the privacy of the tasks, track individual tasks and automatically calculate project completion time based on task completion.
Its winning card is the feature to create an individual visual progress bar with key milestones about the project's progress for each team member and client.
Think about all the time this tool will save you by giving parties a visual indication of project progress in a custom dashboard. There won't be any need, from your side, to send project parties a list of tasks that have been completed or are on hold.
Panorama will take on all the project manager's tasks, handling them more quickly and precisely.
Key Features
It would be nearly impossible to cover all the features offered by the plugin in one go, so below let's review some of the most promising ones.
Visual Project Dashboards
This feature enables clients and team members with a custom dashboard that allows them to get a clear picture of the project status in an instant.
Furthermore, each and every team member and client get their own customized dashboard with an overview of the projects they have access to and the stage at which the project is.
By giving all the project parties a visual demonstration of the project's progress, you greatly cut down on the number of questions about the project status.
Automated Tracking
Panorama goes beyond traditional project management and makes the manual calculation of the project's progress and timing automated. To save time and effort, Panorama automatically determines the project completion timing depending on the completion of each task.
So, using Panorama you will always be aware if you are meeting deadlines and will always be on time to hand in your project.
Task Management
Tasks are the cornerstone of any project. With Panorama you can efficiently break the project down into more manageable tasks, and assign tasks to team members accordingly. So, for instance, being head of an IT company, you can break your project into smaller tasks and assign them to your developers and team members.
Supercharged Workflows
Panorama also organizes the smooth workflow of the project for you. It simplifies the confusing and tiring process of sharing documents between project participants, which from time to time ends up with certain documents or information missing. Panorama stores all project documents in one place, enabling team members to share, upload, review and approve documents.
Detailed Permission Management
Keeping the security and privacy of the project is a key factor. Panorama ensures your team and clients have access to what you want, no more, no less. With the plugin, you can control each user's access and capabilities to the projects.
More and More Features…
Keep track of project delays and make automatic timeline adjustments as necessary.
Keep track of budgets and expenses of the project.
You can send invoices and receive payments directly from WordPress with Sprout Invoices.
Clients access your project management platform and see your logo and brand colors.
---
The Project Manager's goal is to provide users with an all-in-one platform that ensures smart management of project workflows and productivity.
WP Project Manager is a premium and high-ranking plugin for managing projects and teams. Users can manage their work, collaborate with team members, view schedules, and track progress, together with other things directly within the WordPress dashboard.
Moreover, the plugin allows users to easily create projects, tasks, as well as to-do lists. They can create an unlimited number of projects, and tasks and assign them to an unlimited number of people.
WP Project Manager's asset is the board-style task management tool for all projects and tasks. This feature enables users to create tasks, drag and drop them among different boards and work more efficiently.
Furthermore, you can utilize its time tracking tool to easily lead your team to the timely completion of all projects, and use its integrated reporting capability to easily produce an advanced performance report.
If you use WordPress and require a project management solution, then this plugin is definitely a smart purchase.
Key Features
WP Project Manager Pro is a feature-rich plugin, that enables the organization of the project management process from A-Z. Let's review the key ones.
Overview Dashboard
Get a comprehensive look at all projects, associated members, and other information. WP Project Manager has a dashboard that displays data on completed, pending, and ongoing projects.
Advanced Reports
Automatic reports for tasks, milestones, projects and user actions can help you make more accurate project estimations. These reports include email messages and the daily digest tool.
The daily digest feature automatically emails all users a summary of the day's events. This daily report also includes the ongoing and upcoming tasks for the next day.
Files & Documents Manager
WP Project Manager Pro stores all of your project files in one place. You can immediately access the associated messages, task lists, or related tasks by simply clicking on any of the documents.
Kanban Board
The board tool allows using board-style task management for all projects and tasks. This feature enables you to create tasks, drag and drop them around the various boards, and quicken the work.
In-project Discussion
With WP Project Manager Pro you can create forums and discussions over the project, include or exclude certain members, and share documents and other project-related information, thus making project workflow more efficient and organized.
Recurring Task
Establish patterns for routine and recurring tasks in order not to create them over and over again.
More and more features…
Move projects and tasks to the front end of your site.
Divide your projects into milestones.
Receive immediate alerts when you perform tasks like assigning team members, mentioning in comments, or generating tasks.
---
Project Panorama VS WP Project Manager: Which Offers the Best Value?
Both Panorama and WP Project Manager have a lot to offer if you are looking for a way to organize, lead and complete projects efficiently. They also make easy the work of managing and moderating large-scale projects. Their project and task management features are out of this-world helpful.
Both plugins appear to be on the same wavelength, perhaps the main difference lies in the pricing plan. While WP Project Manager overruns Panorama with its features in some aspects, most of its useful features appear in the premium plan.
Meanwhile, Panorama offers all the must-have and useful features both in free and paid versions, the premium version of Panorama enables you to go deeper into managing projects productively. But, the cost of Panorama is relatively lower than that of the WP Project Manager.
Project Panorama vs WP Project Manager: Pricing Plans
At the end of the day, both Project Panoram and WP Project Manager Pro are beneficial and offer several features that greatly facilitate project management for you. So, whether you choose Panorama or WP Project Manager, the answer lies in picking one that works with your budget or whose features and services you enjoy the most.
Is the content useful? Check out other comparison articles.