Broken or dead links are a common problem that most site builders face. Such complications do not only repel clients from using the website but also sabotage its effectiveness. They decrease SEO rankings and dissatisfy the clients. So, to keep the clients' trust and interest in your website as well as its Search Engine ranking at a high level you should constantly check the availability of broken links. Therefore in this article, we will tell you how to find and fix broken links on WordPress.
Now, finding and fixing broken links is a tedious task. Especially, when it comes to a big website or a site that goes on for a very long time. The nuance is that those links need to be fixed constantly. Because one link can work today but become broken tomorrow. This article will show how to optimize that process in a few different ways so that creators of websites would effectively use their time.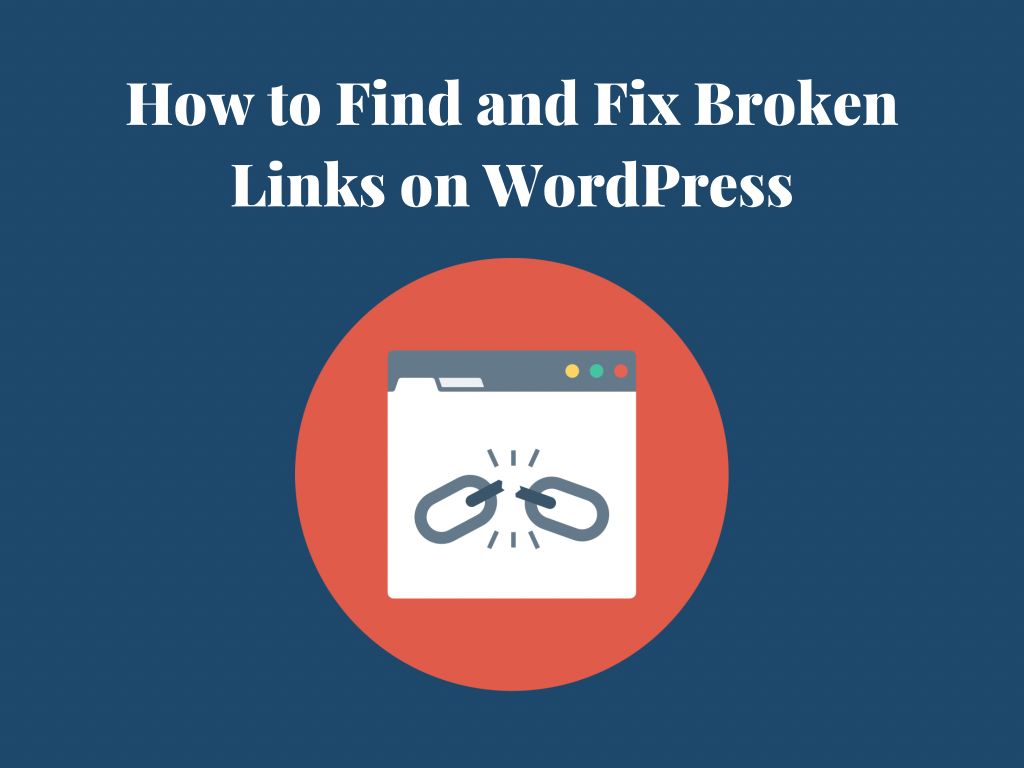 ---
What are Broken Links?
A broken link is a link that doesn't work, which means the browser is unable to find the site by searching the URL. To fix a broken link, one should consider the fact that links, in general, can be of two types.
First is internal – a hyperlink that directs to a site within the same domain. The other one is external, thus linking targets to another website domain.
---
Broken Links in WordPress
In WordPress, there may be several reasons for broken links to appear, here are the most common ones:
The page is deleted
The page is moved to another domain
There is a typo
The permalink structure is changed
---
How Do Broken Links Affect Your WordPress Website?
The first and most obvious consequence is that broken links annoy customers. Everyone at some point in their life clicked on a link, eager to learn something, but instead of content, there appeared that 404 page not found title. It's not much enjoyable, is it? Such a negative experience can draw users away from the website.
The other thing is Search Engine Optimization. Broken links affect SEO badly. The more 404 pages are created on your website, the worse it is. Plus, when it comes to internal links, the customer loses an opportunity to visit another page of your website, which lowers the traffic.
---
How to Find Broken Links on WordPress With Google
If you were asking yourself how to fix broken links in WordPress without a plugin here you will find the answer. There are several ways to check broken links in WordPress, let's call all those broken links checker, and start with Google. Google offers web developers a Search Console, a free instrument that finds broken links apart from other functions. The algorithm for finding links is very easy:
First, you need to login into your Google Search Console account.
On the left side of the menu, you will find Coverage Click on that under the index section. You will be redirected to a page that shows you the errors on your site. They are under either Error or Excluded tabs.
If you go to one of these sections, you will find a list of errors that Google finds on your website. The ones that show 404 pages not found are with the broken links.
You can also download the page with errors for your convenience.
---
How to Find Broken Links on WordPress with SEO Tools
Many different SEO tools help to find broken links; we will break down the top 2: SemRush and Ahrefs.
---
SEMRush
SEMRush is a multifunctional tool that monitors websites for SEO rankings in general, plus it is one of the most popular choices – you can be sure that the tool is reliable. And it is quite easy to use! Here's the step-by-step instruction on how to find broken links via SEMRush:
First, you need to register on the site or log in if you already have an account.
Then, in the left-side menu, under On-page & tech SEO, you have to click on the first headline – Site Audit.
At the right top, you can find a blue button New Site Audit; click on that.
You will be redirected to a page where you need to write your domain name.
After that, you have to select the audio settings: limit of checked pages and crawl source.
To start crawling, click on the eponymous button. It will take a few minutes to finish the procedure.
To view the report, you may click on your domain under Under the site Audit.
SEMRush will show you the total healthiness of your website, and of course, the issues. Don't be overwhelmed – click on broken links.
After that, click on export to download the statistics.
Now, the con of SEMRush is that it is a paid resource. There is an option for a 7-day free trial and two types of payment plans: pro and guru. Although they may seem quite pricy, both of them provide a wide variety of functions.
---
Ahrefs
Ahrefs is one of the most popular SEO tools on the market. Apart from being effective at finding broken links on your website, the program has several other uses. To find broken links on Ahrefs, you should:
In the beginning, of course, you need to sign up on the platform and choose your payment plan (see details below).
Now, add your website domain name in the upper middle part of the Ahrefs.
In the left-side menu under the Backlink profile, you may find the Broken links section. Click on that. The tool will instantly show you all the dead links.
You can sort out the links in the filter section by the most clicked broken links.
There is an export button on the right side of the table with broken links to download the statistics.
We find it to be the best choice among SEO tools. Although Ahrefs is a paid platform, it is cheaper than SEMRush, for instance. Though, the 7-day trial is not free – it costs 7 dollars. Here are the payment options, with the standard being the most popular one:
Lite: 99$ / month
Standard: 179$ / month
Advanced: 399$ / month
Agency: 999$ / month
---
With Plugins
Another method to find and fix broken links on WordPress is with the plugin. We don't really recommend this, as it will affect the speed of your website. Yet, if you find the methods above dissatisfying or inconvenient, here are three plugins to help you with the dead links checking.
---
Broken Links Checker
Broken links checker plugin is the most popular on WordPress, and also it is free and easy to use. It allows to monitor of broken links and prevents search engines from following them. Here's how to use it:
First things first, installation. You have to search for it in WordPress, install and activate the plugin.
The search for broken links will start immediately, without your intervention.
You can find your dead links in the tools section under the headline of the broken link. And after you can remove broken links that reduce the quality of your article.
---
Link Checker
Link checker is another option you can use. The plugin has a free version, but it can check only for 500 external and internal links. Other than that, you have to pay additionally (minimum is 45 euros for 25 000 URLs yearly). The benefits of this one are that it has a simple interface, works with every other WordPress plugin, and has a low computation cost for the website. To work with the Link Checker, you should:
Install and activate the program.
Go to the plugin in your WordPress and click the Check your Website button.
Wait for a few minutes for the process to be done, and then go to the Results section to see the statistics.
---
How to Fix Broken Links on WordPress (Step-by-Step Instruction)
Now, we found the dead links. That's only half of the job. To fix the broken links, we should consider the reasons why they don't work. If the page was removed from one permalink name to another, you just redirect the link. If the page was deleted, you either put a link for a page with similar contents or just remove the link.
Whatever the reason and method is, we recommend using AIOSEO WordPress plugin for fixing the links. This tool is powerful and easy to comprehend, it has more than 2 million users, and it show's something.
To begin with, install and activate the plugin.
Go to the Redirects section and click on Activate Redirects.
Activate 404 logs under the Settings tab.
Click on Save changes.
Go to the 404 logs section in Redirects. There you will find a table with dead links and Add Redirect button next to each one.
To redirect your links, click on that tab and add the needed URL.
Repeat procedure with every link, and you are done!
---
Summary
To conclude, there are several ways of finding broken links: via Google, SEO tools, and WordPress plugins. The best choice, in our opinion, is the Google Search Console, as it doesn't affect the performance of your website, is easy to use, and is completely free. You may find SEO tools very useful if you have the budget, too, as they are not limited to only finding the broken links.
Although plugins are easy to use and free options, they are harsh to your website. Yet, they can be of great use when it comes to the actual fixing of the broken links. Yes, it is easier to install a plugin rather than redirect the links manually.
---
Check out Some of Our Must-Read Articles
Find us on Facebook and Twitter! Check out our WordPress tutorials on YouTube!