Have you ever thought about creating a Survey but did not have any idea about where to start? If YES, then this article is for you. In this article, we will discuss the overall survey concept, the best survey maker plugins in WordPress, and the most important functionalities. I have prepared for you some information about the five best survey maker plugins for WordPress. Interested? Keep reading!
What is a Survey?
A survey is a research tool that helps to collect data from a certain group of people. This helps to gain valuable information and feedback. Moreover, it is an excellent method of interacting audience and increasing website traffic. Besides, surveys are very attractive components on websites. So, in this article, you will learn how to create surveys in WordPress with the best survey maker plugins and which functionalities to use.
---
Survey Maker is the first plugin that we are going to explore today. It is one of the best plugins in WordPress. Surprisingly, no coding skills are required at all! It allows the creation of unlimited surveys that contain multiple sections with as many questions as you want. The plugin offers various question types, more than 20 survey style options, and a responsive design. Now let's focus on the main functionalities.
Surveys with Logic Jump
Firstly, let's note that smart surveys are not an impossible dream anymore! Thanks to the WordPress Survey Maker plugin, you can provide a personalized experience to your audience. In other words, participants receive different questions based on the answer to the previous question. Thanks to these unique features you can ask only the most critical question and avoid unnecessary ones. As a result, your survey will look like a live conversation that is more trustworthy.
You should always take into account the risk of unnecessary questions. If your survey contains unnecessary questions it is very likely that the participants will basically leave it.
Gain valuable feedback
Sometimes businesses lose clients but don't really understand why. This problem can be solved easily with surveys. Now you may ask how can surveys help in business operations? The logical answer is that businesses can collect customer feedback, complaints, and suggestions through surveys and use them to improve their overall operations.
WordPress Survey Maker has a Submission page, where you can find all the details about survey submissions. If you activate the Send Email to admin feature, you will receive email notifications when users submit your survey. Additionally, activate the Send Summary feature and get a detailed summary of the survey. However, if you want to get an automatic email reporting about the submission in a table form, feel free to turn on the Send automated email reporting to admin functionality. In that case, you will get the survey title, the submissions' number, and the growth in percentages.
Target the right group
Targeting the right audience is a primary tool to achieve business goals. Survey Maker has a Limitations Users section where you can provide access only to a specific target group.
In the case of any business, you should target the right audience to achieve your business goals more effectively and efficiently. In the Limitations Users section of Survey Maker, you can choose to provide access only to your target group. If you have concerns about one person submitting multiple results, you can assign a maximum number of attempts per user, and the problem is solved! Or you can provide access only for logged-in users.
Anonymous surveys
Have you noticed that most people feel more confident expressing their opinion anonymously? So, anonymous surveys will help to gain accurate results. Give your customers a space to express their honest thoughts anonymously. As a result, you can use that honest feedback to improve your business.
On the other hand, anonymous surveys will also increase the number of participants and motivate people to pass the survey. Thus, this feature will definitely help you make the customer experience feel fantastic and satisfied!
Popup surveys
You can create popup surveys with the Survey Maker plugin without advanced technical skills. The only thing that you're required to do is to go to the Popup Survey section and press Add New. Afterward, design your popup survey by adding a title, making some regulations regarding height, width, position, and so on. It is also possible to select multiple pages where you want to display the popup survey or just hide it completely.
Generate leads
Not surprisingly, the WordPress Survey Maker plugin offers various integrations. You can integrate your survey to MailChimp, Zapier, Active Campaign, Campaign Monitor, Google Sheet, and so on. With the help of this plugin, you can collect users' names and email addresses and automatically include them in the integrated software. Besides, the redirect after submission feature allows redirecting submissions to your preferred website. Thus, you will end up with increased traffic and an improved conversion rate.
Add a Thank You
Do you want to make your website users feel valued? The Survey Maker plugin offers a wide range of message variables that you can use to demonstrate your gratitude towards your customers. Furthermore, you can add some images to make your thank you message more interactive.
Key Functionalities
Unlimited surveys, questions, sections
Make the questions required
Extensive range of style options
Single-page survey and multi-page survey
Different buttons ( finish, previous, next, restart, clear answer)
Schedule the survey
Logic Jump
Detailed reports with graphs and charts
Survey Import & Export
Copy protection
Pricing
WordPress Survey Maker plugin is available for FREE. The Free version allows the creation of an unlimited number of surveys, sections, and questions.

However, if you need more advanced features you can purchase the Business package that includes support service and updates for 12 months. The price for this package is 29$ (one-time payment). Alternatively, purchase the Developer package if you want to get lifetime updates, usage, and support services. The Developer package costs 89$ (one-time payment).
---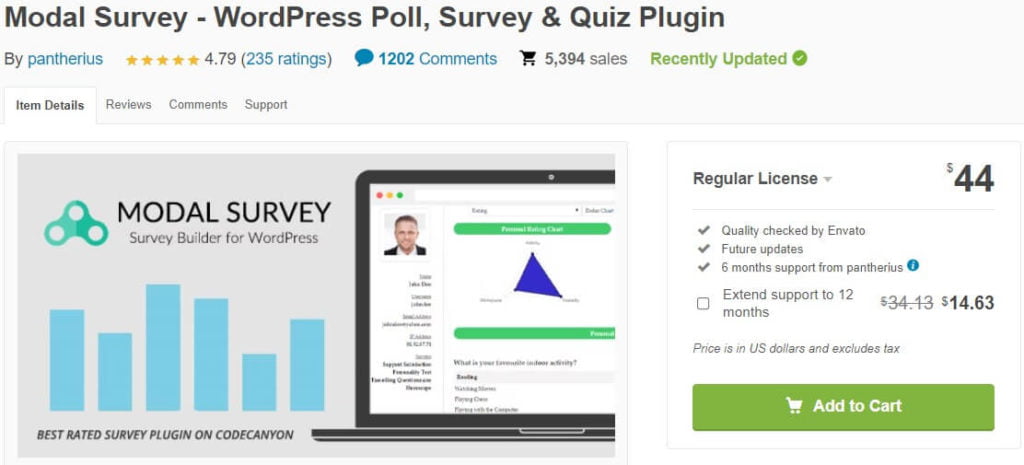 Continuing the list, we would like to present the Modal Survey WordPress plugin developed by Pantherius. It is a premium plugin offered through CodeCanyon. It has 5 stars rating and hits more than 5000 sales.
With this plugin, you can build unlimited quizzes, polls, and surveys. Helps you to get valuable information about your clients, and allows you to display the results by progress bars, pie charts, and other different charts as well as simple text format.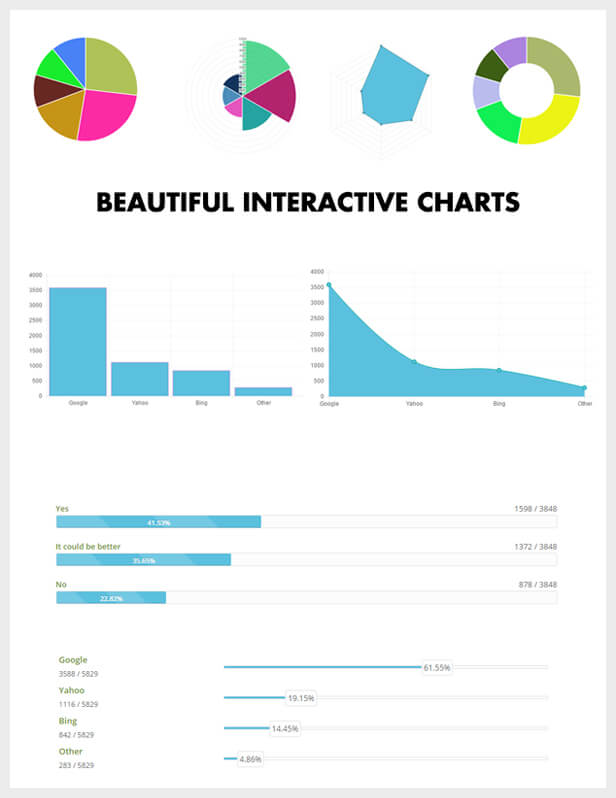 Main Features
So, here are the most significant and outstanding features of the WordPress Modal Survey plugin:
GDPR compliance
Trivia Quiz – this is a very widespread kind of quiz. Their main purpose is to drive traffic to your website from Facebook. This is because in the last step you are offered to share the quiz results on FB.
Product recommendation polls – this type is meant to increase your sales. Thanks to the conditional result option the plugin enables you to show a certain answer message or redirect the user to another page according to his/her answers.
Business evaluation and personality tests categorized and presented through the chart types.
Customization features – you are able to build unlimited surveys, quizzes, and polls with many styles, choosing the specific width, and position through a slider. Also, you can use a color picker. Along with these features, you have a bunch of customization options available in the Modal Survey Visual Builder. The list includes a Live Preview opportunity, setting start and expiry time, more than 650 unique fonts and sizes, as well as padding, background, etc. Introducing jQuery Easing Effects the plugin allows you to implement animations.
Rating system with stars instead of a textual answer (5, 10, 12-stars)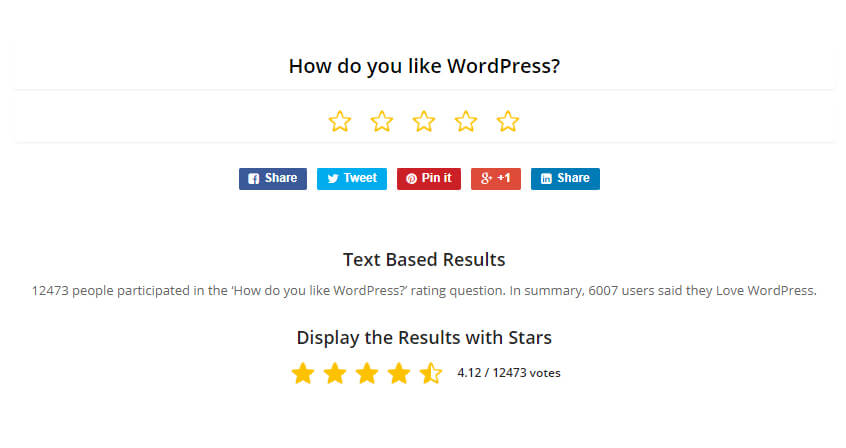 Individual charts
Including WordPress questionnaire to any part of the page.
Export survey outcomes to JSON, PDF, XLS, XML, CSV
Yet, the list of the Modal Survey plugin's features is not limited to the presented ones. It has many other appealing and impressive functions that you can find out by upgrading to one of its paid licenses. Here is the pricing:
Regular License – $44
Extended License – $295
---
The third survey maker plugin that we are going to explore is the Formidable Form Builder plugin. It is one of the advanced WordPress survey plugins. It offers all the necessary features to save your time and make your experience more efficient and less time-consuming. The Formidable Form builder is 100% mobile-friendly. Isn't it amazing? Your surveys will always look perfect on all devices.
Complete Entry Management for Web Forms and Surveys
The formidable plugin allows you to view all the survey entries directly from your WordPress dashboard. In other words, when a user submits a web survey, it's stored in your WordPress database and you won't lose leads.
Maybe you need to import your leads to an external platform such as MailChimp? No problem at all! This plugin provides integrations opportunities to its users. On top of that, you can easily customize the success message after a survey is submitted, or redirect visitors to another page.
Build Smart Surveys With Beautiful Reports
WordPress Formidable has a built-in survey feature. That is why you can easily and quickly create advanced surveys with Net Promoter Scores (NPS), star ratings, image radio buttons, and so on.
Different graphs and reports are present to help you analyze and demonstrate data. You can even demonstrate data on the front end of your website. All you need is to embed graphs in your WordPress posts or pages.
Advanced Form Styles
Do you want to make your surveys eye-catching with colorful designs? Then keep in mind that the WordPress Formidable Form Builder plugin offers a wide range of advanced style options. You can easily customize the look of your survey and make it more appealing and professional. Make your survey match your website design.
Easily Collect Online Payments
This WordPress survey builder plugin helps to accept credit cards. This is another indicator of flexibility. Furthermore, Formidable provides integrations with PayPal, Stripe, and Authorize.net.
Key Functionalities
Online drag and drop form builder
Demonstrate the collected data with views
Repeating field groups
Drag and drop multiple file upload
Progress bar
Cascading lookup fields
Add password fields
Star rating for collecting reviews
Confirmation fields
Conditional logic for personalized surveys
Email routing
Visual style creating features
WordPress front-end editing
Graphs and charts for data visualization
Survey scheduling
Pricing
Formidable Form Builder plugin in WordPress is available for FREE. However, it has Pro packages in case if you need more advanced features.
1. Basic package costs 39,5$ and includes 10+ templates, file upload, conditional logic, review before submission, and some other features.
2. Plus package is available for 99,5$ and includes almost 50 templates, all the features offered in the basic package, and some other additional options.
3. Business package is currently the most popular one. You can get it for 199,5$. This package not only includes all the Plus package's features but also provides 80+ new templates, user registration, signatures, PayPal, Zapier, and so on.
4. Elite package is the most developed and advanced one. It costs 299,5$. It basically contains all the features available in the Business package and some other additional functionalities. 150+ templates are available for you, different integrations, Elite support services, etc.
---
So, the fourth one from our best plugins list is Mortgage Lead Capture System by WPrequal. It has over a hundred active installations and a 4.3/5-star rating in the WordPress Repository.
Due to this plugin, you can deliver a lead generation system to your WP site or landing page. There are many customizable templates available to help you build lead generation surveys on your website. One more essential feature of the WPrequal plugin is that it keeps the collected leads confidential.
The plugin developers offer you to utilize its free version with many features available, such as:
Basic form for surveys
Contact and registration form builders
Lead manager tool with notification via Email
Plugin updates and support
Mortgage and amortization calculators
You may easily use all these functions by simply activating the plugin from your "Admin Dashboard"- "Plugins Directory". Yet, if you seek to obtain more flexible and advanced features then it is high time you got acquainted with the plugin's paid versions. So, here is the pricing:
Premium License– $9.99 per month
Pro License– $19.99 per month
To see the plugin's paid plans' full features you may visit the WPrequal official website.
---
The 5th plugin from our list is JetFormBuilder which has more than 10,000 active installations and a 4.9/5-star rating in the WordPress Repository.
So, the JetFormBuilder plugin's free version enables you to make, edit, and design different form types in the Gutenberg Block Editor. It provides 21+ field blocks and a huge variety of form types including the below-mentioned ones:
Online survey
Signup
Quick contact
Booking (also check out the best booking plugins for WordPress)
Application
Appointment
Event registration
Scholarship
Volunteer Registration
Subscription, etc.
If you aim to build unique surveys with this plugin then you can activate the JetFormBuilder plugin's paid version with this pricing:
Pro for 1 website – $39 annually
Pro unlimited – $79 annually
The Pro version includes many important features, such as:
Conditional Logic
Dynamic Values
Calculated Content
Hidden Fields
Repeater
Multi-step forms, and many more other functions
Besides, you can view the whole features with pricing plans on the JetFormBuilder plugin's official website.
---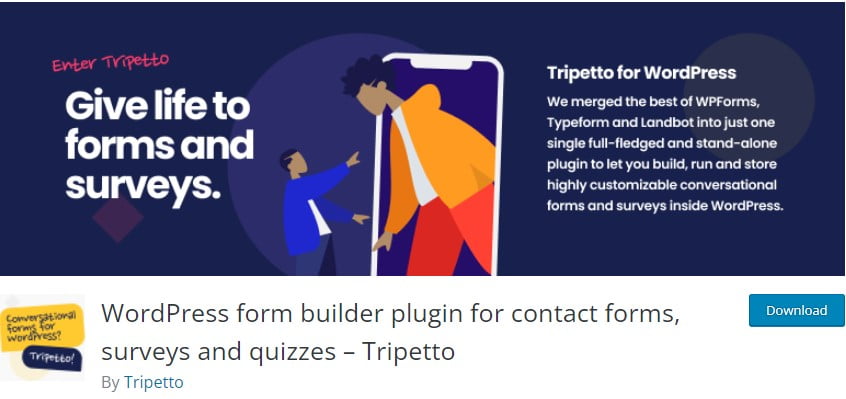 And the last but not least plugin from our best survey maker plugins list is Tripetto. It has more than 2,000 active installations and 99 5-stars in the WordPress Repository.
The plugin enables you to create contact, registration, customer satisfaction, quiz, reservation, exam, conversational forms, etc. Besides, it suggests 4 customizable forms to make your work even easier. With this plugin, you do not need to use CAPTCHAs. Because it has a strong spam protection system.
Moreover, the plugin integrates almost all the famous WP content editors. It is also GDPR compliant.
What is more significant about the Tripetto plugin, it does not oblige you to create a third-party or even Tripetto plugin to enjoy all the valuable functions.
And due to the advanced logic features, you can make your forms smarter.
The WordPress Tripetto plugin includes so many free features to enjoy the best user experience ever. Yet, if you want to access more advanced features then you can upgrade to its Pro version with the pricing mentioned below:
Single Site – $99 annually
5 Sites – $349 annually
Unlimited – $799 annually
Moreover, by purchasing the plugin, you will get a 14-days money-back guarantee. So, you have enough time to decide whether you should use the Pro version or not.
---
Watch the Video Tutorial

Best Survey Maker Plugins for WordPress Compared
| | | | |
| --- | --- | --- | --- |
| Plugins | Active Installations/ Sales | Rates | Pricing |
| WordPress Survey Maker | 300+ | 5 / 5 | Free + $29 – $89$ |
| Modal Survey | 5,000 | 4.79 / 5 | $44 – $295 |
| WordPress Formidable Form Builder | 300,000 + | 4.7 / 5 | Free + $39.5 – $299.5 |
| WPrequal | 100+ | 4.3 / 5 | Free + $9.99 – $19.99 |
| JetFormBuilder | 10,000+ | 4.9 / 5 | Free + $39 – $79 |
| Tripetto | 2,000+ | 5 / 5 | Free + $99 – $799 |
Write in the comments if this article helped you find the most suitable plugin. Do not forget to subscribe to our YouTube channel and enjoy informative videos. Follow us on Facebook and Twitter as well!