Do you sell a certain type of product on your WordPress website? If yes, then you will probably be worried about including different currencies for your clients living abroad. This issue has a simple solution especially when you do not have a separate page for different currencies worldwide. The availability of different currencies will increase the percentage of your expected sales and ease the user experience on your site. So, if you want to know how to add a currency switcher to WordPress then you will need to read this article.
---
Why Do I Need to Add a Currency Switcher?
When you sell your products through the website internationally then you will need to set a currency to it. The availability of different currencies on your website will increase the conversion rate. As the customers may find a product price directly on their currency. And it is more important when you export the product or ship it to other countries and you can not offer separate pages for each of the currencies. Besides, adding a currency switcher is more convenient than creating different pages for each of them.
To sum up, adding a currency switcher will bring these benefits:
Increased conversion rank
Expanded international sales
Improved customer experience
So, many plugins can help you to add a currency switcher to WordPress website.
---
At this point, we are going to discuss one of the famous currency switchers WOOCS. It has 60.000+ active installations and a 4.3 out of 5-star rating.
I have enjoyed this plugin (Free version) for several years now and highly recommend it. Flaw-free as far as I have experienced and very useful.

Christina Breault
So, you can install it on the official WordPress website or your WP dashboard.
After the plugin's installation and activation, you are able to start proceeding with it.
It has several sections.
Currencies– Here you can select your needed currencies. But you should consider that the plugin's Free version enables you to choose 2 currencies. Yet, if you want to add more then you should activate the Pro version. Before adding the option to your WooCommerce product you can change the currency image, add its symbol, determine the position, update the rate, etc.
Options– In this section, you can set your Welcome currency, currency aggregator, storage, custom currency symbols, etc.
Advanced– Here, you are able to set fixed prices and coupons for the products, hide or show payment systems, etc.
GEO IP– This is to set a certain currency for each of the countries from where the visitor enters.
Designer– In this section, you can create your own design for the currency switcher.
Side– Here you can enable or disable the side switcher on your WP website.
Help– You can seek to get support or find Frequently Asked Questions and much more in this part.
As the plugin works with shortcode, you are able to easily add a currency switcher to WordPress store. For this, you should copy the shortcode ([woocs]) and paste it into your product's description. So you will see the result after updating the page.
---
Main Features of The Plugin
Woocs is a multicurrency plugin that will give the customer an opportunity to buy a product with their preferable currency. So here are the super functions of this plugin:
Shortcode: It works with a shortcode that is fixed [woocs]. This is very convenient as you may paste it into any part of your site. Note, that the plugin is presented both as a shortcode and widget.

Designs: Woocs offers 3 different designs- drop-down, flags, and side switcher.
Rates: In the case of 7 currencies aggregators there are automatic rate update options. You can manage the rate update also manually daily, per hour, or every 5 minutes by your choice.
GEO IP: This function is very effective. It gives an opportunity to set a currency for each of the site visitors according to their location.
The minimum amount for shipping: With this option, you can set a minimum amount for shipping according to a certain currency.
Changing currency depending on the language: You can make the currency change according to the language while using WPML or Polylang. This is available with WOOCS API.
There are much more functions available both in Free and Pro versions.
By the way, the plugin's Pro version offers two payable packages:
Regular- $32
Extended- $132
---
Other Plugins
Now, it is time to meet other plugins to switch the currency to your WordPress website.
This plugin has been developed by WP Wham and scores almost 20.000+ active installations. Its rating is 4.1 out of 5-star.
The Currency Switcher plugin offers these options:
Different currency switcher locations and format
Currency set by language
Currency set by the country
Canceling the shipping or gathering the payments from a certain country
Adding the currency switcher to WordPress via shortcode or as a widget
Changing the order currency by admin, etc.
Here you may check some of the shortcodes offered by this plugin:
[woocommerce_currency_switcher_link_list]
[woocommerce_currency_switcher_radio_list]
[woocommerce_currency_switcher_drop_down_box]
[woocommerce_currency_switcher_product_price_table] and much more
Each of these shortcodes is supposed to be used for a different aim.
Besides its Free version, the plugin offers the Pro version:
Single site- $39.99
2-5 sites- $49.99
Unlimited sites- $79.99
Here is our next plugin. It has more than 20.000 active installations and is rated 4.3 out of 5-star.
Multi-Currency for WooCommerce offers these functions:
Multicurrency check out
Geo-detection through IP address
Language detection
Approximate price under the original price
Currency symbol customization
Exchange fee
Determining symbol location
Fixed price
Unlimited currency (Pro version)
Multilingual support (Pro version), etc.
In order to get the plugin's advanced features you can activate the Pro version:
Regular License- $32
Extended license- $175
The third plugin is WBW Currency Switcher. It has 4.000+ active installations and a 4.5 out of 5-star rating.
Here are the main functionalities of this plugin:
Changing the exchange rate automatically or manually
Unlimited quantity of currencies
Currency check out
Unique designs for currency switcher
WordPress themes compatibility
Responsiveness, etc.
You will get access to much more settings after the Pro version activation:
One site- $49
Five sites- $99
Unlimited sites- $199
This plugin is a unique one. Because it combines all the mandatory features to boost your WordPress website. The WordPress Booster plugin has almost 80.000+ active installations and a 4.6 out of 5-star rating.
It provides advanced features to add a currency switcher to WordPress, too.
Currencies: This includes not only money currencies but also cryptocurrencies. You can add more than one custom currency by purchasing the Pro version.
Automatic currency rate exchange
Currency per each of the products
Global discount
Two multi-currencies in the Free version, more in the Pro version
Prices per country
Prices by Formula
Separate wholesale price
Own price offer
If you want to get the Pro version, then the plugin offers you these yearly packages:
Basic- €49
Elite- €297 (this is considered the best value)
Pro- €169
So the next plugin in this review is Price Based on the country. This super important plugin has over 20.000+ active installations and a 4.8 out of 5-star rating.
Meet the plugin's features here:
Multi-currency
Switcher for countries
Determining the shipping currency
WPML compatibility
Support via private ticket (Pro)
Adding exchange rate fee (Pro)
Currency switcher widget (Pro)
Integrations (coming soon in the Pro version)
CSV importer and exporter compatibility (Pro)
Pricing bulk editing (Pro)
You can activate the Pro version according to this pricing:
Business- €59 per year
Personal- €39 per year
And finally, our last plugin is Currency per product. It scores up to 2.000 and even more active installations. Moreover, it ranks 4.3 out of 5-star.
So, continuing the plugin's review we would like to present its many features:
Showing prices in different currencies
Converting to shop, cart, and checkout default currency
Adding original prices
Setting 2 currencies (Free version) and more (Pro version)
Optional currency per author, product tags, categories, etc.
So, this plugin can be highly effective especially when you activate the Pro version. And you can purchase it with $39 billed annually.
---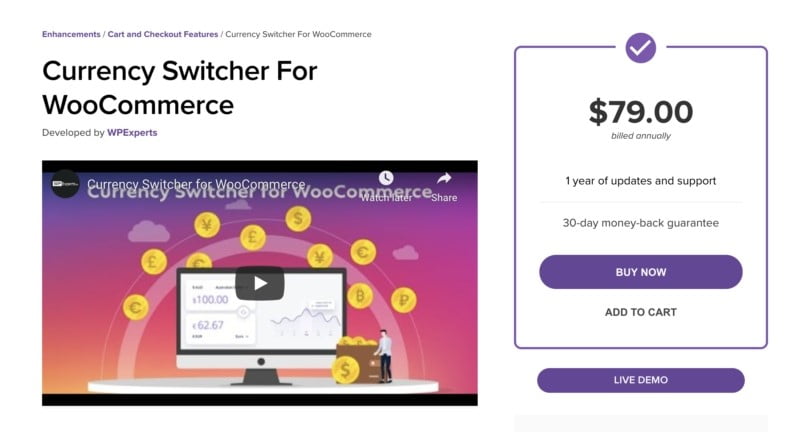 Currency Switcher for WooCommerce enhances the shopping experience by enabling buyers to switch currencies comfortably. As a business owner, you can expand your customer base to other countries without creating a separate store. Currency Switcher for WooCommerce eliminates the hassle of currency conversion.
Installing Currency Switcher for WooCommerce is incredibly quick and straightforward. By making one change to your WooCommerce store's settings, you can get the best currency converter app to function on your platform. It's seamless to check out in your local currency.
Features
Admin can set the exchange rate option using API. This will update the exchange rate at a specific time interval.
Users can switch currencies on the checkout page.
Users can change their currency on the cart page.
You can get Currency Switcher for WooCommerce in the widget form. It works in all widget areas.
Insert unlimited currencies along with their flags via the back-end settings.
---
Summary
In conclusion, we would like to summarize the essential features of the currency switcher. This option is highly recommended if you want to increase your sales worldwide. Because it can ease your customer's choices and improve their experience while using your web store. Besides, you will not pass the whole hassle while converting or taking payments with these or that currency. But the customer will decide with which currency he/she wants to fulfill the payment.
So, WordPress suggests you a huge solution through its plugins. Though these plugins are mostly for WooCommerce you will find some more plugins offered in this article for the WP stores. While selecting one of them you can check their functionalities and compare them due to the information provided in this review.
If you like the article, do not hesitate to find us on Facebook and Twitter. For interesting WP tutorials, please subscribe to our YouTube channel.
Latest posts by Anahit V.
(see all)