If you own a website on WordPress then you need to know that password management is one of the proven effective methods to protect the site against security vulnerabilities and hackers' attacks. More importantly, if your website has multiple users then you should enforce strong password combinations, change or even reset their passwords, limit the login number, etc. Doing so on WordPress is quite easy. And this is through the available password management plugins. In this article, we are about to review the best password management plugins for WordPress.
Keep reading the article to choose the most helpful plugin for your website!
---
The first plugin from our list is Password Policy Manager developed by MiniOrange. It scores over 3,000+ active installs and 4 5-stars on WordPress Plugin Directory.
This plugin provides valuable features for password management. So, the list includes:
Expiration of Auto-password
Resetting one-click password
Strong password enforcing
Managing password history,
Password security, etc.
Due to the plugin's important features, you may reset passwords for all the users at once and restrict all the logged-in sessions with just one click. This is in case you notice suspicious sessions or activity.
The Password Policy Manager plugin offers both free and advanced paid plans. Here is the paid plans' pricing:
Premium – $79 per year
Enterprise – $159 per year
---
The next plugin is WP User Manager having 10,000+ active installations and 268 5-stars on WordPress. It allows you to create user profiles with such forms as customer user registration, password recovery, login, and account customization.
Through this plugin, you will be able to easily conduct your website community management. It is very easy to utilize and provides flexible features for users, as well. With WP User Manager, you will also be able to create membership websites.
The plugin has 2 versions: Free and Pro. Each of them provides great features for user page management. Some of them are pointed out below:
Frontend forms
Email notifications
User profiles and avatars
Shortcode and role editors
Content restriction system
Custom widgets, field editors, and redirects
SEO-friendly URLs
Password management tools
Thorough documentation, etc.
This is just a little part of the available functions. You may access more advanced pro features by benefiting from one of the available paid plans:
Agency – $599 per year
Pro – $299 per year
Plus – $199 per year
Starter – $149 per year
Moreover, you are totally free to demand a refund if you are not satisfied with the plugin's operation 30 days after the purchase.
---
PPWP plugin is a great choice and a comprehensive solution for securing your WordPress website with a password. This refers not only to WordPress posts and categories but also WooCommerce store items. The plugin hits 20,000+ active installations and 204 5-stars which undoubtedly speaks about its great ad helpful features.
Initially, the PPWP plugin protects the website posts and categories with written content. So, unfortunately, if you add media files to the password-protected content, they will be accessible with the URL. Therefore, you are recommended to additionally protect media files through PDA Gold.
Here are some of the valuable functions provided by the plugin:
Unlimited passwords to protect WP posts and pages
WordPress pages and posts protection based on user roles
Recaptcha availability
Content protection partially
Unlocking password-protected content without refreshing the page
Protecting a single section
Page builders integration
Password form customization, etc.
So, the PPWP plugin has two versions: free and paid. Below, you may check the paid Pro version's annual pricing:
Personal – $178.80
Business – $346.80
Agency – $382.80
---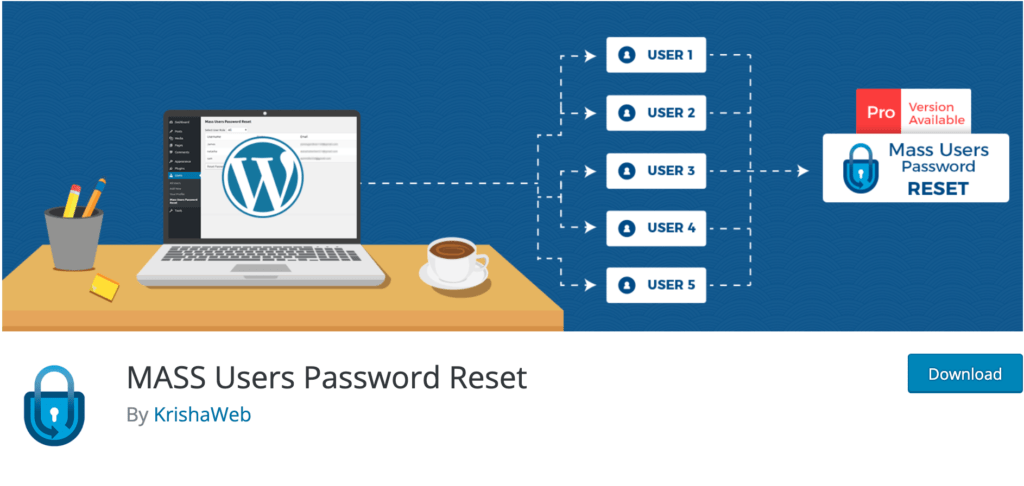 If you want to reset your WordPress website users' passwords then the MASS Users Password Reset plugin is exactly what you need. It was developed by KrishaWeb and scores 1,000+ activations and 6 5-stars on WordPress Repository.
The plugin enables you to group the website users and reset passwords for the needed group. Besides, it sends email notifications to users informing them about their new randomly generated password.
Some of the plugin's benefits are spotted below:
It is extremely easy to install and use
Supports multilingual translations
Enable to reset over 100 passwords
Provides free support service
All of these features are introduced in the plugin's free version. However, you can reveal more valuable and advanced functionality by upgrading to the MASS User Password Reset paid Pro version. The price is $49.
In this way, you will obtain many valuable features, such as:
A single user's password reset on his/her page
Bulk Password Reset
Password reset notifications template customization
Unlimited password reset opportunities, etc.
---
The next plugin from our best password management plugins list is Simple JWT Login. It has more than 2,000+ installations and 40 5-stars on WordPress.
By using JWT, you will be allowed to register, login, authenticate, delete, and change the passwords of your WordPress users. The plugin is specified for connecting an application to WordPress.
Here are the basic functionalities of this plugin:
User Login through JWT – You may easily customize the plugin and benefit from many login options on your website. The mechanism works as follows. The users send JWT. Meanwhile, the plugin validates it. If everything is right, the plugin extracts the WordPress user's email or ID.
Registering new users with API – Through this plugin, you are able to register new WP users, as well as specify their roles like authors, editors, subscribers, etc.
Deleting the users – The plugin enables you to delete users through their WordPress ID or email address.
Resetting user passwords – Not only does this function allow the website owners to reset user passwords, but also changes its endpoints.
Authentification – Users may generate JWT according to their WP user email and password.
There are also other features like Auth codes and hooks for more advanced users.
Moreover, being available on WordPress, the plugin is absolutely free to use.
---
This plugin developed by Geek Code Lab is your great option to password protect your WooCommerce store. The Password Protected Store for WooCommerce plugin has 100+ active installs and a 5/5-star rating on WordPress.
So, with this plugin, you will be able to create item categories, pages, and the whole store password protected. As a result, your store visitors must log in to view the presented items in the store. Also, the website administrators may set a certain user role with the password protect content access.
Therefore, working with this plugin is highly secure and easy. You are allowed to set 3 levels of password protecting levels for your WooCommerce store:
Also, the administrators can set expiry dates for passwords, as well as totally customize the password-protected page. In addition to these features, the plugin enables you to make page title changes by customizing its color, alignment, and size. Also, you may change the page-related button's features.
Furthermore, this plugin is also totally free to download and use on your WooCommerce shop.
---
The next Password Protected Categories, Products, and Pages Plugin for WooCommerce was developed by Progos. It is presented on Codecanyon. The plugin offers only a paid version full of many important features to password protect and privatize your WooCommerce store items per category, a single product, and pages.
Through this plugin, store owners can create rules for privatizing WooCommerce products. Moreover, they may set multiple passwords for each of the created rules.
So, after that, when the user enters a certain password-protected content, he will see a login form displayed. So, it is required to enter a valid password to view the products. Besides, there are two types of login forms. The 1st one is the default, and the 2nd type can be customized by the store owner.
Here are the pricing plans for this plugin:
Regular License – $21
Extended License – $149
---
The WordPress Passwords Manager plugin enables the site owners to store many passwords in the same place. Surely, no one can view them as they are stored on WP Database in an encrypted form. The website owners have an option to put multiple passwords in categories.
Currently, the plugin has 50+ activations that are constantly growing thanks to its offered features, such as:
URL field in passwords form
Passwords import/export option
Encrypted passwords
Shortcode availability to share passwords table
UI based on Bootstrap,
Translation-ready
Responsiveness, etc.
In fact, there are many other valuable features you will definitely appreciate. Furthermore, the plugin is totally free and easy to use on your WordPress website.
---
Comparison Table for the Best Password Management Plugins
So, now let's visualize the plugins' comparison in the table:
| Plugin Name | Active Installations/ Sales | Pricing |
| --- | --- | --- |
| Password Policy Manager | 3,000+ | $79 – $159 |
| WP User Manager | 10,000+ | $149 – $599 |
| Passwords Manager | 50+ | Free |
| MASS Users Password Reset | 1,000+ | $49 |
| Simple JWT Login | 2,000+ | Free |
| Password Protected Store for WooCommerce | 100+ | Free |
| Password Protected Categories, Products, and Pages Plugin for WooCommerce | 77 | $21 – $149 |
| PPWP | 20,000+ | $178.80 – $382.80 |
---
Summary
So, in this article, we have spoken about the 8 best password management plugins on WordPress. They will be a great help in reducing the security problems on your website especially when there are multiple users at once.
Promote your WordPress plugin or SaaS product with WPGlob. Choose your preferred service from the list.

If you liked the article do not hesitate to find us on Facebook and Twitter. For interesting WP tutorials, please subscribe to our YouTube channel.
Latest posts by Anahit V.
(see all)